Library Staff Profile: Michael
Posted on June 25, 2021
Filed in Faculty, Staff, Students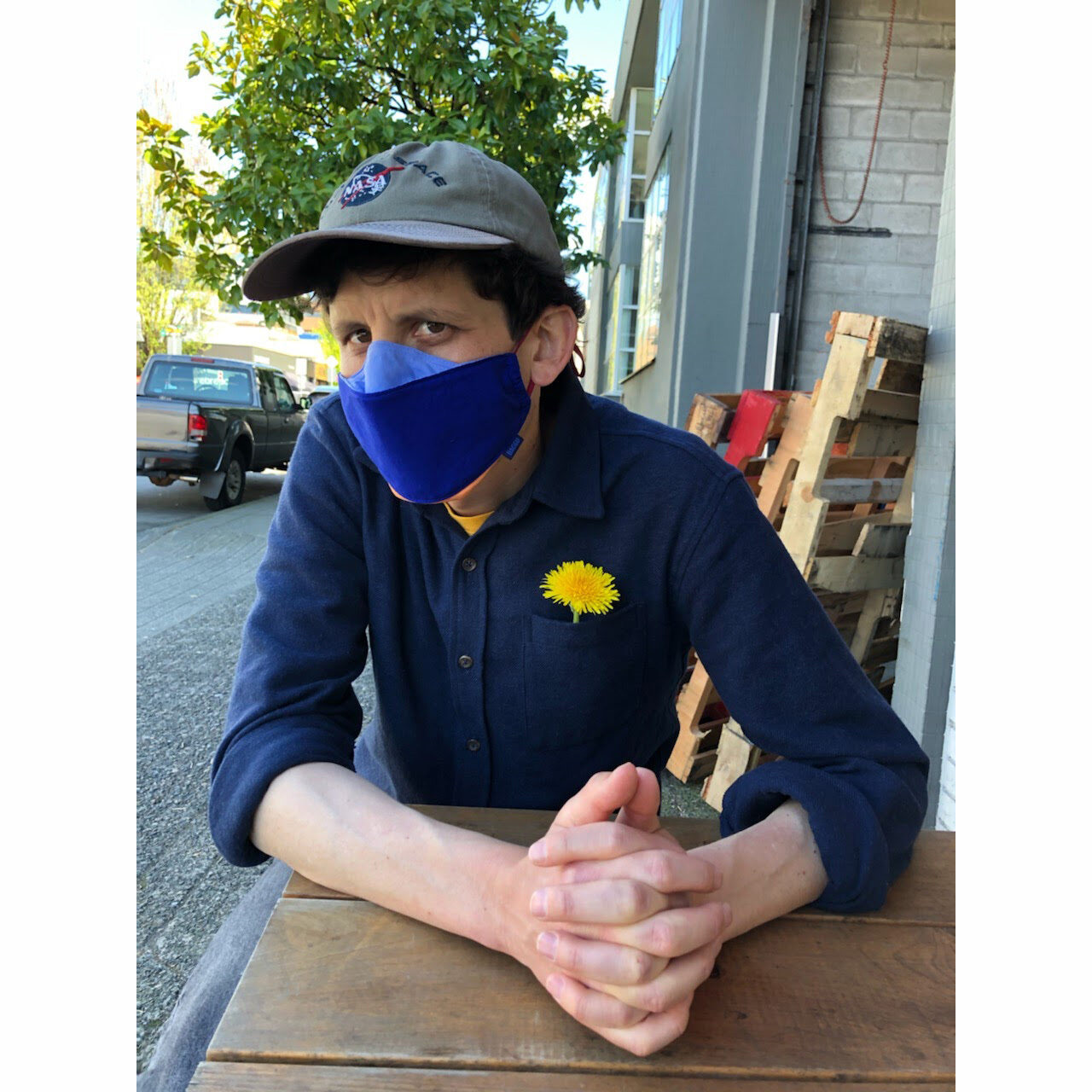 What's your name, and what's your job title?
Michael Pollard, 'Library Technician, Circulation' I believe
Do you have a specialty at the Library?
Besides my circulation duties, I am on the library's exhibitions, sustainability, decolonization and social media committees. I help to mend books. I help Ana with donations, and I organize the book sale. I help Danuta maintain the artists' files and I help to process Artists' Books. I am also a CUPE rep on the Climate Action Task Force.

How long have you been at ECU?
About two and a half years. (Sept. 2018)
Tell us a bit about the portrait of yourself!
It's me with a dandelion in my pocket waiting for an expensive gentrified smoothie

What do you miss about being on campus all the time?
The people, both library and staff, students, and other ECU employees. The books. The space and the physical part of my job. The plants and the view. I also miss standing on my feet.

What do you like about working from home?
Mowing the lawn on my lunch break. Listening to music while I work. Walks. And I don't mind Zoom meetings.

What has gotten you through this past year?
I don't have a good answer for that. The dangling carrot of it being over?
If you could go back in time to the start of the pandemic, what would you tell yourself?
Well, I thought I'd be working from home for maybe two or three months so I probably would not have told myself it was going to be a year and a half.

What could you talk about for a half hour straight, with no prep?
Not much. Music, film, books, medieval cosmology? I'm not a big orator. I need an interlocutor. I like conversation.

Do you have a personal art practice/creative hobby you'd like to share?
I play some music.

Include a pic from your creative practice (if possible)
I buy stuff and then I screw together pieces of wood to put them on. I'm trying to write a hit song so I can buy a big house and put more stuff in there. It's very fulfilling.

What are you watching lately?
The Wire and the Sopranos (intermittently). I've never watched either the whole way through. I got Crave/HBO for what was supposed to be just the winter so I'm catching up on some 'classic' shows I missed out on. I've never been a big tv watcher.

What are you reading lately?
Hurricane Season by Fernanda Melchor, In Memory of Memory by Maria Stepanova, Doughnut Economics by Kate Raworth and The Great Transformation by Karl Polanyi.

Do you have a favourite book or magazine?
'The Secret Life of Puppets' by Victoria Nelson is one we have in the library. 'Wonders and the Order of Nature' by Lorraine Daston and Katherine Park. 'Too Loud a Solitude' by Bohumil Hrabal. 'Under the Glacier' by Halldor Laxness. Others.

What's a prized possession or item of clothing you have?
A bright red wool button-up shirt that my partner thrifted for me for $3 or $4.

What do you do if you can't sleep?
Read.

What's the strangest thing you've eaten?
I'm not that adventurous but I used to ask my dad to make me peanut butter and mayonnaise sandwiches for lunch back in elementary school.

Is there a question you wanted to answer that we didn't ask?
No, but in answer to your question about Pepsi vs. Coke, I think both are abhorrent, but I chose Pepsi because they seem to be the underdog.