TA Job Opportunity: Youth Art + Culture Lab 2022-2023
Posted on September 27, 2022 | Updated September 27, 2022, 7:40am
Filed in Faculty, Staff, Students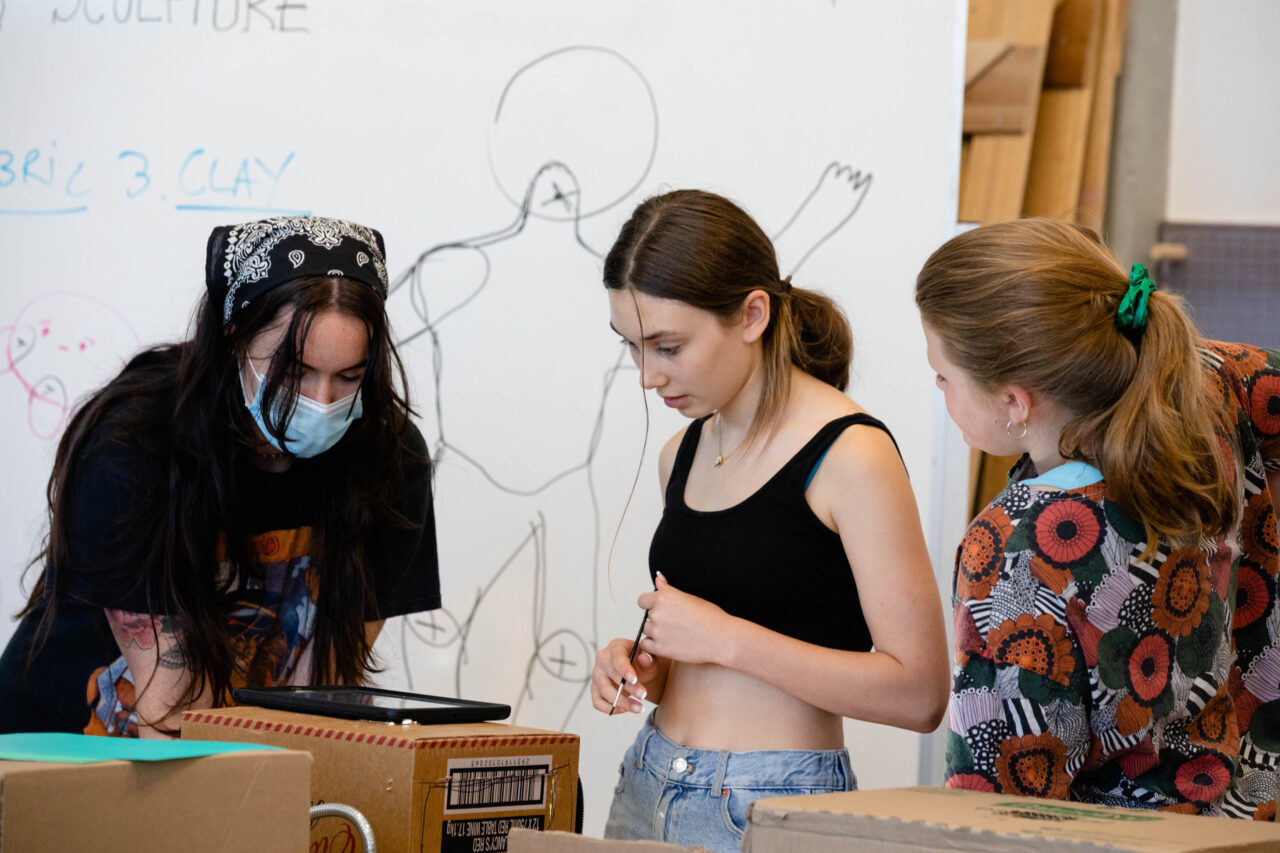 Teaching Assistantship opportunity available in Continuing Studies. TA will support CETP 330 Youth Art + Culture Lab (YACL), a 6-month program offered in partnership with the Richmond Art Gallery.
YOUTH ART + CULTURE LAB: UNDERGRADUATE / GRADUATE STUDENT TEACHING ASSISTANT
October 16, 2022 – April 30, 2023
Application Deadline: Wednesday, October 5, 2022 by 4:30 pm
Continuing Studies is pleased to accept applications for a teaching assistantship (TA) from current undergraduate and/or graduate students at Emily Carr University. TA will support CETP 330 Youth Art + Culture Lab (YACL), a 6-month program offered in partnership with the Richmond Art Gallery. This program provides youth ages 12–15 with an opportunity to build confidence and develop diverse creative skills through hands-on and interactive sessions with local and international artists, gallery educators, and arts Instructors. We are currently looking for one Teaching Assistant to support the Instructor.
Schedule:
The Youth Art + Culture Lab runs October 16, 2022 – April 30, 2023. Sessions are scheduled on Sundays, twice a month, from 1:00 pm to 4:00 pm. This program is facilitated in person, with sessions alternating between the Richmond Art Gallery and Emily Carr University.
Richmond Art Gallery sessions:
Oct 16, Nov 6, Dec 4, Feb 12, Mar 5, Apr 16
Emily Carr University sessions:
Oct 23, Nov 20, Jan 8, Jan 29, Feb 26, March 12, April 30
Program details:
At the Richmond Art Gallery, students get behind-the-scenes access to exhibitions and opportunities to participate in guest artist talks and workshops. Working with the program Instructor, students develop their visual analysis and critical thinking skills, and engage in playful creative exploration. At ECU, the Instructor facilitates hands-on workshops where students create their own artworks in response to the exhibitions visited at RAG. Students are introduced to diverse creative practices, materials and techniques through focused studio practice. Sketching and an examination of the creative process complements the hands-on learning to create an engaging and accessible art experience. The program culminates with a private celebration and showcase of student works, open to students and their families.
Responsibilities:
The TA will work with the program Instructor to review curriculum and plan instructional delivery and assignments. TAs can expect to gain hands-on experience with workshop facilitation and classroom management, working one-on-one with small groups of students, conducting course-related research and co-leading classroom activities. Responsibilities may also include supporting the Instructor with the preparation of presentations, and supporting students with research and assignments. TAs may also liaise with Continuing Studies staff and IT/CTS.
Ideal candidates will have:
Demonstrated experience working in a variety of media, including at least three of the following: painting, drawing, illustration, soft-sculpture, stop-motion animation, photography and video;
Interest in and ability to make complex concepts and art techniques understandable to youth;
Excellent group facilitation and instructional skills;
Demonstrated commitment to the principles of equity and diversity; and experience promoting a respectful work and learning environment for students;
Excellent communication, interpersonal and leadership skills, and a demonstrated ability to exercise tact, sound judgment and commitment to confidentiality;
Demonstrated ability to take initiative, excellent organizational and time management skills.
Computer proficiency, including experience with Zoom and Moodle;
Previous experience working with youth is an asset.
TA's must have their own laptop OR have the capacity to check one out from Media Resources for every class
Remuneration:
The TA will be hired by Emily Carr University for 7 sessions, and by Richmond Art Gallery for 6 sessions.
Remuneration at ECU: $388.50 - $468.30, based on the current hourly rates for Undergraduate and Graduate TAs.
Remuneration at the Richmond Art Gallery is $600.00, before taxes.
How to Apply:
Please send a cover letter, your resume, a short teaching statement and a link to a digital portfolio - in ONE PDF file - to teens@ecuad.ca with subject line: TA Call YACL 2022. Only selected candidates will be contacted for an interview. Successful candidates will be subject to a criminal record check. TAs must be available for a meeting(s) with the Lead Instructor and/or Manager of Youth + Community Programs prior to the course.