Globe and Mail | Emily Carr University and students will be catalysts for new creative district in Vancouver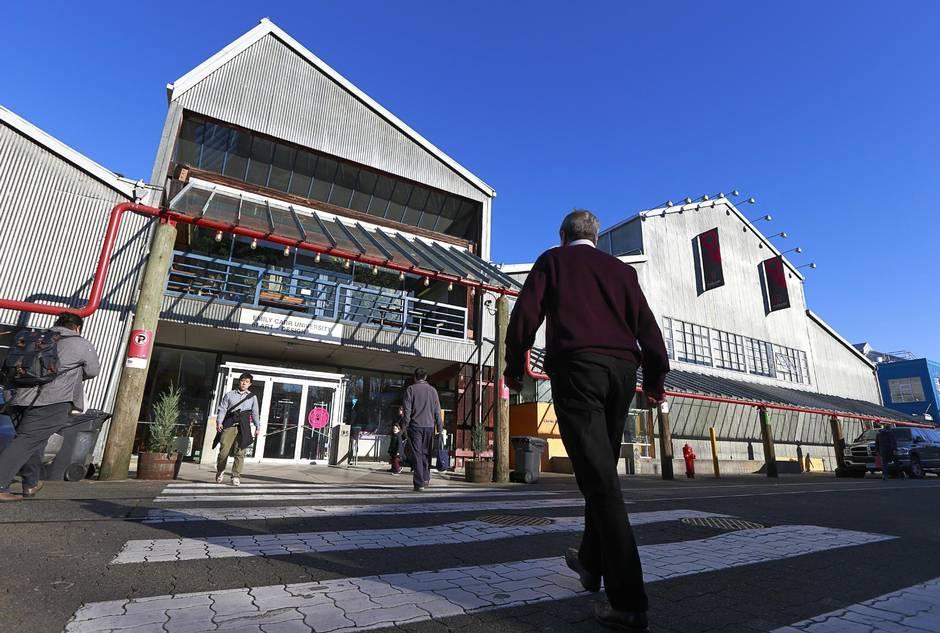 Posted on December 01, 2015 | Updated April 27, 2021, 3:09pm
Emily Carr University will move from Granville Island to its new building in False Creek Flats in time for the 2017 school year.
Globe and Mail | article: Guy Dixon, image: Jeff Vinnick
Ron Burnett likes to say how Emily Carr "kicks above its weight."
It may sound like uncommon talk from a president of an art school. Yet, Emily Carr University of Art + Design in Vancouver is a key focal point for one of British Columbia's strongest and fastest growing sectors, its creative industries.
And now, with Emily Carr's move in 2017 from Granville Island to a new campus a few kilometres away in the False Creek Flats neighbourhood, lying just south by southeast of the downtown, a short walk from the Olympic Village, the art university is being proclaimed a catalyst for a commercial real estate development boom.
"It's going to be a catalyst for further development, not only on this site, but I believe in and around the area," said Anita Molaro, assistant director of planning for the City of Vancouver.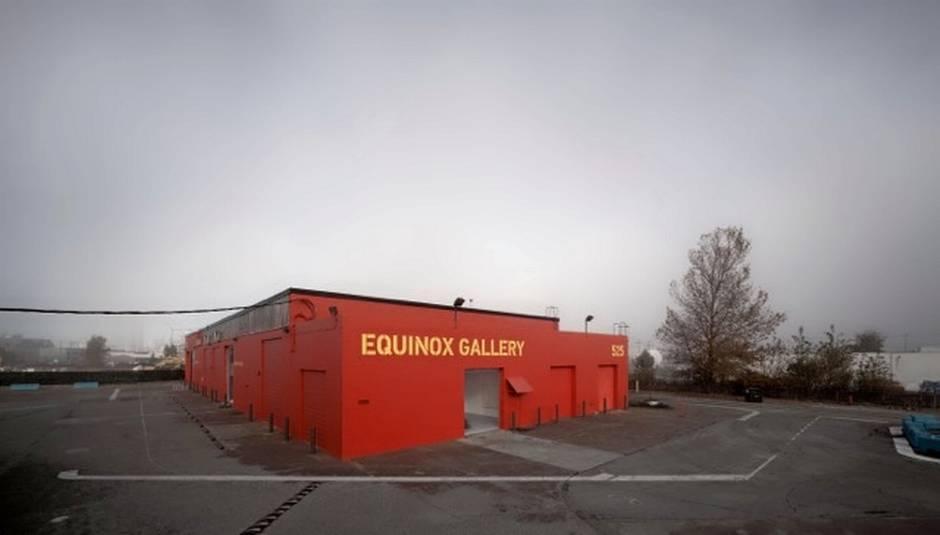 The Equinox Gallery is among the first occupants of the False Creek Flats site at the new Emily Carr. (Great Northern Way Trust)

The site, which is still barren and industrial looking, has nevertheless already attracted small technology businesses and a new home for Equinox Gallery, a sprawling, new fine-arts space. Emily Carr's new building, which will be sheathed in white cladding and stand four storeys high, is expected to be ready to move into by the summer of 2017, with classes starting that fall.
The campus will sit on land operated as the Great Northern Way Trust for Emily Carr, but also for the University of British Columbia, Simon Fraser University and the British Columbia Institute of Technology. All four schools were given the land as a partial donation in 2001, by the previous owner Finning International Inc. The company, which distributes Caterpillar machinery, gave an 80-per-cent interest in the land. The four schools paid for the remaining 20 per cent with a mortgage, now paid for by the sale of additional land on the site.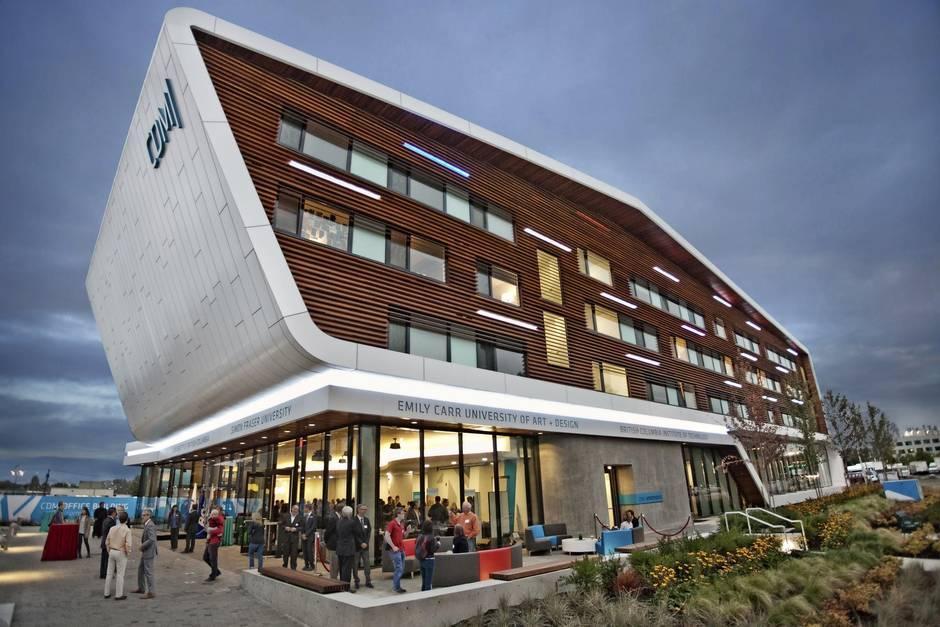 The Centre of Digital Media near the pending Emily Carr is home to a master's program in digital media.
All four are also involved in a master's program in digital media, at the Centre for Digital Media building, which is already up and running and a few steps away from the Emily Carr building under construction.
"The vision for Great Northern Way has always been for a broadly based, collaborative campus, not only including the academic institutions, but also including the cultural sector, the non-profits, the industry if industry is interested, and government if government is interested," said Emily Carr's Dr. Burnett.
"So, the idea has always been a very holistic one. How can this be used to best further the aims of postsecondary education in a partnership manner with each other? Which is important for the Lower Mainland," Dr. Burnett added, "because I think institutions should collaborate, but also to open up potential partnerships with the creative sector, with design companies, with the non-profit sector."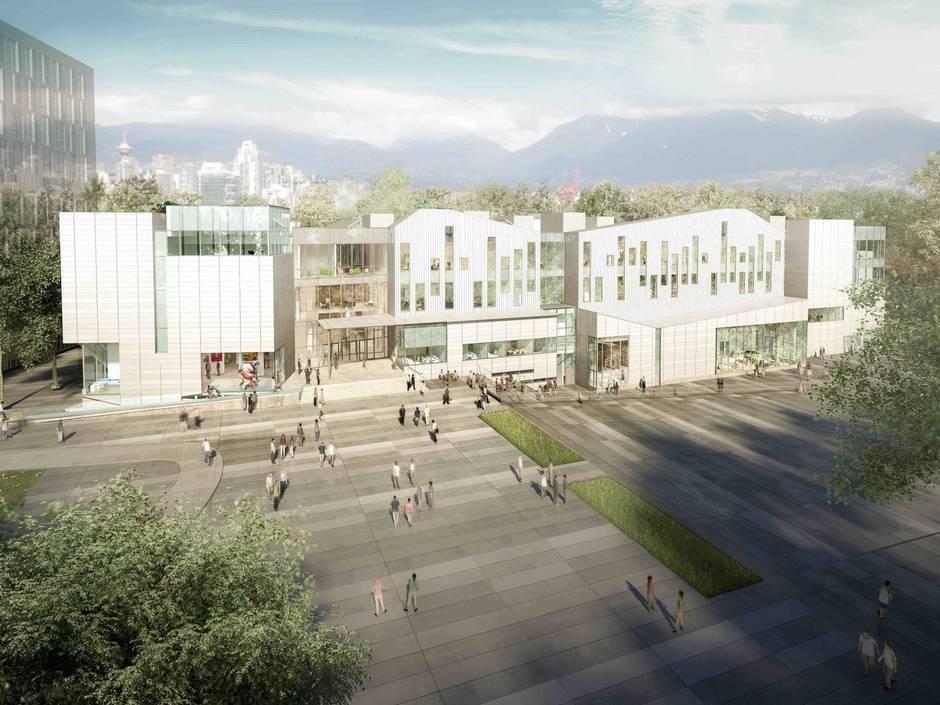 Artist renderings of the south facade of Emily Carr University's new campus in Vancouver.(Diamond Schmitt Architects)
More than just a new campus for the small arts university, which has a little fewer than 2,000 full-time students and another 2,000 or so part-timers and continuing education students, the new building has from conception been seen as a magnet for other new development aimed at the creative and tech industries – industries that have been underserved by commercial real estate, some argue.
One of the latest announcements is a set of three buildings adjacent to the university, with retail and office space, by local developer PCI Developments Corp.
"We see great change coming to this area," said PCI president Andrew Grant. "So, Emily Carr is certainly a catalyst." (That word again.) The larger of PCI's three buildings, immediately opposite the entrance of Emily Carr, is expected to be completed at the same time as the art university.
"Our office market in Vancouver runs the gamut. So, as much as there are a number of opportunities for tenants downtown, this is really a very different space. And it's more gathering together like-minded businesses," Mr. Grant said.
Many of those will be tech and gaming companies, some of which already occupy an old, renovated Finning industrial building. More are expected to relocate from Gastown, which has a degree of historic chicness and relatively cheap space, but the offices tend to be cramped.
"So there's an inability for organizations in the animation and visual-effects space to get better quality, larger-scale space, and to scale up. So we're seeing more interest from those sorts of organizations here, partly as a result of their traditional location in Gastown just not working for them like it used to," said Matthew Carter, president of the Great Northern Way Trust.
The Emily Carr development will also act as a connection between the Olympic Village residential community and the northern end of False Creek Flats where, for instance, the new St. Paul's Hospital will be built. The entire area is also an extension of the hip Mt. Pleasant neighbourhood.

A great deal of hope, however, rests on Vancouver's metro operator TransLink extending the SkyTrain's Millennium Line, with a new station to be built on the site. A great deal of design planning has already gone into a proposed extension, but funding has yet to be identified.
But does all of this mean that Emily Carr will be going high tech, losing some of the rustic charm and close quarters of its old campus on Granville Island?
"No, I wouldn't say that," Dr. Burnett said. Despite all the talk of high tech and the futuristic, Kalzip white cladding that will cover the building, Dr. Burnett emphasized that the new campus is all about allowing more cross-fertilization between arts disciplines, old and new. "The range that is here [on Granville Island] will be there [on Great Northern Way]," he said.
Emily Carr does not plan to continue any classes on Granville Island once it moves in 2017. It does hope, though, to maintain a student gallery or some small space on the Island. Its Granville Island landlords have said they would like that, because for all its newness, Vancouver doesn't easily forget its neighbourhood heritages.
Emily Carr's move will dramatically change its new neighbourhood, but a sense of place and neighbourhood identity change slowly. It had that on Granville Island. It needs to recapture that at Great Northern Way.
Just ask anyone at Simon Fraser University. It houses its school for the contemporary arts at the site of the old Woodward's department store in Gastown. But history couldn't be demolished, and it's now called SFU Woodward's.
This is the second of two articles by Guy Dixon. The first story can be read here.