Aboriginal Gathering Place to take "Opening Doors" Around the World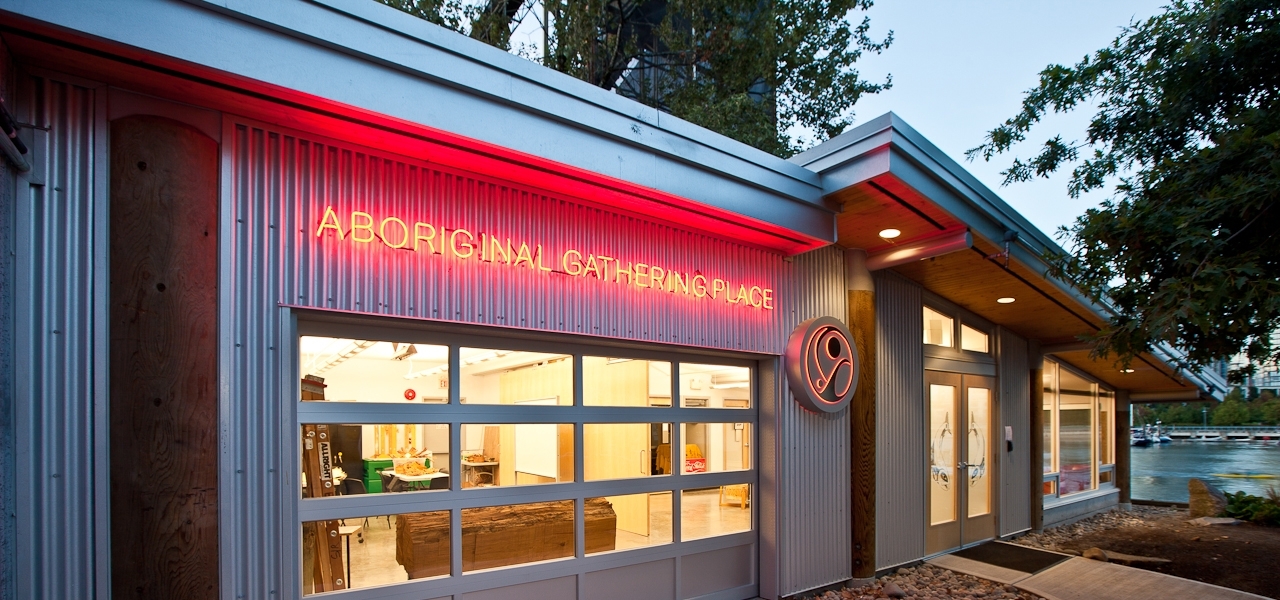 Posted on January 29, 2016 | Updated August 06, 2019, 9:05am
Partners and students collaborate to transform engagement with traditional Northwest Coast artistry.
4 Partners, 10 Artists, 2 Advanced Carving Mentors
The Emily Carr Aboriginal Program's recent gala and exhibition at the Yaletown Roundhouse brought a new show entitled Opening Doors to British Columbia's public. The result of a dynamic collaboration between three educational institutions and one industry partner, this striking exhibition now prepares to go global.
By traveling to various locations around the world, Opening Doors' stunning exhibit of hand-carved western red and yellow cedar doors tells the story of the BC coast's Aboriginal talent and the unique process that transfers traditional techniques and skills from one generation to the next. The modern evolution includes education and access to new opportunities, leveraging complex technologies and the intellectual properties of design for applications in industry production.
The project was led at Emily Carr University by Brenda Crabtree, Director of the Aboriginal Gathering Place, who collaborated with three other partners including the Freda Diesing School of Northwest Coast Art, UBC's Centre for Advanced Wood Processing and FP Innovations.
About the People
Carving instructor and Emily Carr alumnus Xwalacktun mentored five participants from different nations, including three Emily Carr University students, at the Aboriginal Gathering Place on our Vancouver campus at Granville Island:
James Harry: Coast Salish & Kwakwaka'wakw
Edwin Neel: Kwagu'ł & Ahousaht
William Callaghan: Tlingit
Lyle Mack: Nuxalk
Chazz Mack: Nuxalk
At the same time, carving instructor Ken McNeil, mentored five participants at the Freda Diesing School of Northwest Coast Art:
Arlene Ness:Gitsxan
Lathan Mack: Nuxalk
Jared Kane: Tlingit
Stan Bevan: Tahltan/Tlingit/Tsimshian
Dean Heron: Kaska/Tlingit
About the Program
Qualified Aboriginal artists from BC communities applied for this unique educational program that offered participants full access to training and mentorship with an esteemed, advanced carver. The artists now own their cedar door panels and will retain the intellectual property of their designs. In return for the experience and training, the completed panels are displayed at select venues as part of the initiative, including the exhibition at Vancouver's Yaletown Roundhouse in October, 2015, which showcased the exquisite doors and included a presentation at the gala opening.
The doors will now travel to several global locations highlighting the tradition, the artists, the creative collaboration, and the technology that soon will transfer their designs into production.

About the Possibilities
Emily Carr University's established partnership with a door manufacturer, together with the artist's consent, now means that select doors may become part of a high-end line offered by the company, including limited edition reproduction doors which will be produced digitally with a large-scale CNC machine.