Governor General of Canada visits Emily Carr University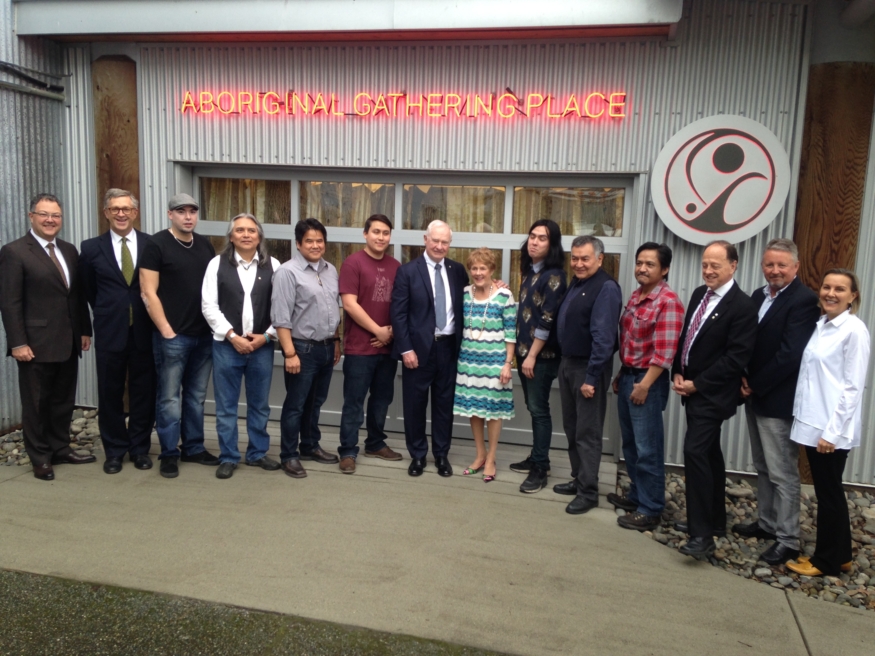 Posted on March 31, 2016 | Updated August 06, 2019, 9:05AM
The Governor General of Canada meet with several Emily Carr Students and visited the Opening Doors Exhibition Project.
Emily Carr University of Art + Design was honoured to host a visit of Their Excellencies the Right Honourable David Johnston, Governor General of Canada, and Mrs. Sharon Johnston on Thursday, March 3, 2016.
The Opening Doors Exhibition Project at Emily Carr was the first stop of Their Excellencies official visit to Vancouver where Their Excellencies met with Aboriginal students, faculty, carvers and partners involved in the program.
"Sharon and I are looking forward to seeing the great work being done in Vancouver with regards to Aboriginal art and youth programs, in the high-tech sector and by community foundations," said the Governor General.
"We are honoured and thrilled to showcase this project to Their Excellencies," said Brenda Crabtree, ECU's Aboriginal Program Manager. "The project allowed us to focus on Aboriginal talent combined with a unique process that transfers traditional techniques and skills from one generation to the next."
The project invited qualified Aboriginal artists from across BC communities to receive full access to training and mentorship with esteemed and advanced carvers. Brenda Crabtree spearheaded the project, in partnership with UBC and collaborated with three other partners including the Freda Diesing School of Northwest Coast Art, UBC's Centre for Advanced Wood Processing and FP Innovations.
This partnership allowed the students to access new technologies and develop imaginative ways in creating their final art piece. The end result is a door and design that the students will retain the intellectual property of and unprecedented experience and training. The completed panels were displayed at Vancouver's Yaletown Roundhouse in October 2015 and will now travel to select venues globally, sharing the artistic creations and information about this innovative program. For more information visit Opening Doors Project.
Pictured from left to right | Blair Qualey, Chair, ECU Board of Governors; Geoff Plant, ECU Chancellor; William Callaghan, 4th year student; Xwa-Lack-Tun alumnus and Master Carver; Dean Heron, Master Carver, Freda Diesing School; James Harry, alumnus; Their Excellencies the Right Honourable David Johnston, Governor General of Canada, and Mrs. Sharon Johnston; Edwin Neel, 4th year student; Dempsey Bob, Master Carver and ECU D.Litt; Ken McNeil, Master Carver, Freda Diesing School; Dr. Ron Burnett, ECU President + Vice-Chancellor; ChrisGaston, UBC/FP Innovations; Brenda Crabtree, ECU Aboriginal Program Manager.