Masters Program Alumnus and Adjunct Researcher Alan Goldman Speaks to his Latest Film Project​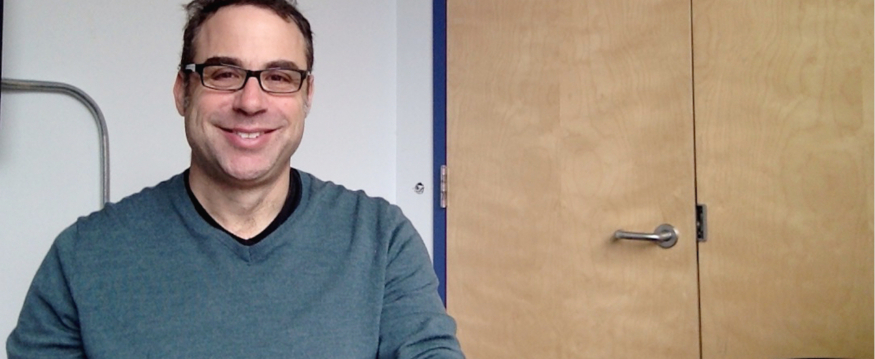 Posted on April 25, 2016 | Updated August 06, 2019, 9:06AM
Three Questions with Alan Goldman, Adjunct Researcher and Industry Liaison.
"Right now I'm actually working intensely on a personal project about the filmmaker Philippe Mora. The story takes us on a fascinating journey into film, art and history. What it reveals is not only his family's tragic past and ultimate survival, but particularly, how this background led to the artist Mora's notable career and work -- as a celebration of life, creativity and art."
EC: Alan, we understand you are working on a project that stems from your work as a graduate student at Emily Carr. Could you tell us about the piece you are creating and how it evolved?
While working on completing my Master degree at Emily Carr, I was researching the affect affect of 3D on my documentary practice. I had an opportunity to present my findings during the Toronto International Stereoscopic Conference. While at the conference I got a chance to hear Philippe Mora's presentation. He had just returned from the Bundesarchiv in Germany and said that the Nazi's had shot two stereoscopic films using a process that they called Raumbild. Yet, what was truly remarkable was his assertion that German scientists had employed the 3D film and projection during the 1936 Olympics.
I had an opportunity to meet Philippe later and he told me...
EC: How did the focus of your graduate studies at Emily Carr contribute to shape your approach to this piece?
While at Emily Carr I was able to deconstruct my documentary practice which then was focused on the art of making 1st person documentary. My studies here helped me realize that I wanted to create "a new route for my documentary work that is more self-conscious, without necessarily being too reflexive". I have attempted in this piece whenever possible to reveal my process to the audience in an effort to create an honest and intimate portrayal of my subject.

EC: With the perspectives you have gained through your graduate studies and career in film and digital media, what skills and perspectives would you say are most advantageous today for professionals entering or advancing in the field?
Virtual and augmented reality is still in some ways in its infancy but these are exciting new mediums that create an empathetic link between the creator and user. The advent of 360º panorama capture and display has created a new way of experiencing film and the traditional flat display.
What is notable is that the best experiences that I have experienced in VR are the ones that are not predictable and take you on a journey that is not prescribed yet it still incorporates some of the basic tenets of storytelling. I think its integral for film and digital media makers to stay open to new methods of expression. The flat screen has its place but its important to be open to these exciting new methods that combine the best digital expression and make the user a part of the experience.
About Alan Goldman
Alan Goldman is an Adjunct Researcher and Industry Liaison at Emily Carr University's Stereoscopic 3D Centre of Excellence and teaches a course on the Art of the Documentary in 2D and 3D.

Alan Goldman began his career in radio and was part of the award-winning team that produced the five-part national CBC Radio documentary series A MATTER OF SURIVAL, hosted by Dr. David Suzuki. Moving to television, Alan researched and produced for VENTURE, SHIRLEY. He then moved to film and has won numerous awards for his work on documentary films as a researcher, writer, producer and director. He worked with director Robert Duncan on a series of documentaries for television including WEIRD AND WONDERFUL (Global), and The FUNNY SIDE OF DEATH, (CBC Witness).
Alan went on to produce GLOWING IN THE DARK (Bravo!, CBC and American Movie Classics), through his production of company Blue Plate Productions winning the prestigious B.C. Heritage Award, which recognizes achievement by individuals, associations, businesses, and governments in the field of heritage conservation. Alan also devised and produced a 22-part series on books for the CBC (BOOKED ON SATURDAY NIGHT) and worked on the national CTV program GABEREAU as a producer.
His semi-autobiographical film WHO THE JEW ARE YOU? premiered at Doxa in 2009, and continues to play at many festivals throughout North America. Alan completed his masters in the spring of 2011 at Emily Carr University. His thesis explored documentary in 3D space.