Alumni Films Honoured at Ottawa International Animation Festival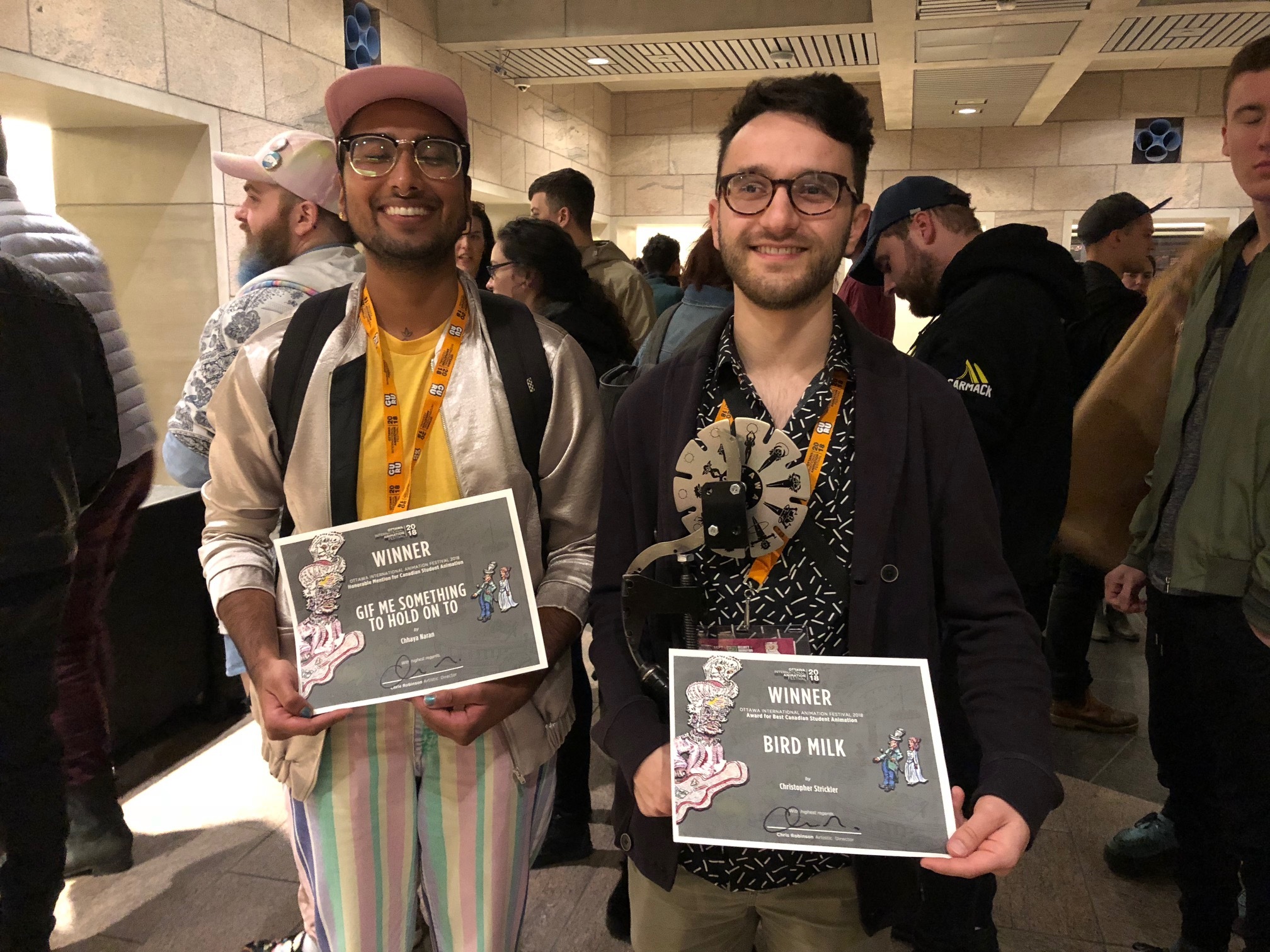 Posted on October 03, 2018 | Updated August 06, 2019, 9:07am
Christopher Strickler and Chhaya Naran received prizes for their grad films at this year's festival.
Two Emily Carr alumni were honoured this past weekend at the Ottawa International Animation Festival (OIAF), North America's leading animation film festival held annually each September. The ceremony was held at the National Gallery of Canada on September 29.
Christopher Strickler (BMA 2018) received the top prize for best Canadian Student Film for his graduation film, Bird Milk. Chhaya Naran (BMA 2018) received an honourable mention in the same category for their film GIF Me Something to Hold On To. Both are graduates of the ECU Animation program.
Receiving the award was thrilling, I could barely feel myself walking to the stage. To be among great filmmakers and to be appreciated by them is very validating. As representatives of Emily Carr University, my friends and I brought great variety to the student competition at Ottawa, and I felt so proud to introduce my friends as fellow filmmakers with work in the festival.
I was honoured to be there, and thrilled to win. I had such an exciting time in Ottawa-- I got to meet new friends, see some amazing animations, and I got to cheer on my peers. I felt so proud for all of us!
2,469 entries from 84 countries were submitted to OIAF, from which 110 were selected for competition. Other ECU student and alumni films selected for the Canadian Student Film competition at OIAF included:
Al Ghorba by Alia Hijaab
Cathedral by Ivan Li
Evolution by Nayeon Cho
Hole by G Goletski
Mix by Joshua Neu
Congratulations to all the finalists! See the full winners announcement on the OIAF website.