Brave New World | Building a Critical Mass of Indigenous XR Creators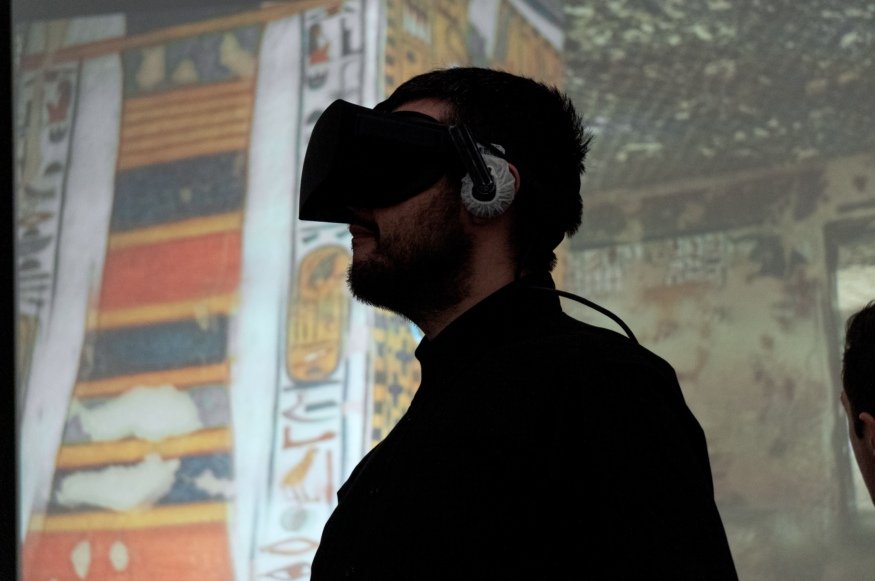 Posted on May 09, 2019 | Updated June 10, 2019, 11:09AM
The IM4 Project is breaking the colonial model of digital storytelling and building an Indigenous community of AR, VR and 360 creators.
"Everybody has different skill sets," says Loretta Todd. "But at the same time, we're all storytellers."
Loretta is an award-winning Cree-Métis filmmaker, writer and digital storyteller, and the Creative Director of the Indigenous Matriarchs 4 (IM4) research project. Led by four Indigenous women and media creators in partnership with ECU, the IM4 Lab offers hands-on workshops in virtual reality (VR), augmented reality (AR) and 360 video production to Indigenous artists, media creators, storytellers and community members.
VR productions are computer-simulated realities, complete with realistic visuals, sounds, and other sensations. AR productions "augment" reality itself, adding an overlay of computer generated content to viewers' surroundings. 360, or "spherical," videos are real-time panoramas, capturing footage in multiple directions at once. All three techniques fall under the broad category of "extended reality (XR),"—computer-generated media environments that allow creators to offer more immersive, multi-sensory experiences than other methods. And all three are a key focus for IM4.
Creating an Indigenous-first media space
As the first Indigenous virtual reality lab in Canada, the project takes a radically different approach to digital storytelling.
"For the most part, there's still a colonial relationship to us in the media," Loretta explains. "We're trying to break that colonial relationship, that power relationship."
Historically, she says, Indigenous media production has been underfunded and under-resourced. Creators are pushed to subscribe to existing media norms, rather than rely on their own storytelling practices. Often, hierarchical, colonial structures limit their access to media spaces—or deny them access altogether. "Somehow," she explains, "we're always playing catch up."
Colin Van Loon, a Piikani filmmaker and the Operations Manager at IM4, agrees. He explains that many Indigenous filmmakers struggle to build new capacities because of these colonial structures. This, in turn, makes it difficult for Indigenous creators to collaborate with one another—especially when it comes to new technologies, like AR/VR and 360. "We do our best," he says, "but the community of Indigenous XR creators is very small."
One goal of IM4 is to counteract that imbalance. Through its free workshops and events, the project puts Indigenous creators at the forefront of the AR/VR and 360 industry. It provides them with opportunities to build their skills and participate in this emerging field right from the start—on their own terms.
"We had over 50 people come out to the workshops last year," says Colin. "That's 50 more Indigenous people involved in VR, AR, and 360 video."
Indigenous-led and governed
To achieve that goal, IM4 takes a unique, non-hierarchical approach to governance.
"If this is for the community, it has to reflect that community," Loretta explains. "It's not just [about] influencing the technology, we also have to influence the infrastructure around these technologies."
For this reason, IM4 is spearheaded by not one, but four creative leaders. Loretta works closely with Cease Wyss, Dorrean Manuel, and Tracey Kim Bonneau—each of whom is an Indigenous Matriarch and media creator in her own right—to plan and direct all of IM4's projects. A fifth Matriarch, Amethyst First Rider, provides guidance from an advisory position.
"In the past, Matriarchs were leaders in taking risks and bringing that knowledge back to the community," Loretta explains. In IM4, "the Matriarchs have an expression of that traditional role."
But the project's governance structure is unique in other ways too. All of IM4's staff are Indigenous, as well as many of the workshop leaders. And when the project hosted its Indigenous Speaker Series in February, everyone—from the caterer to the event photographer—was Indigenous. The event was a major success.
"It was an amazing event," says IM4's Project Coordinator, Alannah Mandamin-Shawanda. "A lot of Indigenous media creators and storytellers came out." A key goal for IM4, she explains, is to create more of these opportunities, to empower Indigenous creators to become leaders within the XR space.
"It's important to… let Indigenous peoples take the lead on Indigenous issues," Colin agrees. "And I think that's what we're seeing happening here in the lab."
For the community, by the community
But IM4's goals extend beyond simply teaching AR, VR, and 360 skills. The project also incorporates a research component.
Through a series of semi-structured workshops and meetings, IM4 is investigating how Indigenous creators in rural and urban communities view these new technologies. What opportunities does XR pose for Indigenous creators? What risks should communities be aware of? How would Indigenous people like to see this media used in their communities—if at all?
The goal of this research, Loretta explains, isn't to analyze but to explore—to spark a larger discussion around these emerging tools. "We're keeping it pretty simple," she says. "It's really a conversation, and then we'll document the conversation and share the documentation."
These kinds of conversations, she adds, were once common occurrences in many Indigenous communities. In the past, residents would come together whenever a new technology, like a sewing machine or telephone, was introduced into the community. Elders and scholars would gather to create an Indigenous-language name for that tool. But these meetings often extended beyond the naming process, opening up larger conversations about the meaning and significance of the tool itself.
"You start to get into very deep layers of language and knowledge systems and relationships," Loretta explains. "That's the kind of dialogue we need to have about these technologies."
Using XR to share Indigenous stories
As the three-year project nears its halfway mark, the team is already looking ahead to the future.
So far, feedback from participants has been very positive. Several have attended multiple workshops, racking up a strong set of production skills along the way.
In the coming months, IM4 plans to build and expand on this strong foundation. The workshops will continue, branching out into new areas and different communities. But the lab also hopes to generate at least four XR productions, extending the project's skill-building focus into the world of creation.
"The goal," Alannah says, "will be to hire the people who have taken our workshops for productions." By empowering participants to put their new skills into practice, the team aims to build a community of Indigenous creators within the XR space.
"We're pushing things forward," Colin adds, "trying to build up this critical mass of Indigenous people in VR/AR."
Loretta is curious to see where these productions will take participants. Colonial traditions, she explains, often limit the kinds of stories Indigenous media creators can explore. Indigenous people have been "smashed into the three-act plot-driven way of making television and film," she says. "But AR/VR is a whole different way of experiencing stories, and so, potentially, is 360."
She's excited to see what storytelling opportunities these technologies might open up. Could creators use AR to map a territory with Indigenous language and place names? To communicate the deep place-related knowledge captured by oral traditions?
"I think [XR] helps us kind of think about storytelling in a more open, a more multi-layered way," she says. "Everything is connected and we can, in some ways, glimpse those connections. As artists we can potentially create those connections."
At least for now, there's no telling what IM4's productions will look like. But, like Loretta, we can't wait to find out.
---
The next IM4 workshop, Intro to Augmented Reality, is taking place May 18+19 at the Centre for Digital Media. This workshop is open to all Indigenous artists, media creators and community member who want to build their AR skills. Learn more + register.
These projects are generously funded by Western Economic Diversification, Congress of Aboriginal Peoples, TELUS, Emily Carr University of Art + Design and CreativeBC. We also acknowledge in-kind contributions by the Centre for Digital Media.
Story by Alice Fleerackers