Building Community Through the Business of Design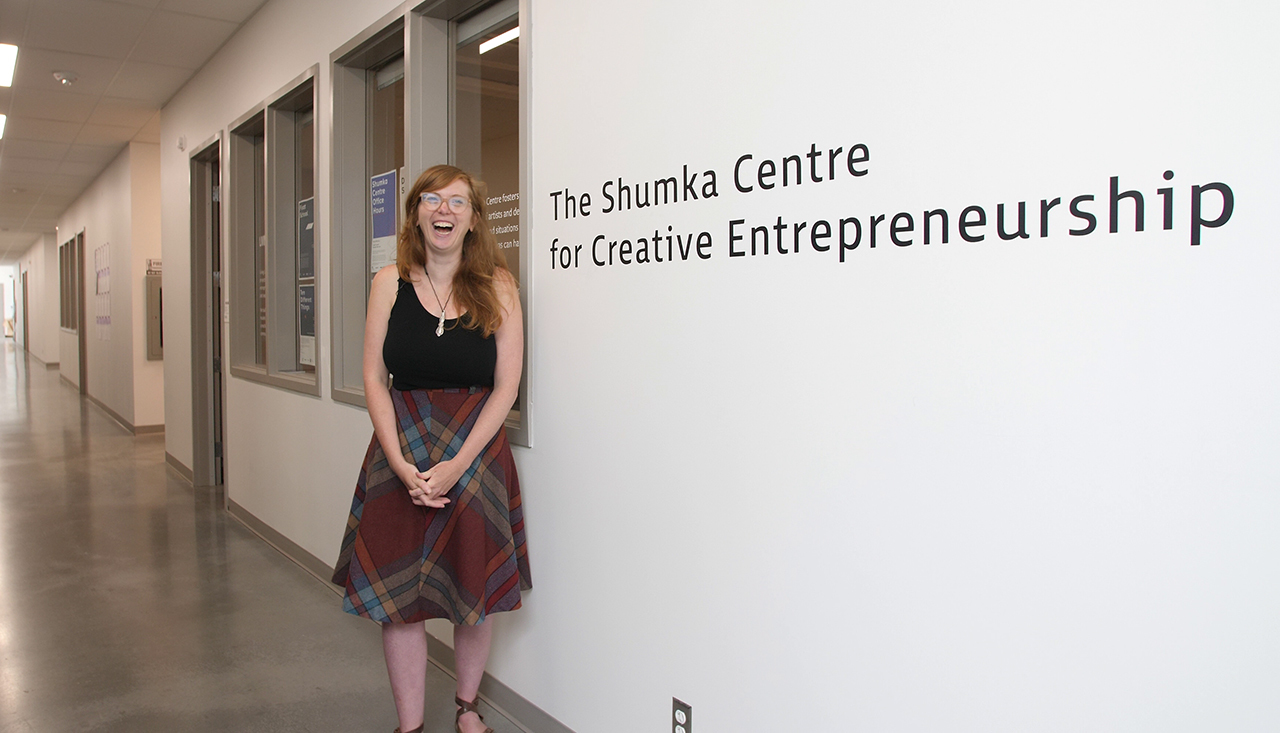 Posted on August 22, 2019 | Updated January 10, 2022, 2:27pm
A Collaborative Program Unpacks the Issues, Challenges and Opportunities in Vancouver's Textile and Apparel Industry
Design, engineering, business and textiles is at the heart of an innovative program that combines business and design principles to teach students how to develop design-led, socially responsible ventures.
Run collaboratively between Emily Carr University's Shumka Centre for Creative Entrepreneurship and Simon Fraser University's Faculty of Communication, Art and Technology and Beedie School of Business, the Business of Design program brings an interdisciplinary group of students together with local experts in textiles, clothing and design to unpack some of the issues, challenges and opportunities in Vancouver's textile and apparel industry.
ECU alum Emily Smith (MDes, 2018), co-founder of Vancouver MiniMaker Faire and founder of Vancouver's Fibershed, and Stephanie Ostler, founder and CEO of Devil May Wear, will mentor students from diverse specializations to help create and connect the next generation of leaders and innovators in the textile industry, and help foster an ecosystem of local opportunities, and environmentally-responsible ventures and products.
"What gets us excited is that Emily Carr's ethos is 'research by making,' so this program feels like an extension of that research practice," says Cemre Demiralp, Co-ordinator at Living Labs, which operates the Shumka Centre.
"It's all about teaching students how working directly on the development of their ideas is a critical form of inquiry, and one that will actually make them more qualified as they transition into the professional world. It's also about understanding how growing connections outside your specialization is a key way to turn doing what you love and believe in into a livelihood."
In a hands-on, learning-by-doing environment, Emily Carr design students will get a taste for the business side of their practice while SFU students will grow their own understanding of the importance of design in bringing an entrepreneurial vision to life, Cemre says.

From theFall 2019 semester through Summer 2020, the program is delivered in three terms. The first will focus on research-through-making and connecting with industry, the second on iterating and prototyping design-led businesses and propositions, and the third term on launching a design-led venture.
The whole cohort, meanwhile, will meet with members of the local business and textile-industry community to make connections, network and ideate together. Mentors Emily and Stephanie will facilitate conversations to encourage creativity and networking, rather than telling students what to do.
(Thanks to Hélène Day Fraser, Associate Dean, Master of Design, and industry partnerships formed through ECU's Material Matters research group, the Business of Design program has already partnered with — and received materials from — Dutil Jeans, Cemre says).
She added that this type of cross-disciplinary community-building is central to the Shumka Centre's philosophy.

"We want them to make what can sometimes be a lonely practice into an opportunity for emerging innovators to share their expertise with others who are looking for someone just like them."
"A lot of artists and designers out there have a lot of questions about how to take their practices to the next step, and they don't know where to go. We want them to introduce them to each other, and make what can sometimes be a lonely practice into an opportunity for emerging innovators to share their expertise with others who are looking for someone just like them."
First developed by Emily Carr's Living Labs, the Shumka Centre launched last year with a grant from the Vancouver Foundation with the aim of fostering the movement of artists and designers into systems and situations where their work and ideas can have the most impact.
Toward that goal, the Shumka Centre is also sponsoring a speaker series to bring working professionals to Emily Carr as a resource for students looking to learn more about the business of art and design. They will inaugurate a "skill-up" lunch-hour workshop program co-produced with Career + Professional Development — brief intensive tutorials on specific skills ranging from how to approach a curator or an agency, to how to think about self-publishing, to different models of selling a product, to how to frame an artwork.
The idea, as with the rest of the centre's initiatives, is to connect diverse peers with experts and with each other over shared interests, and create networks within and around the creative community.
And this year's collaboratively-run Business of Design program, Cemre says, strengthens the existing industry partnerships based in materials research, such as the Material Matters Research Centre's Textile Adaptations Research Program (TARP), which aims to identify new modes for engaging with cloth-based products while maintaining responsible relations to the environment and society.