Activating Outdoor Spaces | An Evolving Partnership with KGMS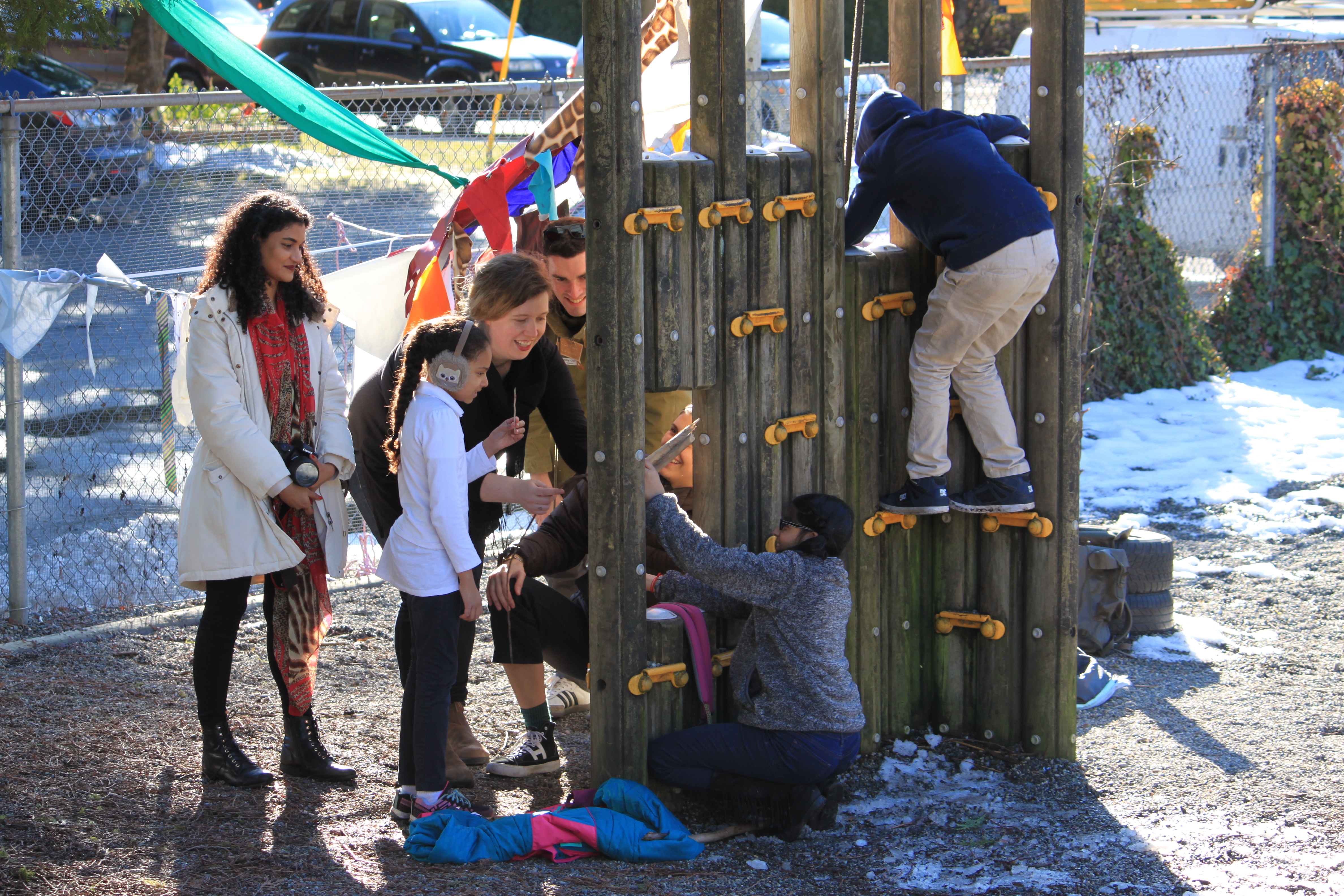 Posted on March 22, 2019 | Updated August 06, 2019, 9:07am
Every year, second-year Industrial Design students collaborate with students at a North Vancouver elementary school.
Since 2010, Emily Carr University has partnered with Kenneth Gordon Maplewood School (KGMS), an alternative elementary school in North Vancouver, to co-create tools for learning and play with their students.

The mission of KGMS is to empower children with learning differences, by providing each child opportunities and methods that work for their unique learning style. In the spirit of this approach, they began working with Emily Carr in 2010 on an annual collaboration between a group of Industrial Design (INDD) students and a class of KGMS students.
The second-year INDD students are partnered with KGMS students and tasked with co-creating a tool that supports their self-regulation while also serving the aims and interests of the child. During their first on-site visit, INDD students get to know their student "clients" and the context of KGMS. In subsequent on-site visits they develop a project with active involvement from KGMS students, refining their ideas and prototyping their designs. The resulting projects reflect the diversity of the students involved, though most take the shape of games or playful objects.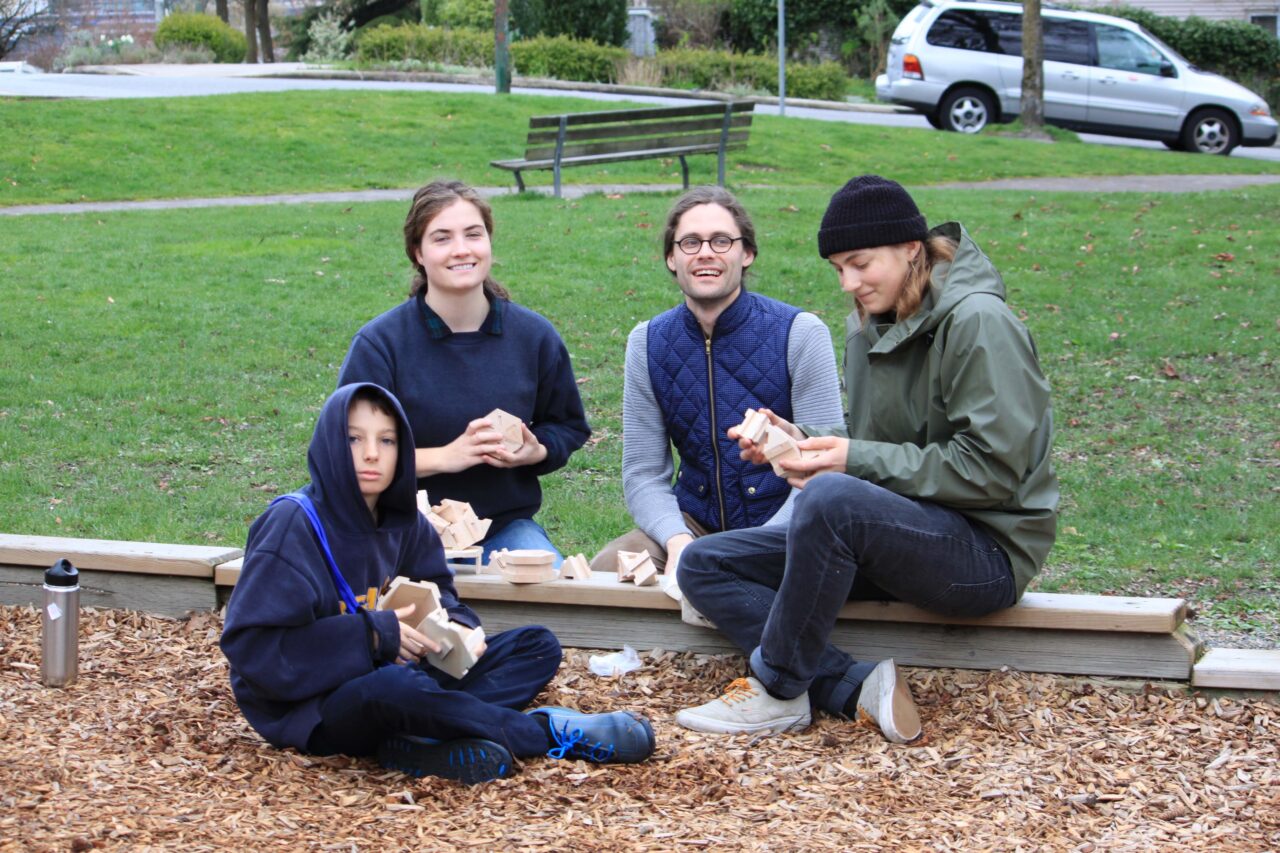 Between 2010 and 2017, the class was taught by Helene Day Fraser, Associate Dean of the Master of Design Program. The partnership was initiated by Helene and KGMS counsellor Marie Watler, who wanted to explore and develop new ways of teaching. The program has many champions at KGMS, including counsellor Neil Pinkerton and Division 5 teachers Megan Forster and Marta Chojnacka, whose students are currently participating in the class.

As of 2018, sessional faculty member Zach Camozzi has been leading the class. His interests in ecological and sustainable design have evolved the shape of the course from one that mainly focuses on indoor tools and activities to the activation of outdoor spaces and games.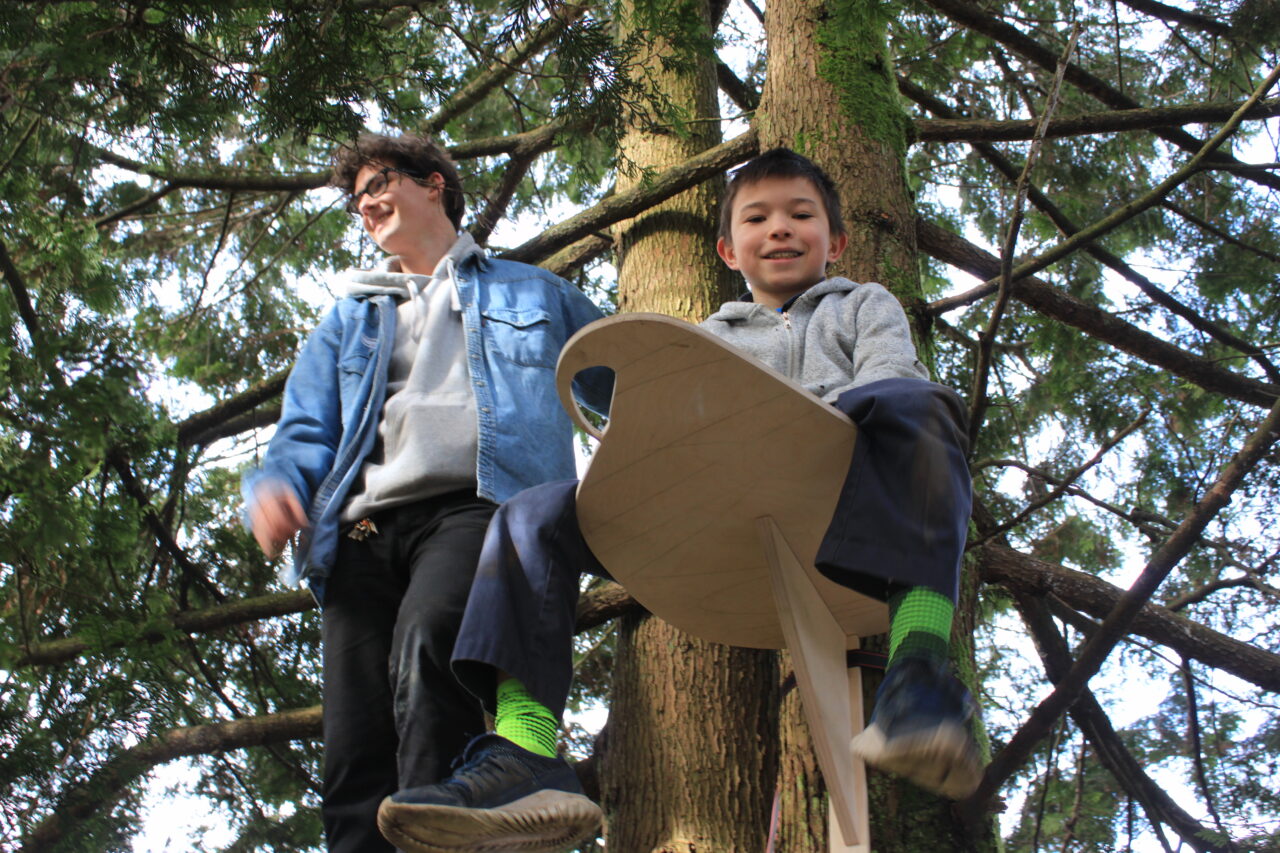 At a recent on-site visit in February, groups of Emily Carr and KGMS students gathered outside to test rough prototypes, utilizing playground spaces, fields, wooded areas and even fences. "It's been nice [having it outdoors]. The students understand the outdoor spaces a lot better than if they're looking for something for the gym, or the library. They seem to really enjoy it a lot more," said Megan.
"For my students, they can be a little bit hidden and try things. They can make their own judgements, which is really important," Zach adds.
Going outside has an added benefit of helping students burn off energy. "We always want to encourage them to go outside, and get some fresh air and sunshine," said Megan.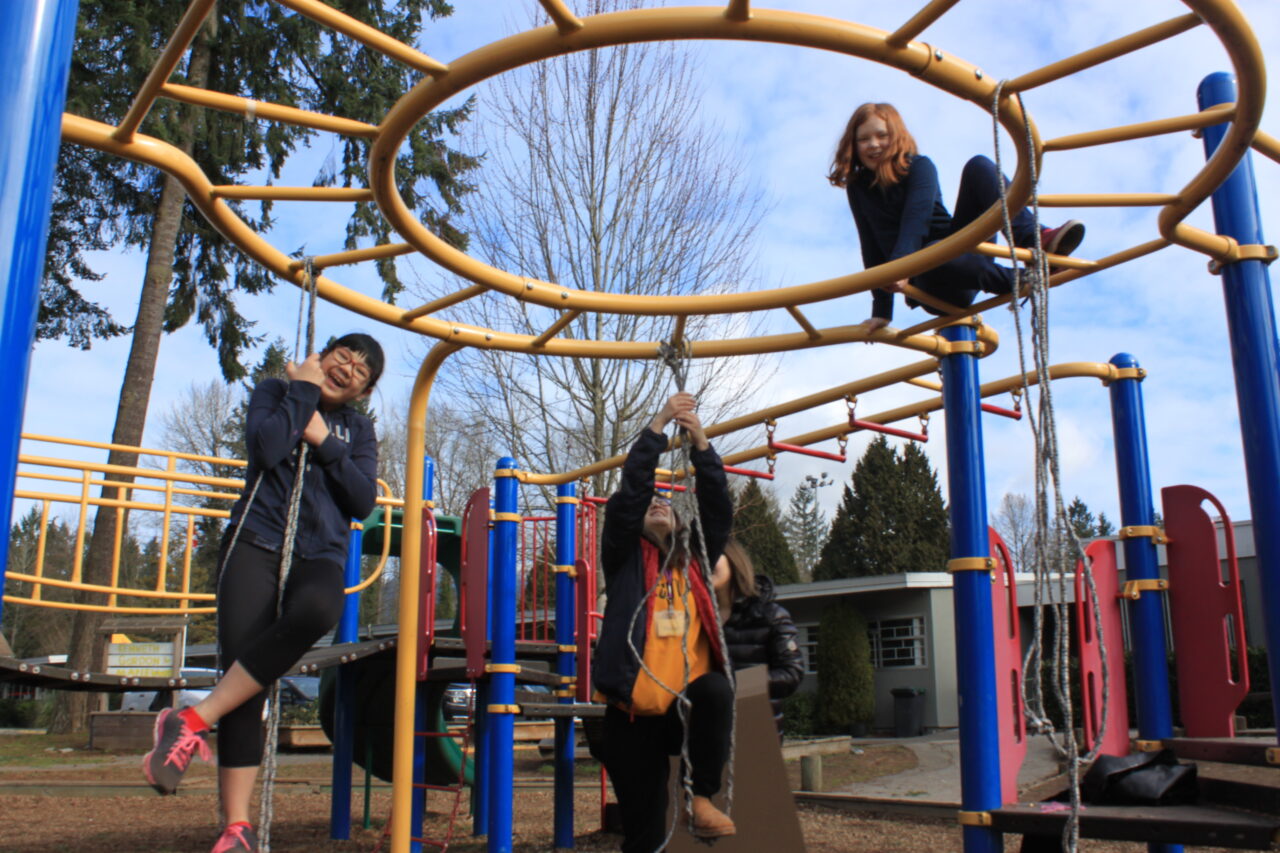 The five on-site visits with KGMS students involve research, ideation and development. KGMS students are included in each stage, ensuring that they feel equal ownership over their role in the project. By the end of the class, each group has created a prototype to activate a space on the KGMS campus for play, learning or self-regulation. Most prototypes are retained by the Emily Carr students after the course ends. In 2015, a Design Fair at KGMS showcased the co-created projects; it was profiled in the North Shore News.

For the KGMS students, the collaboration provides other lasting benefits in the form of self-esteem and creative opportunity. The partnership with Emily Carr gives them the opportunity to share ideas and lead projects without oversight from teachers.
"Working with older students, there's a lot of value in it for them," said Megan Forster. "They begin to be more creative. And it's fun for them to show these Emily Carr students around their school and explore with them and work in groups."
"And they can just be free, and not worry about being perfect."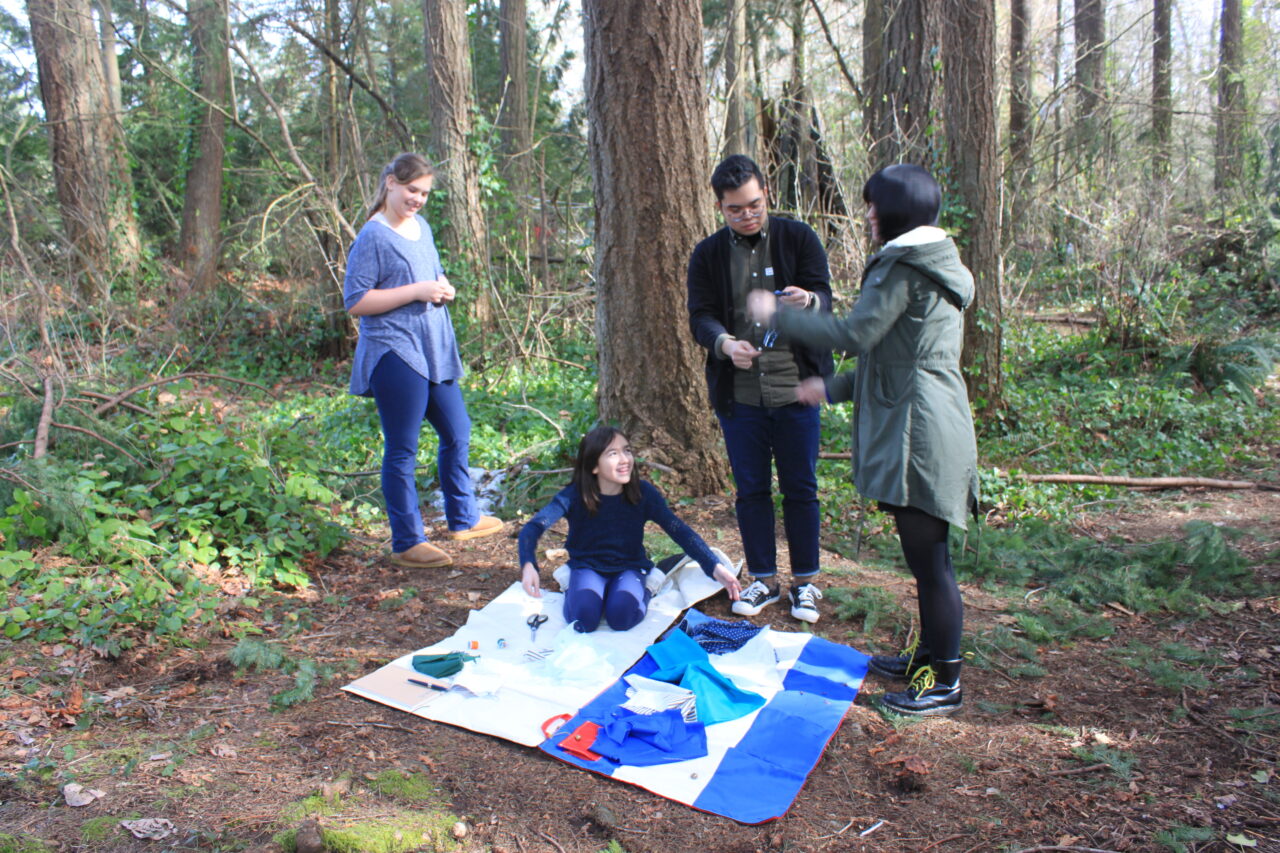 And through the co-creation process, INDD students learn transferable skills for their future careers in design and get to tackle real-world design problems. INDD student Aaron Baart (BDes 2019), who participated in the 2017 class, created a wearable, apron-style pencil case for the three KGMS students he was working with.
"The class taught me incredible amounts of patience, and how to be a clear, concise communicator," Aaron explains. "When you're trying to work with three little girls who have radically different interests, every word counts. But you can't script it; you have to let go of your preconceived notions of what you're going to achieve each day."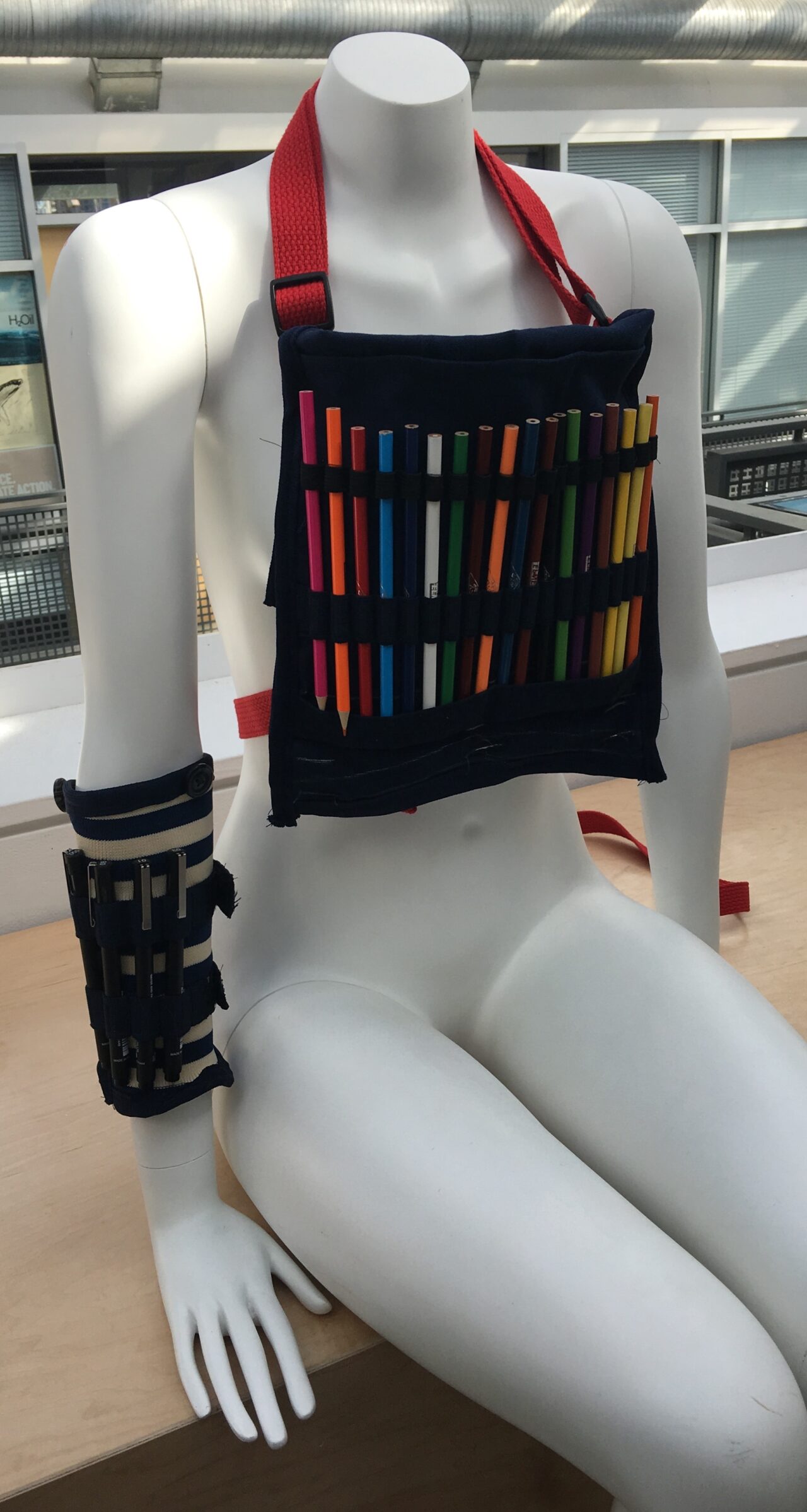 Before the INDD students meet their KGMS co-creators, they assemble an activity box to kickstart their creative processes. These boxes are different each year and include wearable items, 2D art supplies, and projects to make or assemble. The items generally reflect the textile focus of the course. This year, Megan spoke to the INDD class in advance to give them some ideas about what to expect from working with KGMS students.
"The students also read about KGMS and learning differences and consider those as they're assembling the boxes. So everything in the box is a question that will be interpreted by the KGMS students," explained Zach.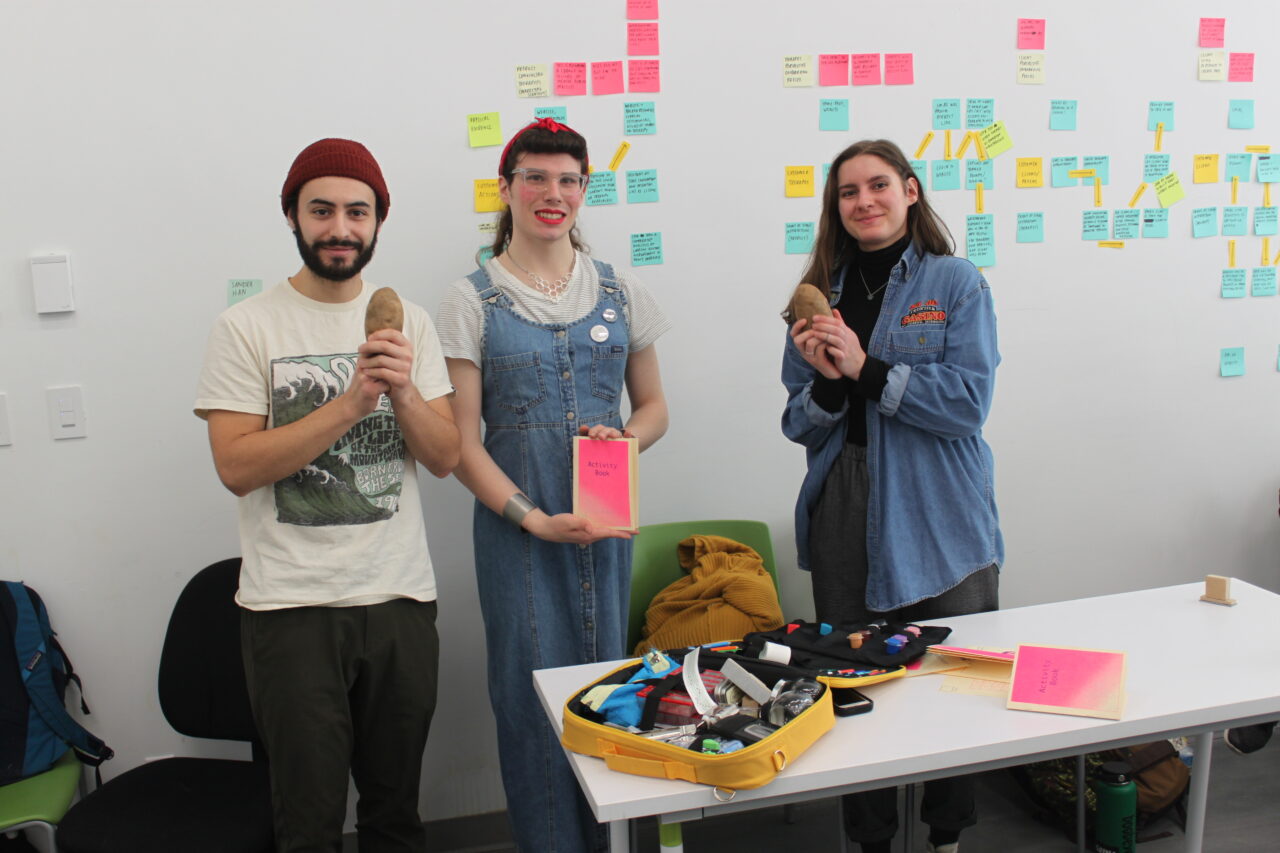 "When they get a box at the beginning, they ask, 'Where are the instructions?' and we say, 'There aren't any! You just get to do whatever you please with it.' And it gives them a moment of freedom," said Marta.
Beyond the INDD210 class, Emily Carr's partnership with KGMS has also grown to encompass the Health Design Lab. Caylee Raber, Director of the Health Design Lab, created design-based learning resources for KGMS during her Master's of Design program. In 2016/17, Health Design Lab research assistants worked on creating a space for self-regulation, which could address the varied needs of students.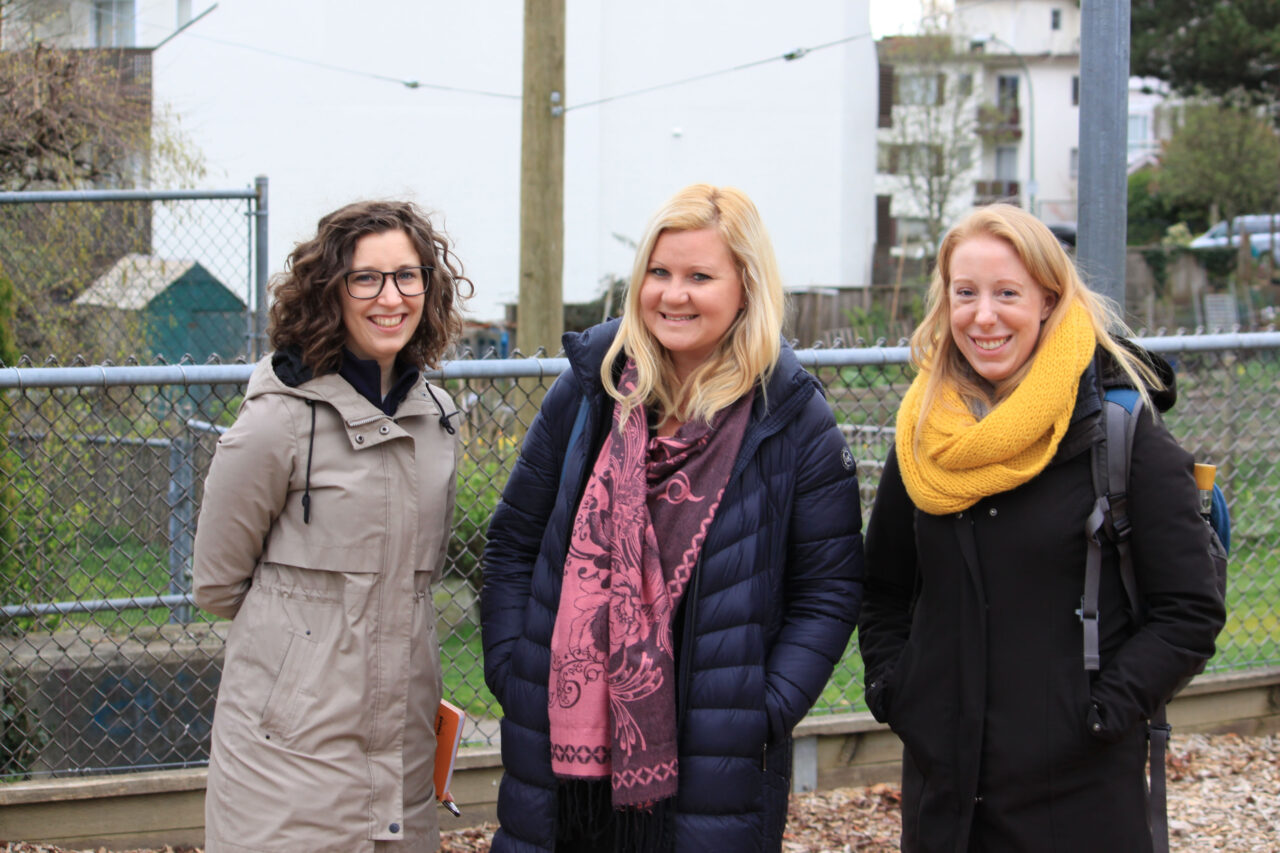 And current research assistant and Master of Design candidate Mariko Kuroda has developed her thesis project on supporting emotional regulation in children using KGMS as a case study. In the first year of her graduate studies, she developed several materials for KGMS, including self-Regulation Materials and Zone Pictures.
Now in her second year, she's undertaken an improvement project to re-imagine communication in the KGMS library. This is nearing completion and not only encourages students to explore new reading materials but encourages other KGMS teachers and faculty to integrate the library and librarians support into their classroom projects.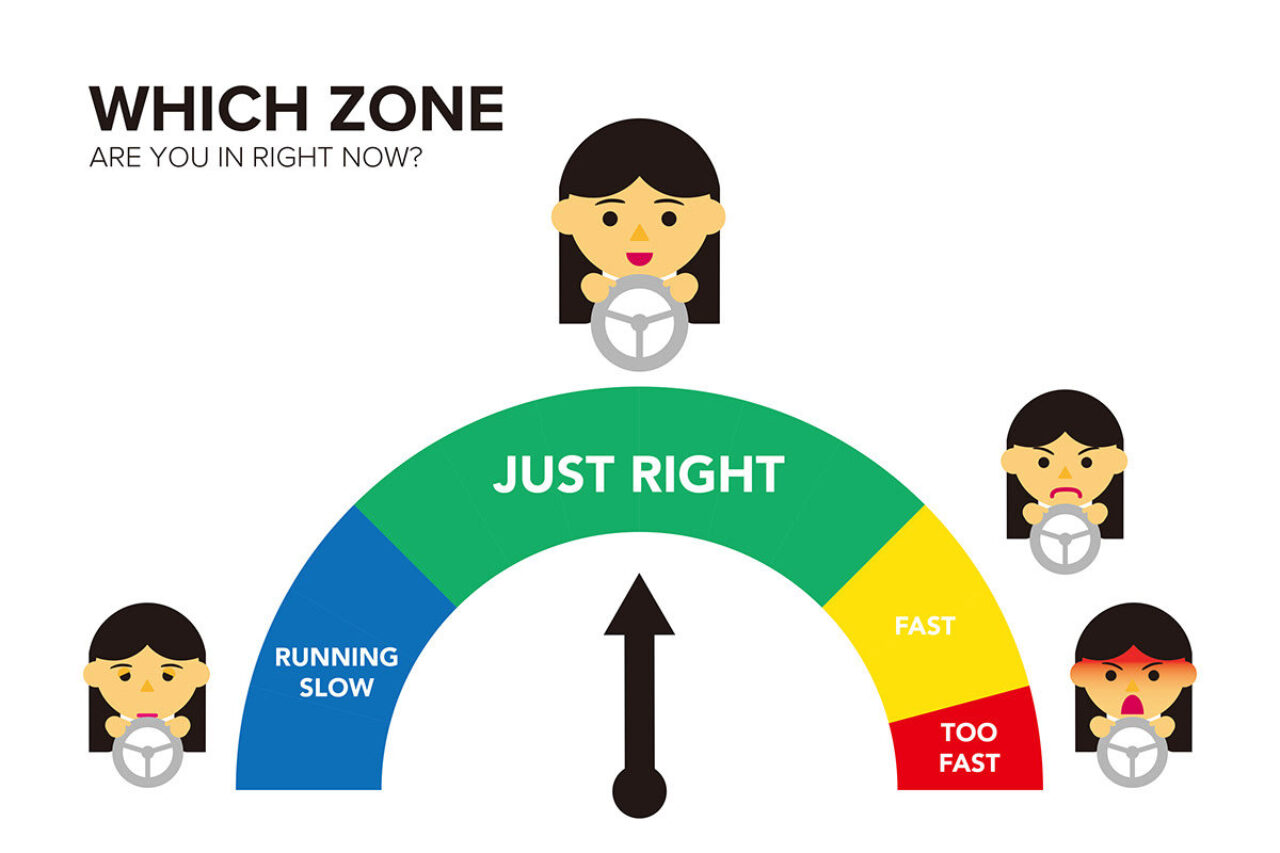 Mariko, who is interested in serving people with invisible disabilities through design, shared her experience working at KGMS on the Health Design Lab podcast.
Learn more about the partnership between the Health Design Lab and KGMS on the HDL blog.
About the Health Design Lab