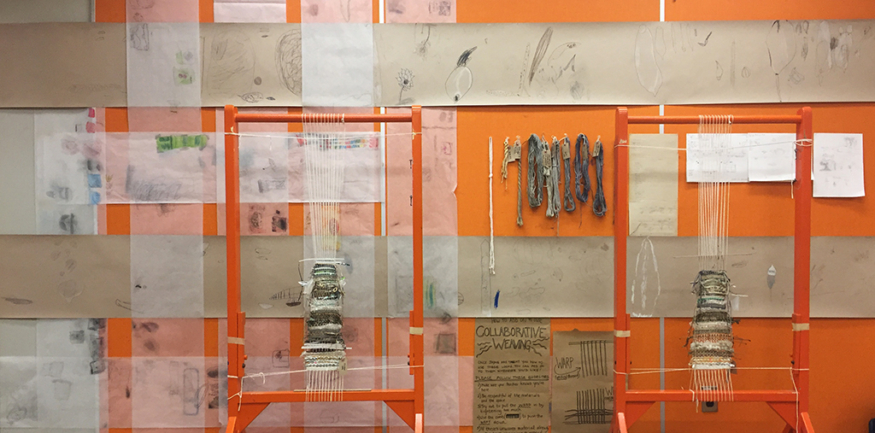 Exploring Material Practice with the Next Generation of Artists
Posted on May 01, 2019 | Emily Carr Stories
Artist and ECU alum Jaymie Johnson (BFA 2015) was the inaugural artist-in-residence at Mount Pleasant Elementary School this past year, as part of the Artist in Residence Studio (AIRS) Program.
The Artist-in-Residence Studio (AIRS) Program is an initiative to create dedicated art studios facilitated by professional artists within Vancouver public elementary schools. Offered in partnership with the Vancouver School Board, it provides dedicated and enriching artistic experiences for youth.
The Faculty of Culture + Community has established a sponsored AIRS space at Mount Pleasant Elementary, which will be awarded annually to one Emily Carr alum through annual competition. We talked to Jaymie about her experience at the school.
"I have a community- and socially-engaged practice already, and have done many smaller, shorter projects with youth," Jaymie explained. "I wanted the opportunity to work with a group of youth for a more extended period of time."
From October through May, Jaymie spent one day a week at the Mount Pleasant Elementary studio, working with students from kindergarten and Grade 7. "That has been a huge learning curve, as someone who is newer to working with kids," said Jaymie. "Just learning what different grades are capable of and interested in."
The opportunity has allowed Jaymie to develop her own practice and understanding of how to work with youth. It's also allowed her to connect with other AIRS artists, share challenges and ideas, and visit their studios.
Over the course of the residency, Jaymie's experiments and projects with the school have evolved. "I try to relate it to my own practice and the things I'm interested in experimenting with," she explains. "But a lot of the projects relate to exploring the school building and grounds for different materials. We've been doing a lot of weaving, dyeing and drawing."
Her final project is a creative mapping initiative involving all grades. She is currently working with the younger grades to represent the flowers on-site at Mount Pleasant Elementary, which will become a part of the map. Once that wraps up, Jaymie will be pulling together elements from every project over the course of her residency for their final exhibition. "It'll be a survey of what we've done, put up in an experimental way," she explains.
Material Practice: work and remnants from Mount Pleasant Elementary will be on view at the Faculty Gallery from June 8 - June 23. An opening reception will be held on June 11, at 4 pm. For full details, check out the event post.