Faculty Profile | Connie Watts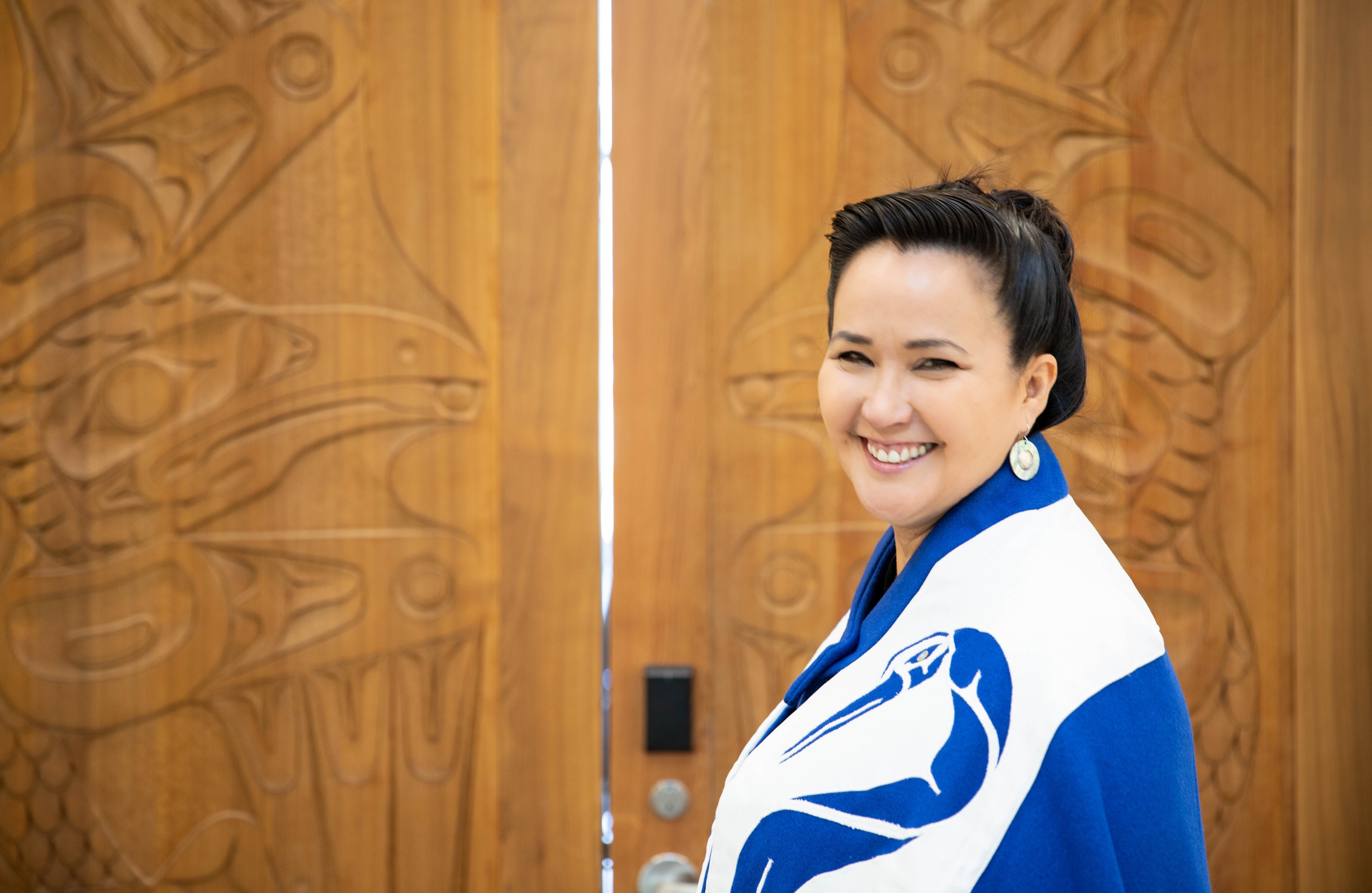 Posted on September 06, 2019 | Updated December 13, 2020, 1:07pm
Meet the new Associate Director of Aboriginal Programs.
"If everything in this world is a living part of you, how would you speak to it?"
For Connie Watts, Emily Carr University's recently-hired Associate Director of Aboriginal Programs, there's only one answer.
And Connie — over the course of describing her extraordinary journey, and the ways in which her unique experiences as an artist, designer and educator interact with her perspectives as a woman of Nuu-chah-nulth, Gitxsan and Kwakwaka'wakw ancestry — gently illustrates that answer again and again.
Consider the process of critiquing an artwork, she offers.
"You're not critiquing an object, you're critiquing a living thing," she says.
"And if it was a living being in front of you, you wouldn't disrespect it. You would look and find what the strengths were, and how you could help build those strengths. You would learn to understand the piece through the life of it."
The same goes in any learning situation, whether art or life, she adds. In acknowledging the fundamental equality between ourselves and the world around us, we find ourselves responsible to care for the world as we care for our own flesh and blood.
Applying such a worldview to the governance of spaces such as universities, businesses or professional relationships, she notes, is part of what decolonization is about.
"In this world today, we're looking for this odd thing called 'perfection.' But's that's a 'imposed human concept'," she says.
It's also an idea that begs further questions, she adds, such as "whose idea of perfection are we referring to?" The same goes for academia, she notes. Whose idea of what constitutes academia are we pledging allegiance to when we accept or reject strategies regarding pedagogy, scholarship and research?
To commit to interrogating our assumptions about these terms — perfection, academia, self vs. other — is to commit to developing our understanding "about how you open doors to different ways of understanding and knowing."
This task, Connie suggests, is a crucial undertaking for contemporary educators, and is very much at the heart of her own approach to education.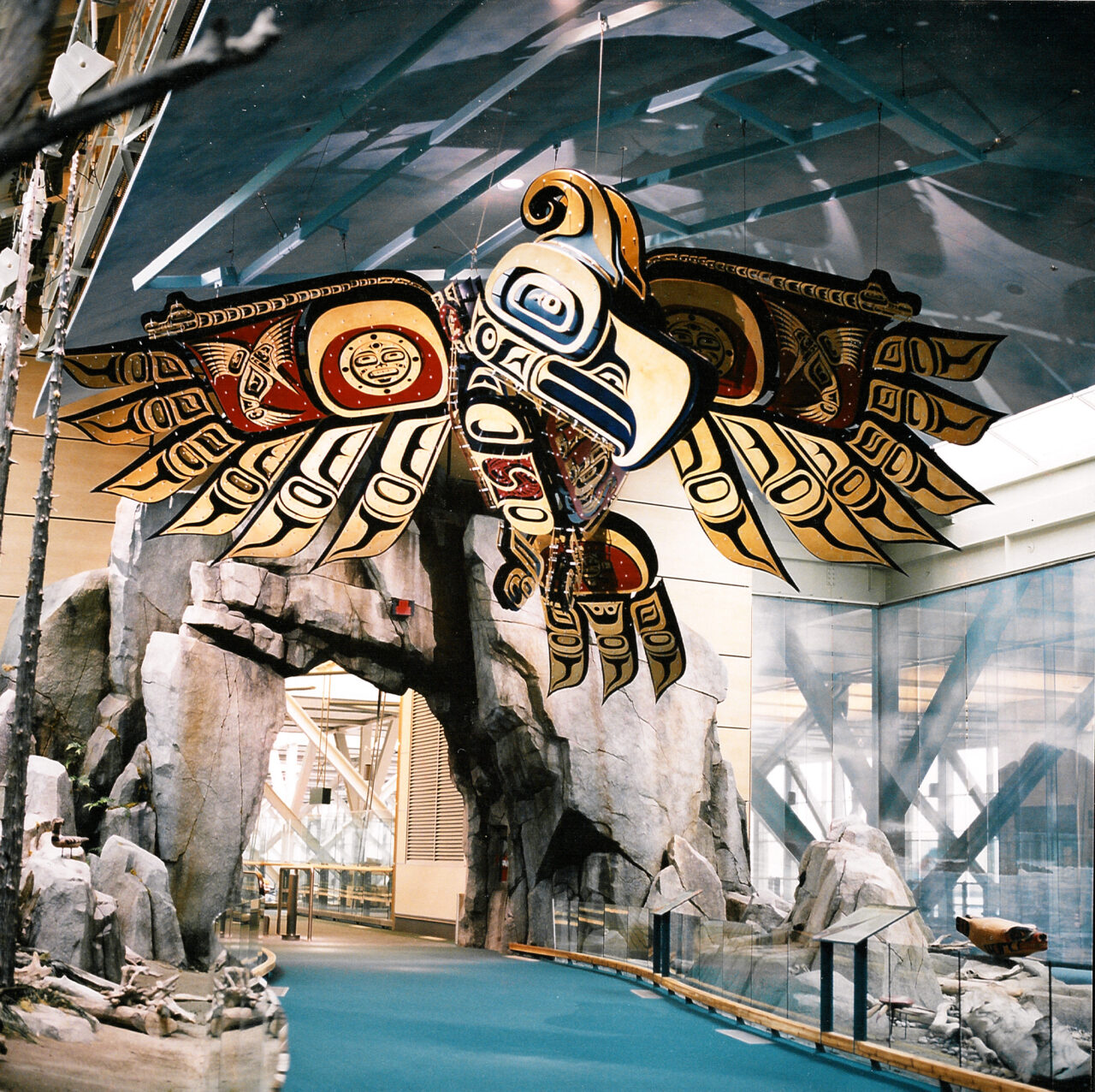 Connie came to her professional art practice following serious injury more than a quarter century ago, in 1991. A terrible car accident that year left with her multiple skull fractures and a memory full of holes.

Until that time, Connie had been making her living as an Interior designer. But following the accident, she could no longer read or visually think.
She returned to school two years later, enrolling in the Industrial Design program at Emily Carr. But Connie quickly changed course, eventually entering the Fine Arts program, where she found the space and support to make art a part of her healing journey.
"I wouldn't be where I am now without the creative processes of everyone here who was teaching me," she says.
"Art and design, both, can be really healing. They both have a different, a core amount of feeling in them. I think they have a heart that a lot of practices don't necessarily have."
During her time at ECU, she developed some of the formal approaches that have since become a signature for her — the integration of modern, digital fabrication and design processes with forms and aesthetic traditions drawn from Northwest Coast Indigenous culture.
After graduating with a Bachelor of Fine Arts in Intermedia, Connie quickly found herself making inroads as a professional artist: her graduation project, Vereinigung, exhibited for two years at the Museum of Anthropology (and now hangs permanently at the Harborview Medical Centre in Seattle, Wash.); her subsequent thunderbird installation, Hetux, was purchased for permanent display at the Vancouver International Airport; and Strength from Within, a more recent installation Connie calls one of her "most meaningful," was created to commemorate the children of the Alberni Indian Residential School for the Tseshaht Nation.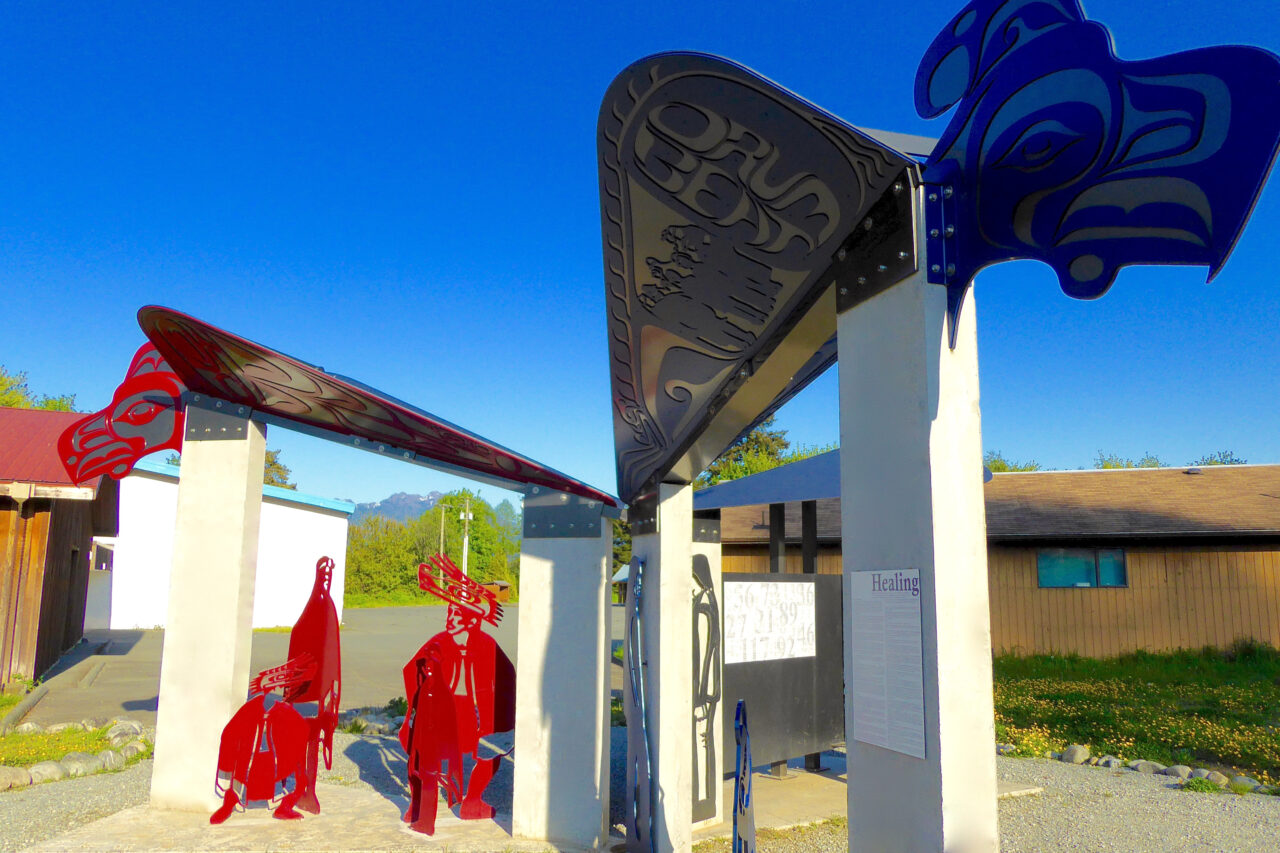 In more recent years, Connie completed the interior design for the Songhees Wellness Centre — a 48,000 square foot contemporary commercial building that fuses art, architecture, and design with the Songhees culture — and was the project manager for the Vancouver 2010 Olympic Committee's Aboriginal Art Program. As curator on that project, she was responsible for the procurement, commissioning, execution and installation of over 50 artworks in the 16 official Olympic venues — an accomplishment marked by the publication of "O Siyam," a book celebrating the Aboriginal Olympic artworks.
As a businessperson, Connie reveals she is driven by the same philosophy which guides her pedagogy.
"Face-to-face is how most of my business is conducted," she says, attributing her post-graduation rise to recognition to a commitment to in-person community building and to respect that goes beyond professional courtesy.
"That respect comes from knowing each other and seeing each other and loving each other. And that's how human beings should be."
Now, working alongside ECU's Aboriginal Programs Director Brenda Crabtree, Connie has been hard at work on several university projects, including collaborating with the ACE Program at the Freda Diesing School of Northwest Coast Art in Terrace, BC, to teach Aboriginal material art practice to emerging artists; helping to build connections between mentorship participants and master carvers Dempsey Bob and Stan Bevan to facilitate training and traditional knowledge transfer through an Aboriginal cultural community stewardship model as part of the Be:Longing to the Land Community Pole Project; and facilitating work on the Aboriginal Gathering Place's Urban Access and Decolonizing Healthcare initiatives.
And of course, she adds, there is the crucial task of providing daily support for students, and ensuring there is balance in the space she helps manage — a task she smilingly describes as, "just making sure we're here. Just taking care like we're at home."