ECU Joins Local Company in Production of Equipment for Health Workers During Pandemic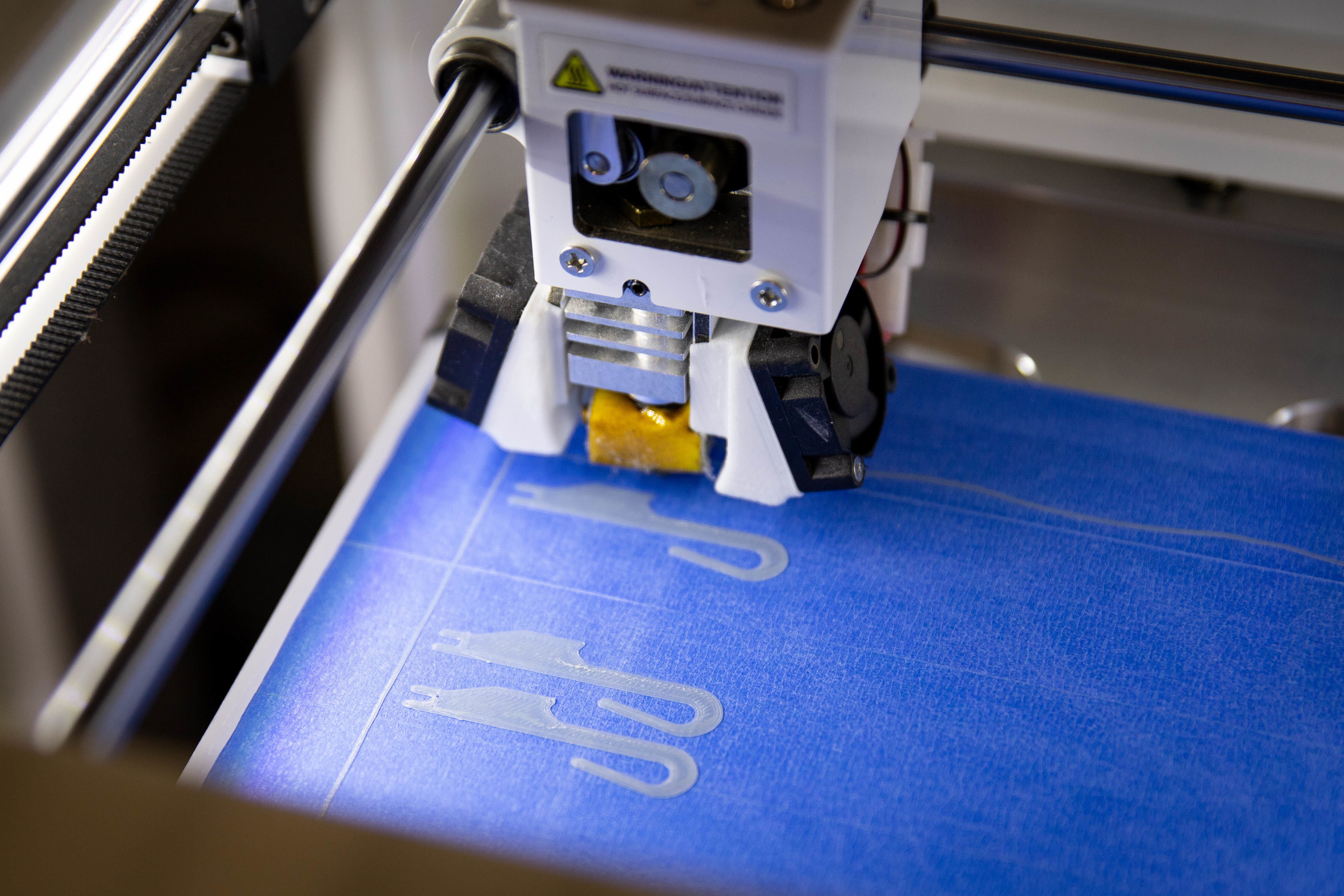 Posted on April 08, 2020 | Updated April 09, 2020, 12:45pm
With its 3D printers sitting idle during the COVID-19 shutdown, ECU has joined Delta-based company Tinkerine to produce face shields for health workers on the front lines of the fight against the virus.
Emily Carr University has partnered with BC tech company Tinkerine to aid in the push to make personal protection equipment (PPE) for medical staff during the COVID-19 pandemic.
Delta-based Tinkerine, which designs and manufactures 3D printers, repurposed its manufacturing in the third week of March to produce badly needed face shields for health workers across the country.
"I turned to the team in the middle of our morning meeting and said, 'I got this crazy idea. Let's go out there and see if we can help with this crisis,'" Eugene Suyu, Tinkerine's founder and CEO, said over the phone.
"Our business will still be here when this is over, but right now, there's this more pressing matter. And we have all the tools, and all the skills, and all this personnel. We can figure this out."
BC's Provincial Health Officer, Bonnie Henry, noted in late March that supplies of PPE were being used much more quickly than anticipated.
In response to these concerns, Eugene said, the team consulted with medical professionals to find out exactly what they'd need from a face shield. And after a functional design was completed, it was only a matter of figuring out how to produce them as quickly as possible.
Tinkerine reached out to a number of K-12 schools throughout the region, where they knew 3D printers were currently sitting idle. A close relationship between Tinkerine and Emily Carr University meant ECU also has a number of Tinkerine's 3D printers on campus — all of which are likewise sitting unused due to the outbreak. With that in mind, Tinkerine looked to these institutions to establish what they're calling an "education production consortium" to boost their production capacity.
Other universities as well as private institutions have also joined the cause. In fact, the project now involves a "fleet" of machines from around BC, ramping up production to 20,000 face shields a week, Eugene said.
"Every machine that comes on the consortium significantly increases the capacity for printed parts," he said. "It also allows us to be extremely flexible as things change."
Eugene noted that some of the more advanced printer technicians in the consortium have devised ways of increasing the output of individual printers even further. Logan Mohr, Studio Technician at ECU's Digital Fabrication lab, he noted, currently boasts an output of nearly 100 sets of parts per day.
The collaboration was further facilitated by Material Matters co-director Keith Doyle, ECU Associate Dean of the ECU Master of Design Program Hélène Day Fraser and William Newhouse, ECU's Director of Technical Services.

In 2017, ECU signed an industry and institutional research partnership agreement with Tinkerine, to undertake design research related to personal production machinery, software and services for educational organizations and the creative individual.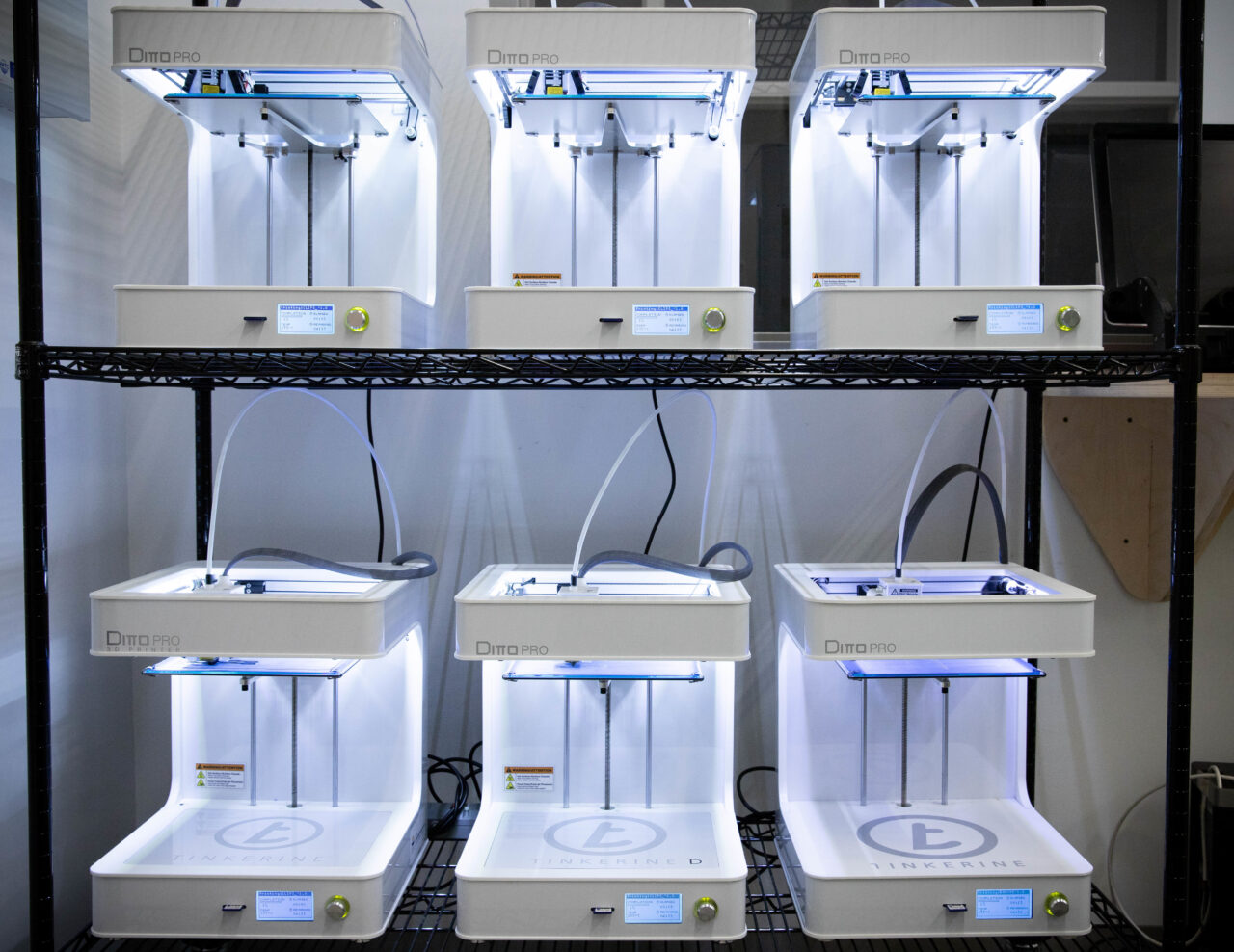 Consortium members receive sanitation protocols for production in order to maintain strict medical standards. Finished parts for the six-piece full-face shields are sent to Tinkerine for quality control and sterilization, and then delivered to hospitals and other medical facilities. Once in the field, the shields can be sterilized and reused.
And the company is now Health Canada certified to produce Class 1 medical devices.

Eugene said demand has been so strong that Tinkerine just days ago upgraded the electricity to its facility, to ensure they can run every one of their machines as much as possible.
"My feeling is, let's run run run," he said, noting his team isn't allowing the quest for increased production capacity to compromise their commitment to observing stringent sanitization standards.
"Let's also make sure we're also onside for Health Canada, and for people that are sick. Let's make this thing happen."
Eugene said Tinkerine is also currently looking at the possibility of building other PPE items, including goggles, medical swabs, and critical emergency devices, such as ventilator splitters.