'Branching Songs' Aims to Build Empathy for the 1,308 Trees in Burnaby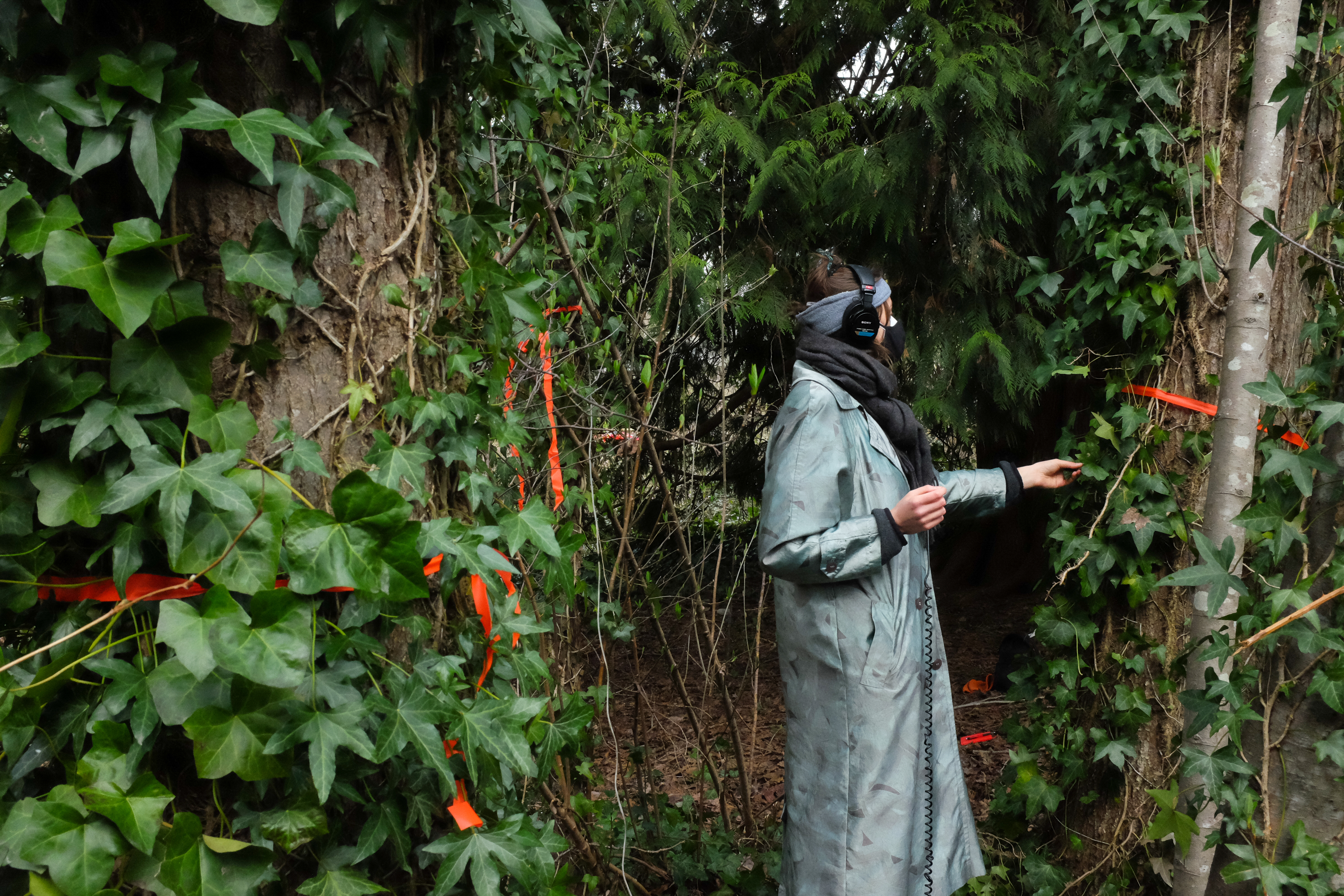 Posted on May 20, 2021 | Updated May 25, 2021, 3:21pm
The latest project series from the Wild Empathy team takes a multimedia approach to fostering support for the trees under threat from the Trans Mountain pipeline.
A new project series uses immersive media to build empathy for the 1,308 trees slated for removal from Burnaby as part of the Trans Mountain pipeline expansion.
Led by ECU associate professor Julie Andreyev and Maria Lantin, director of the Basically Good Media Lab, Branching Songs employs 360 photography, experimental field recording and performances with trees to bring city-dwellers into closer contact with their arboreal neighbours.
"Our whole objective here is to draw more attention to these trees, and to provide new tools and new ways of thinking for people to understand their locale," Julie says. "We want to provide art experiences to help people develop meaningful relationships with the non-human world and the natural systems around them."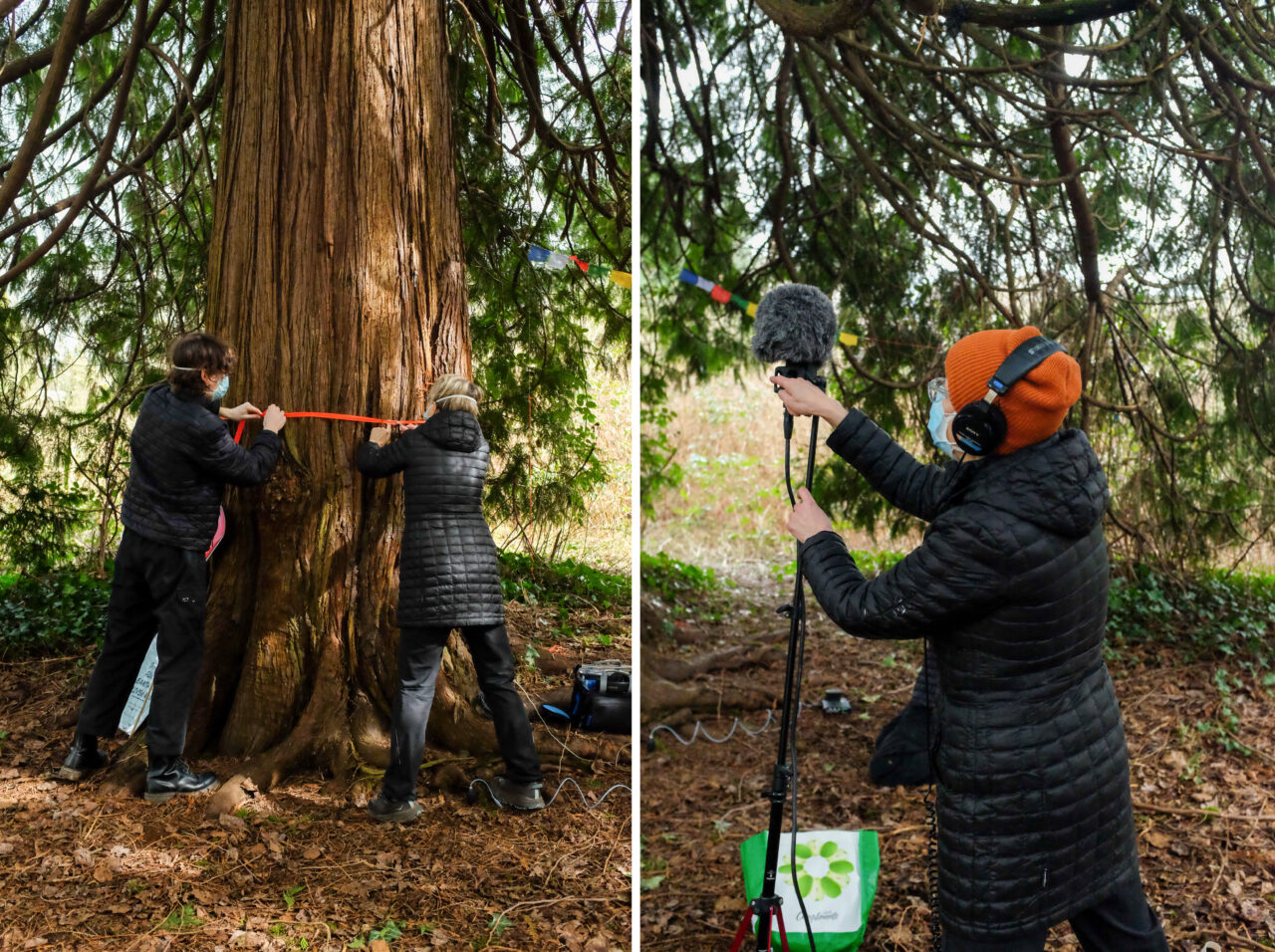 Branching Songs is part of the ongoing Wild Empathy project which uses new media and sound techniques to raise awareness of the value and irreplaceability of BC's ancient trees. The project has expanded to involve students of the New Media + Sound Arts major at ECU, under guidance from Julie and Maria.
Wild Empathy is broadly focused on BC forest conservation, and with Branching Songs is bringing attention to specific tree populations, lending its support to the ongoing anti-pipeline protests in Burnaby.
Julie says the many facets of Branching Songs are intended to help "draw attention to these small pockets of wild areas in order to slow down the Trans Mountain pipeline expansion in any way we can." And ultimately, creating greater awareness is not only a first step toward care and empathy, it's crucially important for city-dwellers, for whom the forest may feel more like an inanimate resource than a critical instance of living infrastructure.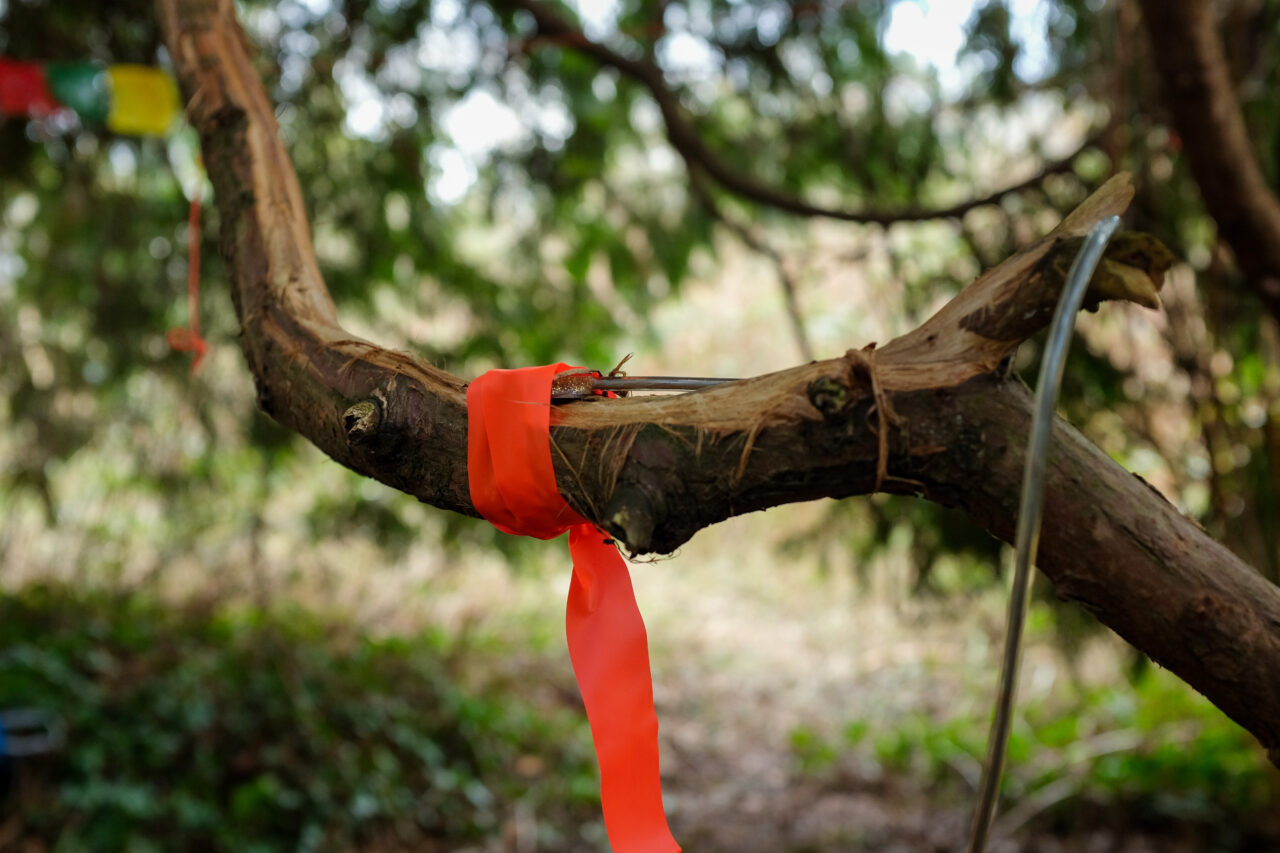 The need for increased intimacy between city-dwellers and nearby wild spaces has taken on renewed urgency in light of the climate crisis, Julie says. Human-produced climate change, development, and resource extraction have dramatically affected the forests in BC. Drier, hotter summers are driving population decline amongst old growth species in northwestern Canada. Meanwhile, deforestation from industry and development have transformed the province's forests from carbon sinks into carbon sources.
The harvesting and death of large trees affects not only climate, but also biodiversity and ecological health. Old trees provide unique, rich sites for plant and animal life; they function as crucial hubs of networked communication and nutrient-sharing activity within the forest. Meanwhile, coastal forests help draw precipitation to the province's interior.
Yet despite these clear benefits, old trees are still regularly cut down, Julie says. Recent mapping conducted by Prince George-based Conservation North shows old-growth forests in BC have been nearly eliminated.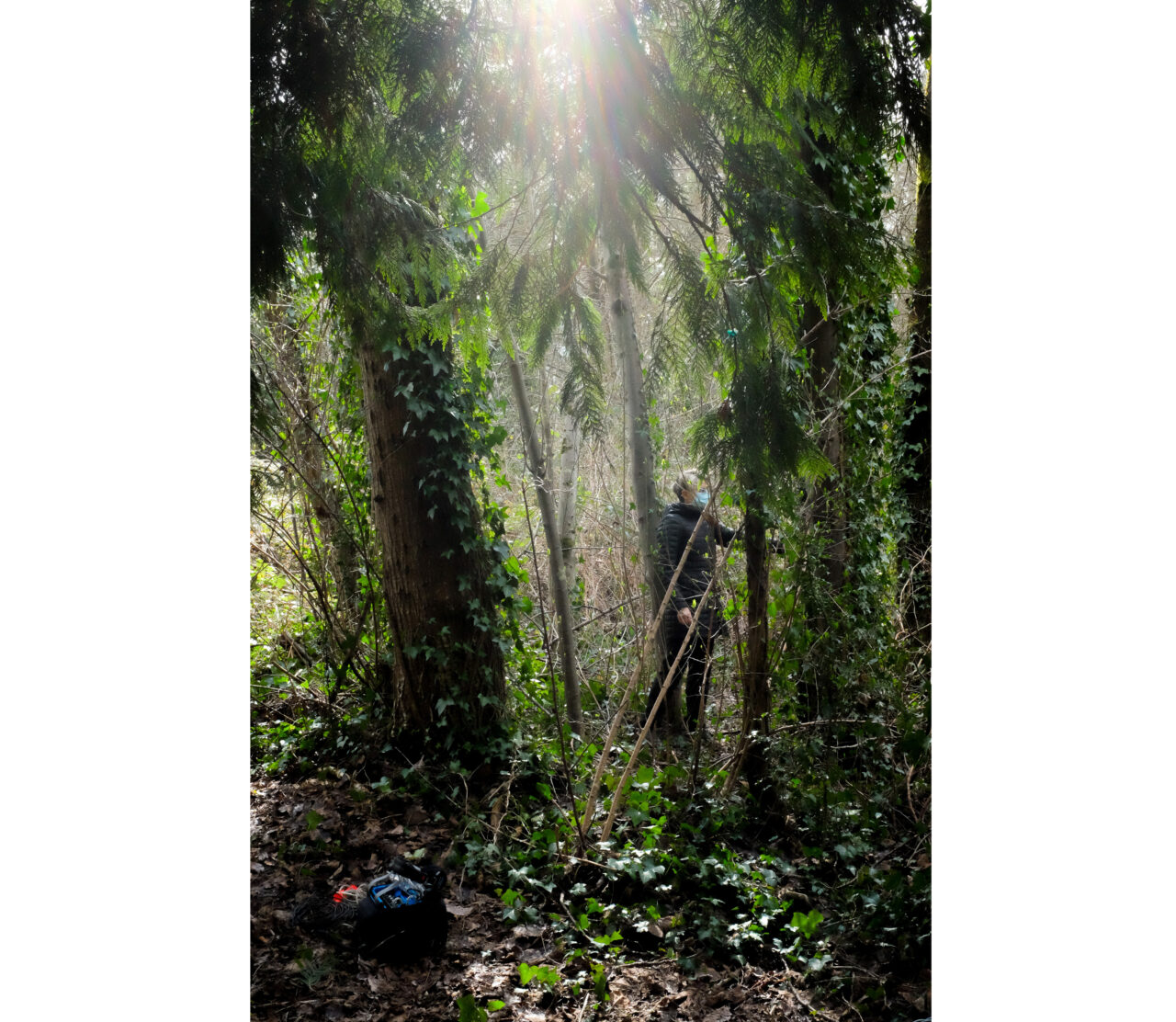 With this dire state of affairs in mind, Branching Songs takes a multimedia approach to driving engagement with the wild areas in Metro Vancouver's midst. Using 360 photography, the project transports viewers to the foot of several of the trees scheduled to be cut down to make way for the pipeline, including older red cedars and a stand of alder.

Embedded below the images on the Branching Songs website are soundscapes — compositions made up of recordings of the human sounds (anthrophony) and non-human sounds (biophony) that wash through the areas where the 360 photos were shot. The soundscapes make clear that nonhuman communities, such as bird families, use these wild pockets where creeks flow and trees provide habitat.
The soundscapes, composed with ECU student Sam Street, were created using experimental techniques, including ambisonic field recording and geophonic recording, in combination with methods from acoustic ecology and multispecies art-making. Contact mic recordings also capture performances by ECU student Cara Jacobsen. Taking a cue from Julie's personal art practice, Cara recorded herself physically interacting with the trees that appear in the 360 photos in order to bring a heard tactile dimension to the immersive experience.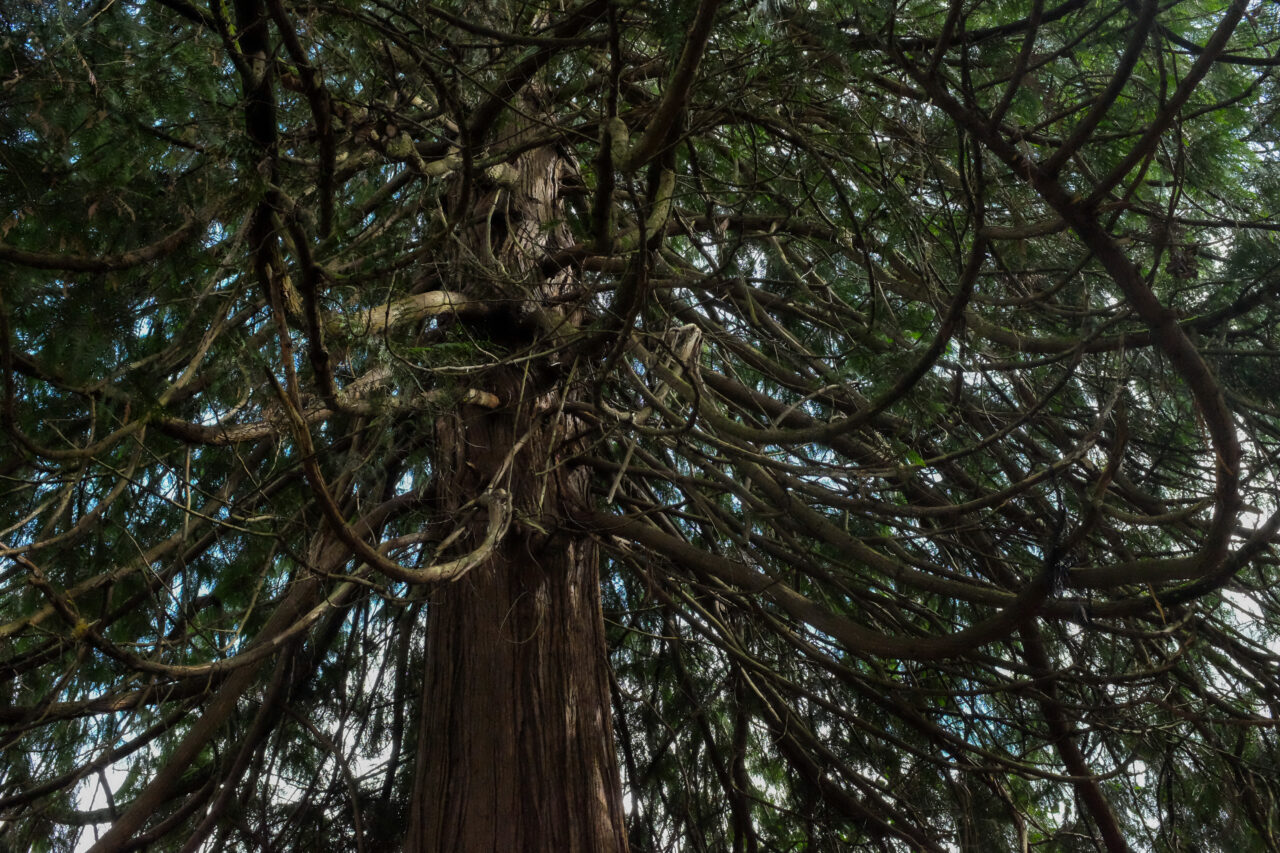 Building on an approach that informs the Wild Empathy project called Sound of Tree Rings (a multimedia installation currently on view in the Search Gallery at Science World), computational artist and composer Simon Overstall will also contribute a series of soundscapes. Working collaboratively with the Emily Carr students, Simon will sonify photographs of tree stumps taken by student Leanne Plisic from the 1308 trees area throughout the summer. This project-within-a-project, called Resonances, will produce what Julie calls "a series of unique sonic memorials for the trees that have been cut down for the Trans Mountain pipeline."
Julie says the Wild Empathy team hopes to focus the media and knowledge they're gathering into a series of workshops. It's important to present people with immersive experiences as a doorway to feeling connected to the natural world, Julie says. Providing tools for folks to observe their environment more closely on their own terms is another powerful way to promote conservation.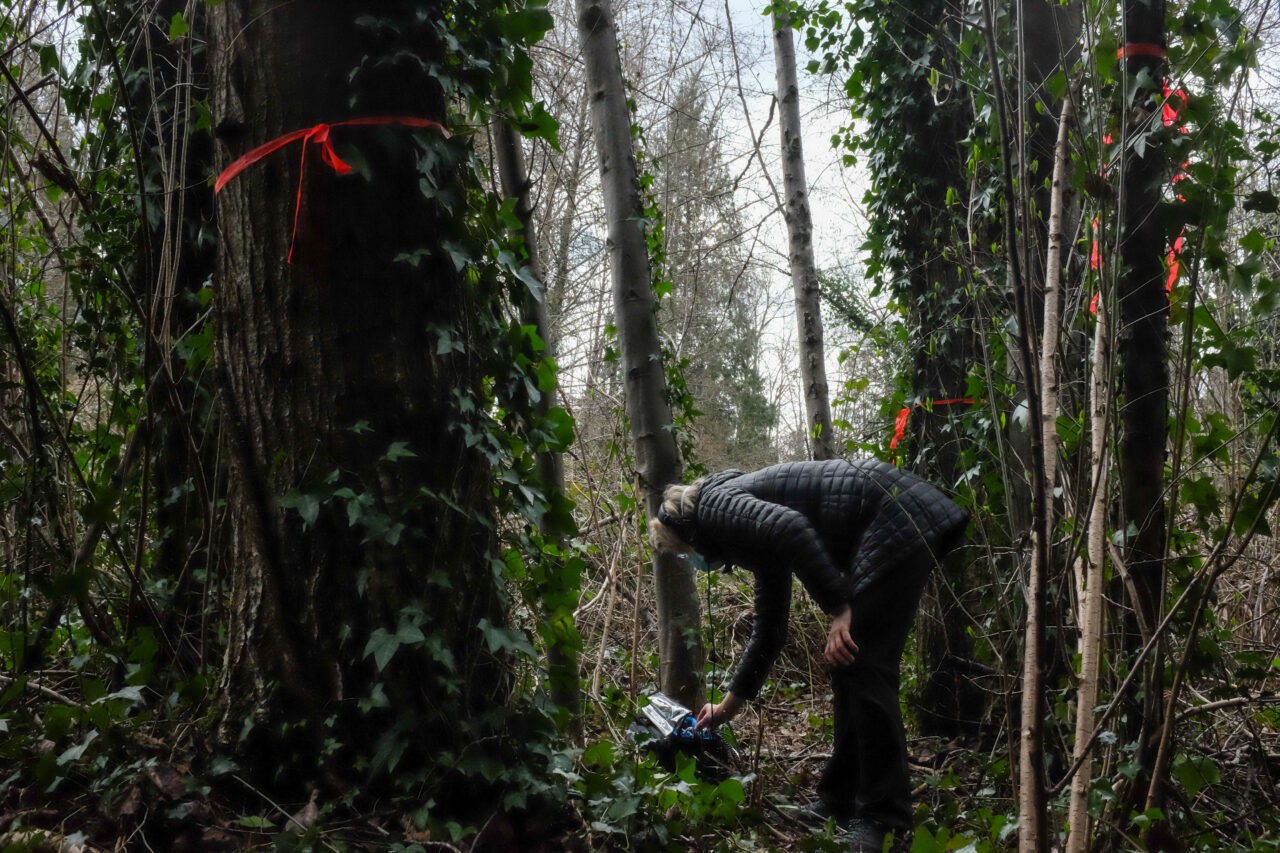 Currently, ECU student Kiera Madsen is developing a workshop on ecological grief. Originally begun as a class project, Kiera's workshop explores "how to connect with trees based on listening to your heart and also through touch and physical interaction, and video recording." Meanwhile, industrial design student Gina May Schubert is gathering stories about the cultural significance of trees including the cedar, Douglas fir and the Alder.
"We're very interested in Gina connecting with this knowledge," Julie says. "It may bring new insight into traditional story-telling and knowledge about our tree ancestors."
Learn more about Wild Empathy now, at wildempathy.org. Wild Empathy is supported by ECU, the Basically Good Media Lab, and the Social Sciences and Humanities Research Council of Canada.
Book your COVID-safe visit to Science World to see the Sound of Tree Rings exhibition.