Fiona Tang Finds Healing and New Horizons with Thompson Elementary Tiger Mural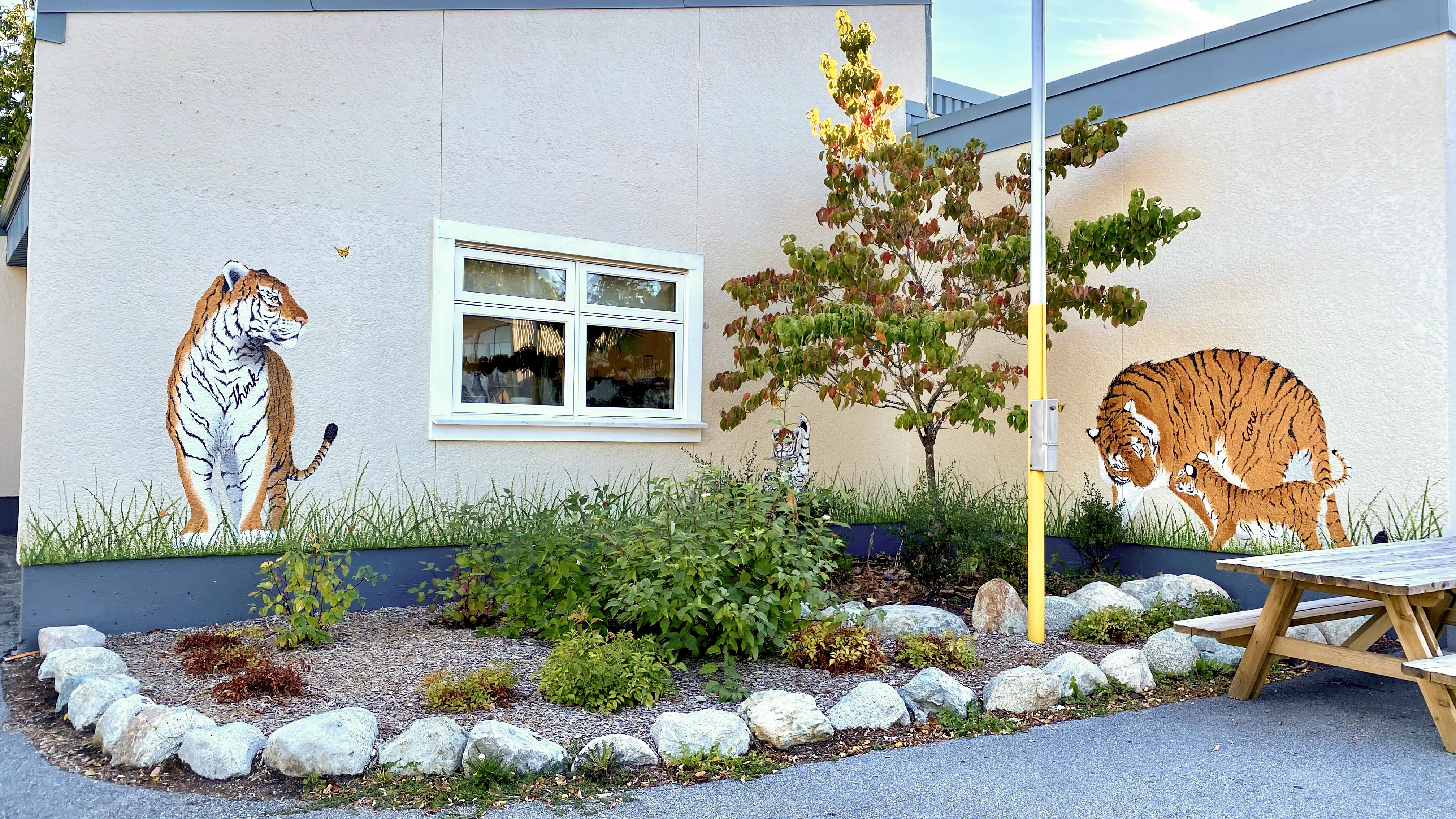 Posted on November 01, 2021 | Updated November 01, 2021, 8:48AM
While revisiting familiar themes, the artist and ECU alum discovers new ways of seeing, art-making and engaging with her community.
It was tigers again. Of course it was. In retrospect, artist Fiona Tang (BFA 2014) says it's hardly a surprise. Tigers seem to follow her, reemerging in her art to punctuate life's milestones.
When she graduated from Emily Carr, her work in the grad show was an immense chiaroscuro tiger head and claw, rendered in charcoal. It seemed to leap straight out of the wall at viewers. Her first art exhibition post-graduation also included a tiger.
And now, after a gruelling year-and-a-half struggling with what she describes as anxiety, stress and depression — a time that also saw Fiona lose her studio space and sometimes her motivation to draw anything at all — she'd been awarded a commission to produce a mural at Thompson Elementary in her hometown of Richmond, BC. The concept for the mural was developed by Fiona in partnership with Thompson Elementary staff, faculty and students.
It was during these brainstorming sessions that Fiona discovered Thompson Elementary's mascot was a tiger. And it was the challenge of tackling this mural — a first for Fiona, for a number of reasons — that she finally started to feel like her old self again.
"The work that got me out of my depression was tigers," Fiona tells me with gentle astonishment. "I think the universe works in very mysterious ways, but I always feel very blessed and I always get guidance when I need it the most. And looking back, I can see how the tiger has changed and morphed with my growth as an artist."
As of early September, you too can now see Fiona's latest take on the tiger. Her mural, commissioned by the City of Richmond's Community Mural Program, is now complete. Its title, Think, Learn, Care, is taken from the Thompson Elementary School motto.
And Fiona reports that the community response has so far been fantastic. Students, now back in the classroom, have been delighted to discover the walls of their school transformed.
"I heard them saying, 'Look there's a little one over there! It's playing with a butterfly!'" she says. "Their reaction is playful. And I think the mural prompts viewers to be curious and to explore and to observe."
Partly, that's because Fiona took an unusual approach to her mural. Rather than paint from edge to edge as if the wall were a canvas, she took a look at what was happening in front of the wall, and imagined her painted creatures were standing on the school grounds. The tigers all interact in some way with the landscape, wandering behind a bush or peeking out from behind a tree.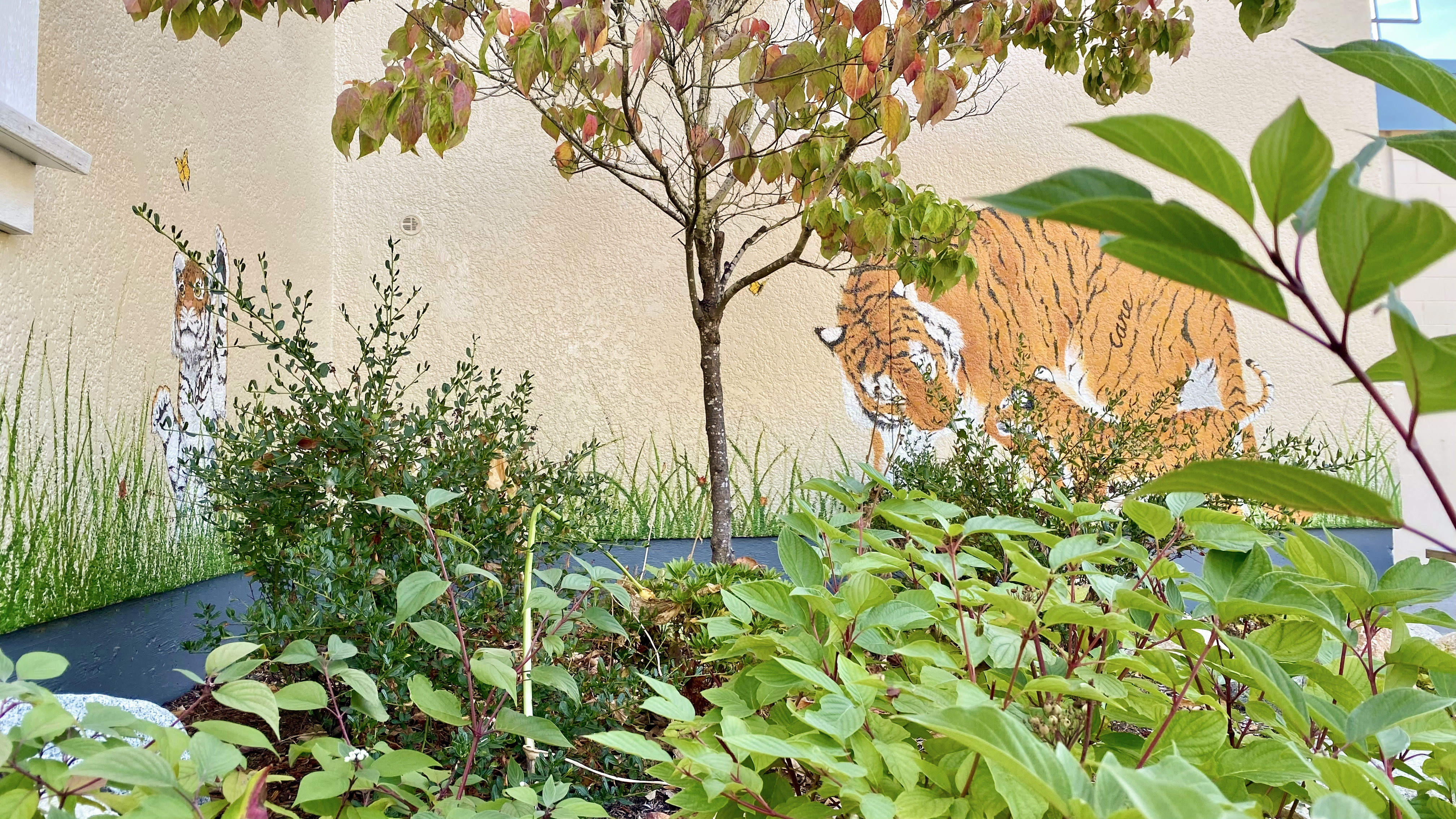 The effect is striking. But creating the work didn't come without its challenges.
Typically, Fiona uses paint to create abstract landscapes, not animal artworks. Her previous mural work, meanwhile, has almost always been charcoal drawings of animals. The Thompson Elementary mural combines those two practices — a leap she'd never made before.
Once she started working, she also discovered that the wall was textured. This required another adjustment.
"Instead of struggling to change how my materials were working, I learned the mindset of just letting go," Fiona tells me. "And then interesting things started to happen. Now, I'm comfortable working with new mediums, with mixing and matching styles. This mural expanded my horizons, expanded my art practice."
The mural is particularly meaningful, she adds, because it's in her hometown — a place she herself grew up, just like the kids who will get to enjoy her artwork every day at school.
"I feel so, so proud that I have a piece of artwork, permanently outdoors in Richmond, and people can see it anytime they go there," she says.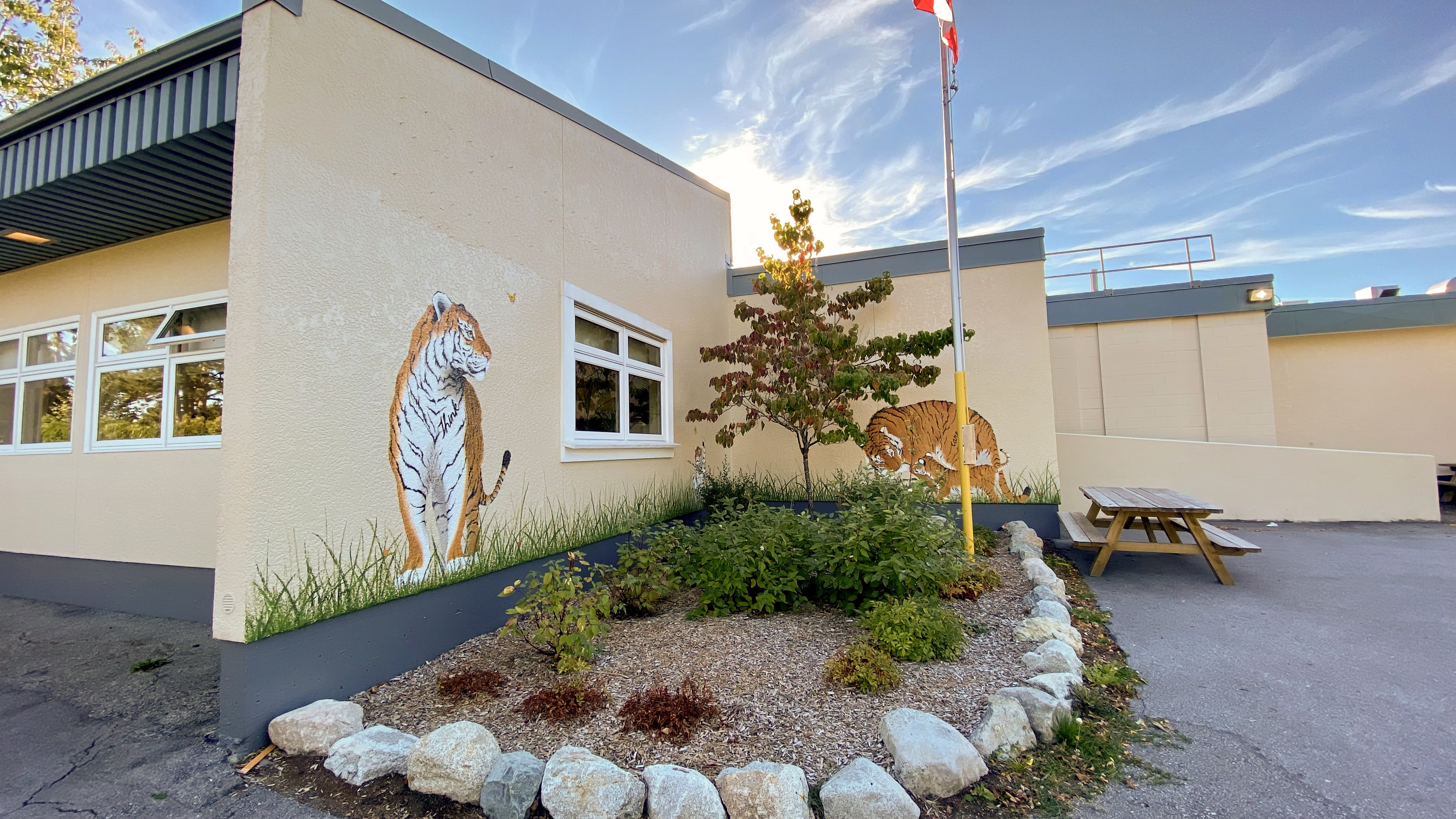 Next up for Fiona is a solo show at The Gallery at Queen's Park in New Westminster. The works for the show, tentatively titled Bare, will all be drawn at least partially in invisible ink.
Viewers will be given an ultraviolet light to carry with them. As they shine their lights on the artworks, they "come alive," Fiona tells me. But this is more than just a formal innovation. For Fiona, invisible ink echoes her personal struggles with mental health.
"Depression or mental health issues in general, a lot of times they might be invisible to others," she says. "Only the ones who are closest to you might be able to see the impact they're having. But also, the invisible ink refers to how my artwork was trapped inside of me when I was sick, and how, somehow, you have to find a key to unlock it."
See more of Fiona's work now, via her website. Follow her on Instagram to get the latest updates on her practice.