Melina Bishop and Morgan Martino are the 2021 Student Speakers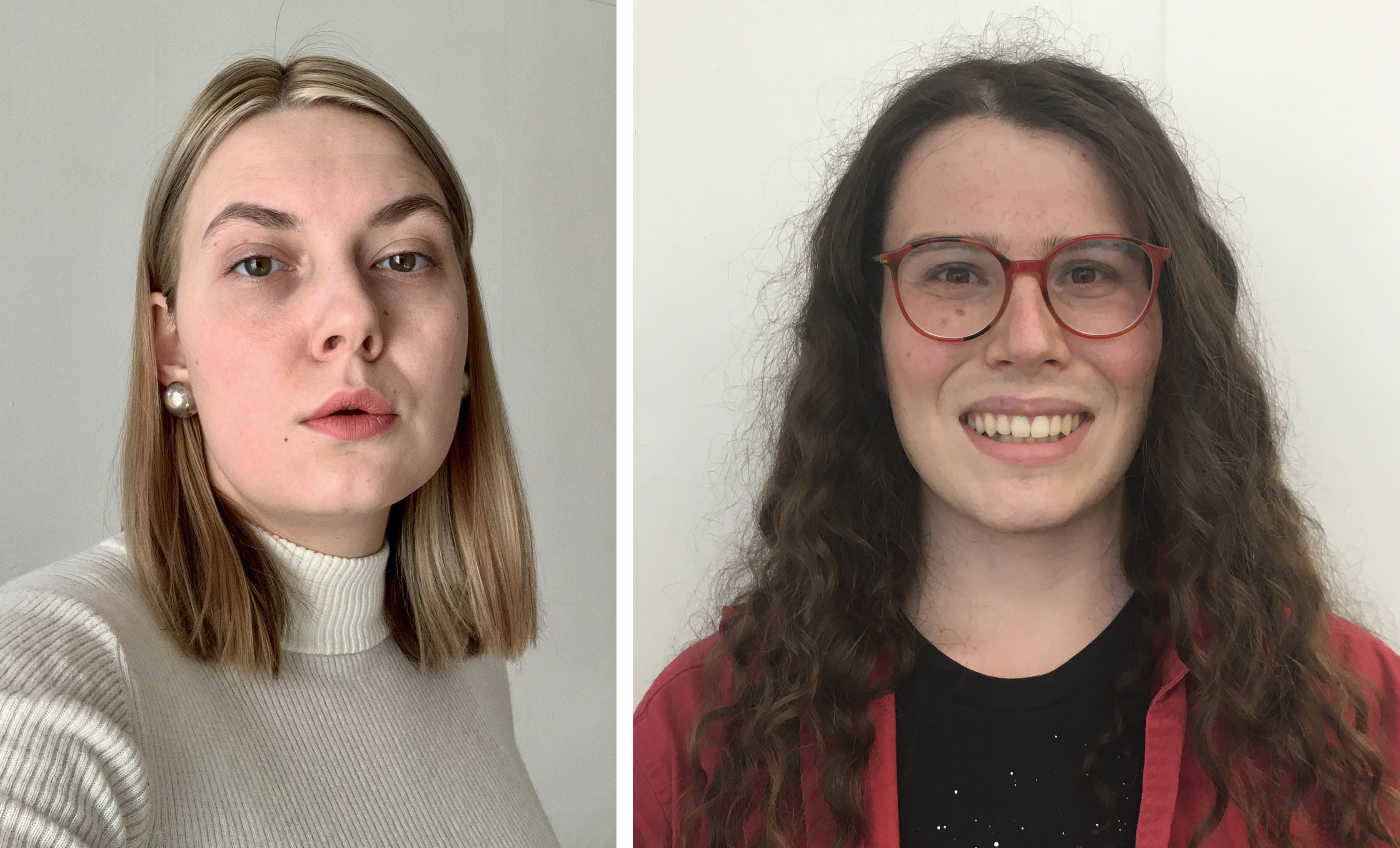 Posted on April 29, 2021
Both students graduate with outstanding records of achievement, as accomplished and respected members of the ECU community.
ECU students Melina Bishop and Morgan Martino are the Emily Carr University 2021 Student Speakers.
During their time at Emily Carr, both Melina and Morgan have excelled by every metric. Each has staked out ground as a valued and respected member of the Emily Carr community. The pair will deliver addresses on behalf of their respective graduating classes at the 2021 Virtual Convocation Ceremony on May 14.
Melina is the 2021 Graduate Student Speaker. She graduates from Emily Carr University with an MFA in Visual Arts. Melina is a sculptor and installation artist from the United States. She has shown independently with Vignettes at Generations (Seattle,WA) and her work has been included in group exhibitions at Praxis Fiber Gallery (Cleveland, OH), Soil Gallery (Seattle, WA), Surplus Space, Rubus Discolor Project and galleryHOMELAND (Portland, OR).
She was a 2016 resident artist at the Icelandic Textile Center (Blönduós, IS) and a member of the studio collective Neighbors at the Yale Union (Portland, OR) from 2015 to 2019. She graduated from Oregon College of Art and Craft with a BFA in Fibers in 2015. During her time at Emily Carr she served as a Community Programs Research Assistant and helped to plan In Touch: Graduate Research Symposium. You can find images of her work at melinabishop.com.
Morgan is the 2021 Undergraduate Student Speaker. Morgan is an interdisciplinary designer, researcher and facilitator, whose work focuses on building and supporting communities that can foster caring relationships, critical learning, and informed social change. Morgan's current research practice explores how everyday material culture and designed systems inform and reflect our complex relationships to care.
As a student of Industrial Design and Social Practice + Community Engagement (SPACE) at Emily Carr, Morgan has had many opportunities to foster community practices through the creation and custodianship of the Mixtape Collective and Vintage Digicam Club. In 2020, Morgan collaborated with Naomi Boyd as part of the Shumka x DESIS Satellite residency to create Pocket Change; a series of workshops centering the pocket as a lens for unpacking wicked design problems. Most recently, Morgan created the Roving Designers, a place-based design collective exploring how to engage in design work outside of traditional studio contexts. Morgan is also a research assistant for the Health Design Lab and Graphic Research Unit, as well as the DESIS Lab Undergraduate Coordinator 2020-21.
Find out more about the 2021 Virtual Convocation Ceremony and register to attend!