New Lecture Series Spotlights Lived Experience of BIPOC Artists + Designers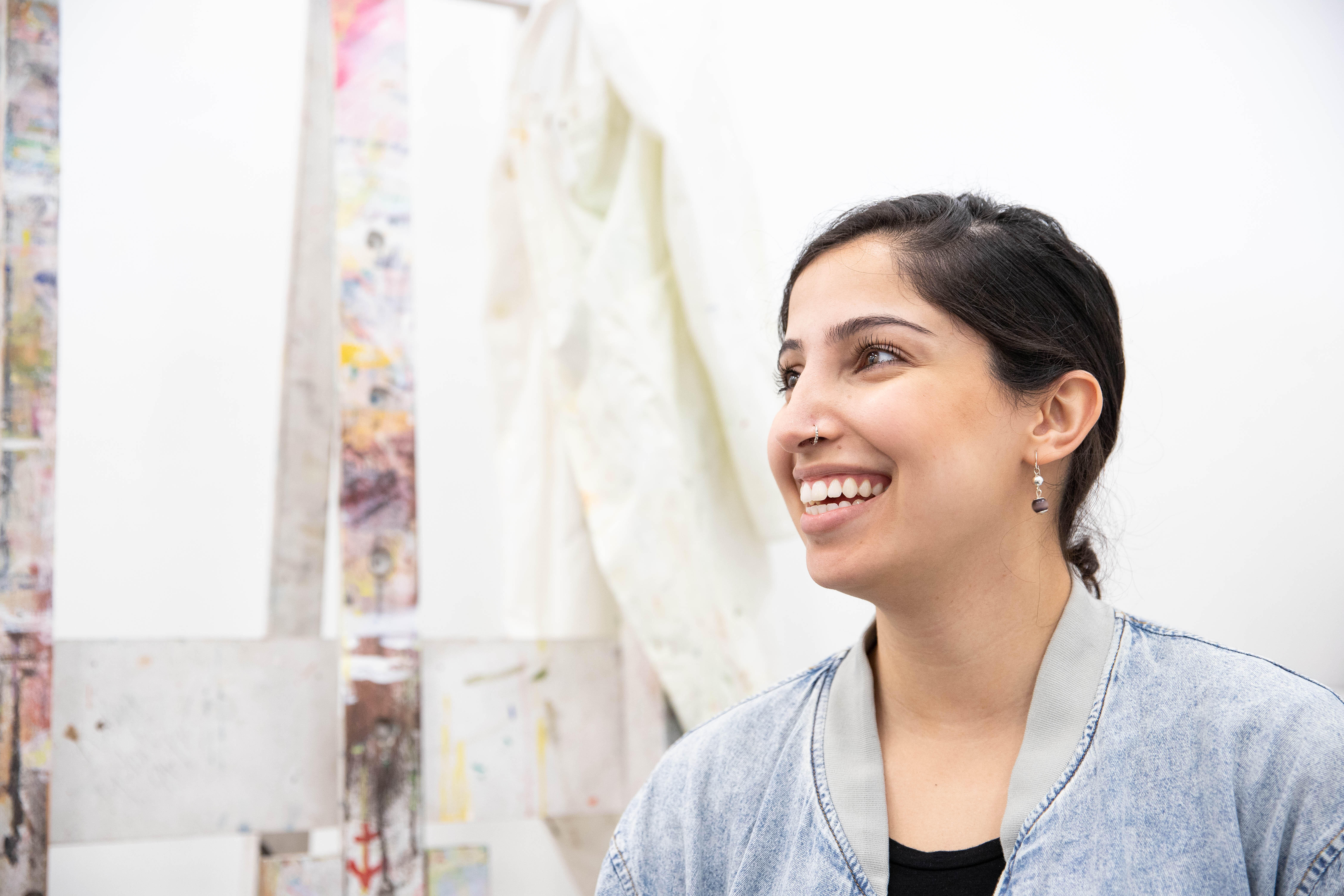 Posted on March 18, 2021
The series was developed by the BIPOC Graduate Students' Caucus to help forge new pathways for community-building amongst ECU's BIPOC students.
A new lecture series featuring BIPOC artists and designers is the first initiative launched by the newly established BIPOC Graduate Students' Caucus.
The Community, Connection and Conversation series will see four different talks delivered by BIPOC artists and designers over the course of several weeks. The talks will address the lived experience of BIPOC creative professionals, says Kajill Aujla, second-year ECU MFA student and coordinator of the BIPOC Grad Caucus.
"Our experience of guest lectures has been that they mainly focus on the speaker's art practice — which is wonderful, but we felt there was a missing piece in that we wanted to hear more about speakers' experiences outside of creative practice," Kajill says. "Things like, how are they fostering community amongst other BIPOC artists? Or, if they've gone to school, how did they navigate predominantly white institutions as BIPOC individuals? And what did they struggle with or experience? And how does that inform their practice beyond the institution?"
How BIPOC artists and designers approach Indigenous protocol and the imperative of respect in professional practice are further topics Kajill says she and her peers are keen to hear more about.
The caucus — a group developed in collaboration with the Jake Kerr Faculty of Graduate Studies at Emily Carr University — was formed in Fall 2020 to help address issues of race and exclusion in the university.
Kajill says the group's primary focus is to create pathways for community and conversation amongst members of ECU's BIPOC-identifying student community. This aim, she adds, is in response to historical gaps within Emily Carr when it comes to supports for BIPOC students, faculty and staff members.
"As a BIPOC-identifying student, you are always looking to your BIPOC faculty for support, and sometimes you look to your fellow students and peers as well," Kajill says, noting this occurs in absence of more fulsome institutional support for BIPOC students.

"To have a concretized community of BIPOC graduate students that can advocate for themselves and advocate for more representation and equity within the larger structures of the institution is really important."
"Creating the BIPOC Grad Caucus was partly about recognizing that BIPOC faculty are overworked, because they're acting as supports for BIPOC students, and then also advocating for themselves in those predominantly white institutions and spaces. So, to have a concretized community of BIPOC graduate students that can advocate for themselves and advocate for more representation and equity within the larger structures of the institution is really important."
The group received funding from ECU's Faculty of Graduate Studies, Kajill says. But that institutional support comes with no strings attached, she notes. The group retains "its own agency to decide what our community is going to be for, and how it's going to support our BIPOC grads." The funding has also helped make the speaker series possible, and may help underwrite future workshops or other events, Kajill adds.
The caucus has also been working closely with Steven Lam, Dean of Graduate Studies and Associate Vice-President of Research at ECU, Kajill says. Steven was critical to the group's founding, and has supported the development of the group's aims.
"Working with Steven is wonderful, because he really understands the roots of all of this, and the importance of this caucus, and he's become such an outspoken advocate for it," she says.
For his part, Steven points to graduate students both at ECU and throughout post-secondary as some of the strongest proponents for institutional reform and change.
"Their work, activism, and research (and its intersections) will determine the future of our fields, and we have to enable that," he says. "I'm thrilled to work with our BIPOC Graduate Caucus coordinator on these issues. I hope this lecture series and caucus can host robust and honest conversations around art, design, research, pedagogy and race; strengthen community and peer-to-peer agency within and beyond the institution; create an ongoing forum to build, learn, heal, and share through networking and professional development; and serve as a first step in creating open and lasting spaces where the work of historically underrepresented community members can encourage care and critical responsibility, complexity and generosity, experimentation and collaboration, and coalitional consciousness, study and practice."
The first Community, Connection and Conversation took place Tuesday, March 16. It featured interdisciplinary artist, filmmaker and cultural producer Jen Sungshine speaking on the "importance of community within the art and design world (and specifically on how to practice community-based relationship building)."
The next talk will take place at 11am on Tuesday, March 23. Artist Marigold Santos will "speak on her art practice as a Filipinx-Canadian, and generate conversation and questions that any of the students have regarding topics like navigating white art spaces, rest and resistance."
You can find details on the Marigold Santos talk as well as upcoming Community, Connection and Conversation events on ECU's website.