See New Works from Spring 2021 Patio Press x ECU Fellowship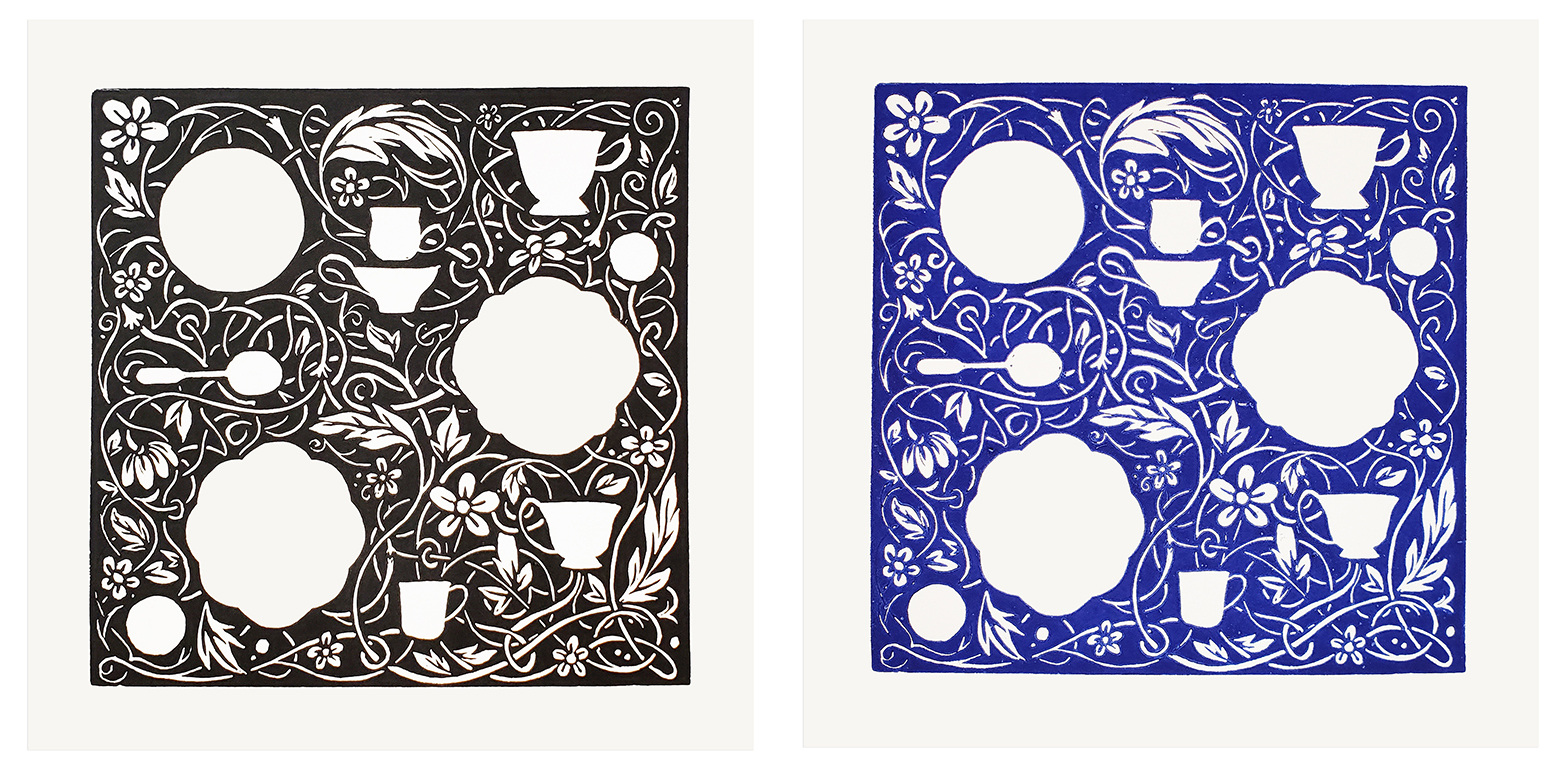 Posted on April 20, 2021
Five students participated in this second round of the fellowship, which has its roots in a remote residency led by artists and ECU faculty members Sara-Jeanne Bourget and Mark Johnsen.
New works from the second round of participants in the Patio Press x ECU Fellowship are now available for viewing.
The Spring 2021 printmaking fellowship saw ECU undergraduate students Richard Brittain, Felicity Imogen Crisp, Hannah Dow-Kenney, Kit Liu and Keimi Nakashima-Ochoa furnished with supplies and guidance for a contactless, collaborative printmaking process.
Led by artists and ECU faculty members Sara-Jeanne Bourget and Mark Johnsen, the Patio Press project began as a remote residency during lockdown in 2020. With support from Emily Carr, it soon expanded to deliver a fellowship opportunity for ECU students. The first round of participants completed their fellowship in December, 2020.
At the time, Sara-Jeanne and Mark expressed great joy at seeing the students take the wheel when it came to the remote printmaking process.
"It felt like a welcome role reversal between student and instructor," they said. "It's been fantastic to have students clearly define what they want out of this fellowship, and we enjoyed taking directions from them to ensure their editions came out just right."
As with that first group, the fellowship granted Spring 2021 participants printmaking materials including plates (linoleum or woodblock), paper, and packaging. Once their blocks were carved, students had the option of leaving them in a secure location on campus or to be picked up by Sara-Jeanne and Mark. The blocks then made their way to the Patio Press studio, to be printed on a small Conrad etching press. An edition of 10 to 15 prints was produced for each student, per their specifications.
One print from each edition is kept in the Patio Press archive, while another is added to the Special Collections archive at the Emily Carr Library. The artist receives the rest. The works are also shown via Patio Press' online gallery and Instagram account, alongside work by previous fellowship recipients and other Patio Press remote residents.
Sara-Jeanne and Mark note the dedication and hard work of ECU print media technicians Vanessa Hall-Patch and Shin Minegishi was crucial to the success of the fellowship; they also thanked the Audain Faculty of Art, whose generous support made the fellowship possible.
Below are the outstanding works from four of the five Patio Press x ECU Spring 2021 Fellowship recipients, with short descriptions.
Work by the fifth recipient, Kit Liu, can be seen at the top of this article. About that work, Kit says, "The conditions of a global pandemic meant gathering was better left undone, as distancing became an act of responsibility, of kindness, and ultimately of love, as to protect our loved ones and community. While the woes of isolation became apparent, and sometimes overwhelming, so did the resilience and plucky perseverance of people such as those who banded together by having online tea parties, and by hosting virtual residencies and fellowships.
"In this length of lockdown and restrictions, I draw comfort in knowing that there would be a time to meet again, to share food and drink, to be close with one another. I think often of the vessels I would have to dig out and dust off, of how familiar they had once been, of the history it carried with it. All these platters, plates, dishes, and bowls held both meals and memories. Perhaps we do not yet interact directly with each other, in person, in studio, in house and home, but our connections still burgeon and blossom, like the florals on vessels.
"My work with the Patio Press x ECU Fellowship is sustained by it, as the conception and creation depended on this relationship, this exchange between artist to artist to artist, separated by distance, which all can only exist under such a context: COVID-19."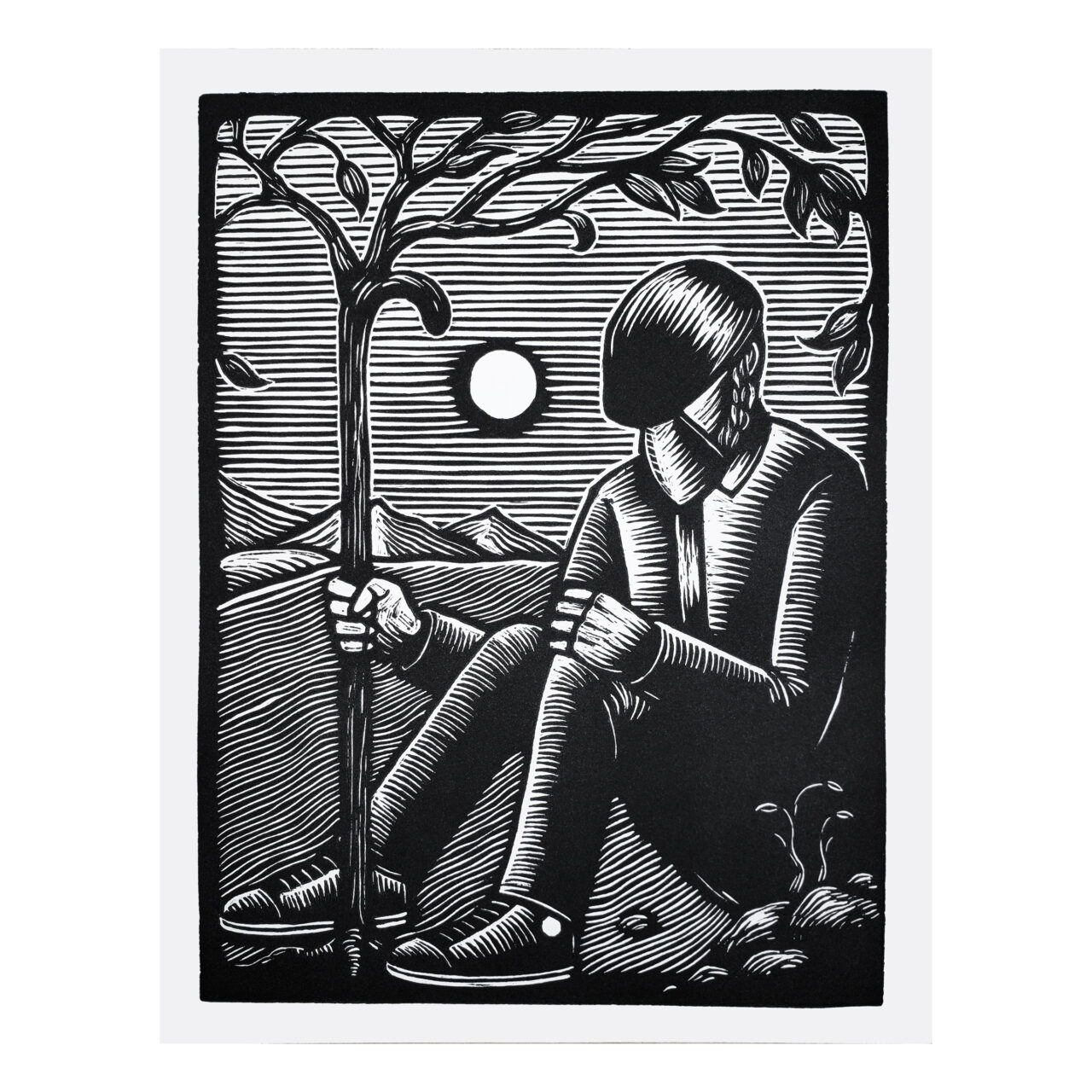 Richard Brittain
"I am an artist working and living in Vancouver, BC, on the unceded territories of the Squamish, Musqueam and Tsleil-Waututh nations. I am currently completing my 3rd year of Visual Arts with a particular interest in relief printmaking. A primary focus of my practice is exploring the complex and often fraught relationship we, as a species, have with the natural world. A unifying aspect to my work is the inspiration I find in the shapes, textures and patterns that exist within nature.
"I was very excited when I found out that I had been accepted into the Patio Press x ECU fellowship! I was impressed by the amazing prints created by students last semester and knew I had to put forward something special for my submission. While my work tends towards the universal or more obliquely personal, I felt this was a good opportunity to develop an idea that was more explicitly about my own experience. This evolved into my print, Ashplant.
"My design was inspired by the challenges I have encountered during COVID with recent personal mobility issues. I have developed a complex relationship with my cane, as it allows me to access the green spaces in the city that I rely upon for my physical and mental health. However, I have found it also defines the way I am seen and how people respond to me.
"I am grateful for this opportunity to work with Patio Press and thrilled to see how well the print turned out thanks to Sara-Jeanne and Mark's meticulous printing."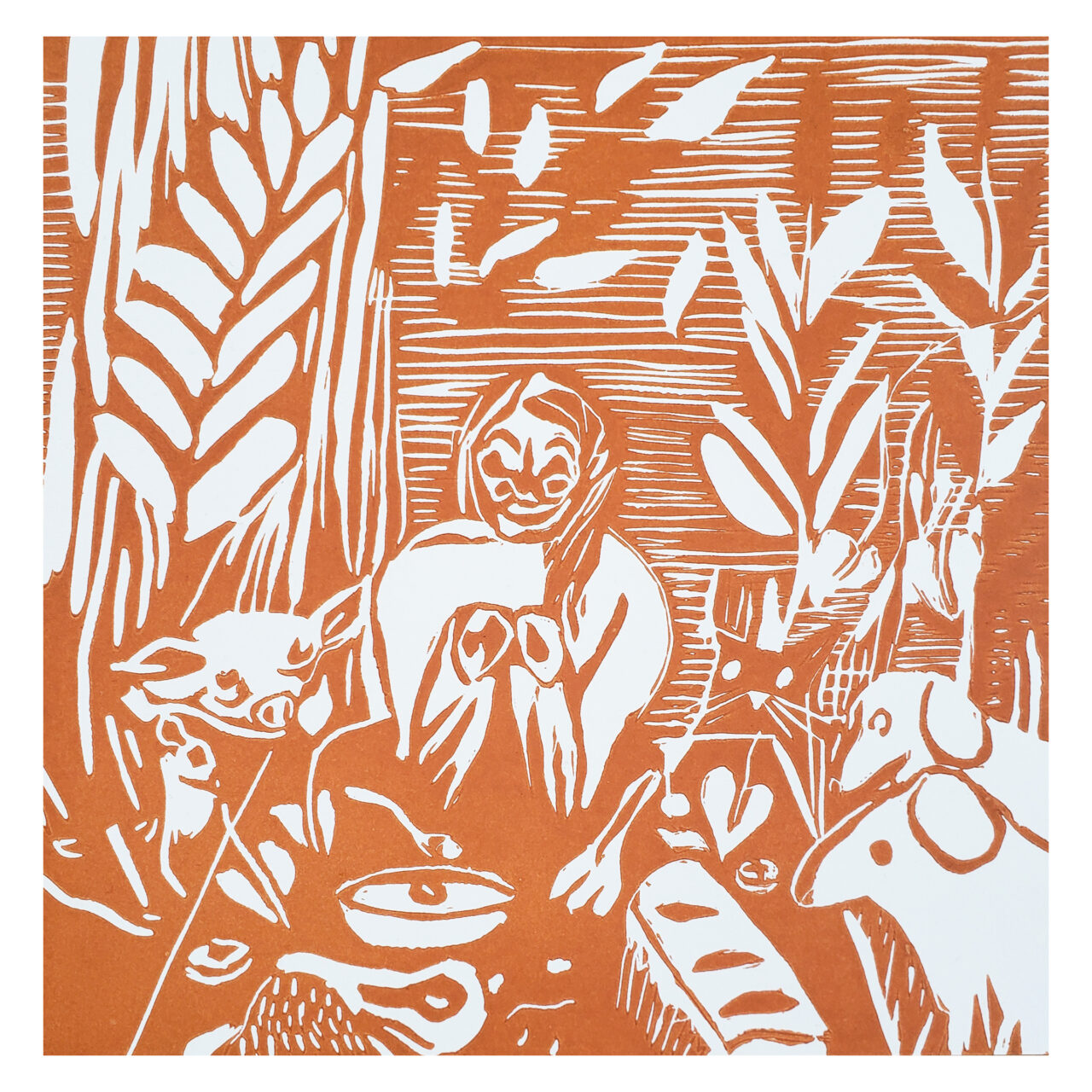 Felicity Imogen Crisp
"Printing isn't typically in my practice, so an opportunity like this was challenging, refreshing and special. I am extremely grateful to be able to participate in something that is safe and accessible during the pandemic; I also felt supported and informed about each step of the process.
"I often feel like I don't want to be an artist. I am learning that to exist in the current dominant framework of the art world is not satisfying to me. The prospects of capital gain and fame are not as exciting or delighting as caring for people and their stories.
"My dream is to change the gallery to more of a living room (or patio), more of a comfortable togetherness. Drawing is the moment when stories are shared in my practice. I hope to expand my practice into something beautiful, and I've always admired printmaking. Printmaking makes sense for me as a way to share the same narrative many times making a more substantial impact.
In her project proposal, Felicity writes she wishes to "test ways in which I can honour plant and animal life," and "show the different ways plants are resilient and how they live symbiotically with people, referencing a scene from Braiding Sweetgrass by Robin Wall Kimmerer."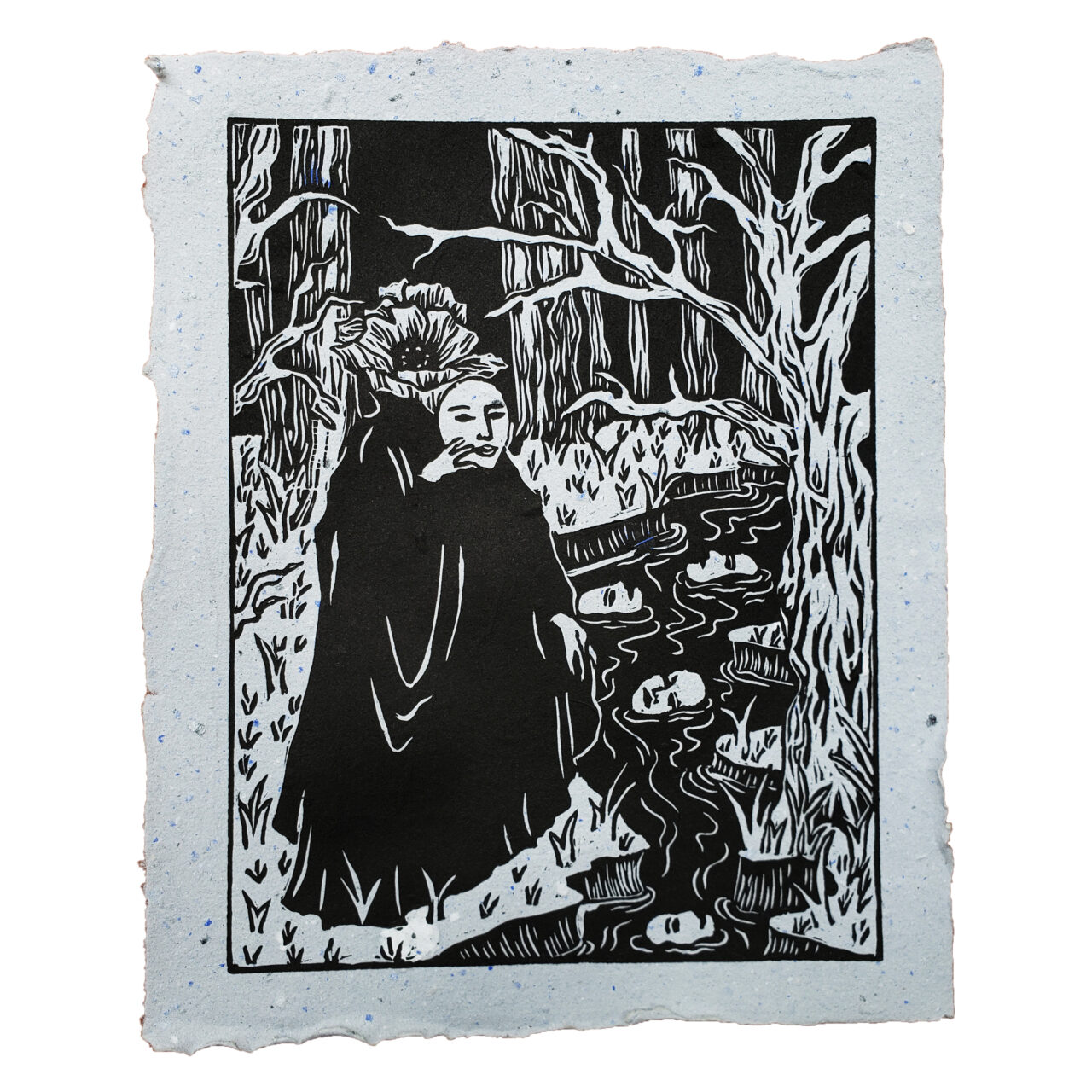 Hannah Dow-Kenney
"My name is Hannah (she/they) and I am a 4th-year [Visual Arts] major focusing on printmaking. I will be finishing up my BFA this May.
"I began printmaking during the second year of my degree when I took an intro etching class. I fell in love with the process and tactility of printmaking, and the work that it takes to achieve the image through multiple stages of editing and test printing. Since second year I have made it my goal to try and learn as many printmaking processes as I can, and to experiment with combining print mediums to achieve a variety of texture and line in a work. I still tend to gravitate towards etching and relief as they carry some nostalgia for me and tend to work well with my images.
"I really enjoyed having the opportunity to make something outside of classwork,. Making this matrix for Patio Press rekindled my love for the linocut process, which I used to do a lot of but has recently been put on the back burner with my intaglio work. I am excited to make more relief prints this summer!"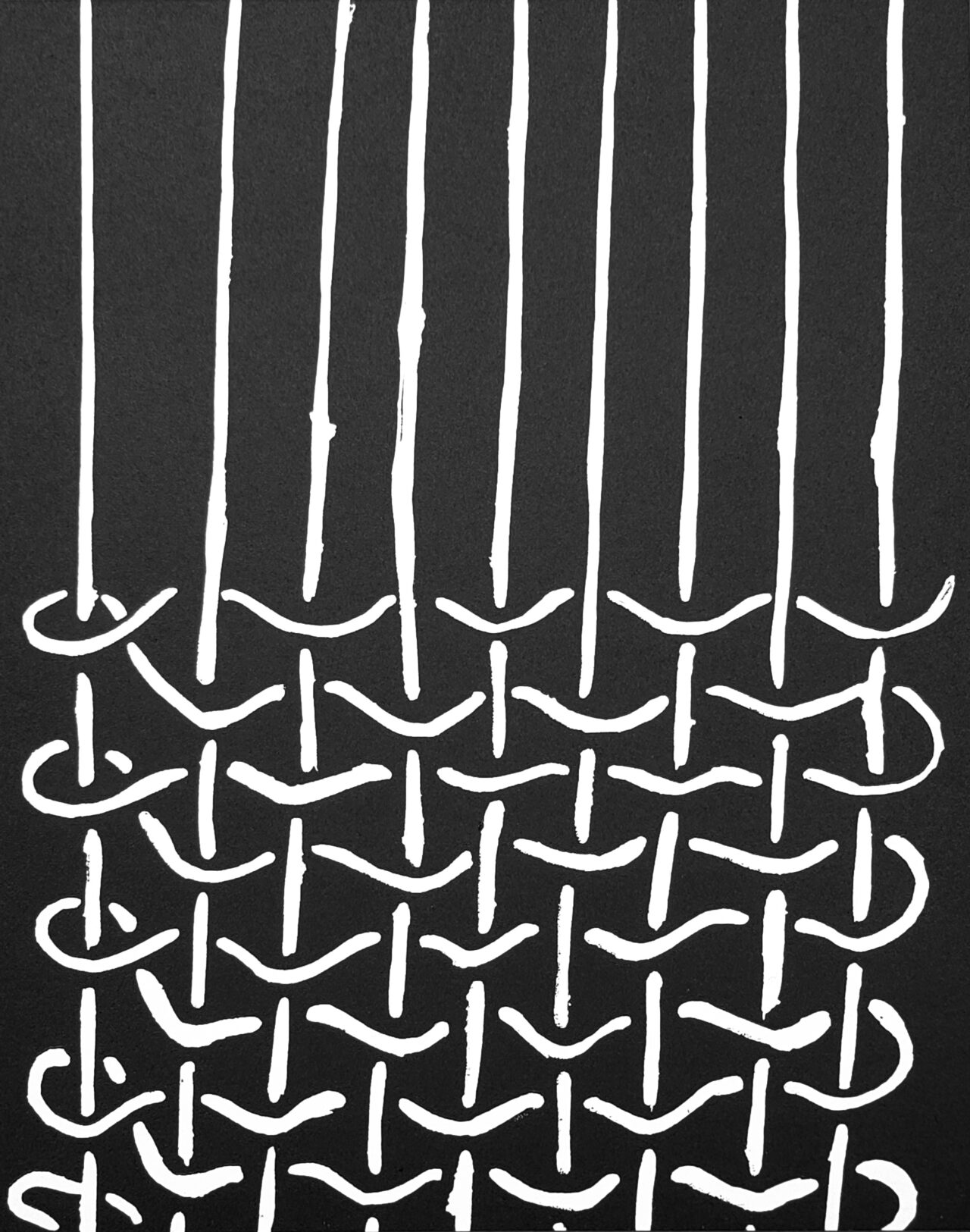 Keimi Nakashima-Ochoa
"As an artist who is not dedicated to one sole working material, I always like to try and find ways to incorporate more than one medium into my work. Relief printing generally creates such high-contrast imagery, that I thought it would be a perfect way to explore the graphic and dynamic nature of weaving. The fact that this work was able to be printed through an actual press — something I haven't been able to do in over a year— and by such experienced printers as Sara-Jeanne and Mark, facilitated even better results."