Olúwáṣọlá Kẹ́hìndé Olówó-Aké Uses Storytelling to Create Space for Black Dignity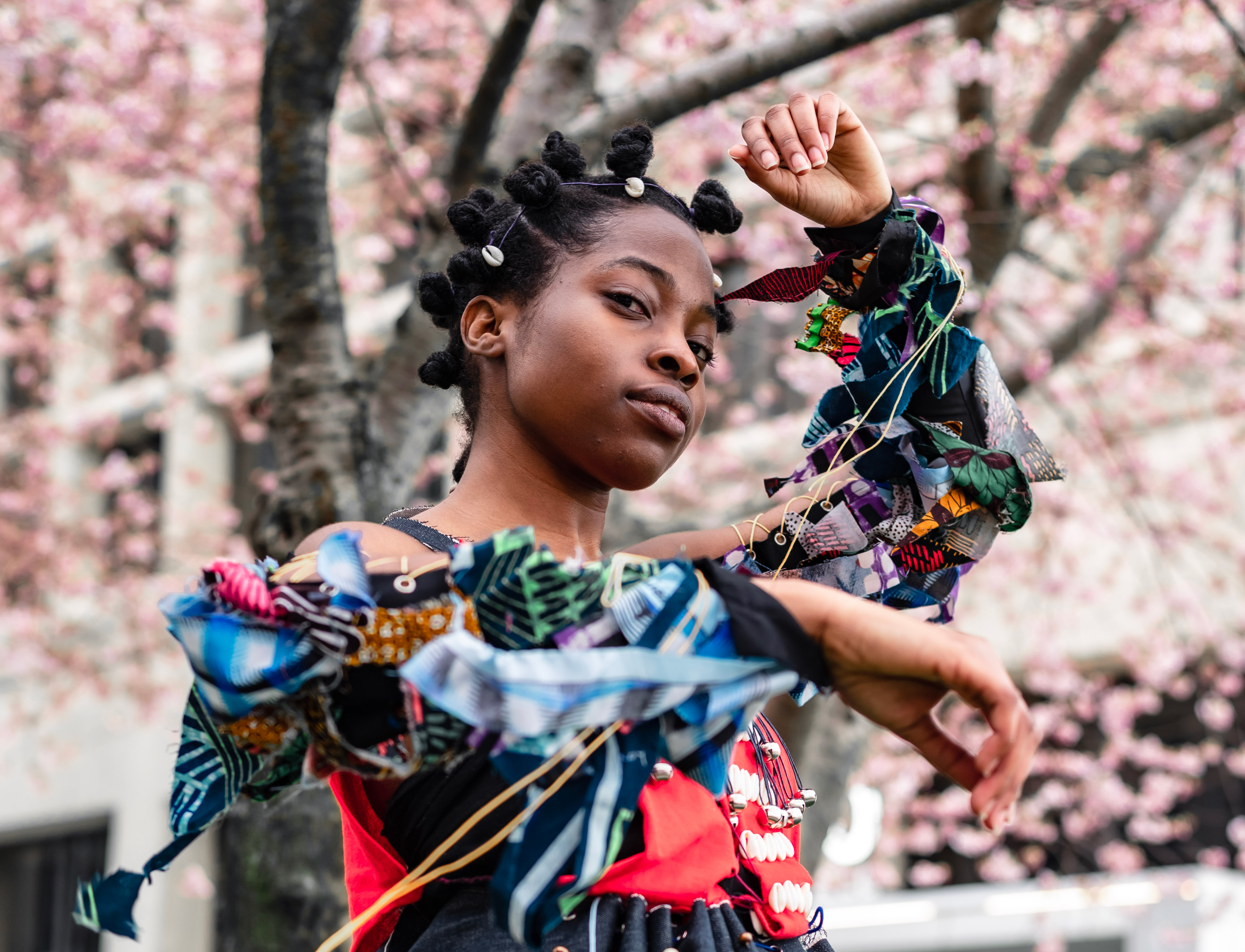 Posted on July 19, 2021
'My motivation to finish my project and degree was fuelled by my desire for Black people like me to thrive,' says the artist, designer and recent ECU Master of Design grad.
"Before I came to Vancouver, I was told that it was diverse and it was a multicultural place," Olúwáṣọlá "Sola" Kẹ́hìndé Olówó-Aké tells the audience during her thesis presentation at the 2021 Canadian Association for Graduate Studies (CAGS) Virtual Symposium.
"This led me to expect a lot of things from this place that I was coming to. But on arrival here, I realized that I started to feel a lack of Black communal culture."
For the artist, designer, storyteller and recent Emily Carr University Master of Design grad, this feeling intensified in 2020, as conversations about race, systemic racism, police brutality and white supremacy re-entered the mainstream with renewed intensity following the murder of George Floyd, a Black man, by Derek Chauvin, a white man and, at the time, a Minneapolis police officer.
These conversations as they played out in Sola's daily life "were not working," she says. Words and phrases such as "white supremacy," "white fragility" and "systemic racism" would "immediately put the white people I was speaking to on the defence." This was not how these conversations were intended to unfold.
"It just seemed like there was this unwillingness to create space for Black Us — so, Black people — as we voiced our concerns," Sola continues. "This led me to uncover [those] barriers that I experienced between myself and the people that I met. And so, for my thesis, I marked out these barriers and wrote stories out of them."
Ahọn Dudu, an epic, tragic, occasionally surreal, multidisciplinary suite of storytelling texts, photos and performances is the result. The cautionary tale combines social philosophy, mythology, autofiction, autobiography, song, dance and fashion design to draw the reader into contact with those conversations Sola found to be so contentious when approached head-on.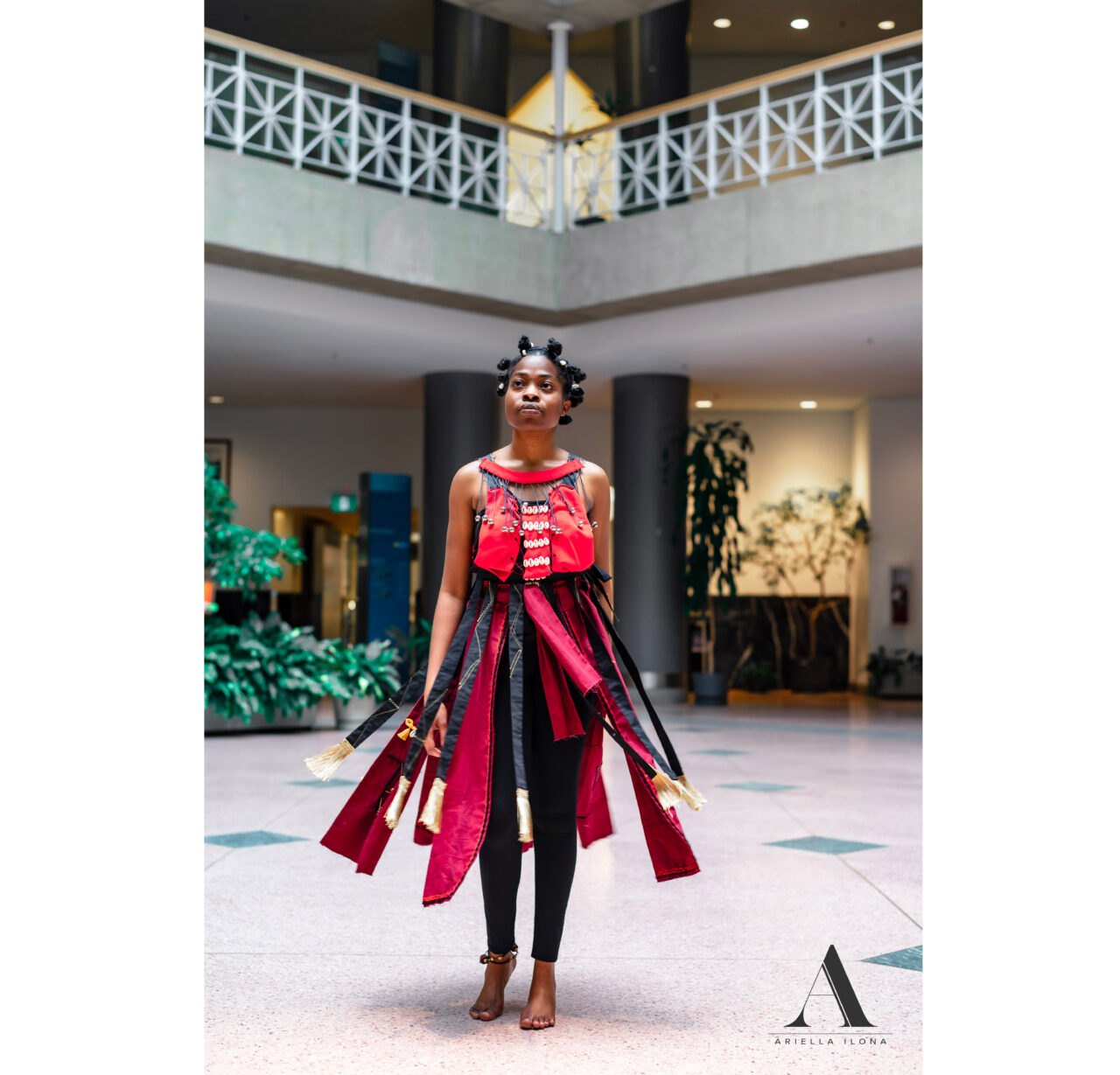 The work draws on traditions and concepts including The Spectacle, from a Yorùbá festival called Gẹlẹdẹ, which uses performance to teach and to entertain; Àló̩, a Yorùbá call-and-response storytelling tradition that incorporates song, which Sola translates as roughly equivalent to "folktales"; and dance "as an embodied practice that reveals the messages your body stores," as learned from Nigerian artist, dancer and performer Qudus Onikeku.
To recount her real-world experiences within the Yorùbá storytelling framework, Sola created the story's protagonist, a character named Ahọn Dudu.
"Ahọn Dudu is me," Sola says, "a character in my stories and my Yorùbá subjectivity, that lives and exists in Vancouver."
The story finds Ahọn Dudu being told by Emi Ojo, the Rain Spirit, to warn his people that their world and everyone in it is in danger of being consumed by a ravenous smoke. But person after person rebuffs his pleas to be heard until, finally, the king of the land has him expelled, and Ahọn Dudu's world is destroyed.
The story is told three times, each with a different subtitle and a slightly different emphasis. Each version reflects a specific barrier Sola encountered while trying to engage people in conversations around the Black experience in Vancouver.
Woven into this text are videos of Sola performing original dance works in garments she designed, accompanied by songs she wrote and recorded. The garments, she notes, "further illustrate the story visually," and were designed with an eye to their expressiveness when the body is in motion.
Ahọn Dudu is at once dreamlike and incisive. It is both tragic and defiant. It also amounts to a wholesale overturning of what a Master of Design thesis document typically looks like. And according to Sola, this is precisely the point.
An admonition to readers toward the end of the text doubles as a call to accountability.
"I inform you here that in order for you to engage with these stories, you will have to lay aside your expectations of what constitutes a Masters thesis document," Sola writes.
"Too many times the Black soul has been told to stretch out their hand. And this is what I mean, for a long time the onus has been on us only to show that we are not as the stereotypes claim; that we are not inferior. And so we have conformed, switched, sacrificed our mother tongues and customs to appear more 'educated', to fit into systems that frankly were never built for us to thrive in … We are forced to look at ourselves constantly through the white lens because it is through this lens that we are evaluated. The conventional thesis structure is an example of this […]"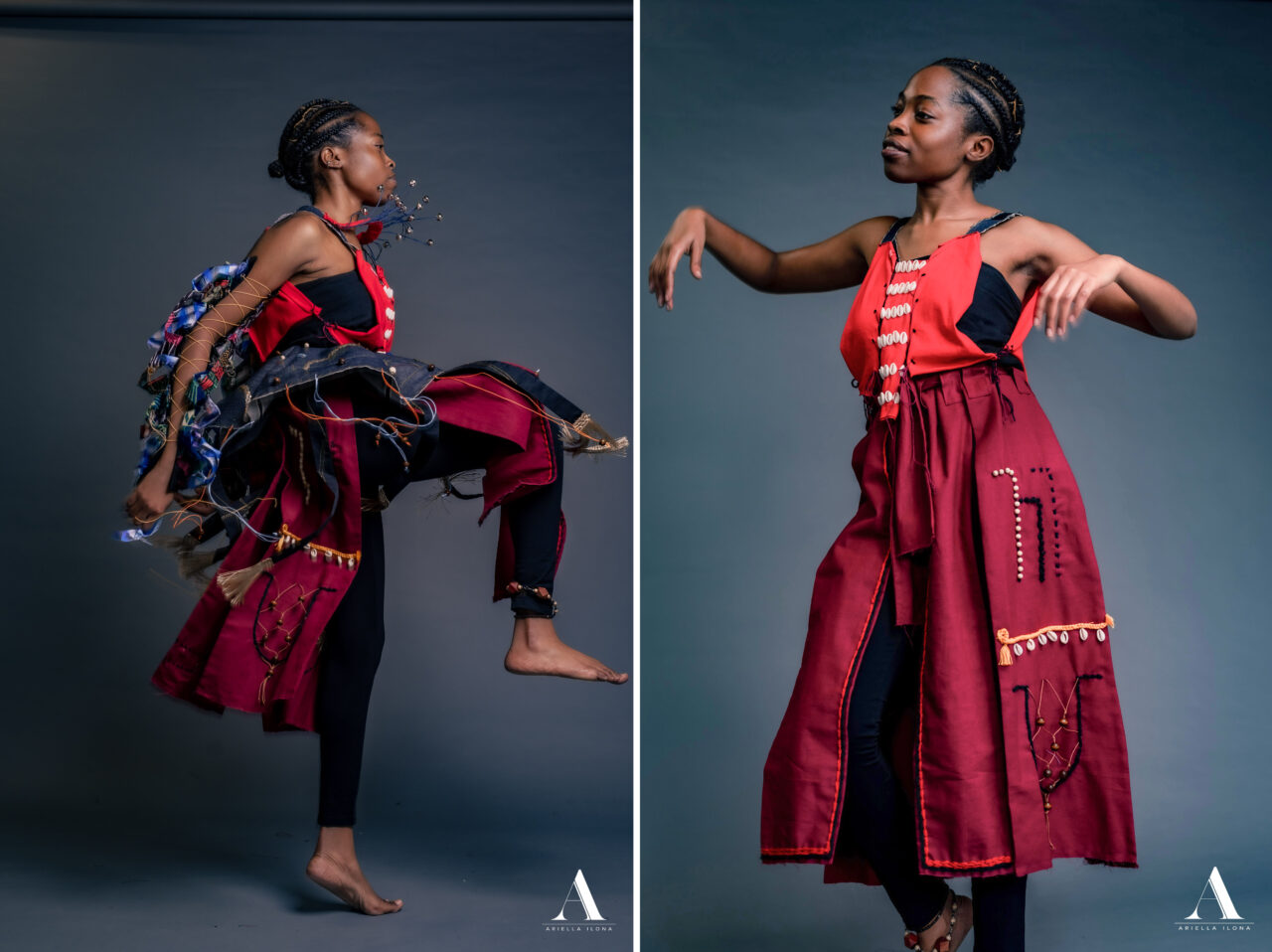 White readers are charged with doing the work of making space for Sola's account of lived experience as a Black Nigerian woman in the diaspora. They are compelled to become "true companions" to her stories. This means meeting the stories on their own terms, rather than assuming they will conform to the reader's own experience and expectations.
Yorùbá ways of knowing bear little resemblance to Western academic practices, she later tells me. The oral is valued over the written, stories are no less authoritative than research articles, and the perspectives of community elders are historical texts.
Turning this logic outward, Sola maps its implications beyond her project of obtaining a Master of Design degree, onto the struggle to make space for Black community in Vancouver.
"In simple terms, my work is grounded in my identity — everything that makes me Sola," she says. Having thus put everything on the line as a starting point, it is entirely natural that Ahọn Dudu reaches far beyond the confines of thesis work, design practice or academia.
"My motivation to finish my project and degree was not fuelled by a desire for good grades; it was fuelled by my desire for Black people like me to thrive. It was fuelled by my belief — which is contrary to the treatment I got — that Black people are deserving of dignity. These values that I hold made me critical of the environment that rationalized my dignity, and it made me demand that they treat me with utmost respect.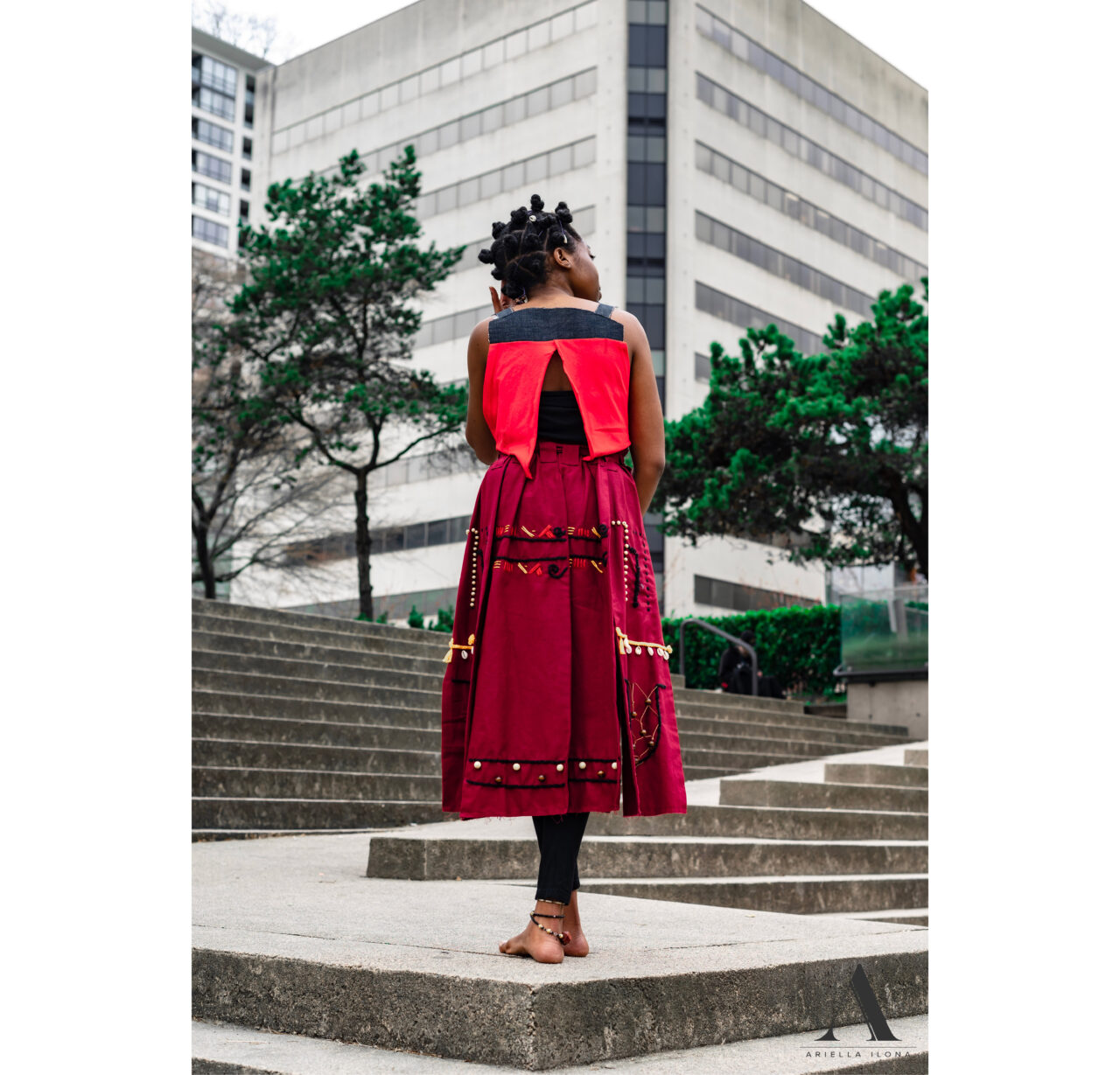 "Now, does that always sit right with people? No, it doesn't. And in academic spaces sometimes, because of the way these spaces are structured, part of the advice you might get is to tone down the volume of your voice or the nature of rebellion in your work, or to avoid sounding instructive or aggressive, because it brings a certain level of discomfort.
"To that I say, I'll raise my voice all the more, because my dignity is on the line and that comes before a piece of paper certifying that I am learned."
View Ahọn Dudu now, online, or download a PDF version from the Emily Carr University Library E-Collections. Learn more about Sola's work, including her contributions to the Micro-Care project and her ongoing …into words with Sola podcast series via her website and her Linktree.