'Perspectives' Program Connects Students and People Living in Long-Term Care to Tell the Stories of a Lifetime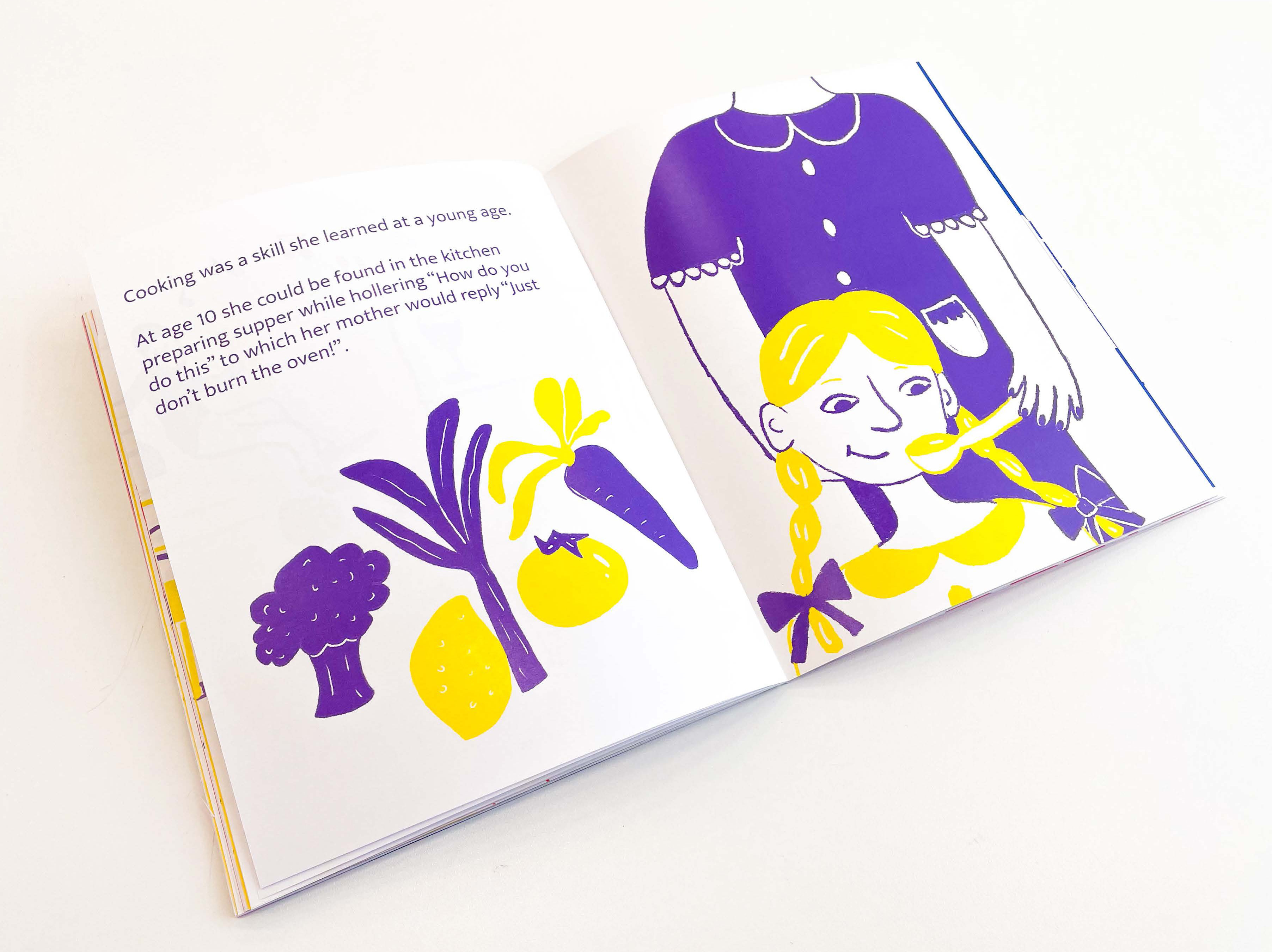 Posted on May 27, 2021
Now in its fourth year, the program recently completed its first virtual run to support intergenerational collaboration even under lockdown.
There's Raymond, the poet who edits his poems even as he reads them aloud, never quite satisfied with his phrasing. There's Sheila, who describes colour as a window onto mood, or emotion. Brock, who hopes to learn Esperanza — the "international language." Shirley, who used to don her sweater, skirt and saddle shoes, grab a bottle to go, and pay a nickel for entry to the Saturday Night Club on Granville Street where she and her friends would dance the night away to Glen Miller and Benny Goodman.
There's James, who has jumped from an airplane, served in the army, survived a shark attack, and worked hundreds of feet underground in a zinc mine in Australia, a country where he later fell in love.
These are the stories of just a few of the people living at the Purdy Pavilion care home on the University of B.C. campus — people who are among the dozen participants in this year's Perspectives program, which brings together design students with people living in long-term care for intergenerational exchange and storytelling.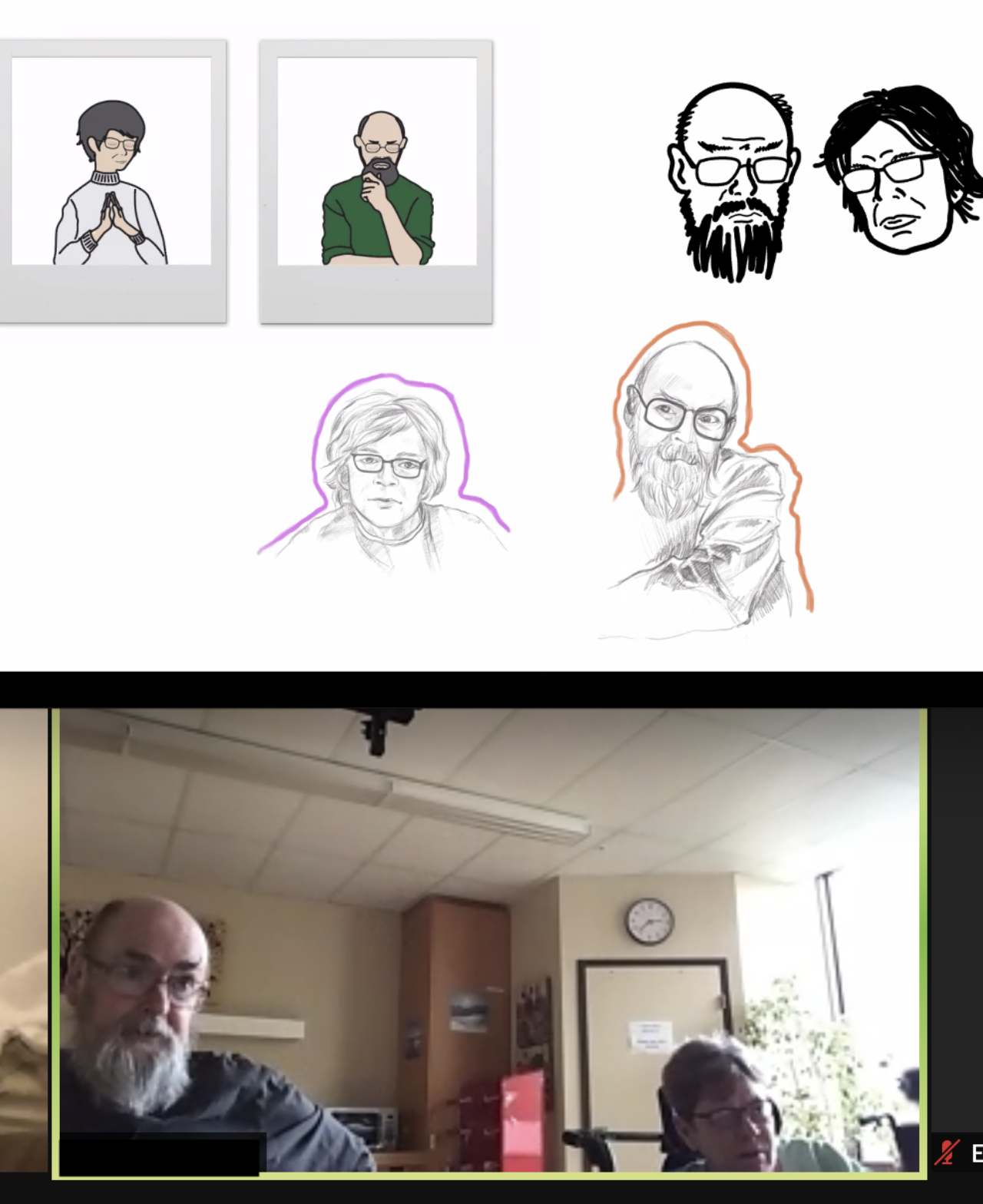 Heartiness, Happiness and Good Health
Now in its fourth year, the program is co-led by designer, Emily Carr University faculty member and director of the Health Design Lab at ECU, Caylee Raber, and designer, Health Design Lab project lead and ECU faculty member Jon Hannan.
Each semester, students from Caylee and Jon's third-year design class are organized into small groups with people living in long-term care. The groups gather six times over three months, organizing games, chat sessions and other storytelling prompts to get to know one another. Based on what they learn, each group collaborates on a booklet or other design object, which they produce at the end of semester.
According to Donna Levi, Recreation Therapist at Purdy Pavilion, Perspectives provides a powerful way to encourage a renewed sense of agency in care-home participants.
"I had the privilege to witness this program run twice over and to discover first-hand what a research study later indicated: an opportunity to share one's story contributes directly to heartiness, happiness and good health," Donna, who recently took a new position on the Sunshine Coast, writes.
"Not only were participants motivated and engaged in each session, those who participated in the program began to take more interest in other care home activities and in community life … I witnessed the magical relationships that were built each session and the joy it brought to those who participated from our care home and the students involved."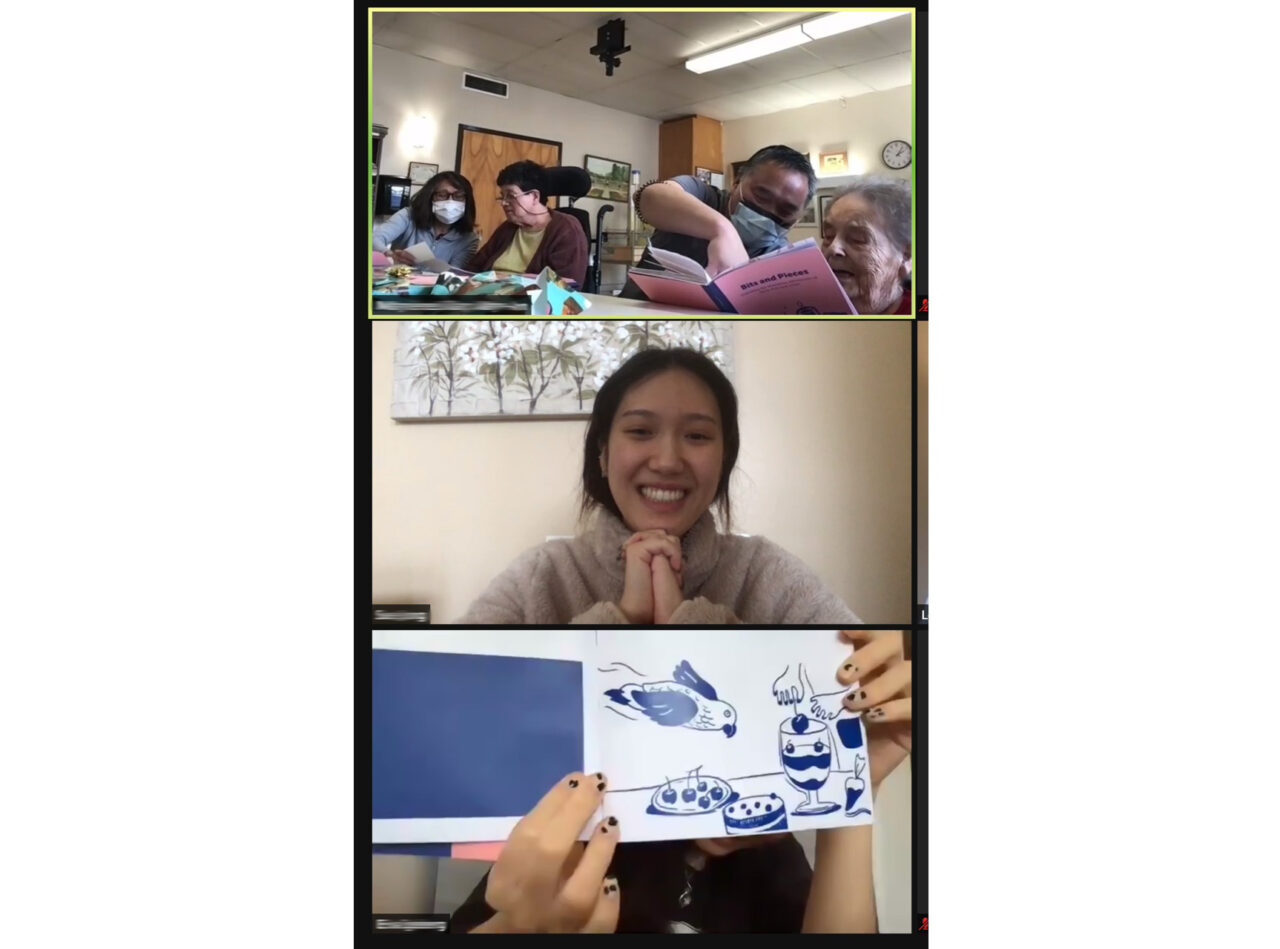 On-Screen / Off-Campus
Normally conducted in-person, Perspectives went virtual this year, once COVID-19 redefined the limits of safe contact. And while running the program virtually has its drawbacks, Caylee says videoconferencing can also improve accessibility.
Students can now meet with their partners in care homes without lengthy commutes, she notes. Which means future editions of Perspectives could extend their reach far outside the local area. But connecting via mobile devices also means some people living in long-term care have also been able to participate for the first time.
"This semester, we have somebody who's able to join from bed," Caylee notes. "That's somebody who I think not only would not have participated in Perspectives before, but the number of social programs they can participate in generally is going to be very, very low. And since that first 45-minute session, he's been incredibly engaged, to the point where he's now actually leading some of the sessions. It's been quite amazing. And it's because he's been able to connect from his room."
And the objects each group designs are as varied as the lives they're built around.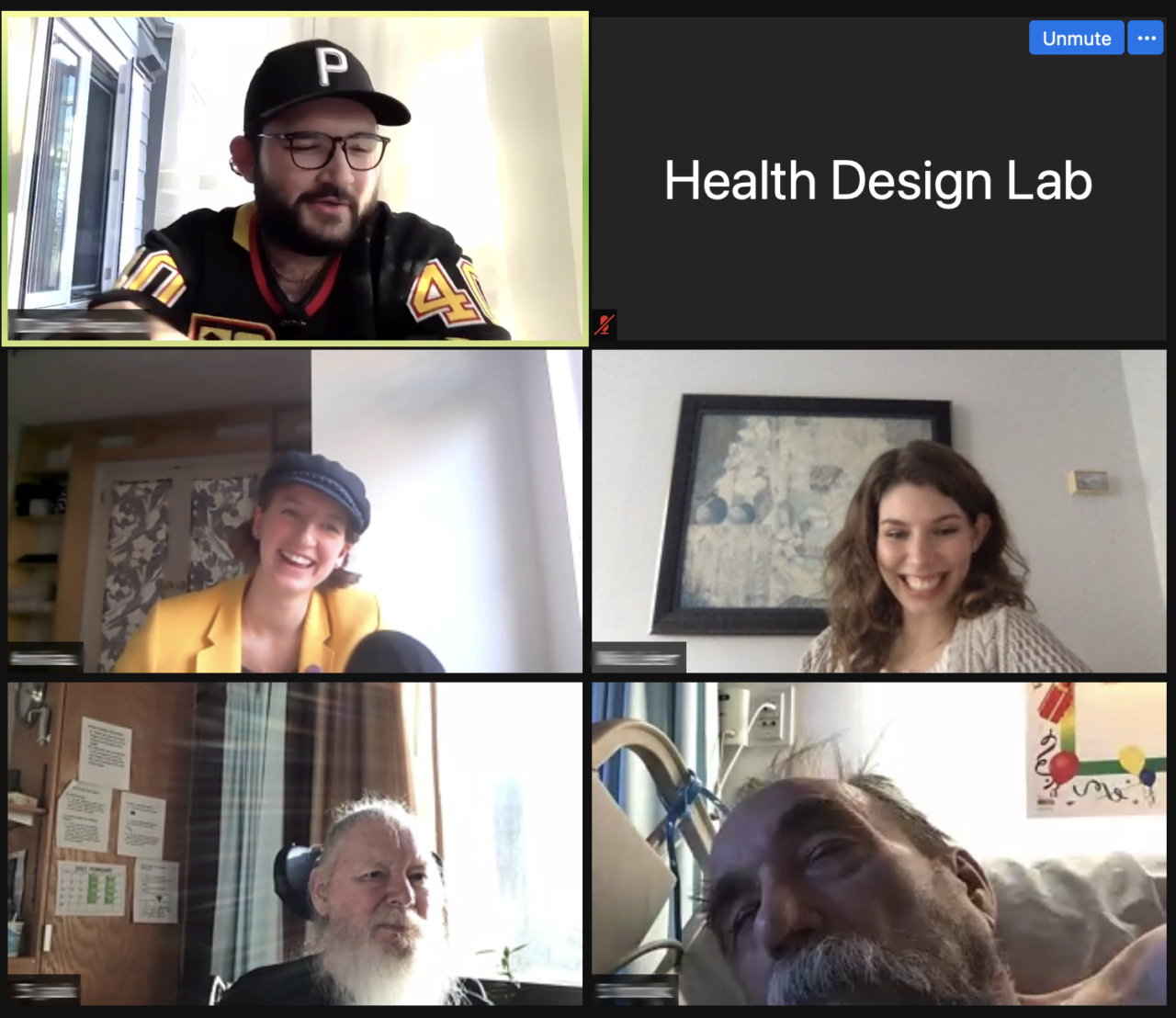 The Shape of a Life
This year, ECU students Stella Song, Ara Rattan and Josie Breuls created a travel guide to Vancouver as described by their care-home co-creators, Weston and Shirley. The illustrated guide documents a city leap-frogging from streetcars to SkyTrains; a civic debut on the world-stage at Expo '86; the bouncing dance floor at the Commodore ballroom; a chance encounter at the PNE that would lead to 30 years of marriage. The pamphlet also provides space for observations, where users can record their own contemporary experiences of the city.
Students Annika Dixon-Reusz, Mia Leier and Daniel Perianu produced a quilt, featuring embroidered illustrations representing the many stories shared by their care-home collaborators Brock and Jack. The quilt also contains pockets for dice and cards. And a bed-table, which can be used as a playing surface, is laser-engraved with a game to prompt further conversation and story sharing, invented during their time together.
Where possible, several dozen copies of the final publications are printed and circulated in the homes, Caylee notes. The people living in care and staff are then able to learn more about one another's lives, she says. This, in turn, leads to better care, greater positive stimulation, and better health outcomes.
(During Annika, Mia and Daniel's final visit with Brock and Jack, a care home staff member asked why sushi appeared on one of the quilt pockets. When it was revealed that sushi was one of Brock and Jack's favourite foods, the staff member responded that they hadn't known, and would bring some in for a future meal. This anecdote is "a great example of how these projects can help staff to better connect with people living in long-term care and enable them to create a more person-directed experience within the home," says Caylee.)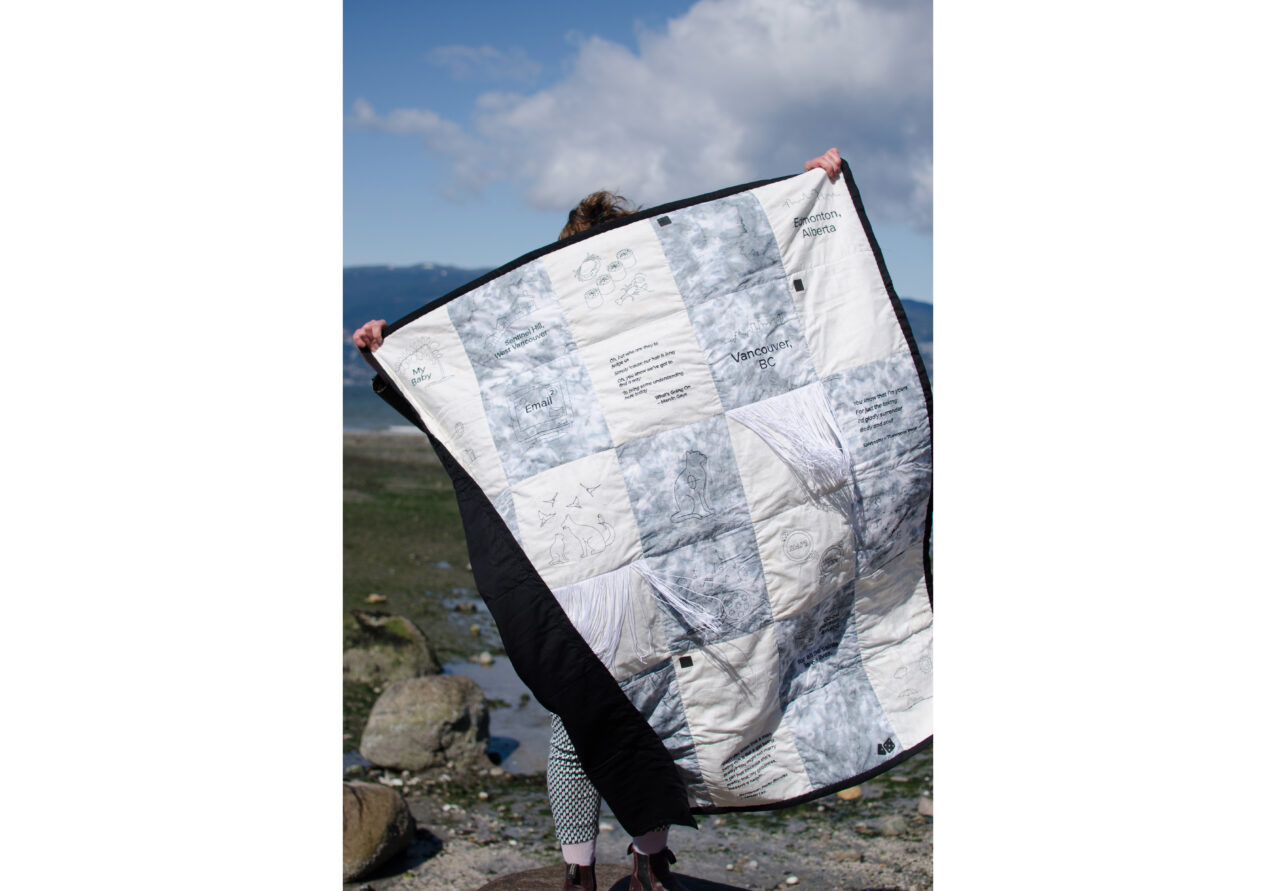 Collaborate to Connect
Students, meanwhile, learn lessons that sometimes fall far outside the purview of an average seminar.
"We do get a lot of comments from students about the particular design skills that they've learned and the opportunity to apply participatory research methods in context," Caylee says. "But a lot of them talk about the life advice they've been given and about their outlook on the things they want to accomplish in their lives, having heard about the accomplishments of people in the homes. So, I think there's a lot of broader life-learning that happens for students — a shifting of their own perspectives."
And while connection is vital for people living in care homes at the best of times, a year of extraordinary isolation has shown that connection to be more important than ever, says Caylee. But it's not simply "connection" people seem to crave, she continues — it's collaboration.
In the fall, Purdy had medical students do video-calls with people living at the Purdy Pavilion as non-curricular volunteers. But Purdy staff noticed that, without a broader purpose, those "social" calls petered out over time.
"They just didn't hold as much meaning," Caylee says. "Whereas in Perspectives, where everyone is actively working toward something together — toward this common goal that is actually quite significant — it grants some value to the connections they're making, and why they're connecting."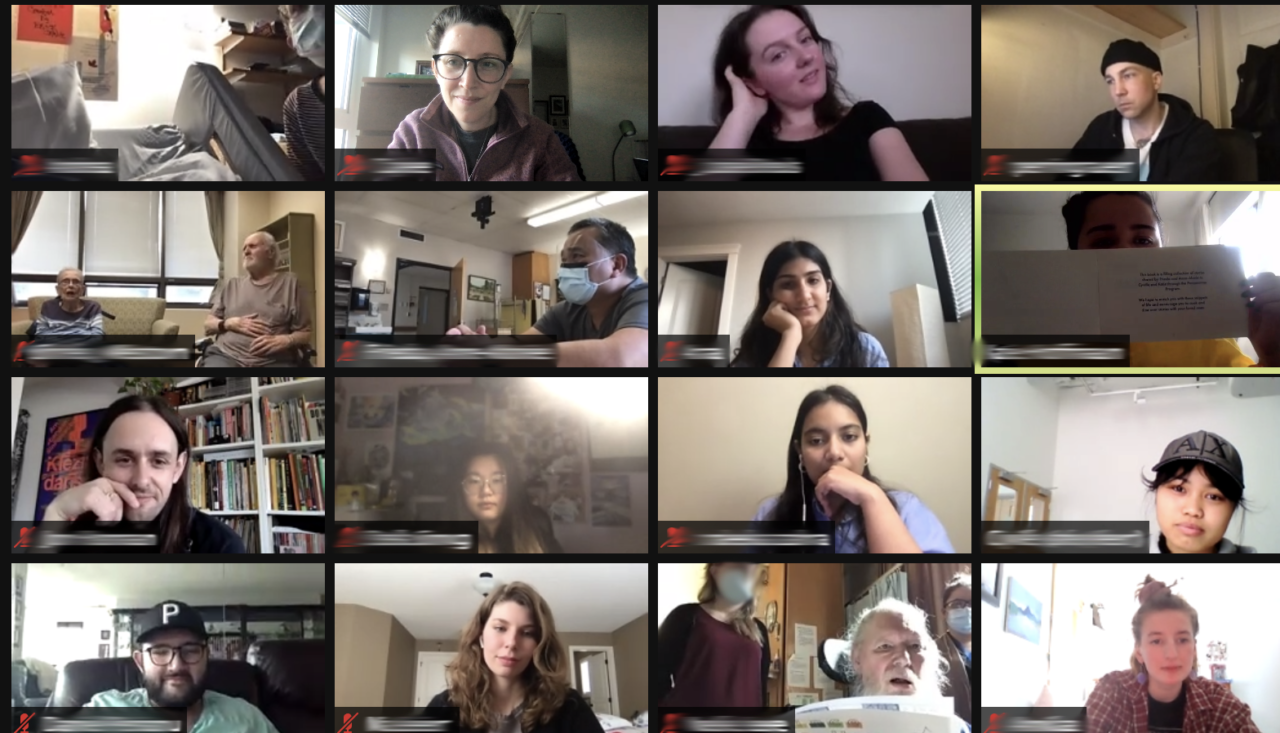 Silver Lining
Perspectives is one thread of a broader project, called Come Alive, currently being conducted by the HDL in collaboration with Vancouver Coastal Health. Come Alive, which involves all 54 care homes in the Coastal Health region, aims to shift the culture of care toward a more "person-directed model," Caylee says. Such a model addresses complex health problems by framing care as an act that only begins with the medical model.
Come Alive emphasizes programming that sees people living in long-term care as holistic individuals, with stories and desires and voices that deserve to be heard. Within that framework, Perspectives is something like a case study, Caylee notes; it proposes one approach to intervention within the care-home ecology to raise up the voices of the people who live there.
And according to Donna, Come Alive and Perspectives couldn't be more timely, or more welcome.
"I can't help but feel that this program needs to be recognized as Therapeutic Recreation best practice," Donna writes of Perspectives. "Meaningful activity that enables people living in care homes to shine and to feel connected to their community; a legacy tool that helps care home staff better understand who the people living in the care home are and what they themselves cherish and chose to share; a program that runs with voluntary human resources (skilled professors) and their students; and all at no additional cost to the care home. At a time when resources in healthcare are limited, this program is truly a silver lining."
Visit perspectivesprogram.ca to find a how-to guide for engaging art and design students and people living in care homes in co-design through intergenerational storytelling. The guide is designed to encourage other schools and care homes worldwide to adapt and run the Perspectives program. Learn more about Come Alive now, at hdl.ecuad.ca