Caleb Ellison-Dysart is Creating an Indigenous Future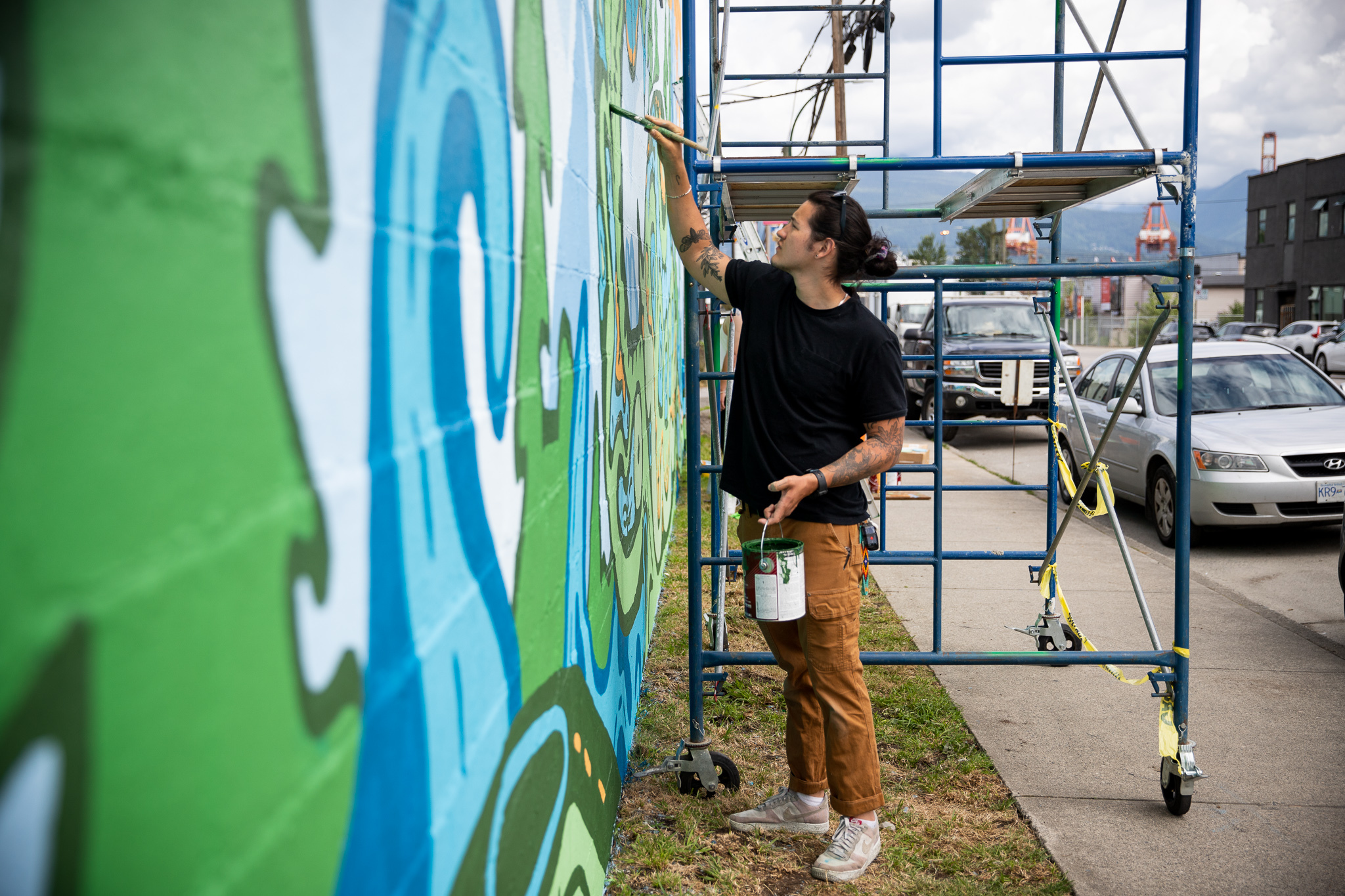 Posted on July 28, 2022
The multidisciplinary visual artist, musician and animator aims to build a better world through art, action and expression.
Maybe you've seen Caleb Ellison-Dysart. Broad-shouldered, straight-backed and standing well over six feet tall, the tattooed visual artist, musician and 3D animator makes an impression.
But more than simply being tough to miss, Caleb rarely misses an opportunity to show up. Even this writer, who hot-desks between a crowded office and home, sees Caleb everywhere: painting a mural outside the Emily Carr Students' Union; compositing and rendering on an experimental film set at ECU between semesters; running his online print shop; creating paintings and illustration for clients, or to drive awareness of Indigenous teachings and social justice issues; and simply being present at art events around town.
"I just always want to make stuff, I'll do any form of creative thing." he tells me. "I don't watch TV. I don't like to sit around. I just want to do what I love, which is creating."
All of this on top of completing his degree in 3D animation on an accelerated timeline by taking classes through summers. Having begun his studies at ECU in 2019, he will have completed his bachelor's degree by the end of August of this year.
Caleb politely balks when I ask him about his relentless pace. There are plenty of projects he's had to give up, he tells me. He hasn't focused on music in nearly a year, he offers, referring to the gorgeous, dreamy indie-folk tracks he writes and records under the name Xavier Floods. Although there have been times he's worked on side-projects while attending a class remotely in order to have time for both.
"Sometimes I'll be painting while I'm on Zoom, listening while I work," he says.
An illustration for National Indigenous Peoples Day 2022, by Caleb Ellison-Dysart.
But for Caleb, being driven comes naturally. He even comes close to suggesting that, for him, it isn't really of a choice at all. Yes, he juggles quite a few projects. He does so because he feels so much riding on his success.
"It's been important for me to focus on finishing my degree because nobody else in my family's ever done that," he tells me. "I want to feel like I've accomplished that. And then that will allow me to focus on other things."
But the apparent ease with which he juggles so many projects is by no means an indication that Caleb's journey has been easy. Quite the opposite.
Caleb, who is half Cree, was born in the American Midwest. He spent his early childhood on reserve, but was separated from his Indigenous family at a very young age. Growing up, he divided his time between Cedar Rapids, Iowa, and Minneapolis, Minn. He felt the absence of Indigenous cultural mentors keenly, he tells me.
"I missed out on a lot, culturally," he says.
As he has also remarked on social media, growing up Indigenous was at times confusing and often painful. He had few opportunities to learn about Cree culture and often felt he had "two identities" that were "at odds" with one another.
After graduating high school, Caleb worked building homes in impoverished communities in developing countries. Upon returning to North America, he decided he wanted to attend art school, and applied to ECU. He was accepted, but was unable to afford both tuition and rent in one of the world's least affordable cities. As a result, he rented a closet in an apartment on the Vancouver's west side for part of Foundation Year, and even lived in his car for a short time.
"I didn't have any connections when I moved here so that was really my only option," he says.
Then the pandemic struck. Like many of his peers, Caleb wondered whether attending university was the right choice at all. And with roots stateside, summer 2020 saw Caleb spending as much time as he could supporting his home community during the Minneapolis uprising in the wake of the murder of George Floyd.
But for Caleb, now an active artist in full control of his practice, adversity has crystallized his purpose.
Standing at the foot of scaffolding along the south end of Clark Drive in Vancouver, I ask him about his recent work. It's a weekday in July, and traffic is relentless along the strip — one of the truck routes to and from the GCT Vanterm container port. Caleb is there with a hired crew of including friends as well as his brother. The group is putting finishing touches on a new mural for Vancouver Mural Festival (VMF) — his second mural this year, following the one titled We Are Stories he completed in the spring for the Emily Carr Students' Union (ECSU).
Not missing a beat, Caleb points directly to the deep thinking he's done to keep himself focused on moving forward toward his goals.
"We are directly responsible and connected to the world around us," he tells me over the rattle of flatbeds. "Not only do we need to be responsible to other beings, but we need to have peace within ourselves. We need to try to perfect the mechanism inside of us. We need to treat ourselves right, have self respect, act with respect toward other people. It's not only respecting the larger cyclical reality that we live in, but also our own internal reality. My work in general depicts that internal and external relationship between all things."
His mural for the ECSU, for instance, was aimed at creating "a space of community." The image depicts people dancing and singing around a fire, and telling stories whose characters are emerging into the real world.
Humans have built community and culture around fires and fireplaces for millennia, Caleb says. But more than that, words become actions. The way people speak becomes their reality. Speech, therefore, needs to be wielded carefully.
"I wanted to show the responsibility we all have to the words we speak and the things we do and how both impact the world around us," Caleb says. "We are the stories we speak about ourselves. We are the reality we tell ourselves."
His mural on Clark Drive for the VMF depicts the traditional story of Turtle Island — a term used by some Indigenous Peoples and allies to refer to part or all of North America.
"It's part of a creation story, and I think it's perfect for this wall because it can frame where we are and people can visualize that into their lives, even if it's a small difference."
Caleb with his newly finished mural for the Emily Carr Students' Union.
Caleb's style, he adds, is his own personal take on a Northern Cree style. Drawing on traditional forms while adding his own spin is partly an exercise in modelling Indigenous agency. The act of putting oneself into conversation with tradition is a powerful one, he tells me.
"I hope my work can inspire others to do the same, because that's what it takes to create an Indigenous future — for Indigenous people to visualize themselves in a world where they weren't part of the plan," he says.
"Being able to respectfully adapt those traditional styles and stories; pushing forward teachings about respecting the world and each other while keeping my own twist on it and being true to myself. That's what my goal is. I think that's what needs to happen."
Apart from finishing his degree over the summer and graduating in the fall, Caleb is at first vague about next steps for his artistic career.
"Who knows? Maybe making more music, 3D animation, murals," he says. "Ultimately, I just want to do what I love to do, which is creating. And then be able to survive."
He laughs before going quiet momentarily. If he has one blue-sky fantasy, it's to start a fund for Indigenous youth to explore creative practice. A program like that might have changed his own life, he tells me. He'd love to start there.
"I genuinely feel the most pleasure out of helping people around me," he says. "I want young people to have opportunities I didn't have. And some of my family still lack basic necessities like running water or a toilet. And sure, it would be nice to not have to worry as much about rent. But I'm just driven by bringing back some justice for what's happened to my family. Because how are Indigenous people supposed to imagine a better future when they lack even the most fundamental human necessities?"
"And I really feel privileged, because I feel satisfied every day with what I do. I feel great, and if you don't, money's not going to fix that. I genuinely, every day, am trying my best. And who knows, maybe I'll make money someday. But it'll be the right way."
Follow Caleb on Instagram to keep up with his work, and check out his print shop on Etsy. You can hear some of Caleb's musical work as Xavier Floods via Apple, Spotify or Soundcloud.
Want more stories like this delivered straight to your inbox?