For T'uy't'tanat-Cease Wyss, the Land is Her Practice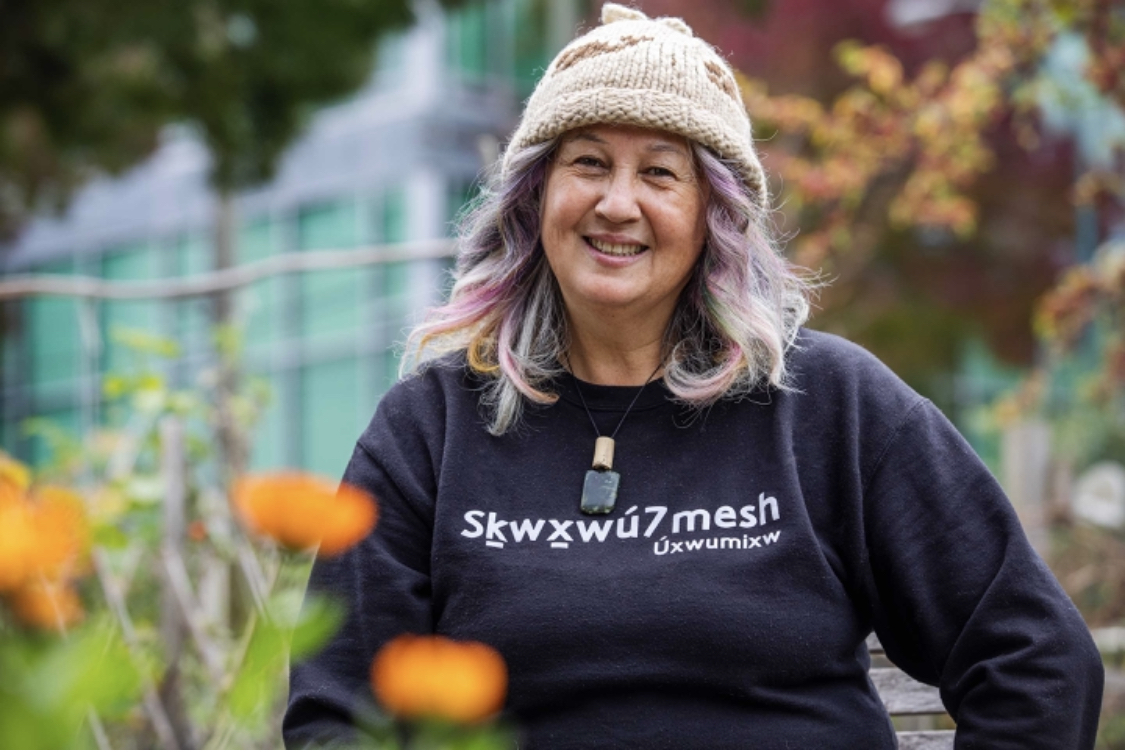 Posted on May 05, 2022 | Updated May 16, 2022, 1:26pm
The celebrated Skwxwu7mesh/Sto:Lo/Hawaiian/Swiss interdisciplinary artist is a 2022 recipient of an Honorary Degree from Emily Carr University.
Situated at the mouth of Capilano River is the Sḵwx̱wú7mesh Úxwumixw (Squamish Nation's) Capilano Reserve No.5, named for the river which is itself the namesake of Joseph S7ápelek, also known as Chief Joe Capilano. Within that community is X̱wemelch'stn pen̓em̓áy (Harmony Garden), an outdoor classroom and community garden dedicated to food security and remediation.
At first glance, the garden seems wild and unruly, emerging from winter's end. But if you know what to look for, you'll see the beginnings of Kalkay (wild rose), Temxw (Red Flowering Currant), Skwe'kwech'wech (red huckleberry), and many other plants indigenous to the area.
Most people don't think of gardening as art. But gardening combines the craft of arranging plants with the science of cultivation to create a space that works in harmony with the land and its inhabitants. T'uy't'tanat-Cease Wyss, a Skwxwu7mesh/Sto:Lo/Hawaiian/Swiss interdisciplinary artist, has been working on this particular garden for the past 13 years. She is currently building a Chinampa, or "floating garden" — an Aztec farming technique used to grow plants in shallow waters.
"I spent ten years trying to grow calendula here, and I finally got it right," says Wyss, whose dedication to the land is palpable. With events like plant giveaways, mushroom workshops and seed-blessing ceremonies, Wyss hopes to make gardening more accessible within her community.
But Harmony is more than just a garden to her. It's a place that illuminates every part of life. Whether for people who need healing, for those who wish to understand how to grow things or for simply spending time on the land, sharing meals and listening to the songs of birds, Wyss believes that if you create such spaces, people will eventually come. And they have.
Simply sitting in a garden space can be an opportunity to reflect on the broader interconnectedness of the world, Wyss says.
Wyss' practice, which includes digital media, writing and performance as well as land-based remediations, spans over 30 years. With a focus on sustainability, permaculture techniques, Coast Salish Cultural elements, themes of ethnobotany, Indigenous language revival, Salish weaving and technology, Wyss weaves past, present, and future into her works and worlds.
From 2017 to 2019, Wyss worked with Anne Riley, an Indigiqueer multidisciplinary artist of Slavey Dene/German guest origin, on a project called A Constellation of Remediation. The goal was to build connections with developers, the city and park staff by planting Indigenous remediation gardens on vacant, untended lots on the unceded homelands of the xʷməθkʷəyə̓m (Musqueam), Sḵwxwú7mesh (Squamish), and səlilwətaɬ (Tsleil-Waututh) nations.
The pair take a critical view of often destructive Western processes of remediation. Instead, Wyss and Riley used care and attention to not only help heal the land but prioritize community spaces. In doing so, they showed how remediation can celebrate and advance environmentalism and decolonization.
By planting a garden on a former gas station lot, removing invasive species from a parklet, or planting pollinators, the pair hoped to build relationships with non-human creatures, aid in healing the soil and remediate both the land and our spirits.
Simply sitting in a garden space can be an opportunity to reflect on the broader interconnectedness of the world, Wyss says. She brings up the removal of the dams in Olympic National Park and how birds have helped sow the beginnings of forests in Elwha Valley.
"Birds, you know, people think what good are they? Oh, they sound pretty, and it's fun to watch them, but they are actually working the whole area," she says. "They're doing work we can never do. They'll eat some berries, fly somewhere, poop it out, and next thing you know, a bunch of trees grow."
Wyss's practices are firmly rooted in such notions of working in partnership with the natural world. And despite meeting to discuss receiving an honorary doctorate from Emily Carr, Wyss spends most of her time talking about the land. But that land is her practice. And with three decades working in media arts as well as ethnobotany, it only makes sense Wyss would create a body of work combining the two.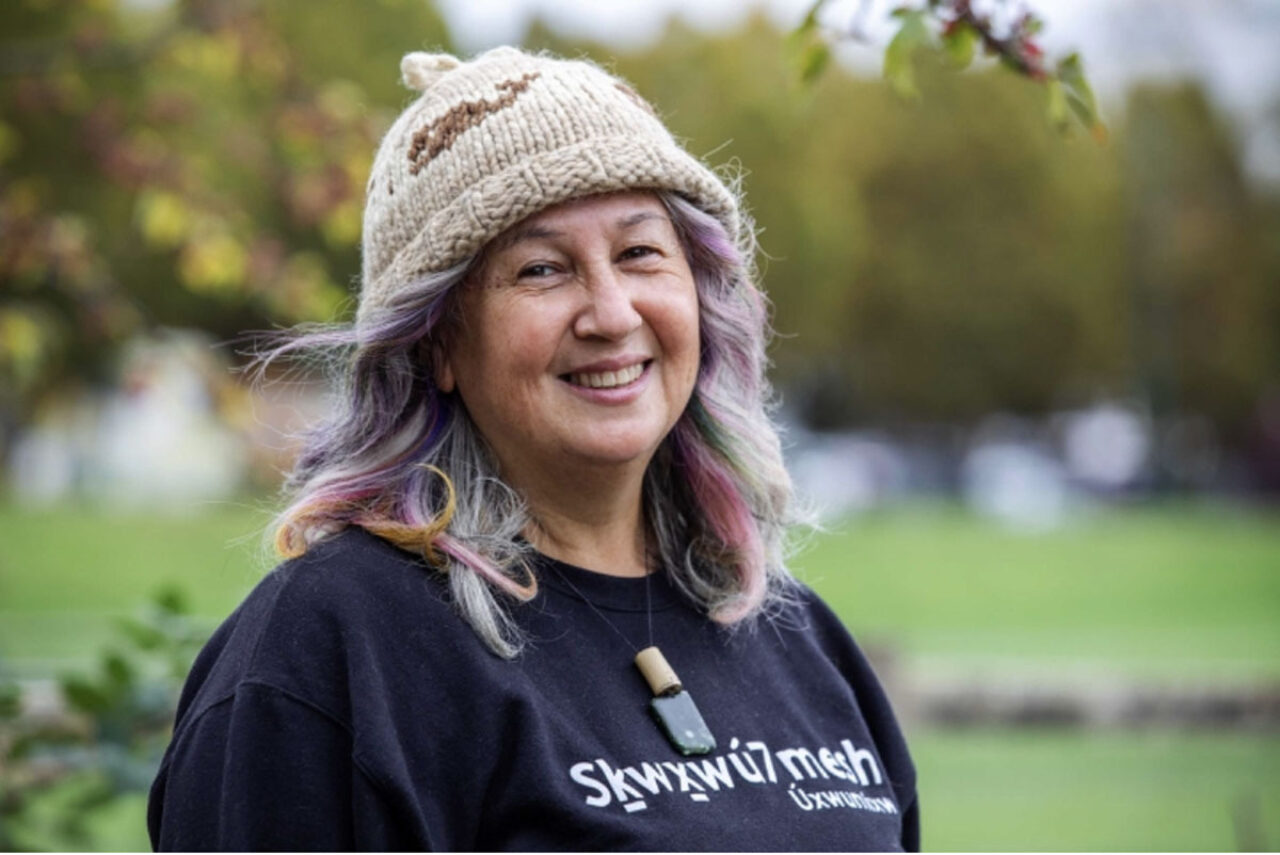 Throughout the pandemic, Wyss has been working on The Vaccinium Project with the help of Loretta Todd's IM4 Media Lab (an Indigenous XR Lab dedicated to Indigenizing VR/AR/360). Vaccinium, a genus of wild berries, has played a significant role in the lives of Indigenous Peoples. The project uses 3D-animation to recreate vaccinium plants in a virtual world. The hope is to use immersive technology to teach people about scientific and Indigenous perspectives on the plant, its history and uses.
"An example of why I'm inspired to do these futurisms is my mother," Wyss says. "She's too elderly to go up into the mountains to see these ancient trees, but she's interested in knowing and seeing them."
Numerous prior virtual reality (VR) projects (such as Sanctuary Stalkaya and Nexw7y̓ay̓ulh, Turtle Journeys) have honed Wyss' skill at immersive world-building. Whether it's an environment dedicated to protecting ancient old-growth forests or one where you can pray to and welcome home sea turtles on beaches in Hawaii, Wyss uses VR to make precious places more accessible. Meanwhile, by creating alternative ways to experience them, she is also working to protect them.
When asked what inspired her to become an artist, Wyss, a master storyteller, recounts how she taught herself to use a camera to film elders for land-claims research projects as a young person. Yet it never occurred to her to call herself an artist. One day, stumbling upon an artist-run centre, she met Paul Lang, who soon became her camera mentor and one of her best friends. He showed her how much fun it is to document the world around her and to explore audio, video installation and performance art. And she's never looked back.
"I'm really thrilled and honoured that Emily Carr is recognizing me for an honorary doctorate," she says. "When I think about how much I've struggled as an intergenerational survivor of residential school (my mother went to one), this feels long overdue."