Sharon Bayly and Carlos Mendes Receive 2022 Staff Excellence Awards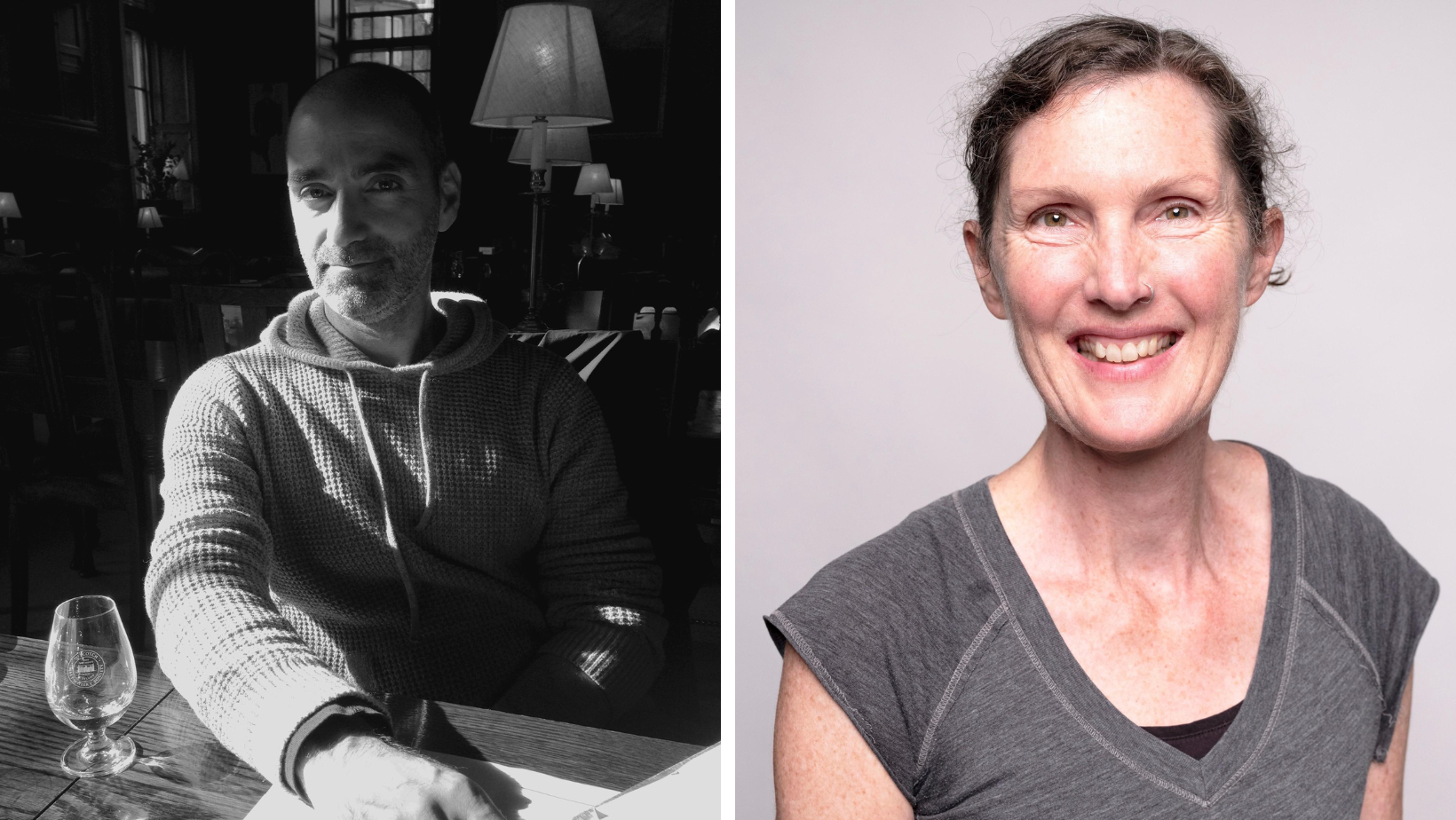 Posted on September 28, 2022 | Updated September 29, 2022, 1:02pm
The peer-nominated prizes recognize staff who exhibit the university's values and have demonstrated excellence in their service.

Sharon Bayly and Carlos Mendes are the 2022 Emily Carr University Staff Excellence Awards recipients.
The ECU Human Resources team launched the Staff Excellence Awards in 2020 to celebrate and honour staff members for unparalleled service and tireless effort toward their peers and the university. Fellow community members can nominate staff for the honours, after which the selection committee narrows down the list of nominees.
Sharon, Studio Technician: Painting, Drawing + Illustration, received the Staff Excellence Award for Achievement. Sharon is described as "consistently providing exceptional support and instruction and contributing to building community well-being."
Through her work as a technician, she has engaged with countless students, helping them follow through with their projects and putting them at ease in the shop environment. Sharon has also led the "Singing in the Stairwell" events on campus, where students, staff and faculty can raise their voices together in song and have a fun and positive communal experience.
Nick Conbere, Associate Professor, was one of Sharon's nominators. According to Nick, Sharon goes above and beyond to help students with their projects.
"She presents an openness and acceptance of all students, and she's artful at calming the anxieties of students who aren't familiar with the shop," Nick says. "Additionally, Sharon proactively follows up with the students, such as visiting the student gallery spaces and talking with them about how the artwork was finished, presented and perceived."

"To be recognized for one's work, whether it be physical, technical, intellectual or social/emotional, is an honour and a privilege, and I am deeply grateful for this acknowledgment."
"Thank you to Nick Conbere, Gwenessa Lam, LuChan and Ben Reeves for putting my name forward in the first place and for seeing the work I do here as worthy of recognition," Sharon says. "I also extend my gratitude to the wider community of Emily Carr staff and faculty who also deserve recognition for the excellence they bring to work every day."
Carlos, Print + Transactional Lead, received the Staff Excellence Award for Distinguished Service. He has been with the university since 1999 and is recognized for his excellence and dedication to ensuring a positive student experience through his exceptional service. Carlos' nominators state that he provides assistance in a "compassionate, non-judgemental manner which helps set everybody at ease."
Carlos says this honour is very "humbling" for someone who often works behind the scenes.
"It is an honour to have been recognized," he says. "None of us grow in isolation, and the work I do would not be possible without the support of our management and the commitment of our ITS department, Technical Services department and our wonderful Library team."
Carlos has been instrumental in the new printing initiatives at the university. Throughout the project, he has been working closely with the Library team, including several Library staff members who co-nominated him for this award. One of those co-nominators is Angela Evans, Library Technician, Circulation. Angela speaks to his unwavering commitment to smoothing out everyday processes for all.

"Printing, particularly at an art school, can be a stressful and expensive nightmare. Carlos is committed to ensuring that the experience at ECU is as stress-free and economical as possible."
"I've had the pleasure of working directly with Carlos on certain aspects of the new printing system that's come into effect this semester," Angela says. "It can be hard for those who don't work directly with him to see the amount of dedication and care he puts into everything he does for the community. Carlos ensures that everybody he helps leaves with the knowledge and skills to succeed in the future – and always does so with kindness and consideration."
Writing as a group, Carlos' other nominators on the Library team noted his crucial eye toward sustainability in the printing process.
"Carlos is constantly performing detailed research and is unwilling to settle for second best when it comes to vendors and technologies which do not meet his standards for environmentally-friendly practices. He is continuously looking for ways to reduce paper, toner, and technological waste," they wrote.
The selection committee also wanted to specifically recognize Stephen Wichuk (Lead Applications Administrator, IT Services) and Bryan Wong (Computer + Client Support, IT Services) as runner-ups.
Congratulations to both Sharon and Carlos for their recognition!