The Writing Circle Project Rewrites History to Make Space for 'Black Us'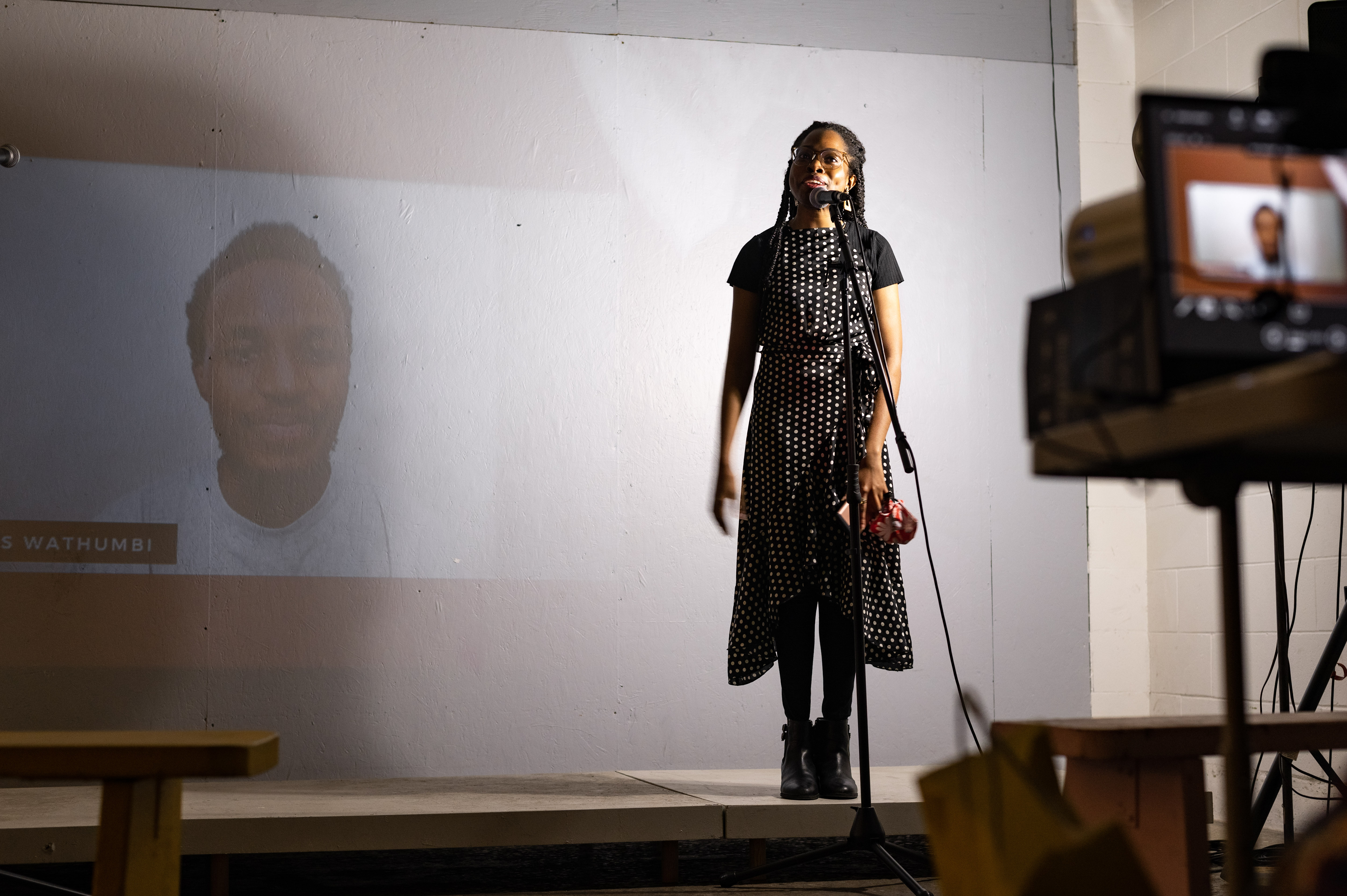 Posted on April 28, 2022 | Updated May 04, 2022, 12:45pm
A collective of Black artists from Nigeria, Kenya, Canada and beyond aims to overturn "whitewashed" narratives around the Black experience.
"I want for us, for people like me, to be free so that we can be our fullest selves, live to our fullest potential, and really help each other and better our environment," Olúwáṣọlá "Sola" Kẹ́hìndé Olówó-Aké (MDes 2021) tells me via video chat in March.
The artist, designer, storyteller and writer is describing the vision behind a collaborative project more than a year in the making. Artist collective The Writing Circle Project (WCP) was founded by Sola in 2021 to bring together six Black artists around writing, reflecting, sharing and support.
"When we're fully ourselves, there's really nothing to hide or to shy away from," Sola continues. "It's just like, I'm stepping forth in boldness and in my own truth. And it's what our hope is for the whole project: that people are free."
Creating space for Black expression is a central theme for Sola throughout her multidisciplinary practice. It animates her dazzling 2021 thesis work, Ahọn Dudu, which responds partly to Sola's experience of a "lack of Black communal culture" in Canada following her emigration from Nigeria via Nottingham, UK. That same work also responds to what Sola describes as growing tension throughout 2020 among white friends and colleagues around conversations about race, systemic racism, police brutality and white supremacy.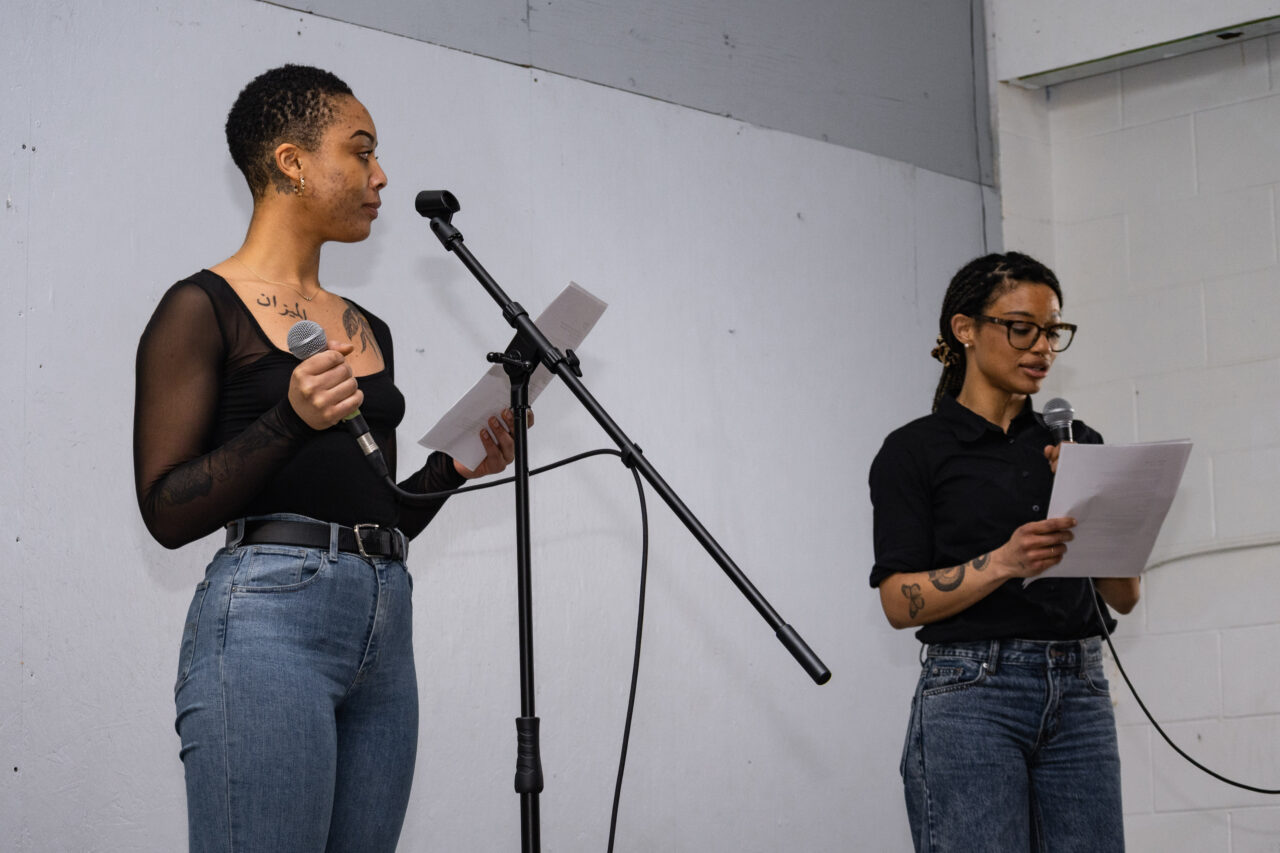 In a recent interview, artist and WCP member Oluwaseun "Seun" Olówó-Aké told news site Gaskiya.net that Sola (also her sister) first approached her with a simple brief: "If you could rewrite 2020 as a Black person in a positive way, what would you write?" To this end, Sola and Seun met with fellow artists Fanny Kearse, Chelsea Nwasike, Oluwasayo Olówó-Aké and Blanes Wathumbi, and the WCP collective was born.
"Our initial zoom meeting was truly just a session to share how we were feeling; the global events that took place in 2020 affected each of us, either personally or certainly through the news we were reading and watching," Seun continues. "We talked about our experiences being disregarded by others who didn't share them, about the lack of sympathy towards the Black experience, about what us coming together really looks like and if we do it for the right reasons, and about reconciling religion and race as some of us have had to do in our context."
Sola tells me this account reflects an evolution of her own thinking around what it means to create space for 'Black Us.' The work of confronting systemic racism and white supremacy is incredibly important, she says. But it isn't the only important work.
"I realized after graduating that in all my thesis, my writing, my research, storytelling, everything, I still didn't make space for Black people," she says. "So, I wanted to create a space for Black people to come and write. Because it's good to talk about problems and talk about what's happening. But if I keep repeating that, it takes all my energy, and there's no space to rejuvenate from all the pain, all the baggage that comes with having to deal with it."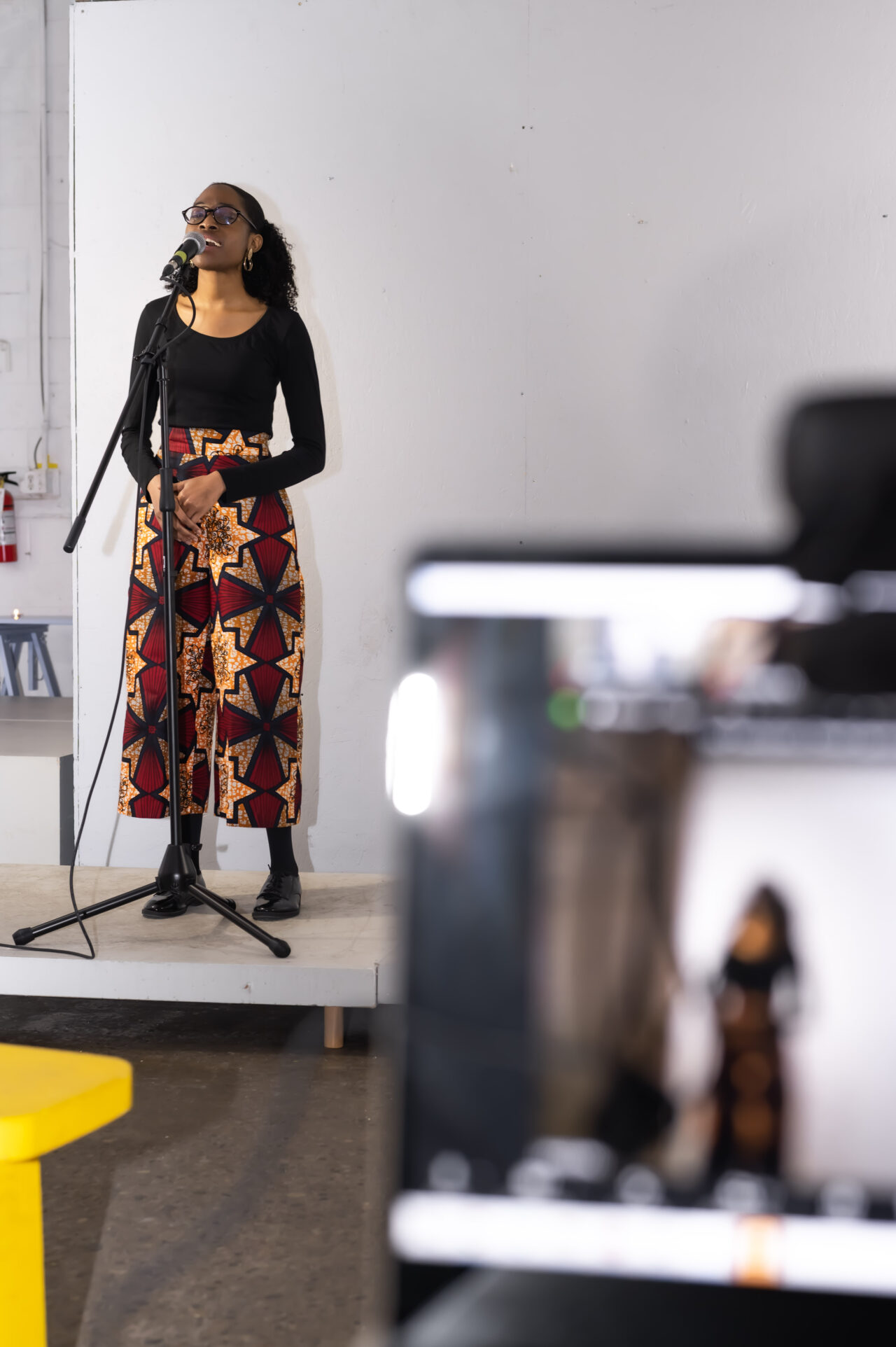 This evolution likewise reflects the influence on Sola of a key piece of source material: W.E.B. Du Bois' 1903 book The Souls of Black Folk. In the book, Du Bois writes of the "double consciousness" of the American Black person, who is "born with a veil" and always sees themselves "through the eyes of others." This veil, Sola continues, is the white gaze. For Black dignity and identity to thrive "in freedom," they must be defined on their own terms, outside of the conditions of that veil, Sola says.
In their recent exhibition, Unveiling, the WCP artists read from works addressing exactly how that process plays out for them as individuals. Unveiling, which took place at Slice of Life in Vancouver, was supported by the Vines Art Festival Heirloom Exchange.
"There's a tagline for Unveiling, which is, 'Rewriting whitewashed narratives on Blackness,'" Sola says. "That's what we've been doing. And in a sense, that's how we pull back the veil: by putting the truths of identity in the forefront where we can see them clearly, and see what is true and what is not."
At the opening in March, live and recorded readings of the WCP's writings were performed for a live and online audience of more than 70 attendees. The audience tuned in from countries including Nigeria, Kenya, Jordan, Canada, the U.S. and the U.K.
The works in Unveiling reveal expansive definitions of identity, located in and around bodies at once anchored in history and urgently contemporary. Soundscapes accompany some of the recorded readings, broadcasting the clink of glassware, the hush of poured tea, layered voices or a public announcement at an airport.
Our attention is drawn to the yawning divide between the abstracted nationalist utopias advertised to future immigrants and the hostile, alarmingly intimate experience of being searched at a border entry. We are presented with multiple narratives around Blackness, many of which are defined externally, often by anyone but Black people.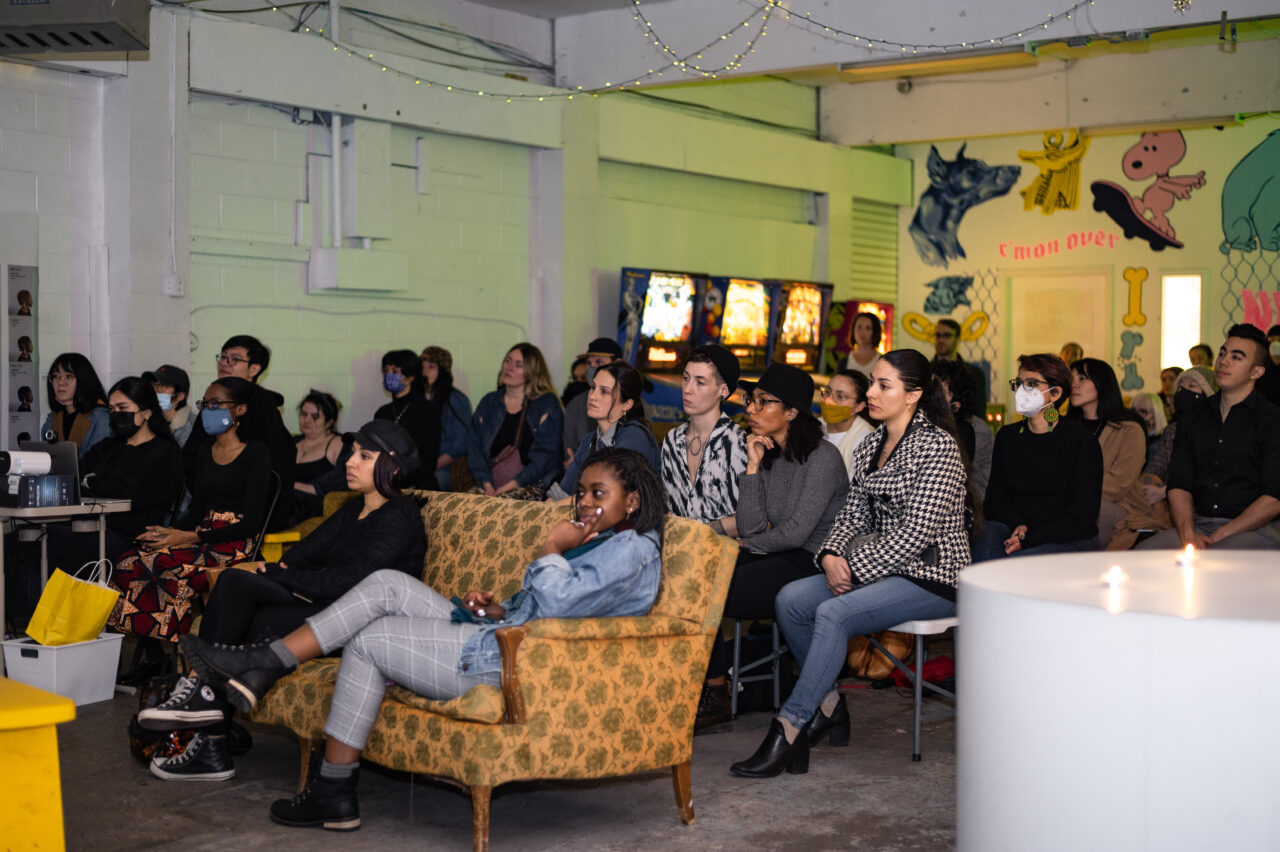 Sola details a kind of epic historical gaslighting in which Black individuals and communities are congratulated by white people for their "strength." Sola points out this strength is actually endurance — or, in some cases, transcendence — of conditions of oppression. Conditions, she notes, that are perpetuated if not enforced by a white status quo. An act of sheer survival, rather than any kind of choice.
Each of the works in Unveiling feels assured, skewing toward maximum disclosure. But Sola reminds me that these works, while ardent, are by no means impulsive. Each has been crafted over months, with plenty of workshopping among WCP members. Even the writing itself only began once other, more subtle processes had unfolded.
"Before I could even write these pieces I had to really unlearn some things — like I had to remind myself that it was okay to speak," she says. "So, there was unlearning first, and then there was writing. Then there was learning to move with the slowness of the story, because the story will unfold when it wants to. You can't rush it. Also, it's not easy to document a traumatic story."
But part of the power of conducting this work within a collective is the safety provided by the group as its members explore their inner worlds. This feeling of understanding and affirmation is one Sola hopes Unveiling will convey. And while the writing is partly meant to share Black perspectives with people who wouldn't otherwise have access to them, creating space for those Black perspectives remains goal one.
"I am for Black people thriving. I'm also for specifically people from African countries thriving," Sola says, noting five of the six artists in WCP are from Nigeria and Kenya.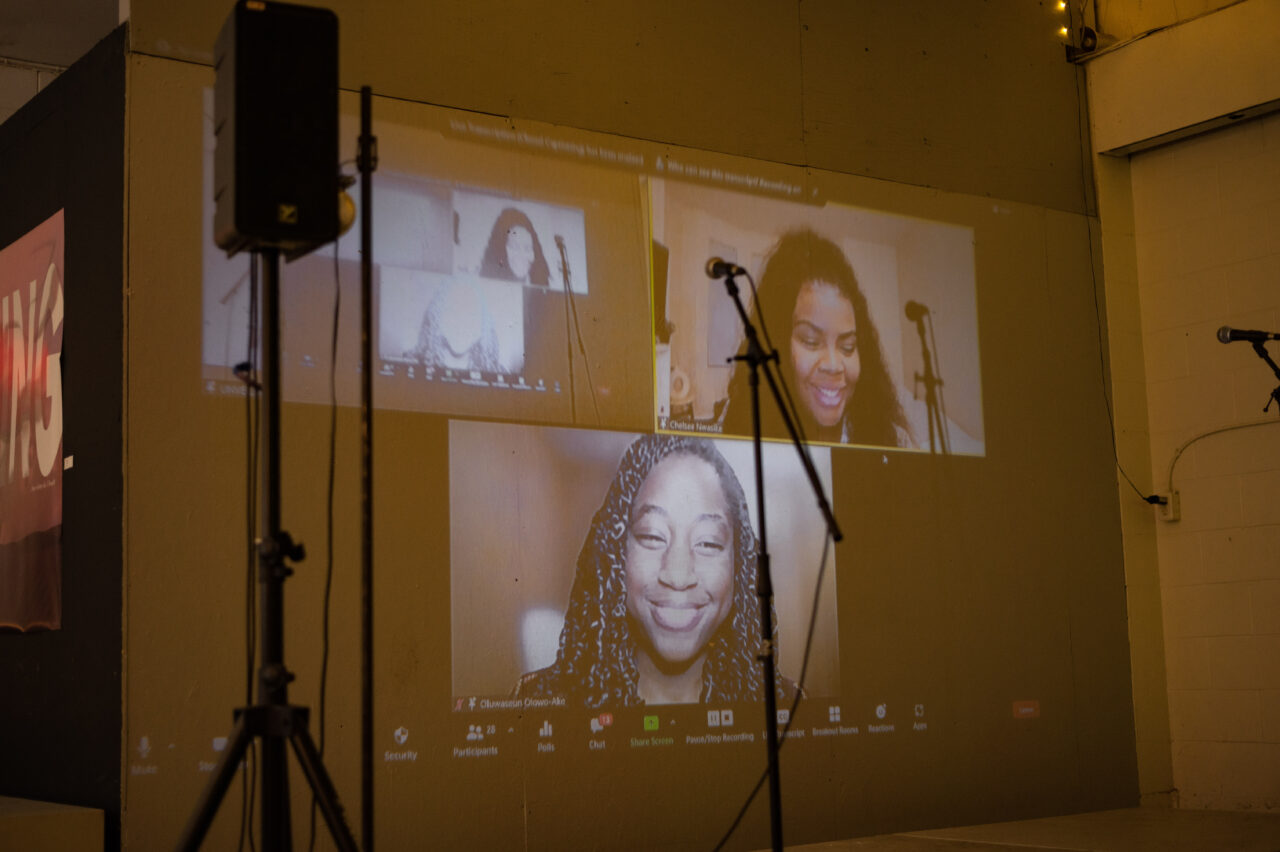 Following the success of their exhibition, the group is now collaborating with organizations in Ontario and B.C. on workshops and other events, with more details coming later this year, says Sola. For now, the focus remains on working within the collective, and on continuing the conversation around Unveiling.
"I hope for it to be a project that can live in different spaces," she says. "I want to get the project out to as many people as possible. I want it to spread like wildfire."
Visit the WCP online now to view each of the works in Unveiling, accompanied by a reading the authors. Artwork for the Unveiling event poster was created by Garrett Johnson.
--
Head over to ecuad.ca today to learn more about studying in the Master of Design program.