Aboriginal Gathering Place at ECU Celebrates Indigenous History Month with Indigenous Art Market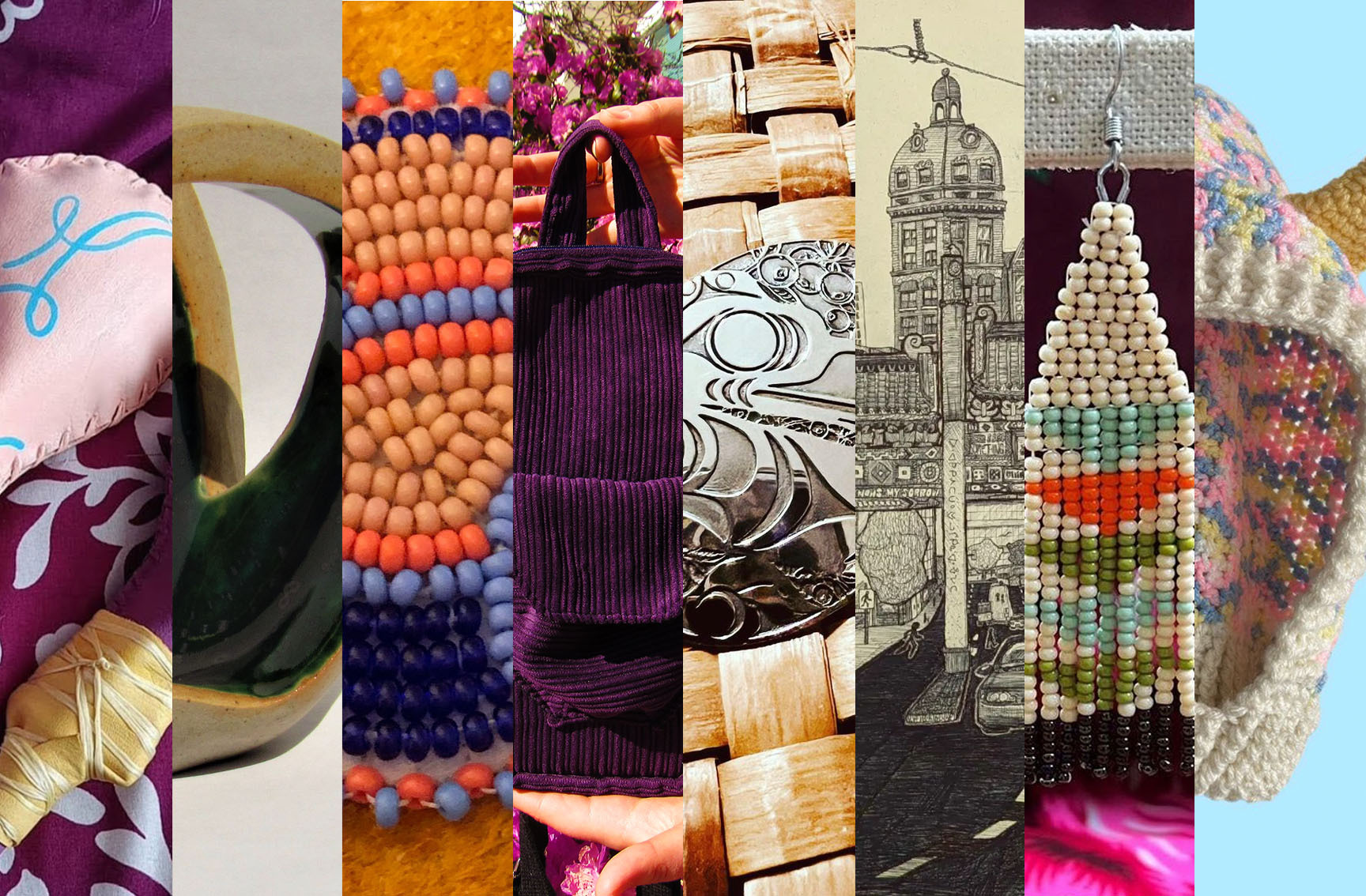 Posted on May 29, 2023 | Updated May 29, 2023, 10:32am
The three-day event features a huge variety of clothing, jewelry, artwork and other collectables from well over a dozen Indigenous artists and designers.
The Aboriginal Gathering Place (AGP) at Emily Carr University is launching its first Indigenous Art Market in celebration of National Indigenous History Month.
Running June 8, 9 and 10 at ECU, the market will include more than a dozen artists and designers from the ECU community and local area.
Connie Watts, Associate Director of Aboriginal Programs at ECU, says the aim is to drive interest in Indigenous creativity well ahead of National Indigenous Peoples Day, which takes place annually on June 21.
"We're trying to target the start of Indigenous History Month, because that's your moment to start learning," Connie says. "And what better way to learn than to see artists in action, see their work, interact with them and experience living knowledge?"
The majority of vendors will be Indigenous ECU students. Indigenous staff and faculty were also invited to participate. And a small number of tables were offered to experienced, local Indigenous practitioners. In all cases, no fees or commissions are collected for participation.
A huge variety of items will be on sale, from clothing and jewelry to prints, paintings and other objects and artworks.
Zoë Laycock (BFA 2022), an artist and Interim Aboriginal Programs Coordinator at ECU, is one of the participating artists. Zoë's will be selling items including Métis beadwork, earrings, linocut prints and cards featuring her artwork. But more than selling her work, Zoë says she looks forward to connecting with fellow artists.
"This kind of event provides a really good opportunity to see what everybody else is doing, and it builds community in a different way," she says. "We're all from different nations and different areas. It's always a real pleasure to see how everybody's traditional or ancestral material practices are transformed into creative, contemporary art that's new and fresh and unique."
Connie adds that community-building is one of the primary goals of all the work the AGP does. In other words, the Indigenous Art Market is as much for the practitioners as for the general public.
"A lot of our students are returning to community from different kinds of displacement —Sixties Scoop, residential schools, foster care — so many different things that have taken them away from their culture," Connie says.
"The more opportunities we can create for them to celebrate their own culture — which for us is through creative practices — the more they can start to explore how to respectfully shift this colonial world to make space for their own Indigenous knowledge to thrive. This market is a playground to see what that can look like."
The Indigenous Art Market will be open June 8, 9 and 10, 2023, from 10am to 4pm on the main floor of Emily Carr University. Attendance is free.
Learn more about the Indigenous Art Market now via the ECU website.