Art Auction for Old Growth Returns to Raise Funds to Protect BC Forests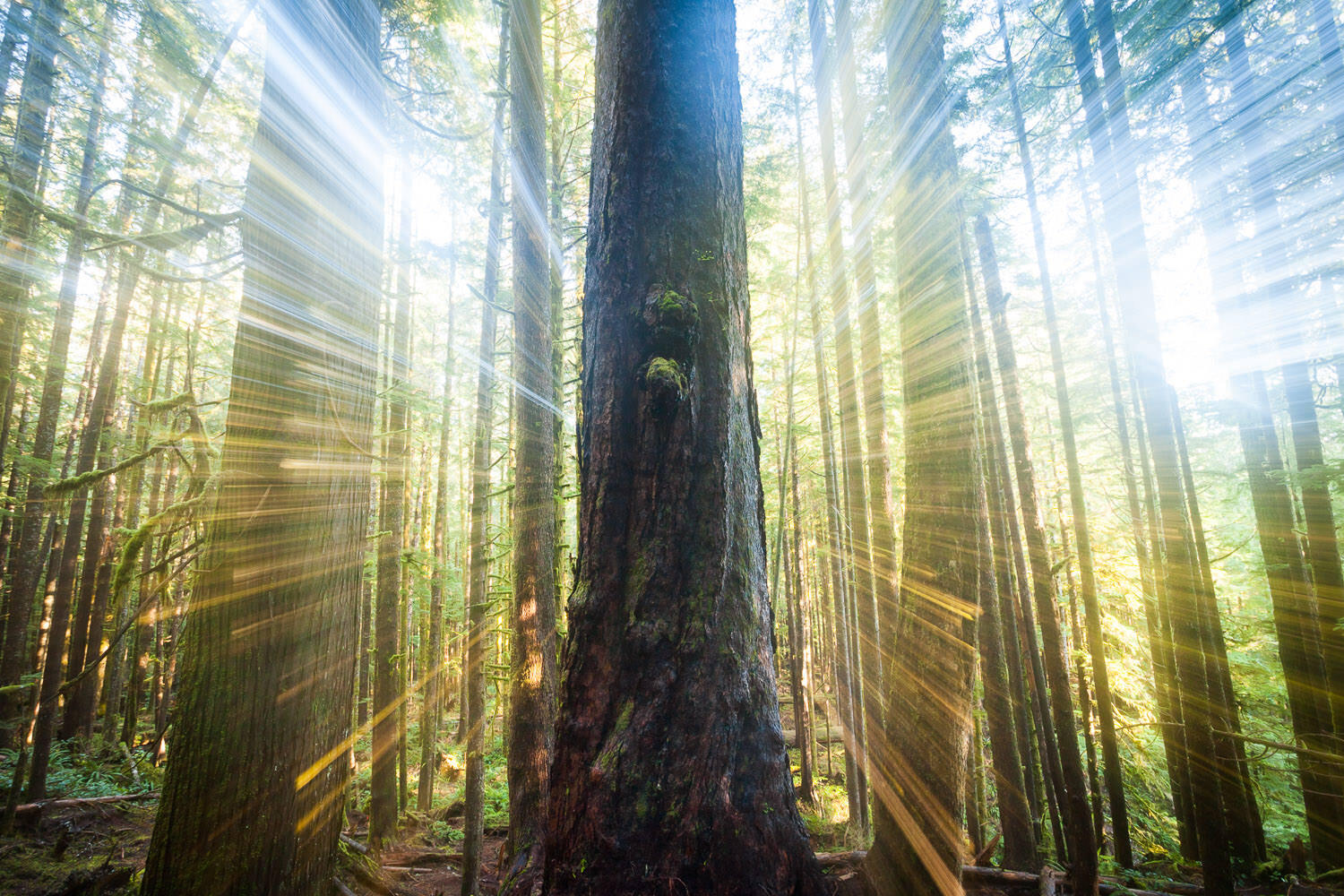 Posted on September 19, 2023
This year's auction includes work by more than 20 leading Canadian artists, including auction founder and ECU alum Kyle Scheurmann.
An art auction aimed at protecting BC's old-growth forests is launching its second annual fundraising event.
Led by artist Kyle Scheurmann (MFA 2018), the 2023 Art Auction for Old Growth offers works by more than 20 leading Canadian artists to raise awareness of the impacts of old-growth logging.
"We're all a part of the same ecosystem," Kyle says. "The preservation of these old-growth forests is the preservation of ourselves."
Kyle, a plein-air painter whose sought-after paintings often take BC's forests as their subject, says time spent visiting the Ada'itsx/Fairy Creek Blockades in 2021 was a "catalyst for an ongoing project of advocacy and awareness in defence of these endangered ancient ecosystems."
Proceeds from this year's auction will once again benefit conservation charity Nature-Based Solutions Foundation (NBSF). NBSF is currently working to provide the Kanaka Bar Band, a Nlaka'pamux Nation located south of Lytton adjacent to the Stein Valley, with key support to develop and establish their T'eqt'aqtn Indigenous Protected and Conserved Area (IPCA).
"The IPCA is a critical expression of self-determination and will support the Nation's millennia-long connection to their territory," reads a statement from the Art Auction for Old Growth. "When complete, the IPCA will encompass 350-square km of land in the mighty Fraser Valley and the dramatic Kwoiek Valley, including some of the most diverse endangered old-growth forests in BC and 42 species at risk."
In 2022, the auction raised $26,000 toward old-growth conservation.
Old-growth trees, which on the coast are more than a two-and-a-half centuries old at minimum, are often called "mother trees" because of their vital role in ecological health. But because of intensive industrial logging, less than 8 per cent of the province's high-productivity stands (those with the biggest trees) remain, according to the NBSF.
The NBSF works to secure permanent protection for the most at-risk of these forests by addressing funding gaps, supporting communities in planning for new protected areas, offsetting logging revenues with interim funding and developing sustainable economic alternatives linked to new protected areas.
Work by Kyle is available at this year's Art Auction for Old Growth. Other participating artists include Paul Butler, Sarah Carlson, Kim Dorland, Steve Driscoll, Patrick Dunford, Charlie Easton, Chris Friesen, Holly Friesen, Mel Gausden, Jennifer Globush, Anne Griffiths, Jeremy Herndl, Julie Himel, Jenny Kastner, Rick Leong, Gavin Lynch, Kara Macintosh, Laura Madera, Meg O'Hara, Jenna Faye Powell and Stanzie Tooth.
Previews of all available works are currently on display on the NBSF website. Pre-registration for the auction is also currently open online.
Bidding goes live on Thursday Sept. 21 at 9am PT / 12pm ET.
Read our story about the first Art Auction for Old Growth on the ECU website.
Want more stories like this one delivered twice a month to your inbox?