Design Lab at the Vancouver Art Gallery Explores Ecological Material Practice and Apparel Through Industrial Design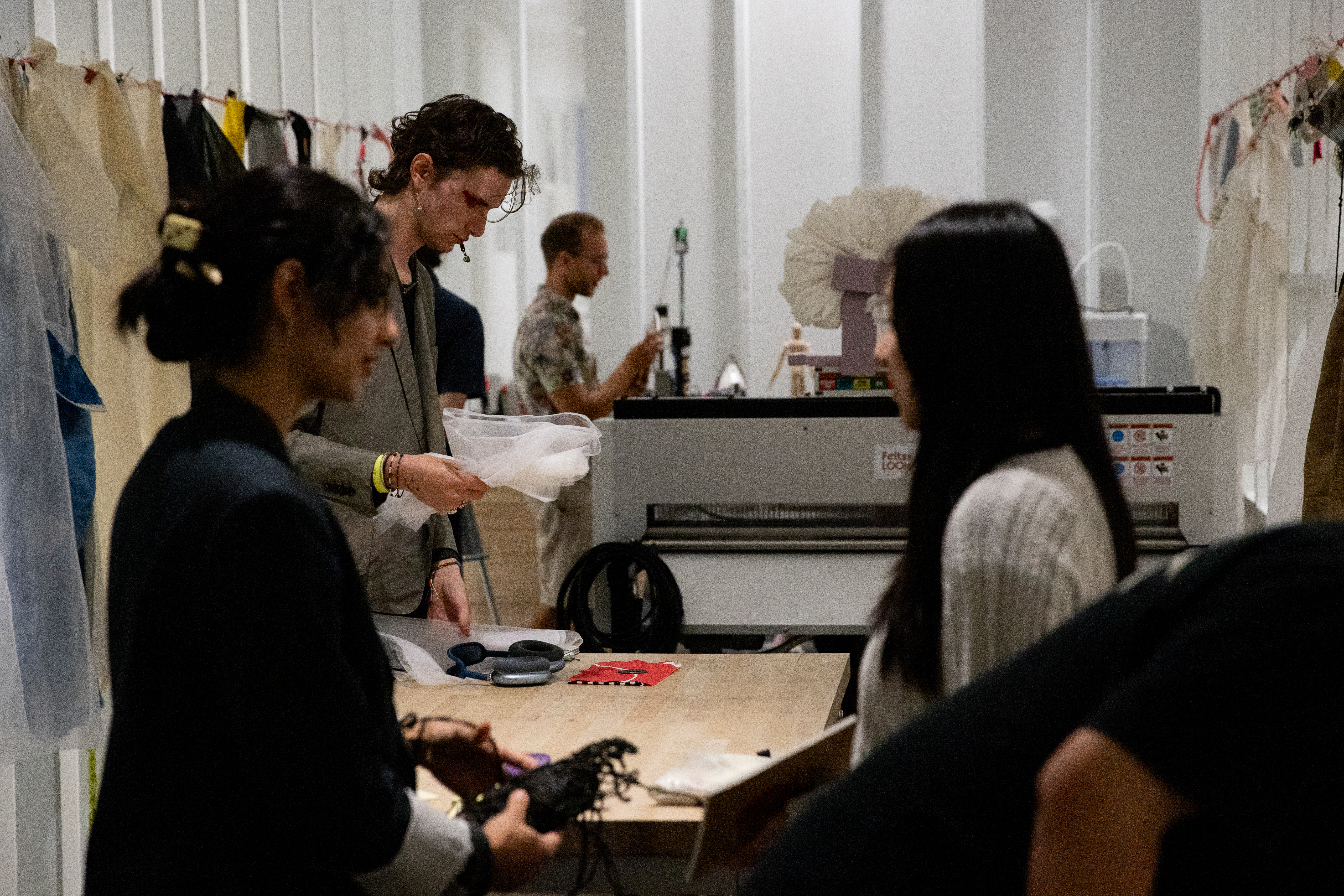 Posted on August 15, 2023
Lab: Here//Too//For features a series of workshops and public events throughout the summer and fall featuring international designers and artists from across disciplines.
A new series of public forums and workshops from Material Matters research hub at ECU explores how clothing and apparel, textiles and other materials offer a window into the intimate connections between people, places and living systems.
Titled Lab: Here//Too//For, the series includes public workshops, international residencies, talks and a satellite lab set within the current Fashion Fictions exhibition at the Vancouver Art Gallery (VAG).
"Our overall goal for Here//Too//For is to foster new conversations connected to our relations with the materials we use as artists [and] designers," the Material Matters team says in a statement.
The aim is to investigate the broader ecological and social impacts of creative practice, the statement continues. "For us, much of this work involves embracing risk in our creative practice. Doing so often shifts our assumptions, enabling us to do things differently."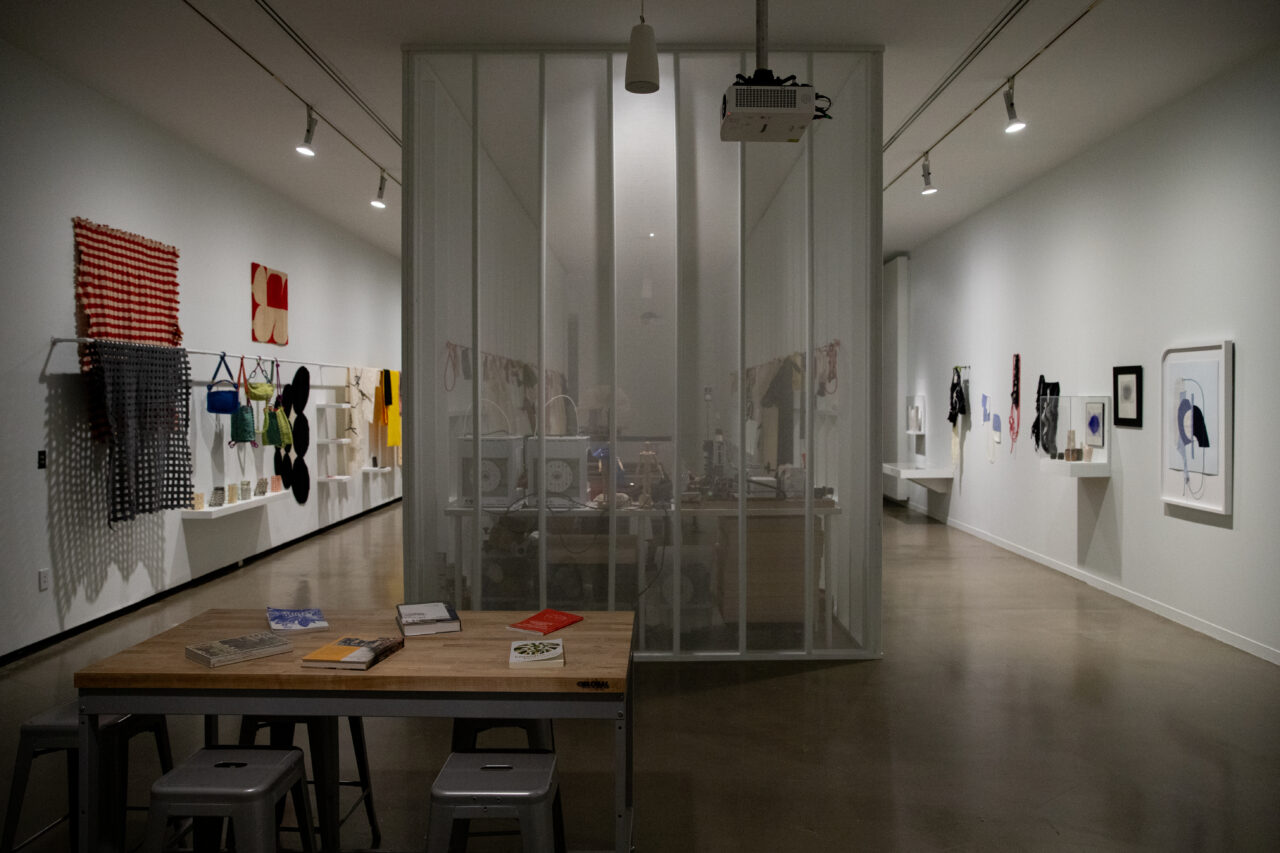 The Material Matters satellite lab brings a working textile and materials laboratory into the middle of an art exhibition. The satellite lab represents the largest-scale and most ambitious working space ever embedded inside a VAG show.
Students, alumni, guest artists and designers-in-residence collaborate with ECU faculty members and Material Matters co-founders Hélène Day Fraser and Keith Doyle to explore how research and design can uncover new possibilities for supporting ecological approaches to material practice and community-building. The satellite lab includes an exhibition of works by ECU alumni, as well as guest artists and designers.
Several upcoming events at the satellite lab invite the public to join the conversation. A near sold-out Aug. 17 panel discussion with Femke De Vries, Jason Cyrus, Meghann O'Brien and Francesco Mazzarela will consider how speculative clothing design and design activism can challenge longstanding western narratives of identity.
A Sept. 14 panel discussion with Liévine Hubert, Oluwaola Kehinde Olowo-Ake and Melanie Cammen will reflect on how three different embodied creative practices address contemporary global and local conditions and concerns.
And an Oct. 5 panel discussion with Alice Lewis and other guests will explore how clothing, textiles and creative practice offer insight into the complex relationships between people and the rest of the living world.
RSVPs for these limited-capacity events can be submitted via the Material Matters eventbrite. Attendance is free with purchase of a ticket to the Fashion Fictions exhibition.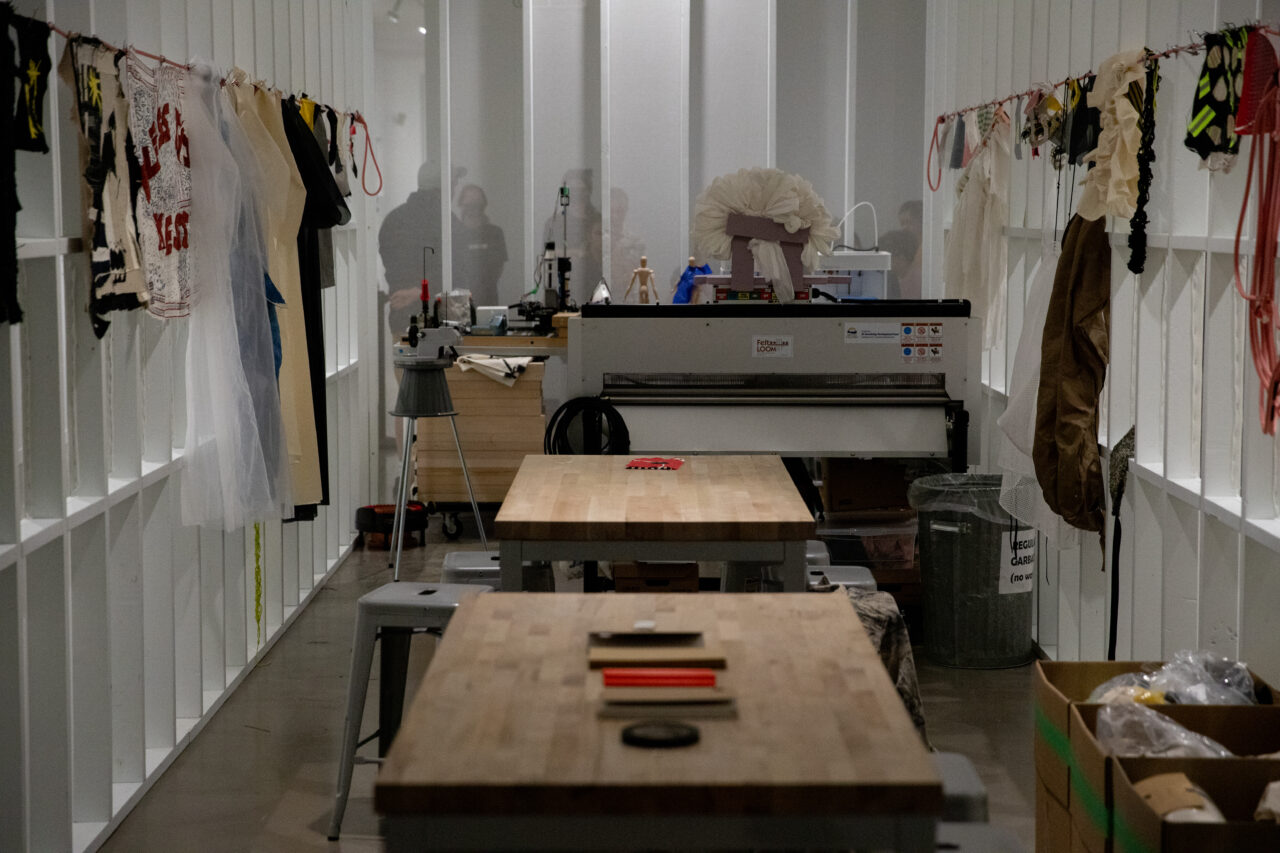 Past satellite lab workshops include the recent Native Shoe Hack. Students, staff and faculty worked with Native Shoes cofounder Thomas Claypool to explore how end-of-use and recycled shoes might be transformed into new material resources, products and apparel. The Native Shoe Hack is part of an ongoing collaboration between Material Matters and Native Shoes, which has included a partnership with MIT to develop remixed, post-consumer materials and techniques suitable for advanced and additive manufacture of shoes and apparel.
Earlier in the summer, a workshop series titled WITH Trees brought together artists, designers, Indigenous knowledge keepers and material scientists to discuss sustainability in their respective practices. This collaborative project between Material Matters, the Aboriginal Gathering Place at ECU and UBC's BioProducts Institute (BPI) invited teams to consider and share new strategies for working with materials such as wood and trees as alternatives to petroleum-based materials such as plastics.
In late July, a workshop and panel discussion with Lab: Here//Too//For designers-in-residence Helen Milne and Ho Ching Pete Fung examined how embracing risk in a creative practice can enable artists and designers to shift their assumptions and respond differently.
And in mid-July, Lab: Here//Too//For's first public forum featured a panel discussion with representatives from three participant groups: Zoë Laycock (Indigenous knowledge and art, ECU), Lisa Boulton (design, BCIT), Yeedo Chun (material science, BPI UBC).
The Material Matters satellite lab is open for public viewing throughout the duration of the VAG's Fashion Fictions exhibition, which runs through Oct. 9, 2023.
Discover more about Material Matters via their website.
Visit ECU online to learn about studying Industrial Design at Emily Carr.