Industrial Design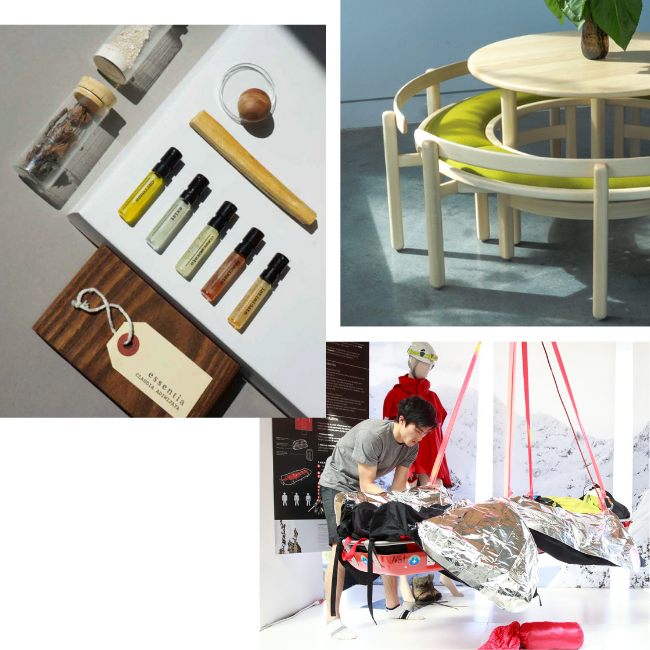 Clockwise from left: Claudia Adiwijaya, "Essentia"; Heidi Rey "Bouba Dining Set"; JJ Mah, "Thermo Wrap".
Experiment with new forms — and bring products, practices, and experiences to life.
The Industrial Design Major is an immersive and hands-on program that's all about understanding the complex world we live in, and responding to it in aesthetic, emotional, and material ways. Here, you'll create products, services and experiences that support relationships between individuals, communities, and the environment.
If you're interested in prototyping products, designing services, crafting furniture, or examining material practices, the Industrial Design program was made for you.
What You Will Learn
As an Industrial Design student, you'll have the opportunity to delve into the areas of design that inspire you the most — and define your own practice along the way. In hands-on and theoretical studies, you will explore cultural, historical, technical, and ecological issues related to the evolving field of industrial design.

In the first years of your program, you'll take a mix of studio and critical studies courses. As you progress through your degree, you'll move toward more advanced and flexible electives that allow you to personalize your design education. The Industrial Design Major encourages you to work collaboratively with your peers, and provides opportunities to work with organizations and partners beyond Emily Carr. Along the way, you'll develop an understanding of how your practice contributes to a culture of design in everyday life.
Throughout your studies, you'll have the chance to specialize in areas that excite you. These include household or recreational products, textiles, electronics, medical and health design, hardware, textile products, ceramics, exhibition design, furniture, or material production.

Your courses will be led by skilled practitioners who are experts in their design and research fields. You'll learn to address issues of sustainability and equity in local and international contexts. You'll also have the opportunity to enhance your studies by taking courses from complementary areas, including Interaction Design, Sculpture, Ceramics, and SPACE.

You'll graduate with an impressive body of original work and a blend of practice-based and theoretical skills that will prepare you to enter the industrial design field as a creative, strategic, and critical designer.

"Our fourth-year industrial design project Neighbour Hub became the foundation for our design and urban planning cooperative. Through the Industrial Design program, we gained valuable insight into the importance of the design process and using co-creation as a tool to design with the community instead of for the community. The program also gave us access to resources and connections that allowed us to take our project beyond Vancouver, and even Canada."

Example Courses
Students also have the opportunity to complete a Minor.
Shops + Studios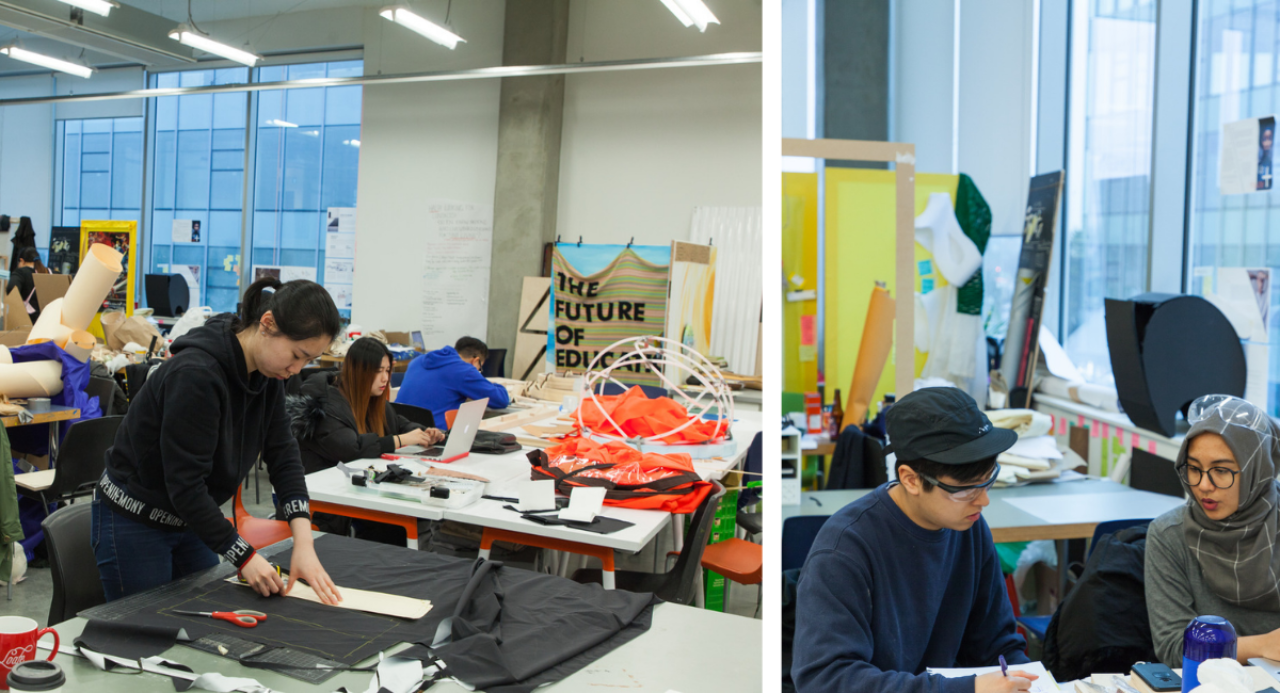 Studio culture is at the heart of your educational experience at Emily Carr, as spaces where you can create, learn, collaborate, experiment, and play.

Industrial students have access to our spacious and well-equipped shops and studios, including our Wearables + Interactive Products Lab, Flexible Materials Lab, Metal Shop, Soft Shop, and Design Wood Shop.
Each space is maintained by expert technical staff who collaborate with faculty and staff to provide students with instruction and guidance. Technical staff ensure safe and accessible working environments and lead instructional workshops to enhance your learning.
Beyond the Classroom
A BDes is about so much more than what you'll learn in the classroom—it's also about the vibrant community you'll join during your studies.
Meet Your Future Community
Where ECU Can Take You
Graduates of the Industrial Design program bring many in-demand skills to the job market, from advanced technical abilities to critical knowledge. Our graduates are entrepreneurs, business owners, and in-house designers, bringing to life the products and ideas that improve our world.
Explore More Programs