Ceramics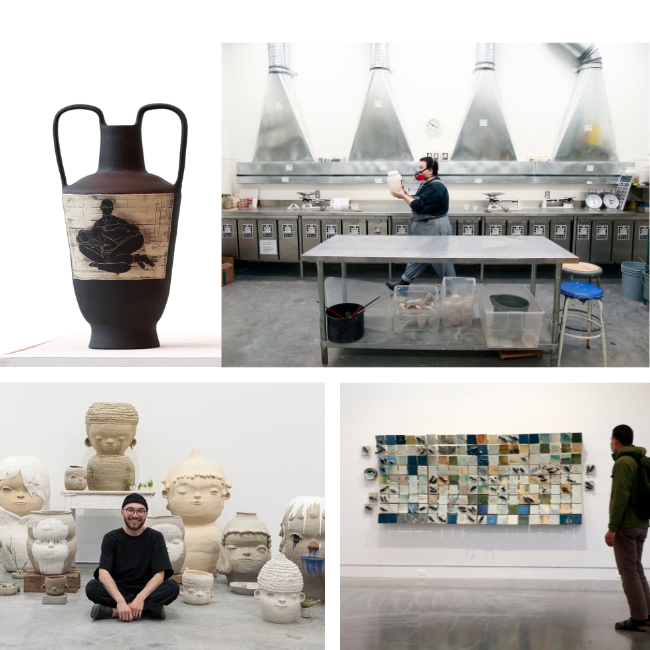 Bringing design to life, experimenting with form, and investigating modes of production.
Ceramics exist at the intersection of art and design, form and function. The result is a thrilling area of study. A truly interdisciplinary field, ceramics integrates sculpture, painting, drawing, design, architecture, photography, and other materials.

What You Will Learn
The field of ceramics is rich in history— and thanks to modern technologies and equipment, it's also filled with exciting new possibilities. Here, you'll have the opportunity to take hands-on, immersive studio courses, and develop skills in many traditional methods, including wheel throwing, hand building, and mold making, to name a few. You'll also learn to use modern digital applications and tools, including 3D printers and computer-controlled cutting machines.

As you hone your craft, you'll also have the freedom to experiment with blending various art practices across sculpture, design, painting, printmaking, and photography. You'll be encouraged to find your voice and develop your aesthetic through hands-on experimentation.

Students who are interested in functional applications may also choose to take a number of industrial design courses, focusing on the material production of everyday objects and their cultural significance.

Alongside your studio work, you'll take conceptual courses that provide a strong theoretical foundation through which to understand ceramics' many applications, methods of labour and production, and relationship to cultural trends. Throughout your studies, you'll learn frameworks, techniques, and best practices from established artists paving the way in the field of ceramics.

Both your conceptual and hands-on learning will be strengthened through classes, seminars, self-directed projects, exhibitions, and professional development. Upon graduation, you'll have produced an impressive body of work, and be prepared to launch into your career.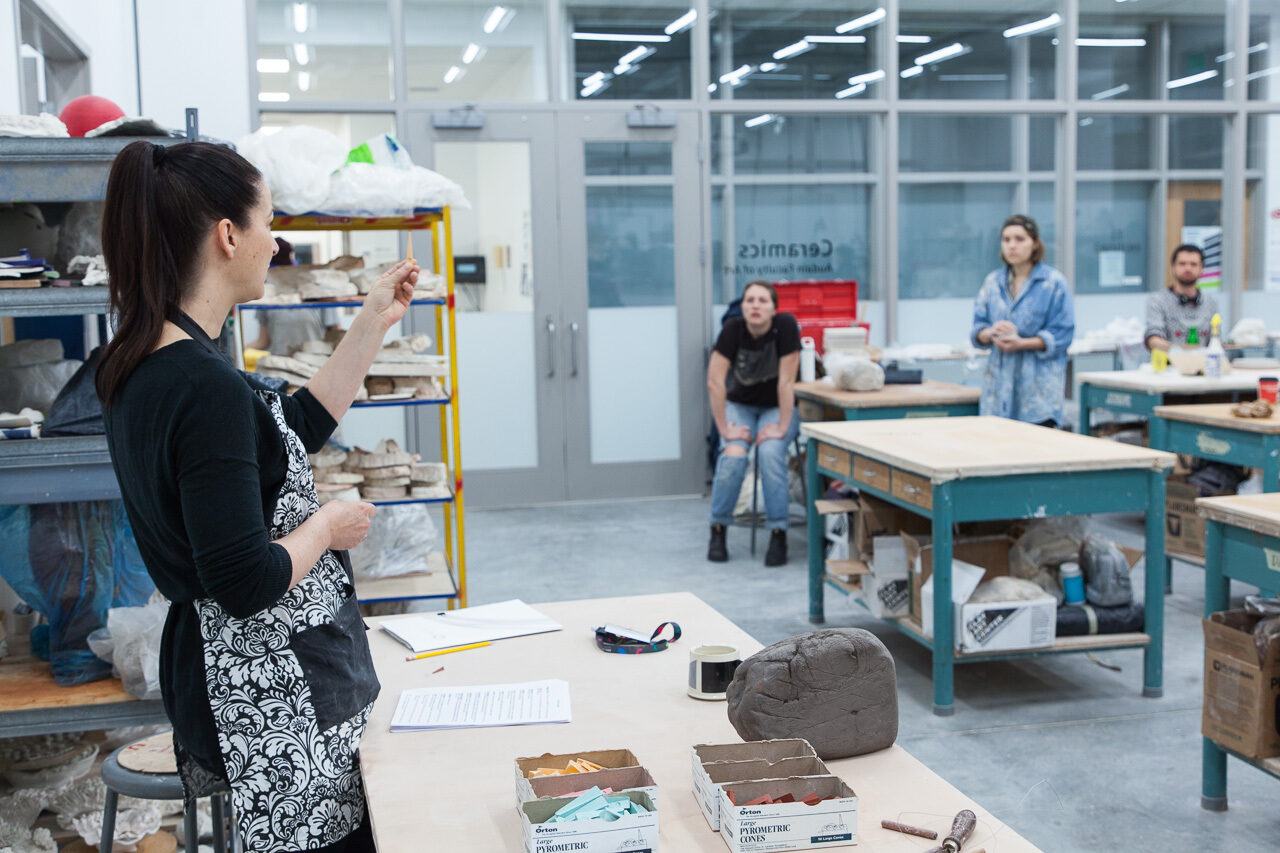 "I was lucky to create in the studio at Emily Carr next to other artists who enjoyed this experimentation as well, and I believe through sharing we were all able to gain something through each other's experiments."
Program Structure
Credits: 120
Year 1: First-Year Foundation Studies
Year 2-4: Ceramics courses and electives
Designation: Bachelor of Fine Arts, Majoring in Visual Arts (BFA, Visual Arts)
Faculty: The Audain Faculty of Art
For application information, including admission requirements, see Admissions.
Shops + Studios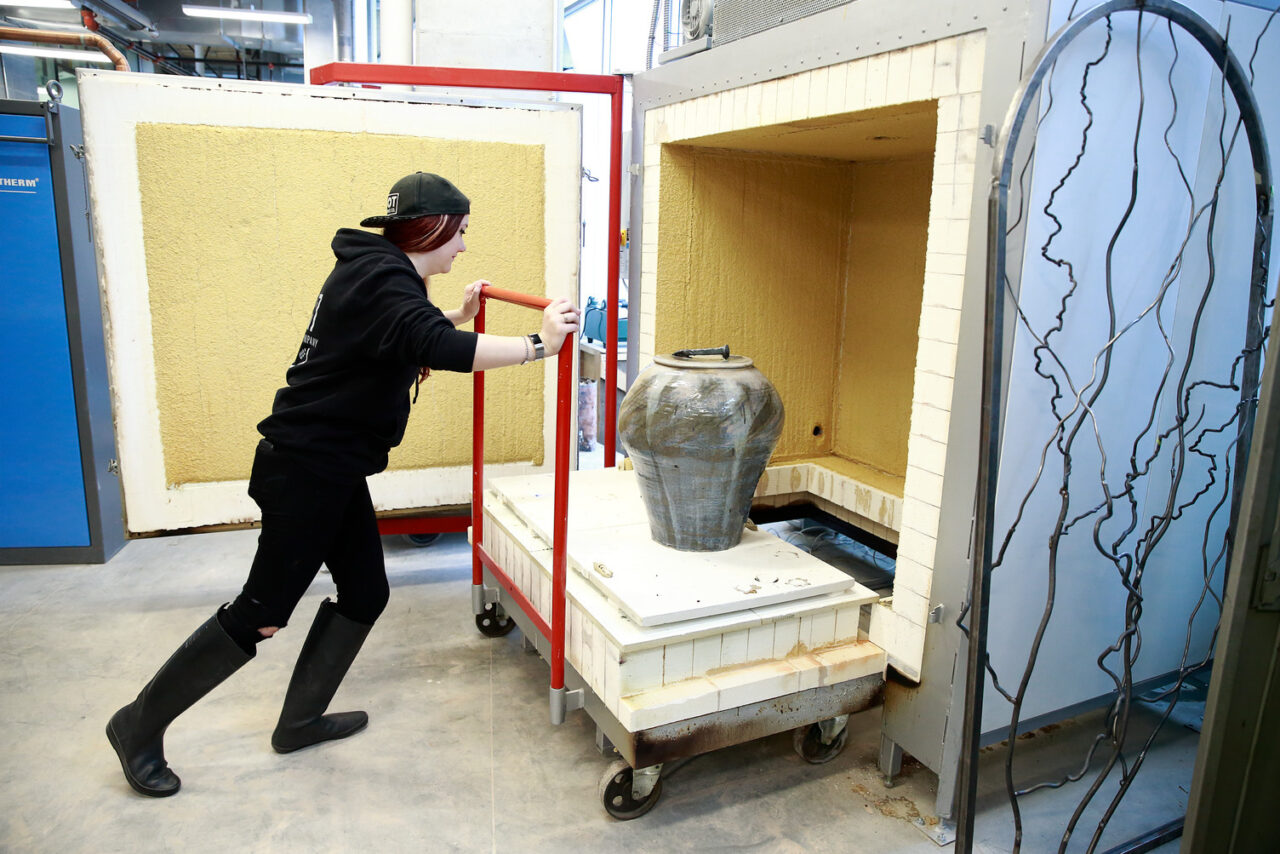 Visual Arts students have access to our spacious and well-equipped shops and studios. Studio culture is at the heart of your educational experience at Emily Carr, as spaces where you can create, learn, collaborate, experiment, and play. Our Ceramics Studio is equipped with tools and equipment for wheel throwing, handbuilding, slip casting, firing and a wide variety of glazing and finishing techniques.
Each space is maintained by expert technical staff who collaborate with faculty and staff to provide students with instruction and guidance. Technical staff ensure safe and accessible working environments and lead instructional workshops to enhance your learning.
Beyond the Classroom
A BFA is about so much more than what you'll learn in the classroom—it's also about the vibrant community you'll join during your studies.
Where ECU Can Take You
Graduates of the Ceramics program bring many in-demand skills to the job market, from advanced technical abilities to critical knowledge. Many pursue careers as artists, or find creative and commercial work while continuing with their own craft.
Explore More Programs