Foundation Year
From here, anything is possible. Begin your creative journey.
Whether you enter directly into your program of choice, arrive at ECU with a specific program in mind or you're curious about every possible path, Foundation year will prepare you for your future.

All our undergraduate programs begin with a Foundation year. Not only will you make lifelong connections with your peers, but you'll also develop the skills and insights necessary to succeed in your chosen discipline. Through a range of art, design and media courses, you'll explore your creativity and discover your passion.
What You Will Learn
Our faculty will help you to develop the fundamental skills necessary for your advanced studies in second, third and fourth year. This will include hands-on activities in the studio, and history and theory in the classroom. You'll have the chance to create and learn in the physical world, as well as the digital universe.

Beyond learning how to create, you'll be challenged to explore the "why" behind your practice and think about the impact you can have on the world at large. You'll have the freedom to take risks, experiment, grow, and change your mind.

At the end of the year, you'll have a sophisticated grasp of theoretical concepts, technical skills, and fundamental studio practices. You'll also understand yourself better as a unique and talented individual, one who is ready to choose their path forward and declare a major.

"My time at Emily Carr was great. In Foundation you're exposed to every single possible medium you've ever wanted. In first year, I was in 3D design, print-making, sculpture..."

Program Structure
Fall Term (15 credits)
HUMN 100: Academic Core I (6 credits)


FNDT 165: Core Interdisciplinary Studio (6 credits)
Spring Term (15 credits)
Foundation Forum
All first year Foundation students are automatically registered in the Foundation Forum lecture series (FNDT 001) in your Spring term.
During the series, speakers and guest artists and designers will present on a variety of topics, to get you thinking about your creative process and to inspire you. Forums will also cover important Emily Carr program information.

One part information-sharing, one part community-building, and one part future-imagining.
Shops + Studios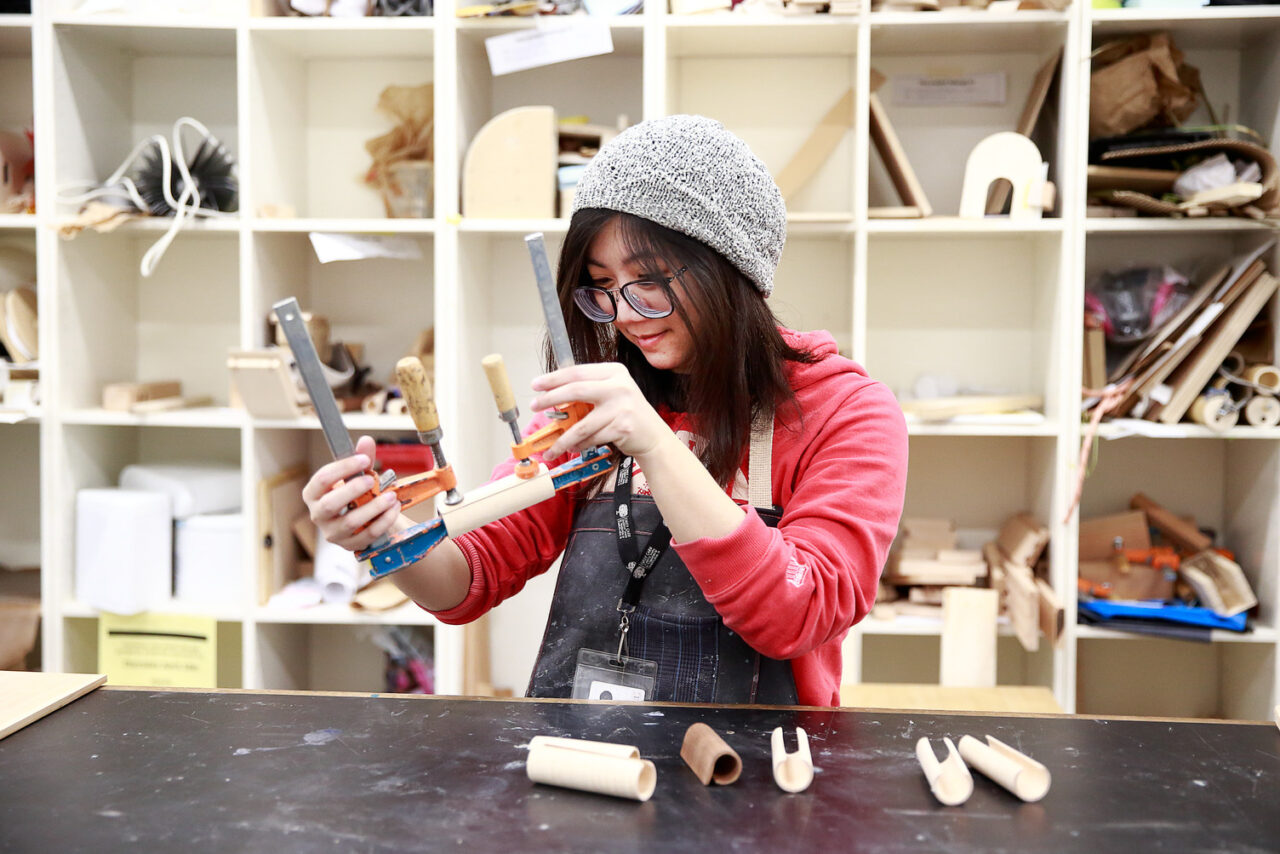 First year students have access to our spacious and well-equipped shops and studios. Studio culture is at the heart of your educational experience at Emily Carr, as spaces where you can create, learn, collaborate, experiment, and play.
Each space is maintained by expert technical staff who collaborate with faculty and staff to provide students with instruction and guidance. Technical staff ensure safe and accessible working environments and lead instructional workshops to enhance your learning.
Students have exclusive access to the dedicated Foundation Shop, a multidsciplinary production space. The Foundation Shop is outfitted with tools and equipment for woodworking, mould making, model making, assemblage, sewing, media processing and digital prototyping.
Beyond the Classroom
Your first year is about so much more than what you'll learn in the classroom—it's also about the people you'll meet and the experiences you'll have.
Explore More
Other pathways to a degree