Jenie Gao Named 2023 Artist-in-Residence for Park Board's Art in the Park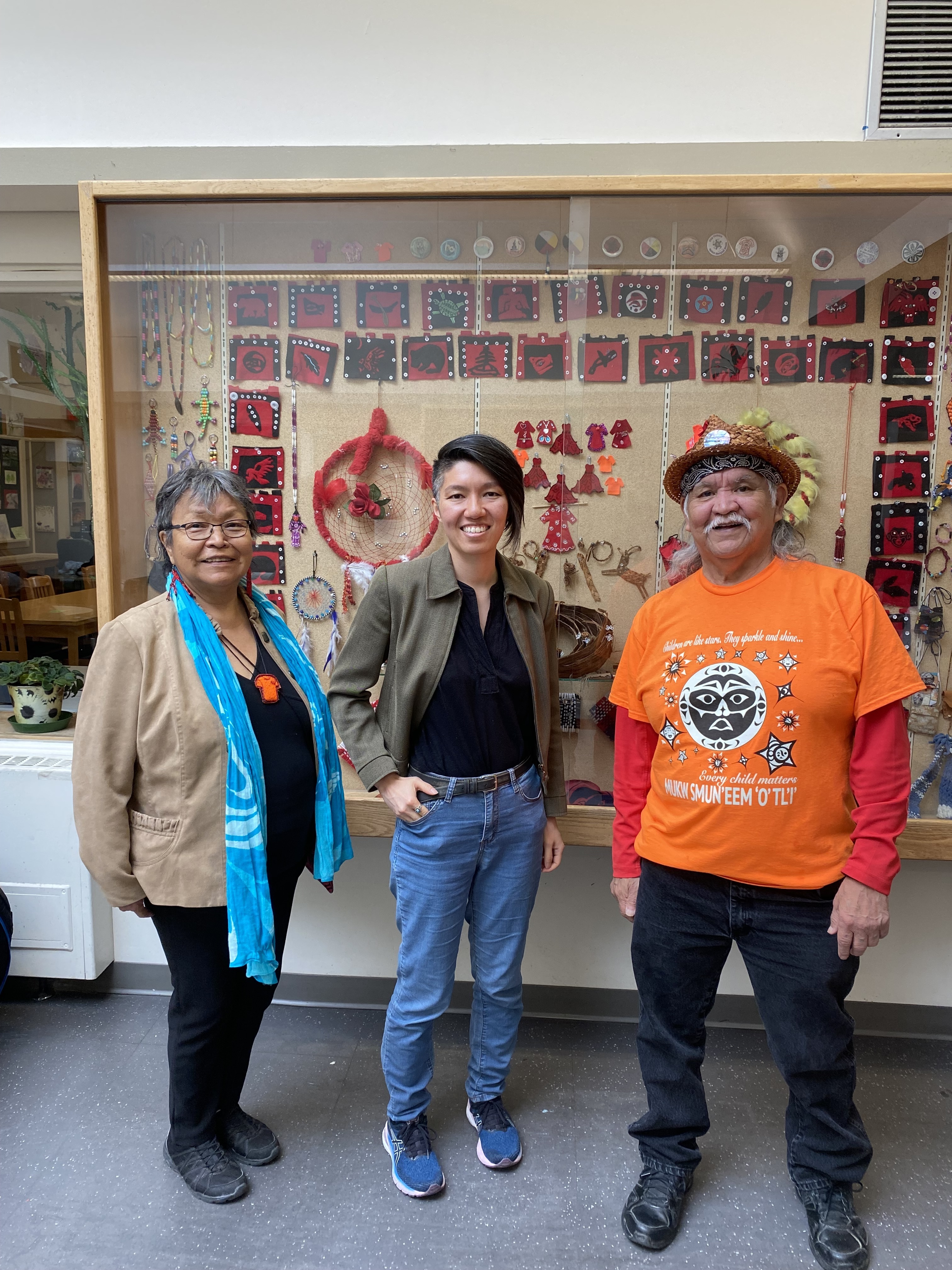 Posted on August 31, 2023 | Updated September 12, 2023, 12:32pm
The artist and ECU alum will work alongside Elder Marr Dorvault and Elder Les Nelson to provide free community art-making workshops throughout the summer.
Artist, entrepreneur and recent MFA grad Jenie Gao (MFA 2023) has been selected as the latest artist-in-residence for Art in the Park.
Hosted by the Vancouver Park Board and Carnegie Community Centre, the 2023 program finds Jenie providing free community workshops over three months at Andy Livingstone Park, at the edge of Vancouver's Chinatown neighbourhood.
Jenie (she/they) is running the workshops in collaboration with Carnegie's Elders in Residence, Elder Marr Dorvault and Elder Les Nelson.
"I'm excited about this residency because while, yes, we're making art, what we're really creating is community," Jenie tells me via email. "Andy Livingstone Park is at the confluence of many different people in Vancouver. The art workshops I'm facilitating are a chance for people to interact with neighbours they might otherwise not meet."
Exploring how art can facilitate and empower communities has long been a pillar of Jenie's art practice. She notes this concern continues to animate their direction as an artist.
"Following my graduate degree, I have been intentional about seeking opportunities that have me engaging with different communities," they continue. "While there is community inside of academia, there is also so much more to Vancouver than what's defined within university walls. I am thrilled to get to know the people who live in this city more deeply, and via art workshops that are centred on outdoor enjoyment, inclusion, and play."
During the first few workshops, participants are invited to learn how to make repeating patterns. Jenie will collect these patterns for use in a project later in the summer. She will also be teaching people how to make toys for outdoor play and enjoyment.
"A welcoming space for members of the community to connect and come to know one another, Art in the Park works with a 'harm reduction through the arts' lens, supporting collaborative art-making and sharing Indigenous cultural practice," the Park Board says in a statement. "It creates a space where creative connection works to reduce neighbourhood tensions around rapid gentrification and stigma related to substance use and homelessness and build communities of care."
The Art in the Park workshops run Wednesdays and Sundays, 2 to 6pm, from June 28 to Sept. 20, 2023, at Andy Livingstone Park. All workshops are free, and all ages are welcome. Drop-in participation is encouraged, and no sign-up is required. There will be a celebratory closing event and picnic on September 20th from 2 to 6 pm.
Jenie is also a current artist-in-residence at Ma's House on the Shinnecock Reservation in Southampton, New York.
Visit Jenie's website and follow them on Instagram to learn more about their practice.
Read our feature story on Jenie's monumental public art project via the ECU website.