Material Matters and Native Shoes Collaborate to Imagine New Life for Well-Loved Footwear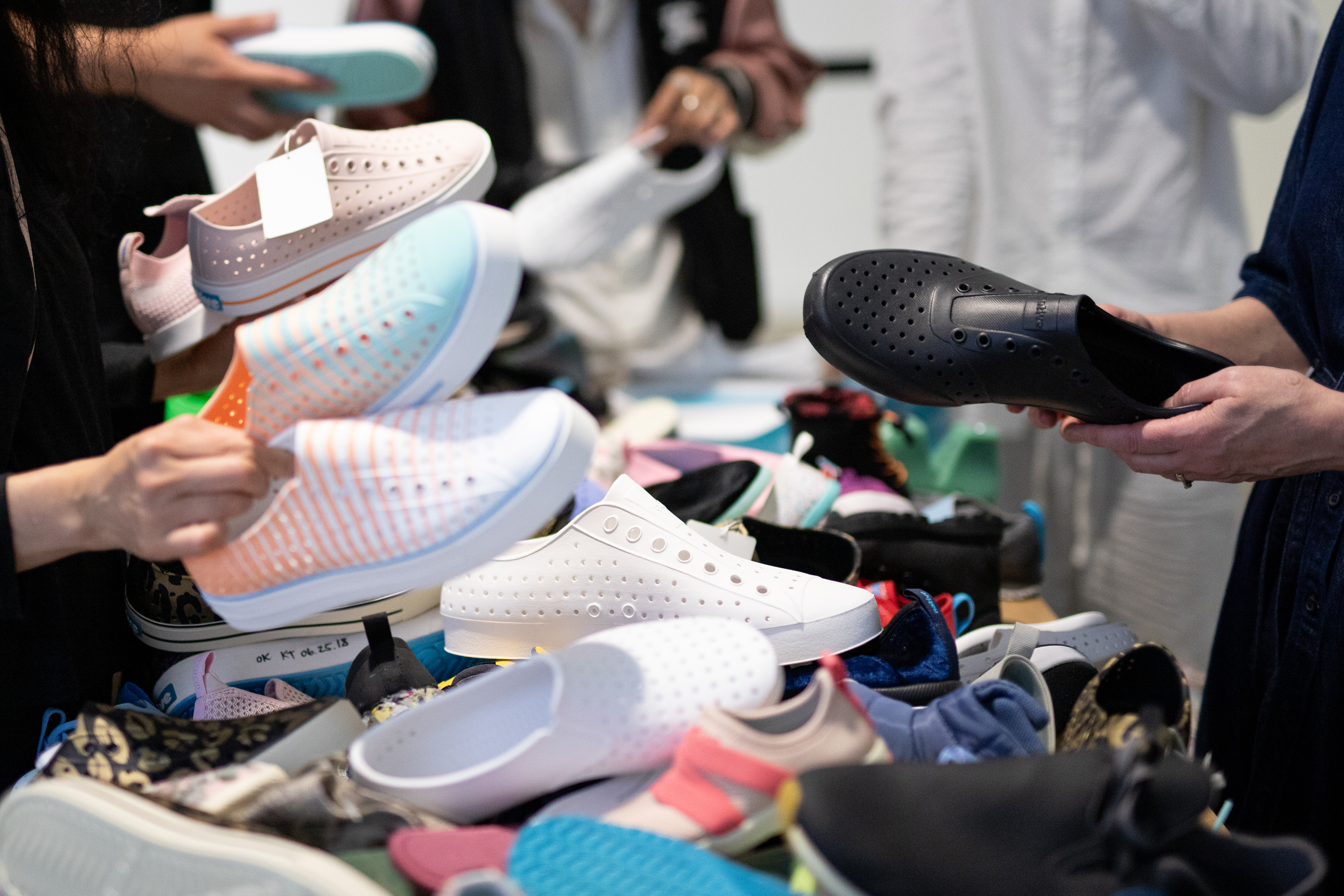 Posted on October 10, 2023 | Updated October 12, 2023, 1:46pm
Led by ECU faculty members Hélène Day Fraser and Keith Doyle, the workshop was one of several taking place in the Lab: Here//Too//For workspace inside the Vancouver Art Gallery.
Students, staff and faculty recently collaborated with Native Shoes cofounder Thomas Claypool to transform end-of-use and recycled shoes into new materials, products and apparel.
Titled Native Shoe Hack, the event is the latest evolution of an ongoing collaboration between Material Matters research hub at ECU and Native Shoes.
"What has been really exciting about this project, first and foremost, is we have a partner who is very interested in exploring the real meat of the matter, which is the material," says designer, ECU faculty member and Material Matters co-founder Keith Doyle. "It's been tremendously rewarding to work with a company that's exploring alternative materials."
Native Shoe Hack is part of Lab: Here//Too//For, a series of classroom activities, workshops, public forums and residencies led by Material Matters. Lab: Here//Too//For centres around a working textile and materials laboratory set within the Fashion Fictions exhibition at the Vancouver Art Gallery.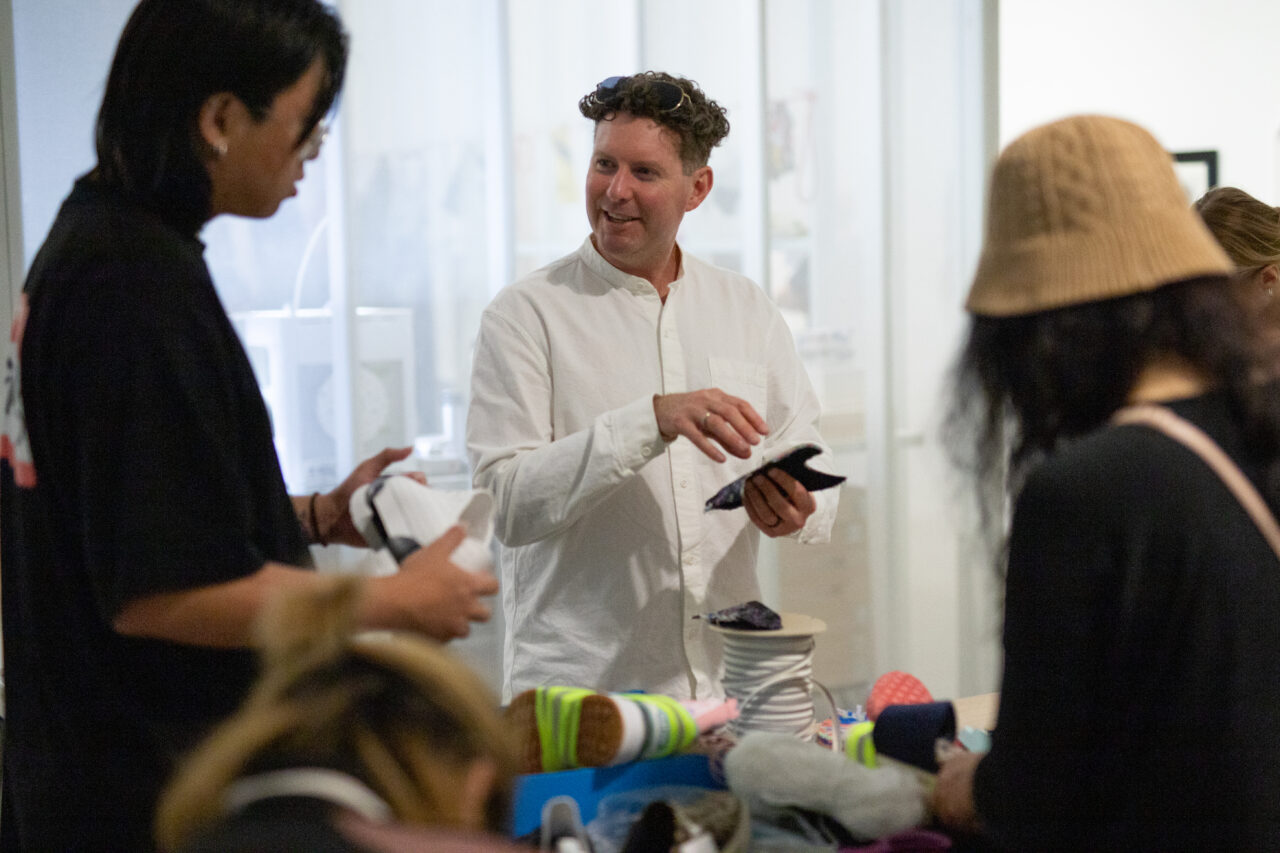 In June, Thomas Claypool joined ECU faculty member and Material Matters co-founder Hélène Day Fraser as well as Keith, ECU staff and students to deconstruct, recombine and reimagine shoes from Native Shoes' line. Such research aligns squarely with Thomas' views on conduct exhibited by a responsible brand.
"A circular philosophy around products and their life cycle, whether it be related to design, manufacture, materiality, assembly, disassembly, end-of-life, or the next incarnation(s) is an important consideration for any responsible brand or designer," he says. Material Matters, he adds, makes an ideal partner in this pursuit.
"Hélène and Keith have created a unique incubator of innovative thought and collaboration which is imbued upon all participants in Material Matters," Thomas continues. "The result is an environment that fosters fresh, creative, and uninhibited perspectives and ideas which are expressed in tangible ways by their students. In this particular case it's footwear-related, but I would argue that you can find similar exemplary results in the many other mediums coming out of the Material Matters Lab."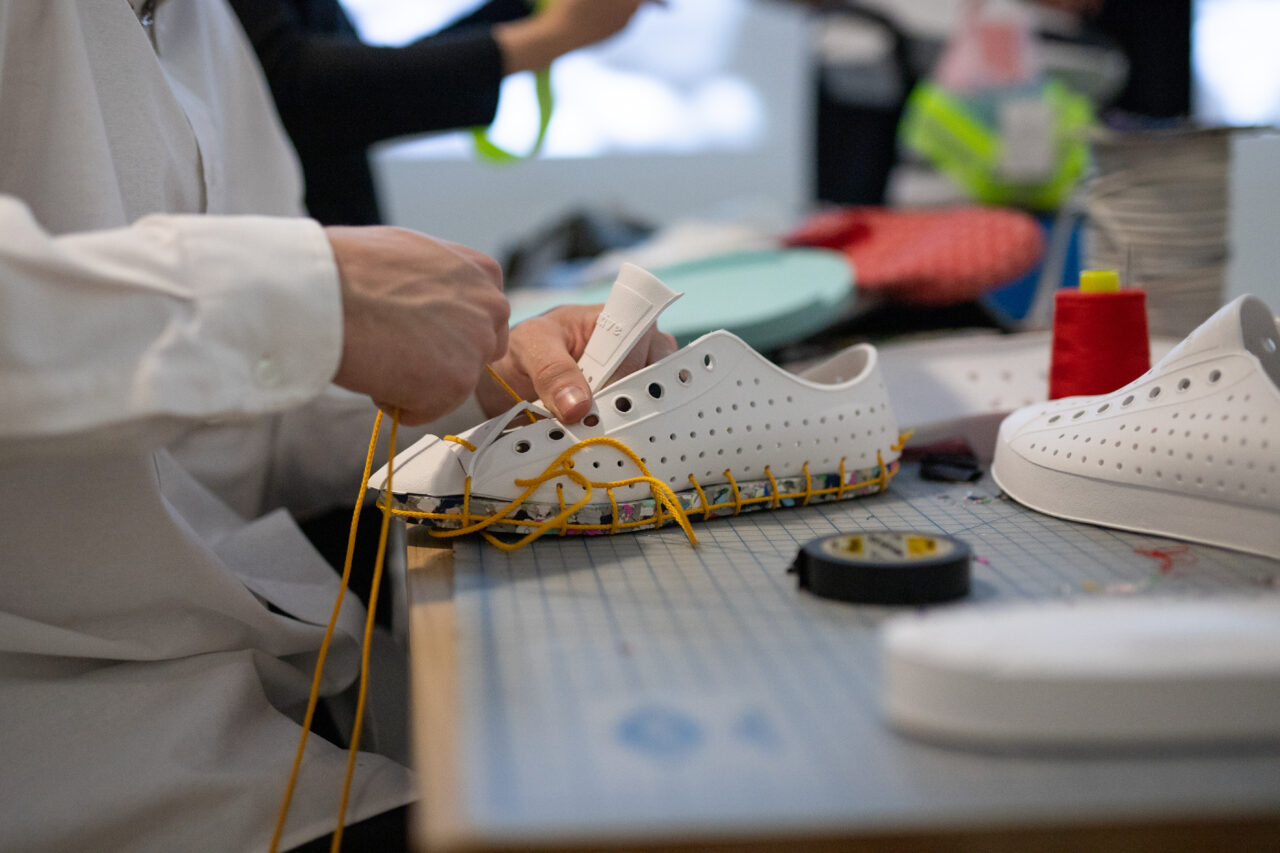 Material Matters and Native Shoes first began collaborating in 2018. Native Shoes are made with a material called ethylene vinyl acetate (EVA). EVA is also commonly used in products such as life jackets and padding for running shoes. The company had long been looking for ways to repurpose spent and outgrown footwear.
"They came to us with the idea of a 're-grind,' which means taking their shoes, grinding it into smaller bits and then reusing it by combining it with other mediums," Keith says. "We were all excited. Because there's so much potential for remixing and reusing products. But what was fascinating is their thinking around what to do with the 'forever' material. Can you uncombine it? Can you take it apart?"
According to Keith, the "lowest hanging fruit" for the Native collaboration was the playground industry. Floor tiles made from recycled shoes had already been tested in indoor playgrounds in New York City. The impact-absorbing underlay had also been tested in outdoor playgrounds in Vancouver. The Material Matters and Native Shoes teams then began exploring how recycled EVA might be combined with other materials. They began to pulverize and powder the EVA, combining it with other mediums to give it new life. Eventually, they produced a recycled EVA and silicone-rubber blend that could be extruded as a gel.
Native quickly drew Material Matters into a parallel collaboration they'd been pursuing with the MIT Self Assembly Lab led by designer Skylar Tibbits. Skylar's team had developed a 3D- printing process called Rapid Liquid Printing, where a liquid object is "drawn" in three dimensions within a gel suspension. The object cures while printing and then is ready for use with minimal post-processing. They applied this technology to Material Matters' recycled EVA/silicone-rubber composite, resulting in the mesmerizing 3D-printed liquid-rubber shoe.
Want more stories like this delivered twice a month to your inbox?