Shriya Maru Takes Home Best Student Project at Vancouver UX Awards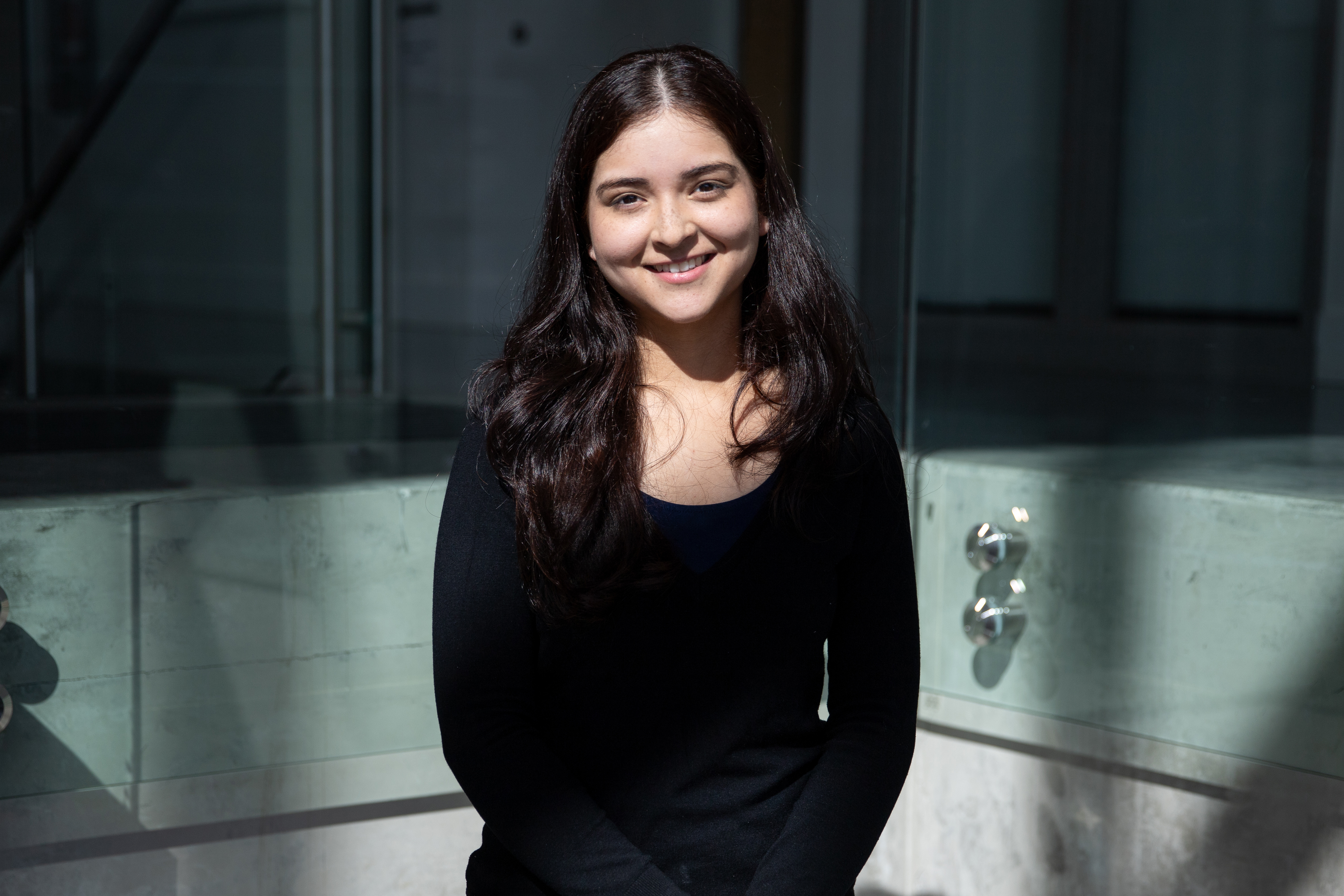 Posted on May 25, 2023 | Updated June 08, 2023, 1:56pm
The emerging designer and ECU student won recognition for her project, Our Dinner Table, which proposes a solution for senior food insecurity and isolation.
Third-year Emily Carr design student Shriya Maru recently won the Best Student Project prize at the 2023 Vancouver UX Awards.
Shriya earned the award for her project Our Dinner Table, which addresses food insecurity and isolation among Vancouver seniors.
"It was very unexpected," Shriya tells me via Zoom from her home in Vancouver. She'd only heard about the deadline two days in advance. And while she believed in her work, she found herself wavering on whether to enter it into the juried competition.
"I saw the previous winners, and there were some really professional, put-together projects," she continues. "I'm proud that I was able to overcome my hesitation, put myself out there and let everyone see what I'd made. Even if there are a few things that still need work. And it was great. I was very, very happy."
Shriya attended the ceremony with fellow Emily Carr University Interaction Design program students. An ECU design alum, Nodin Cutfeet, also won a pair of awards for his project, Waniskâw. Faculty members including Eugenia Bertulis and Daniel Wildberger were also in attendance.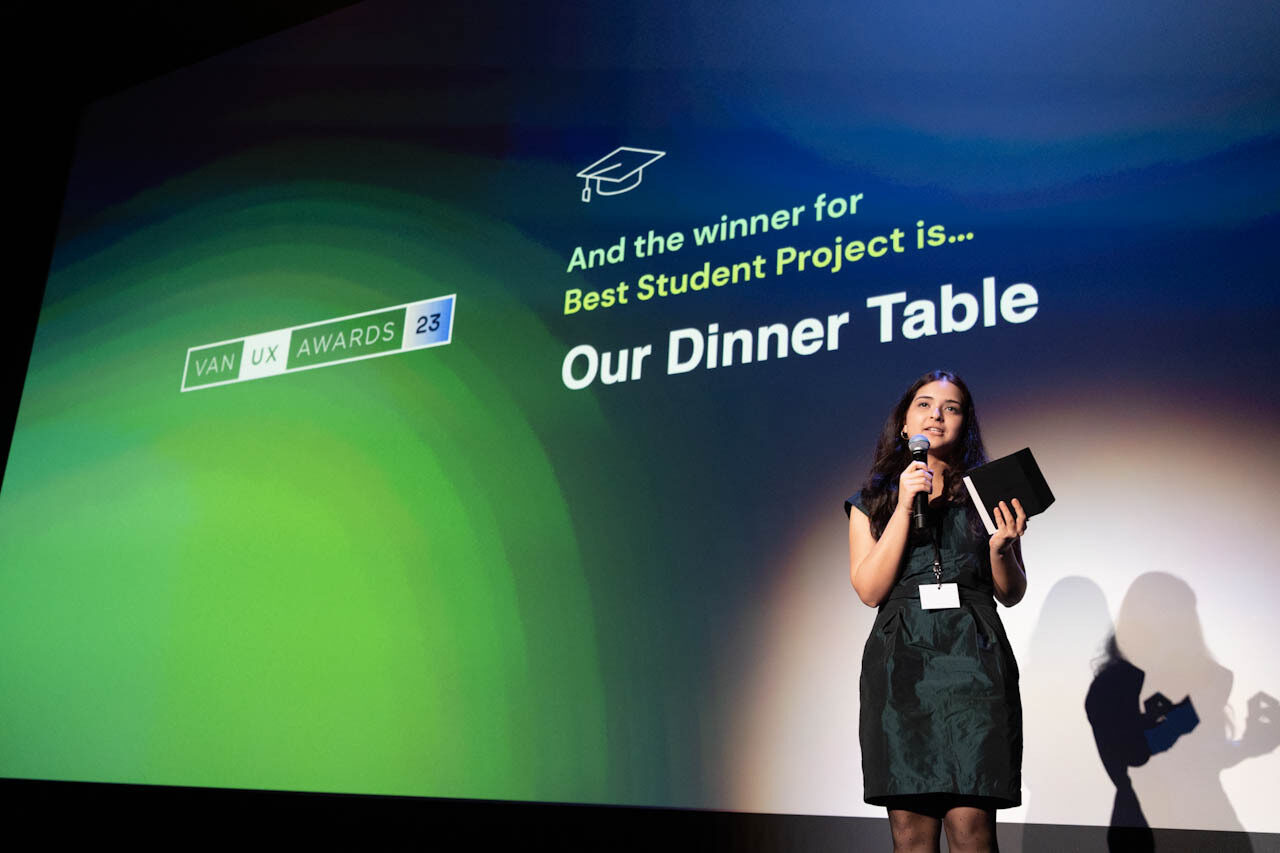 Our Dinner Table began as a class project to design a solution for food insecurity. Shriya identified overly broad service mandates as a pain point among organizations such as food banks and nonprofits.
"These organizations do their best to serve everyone," she says. "As a result, the quality of their service starts deteriorating. That becomes even more problematic because you're dealing with food, which is a very delicate thing. It can get spoiled easily, leading to health issues, et cetera. So, I wanted to focus on a target group."
Seniors are particularly vulnerable, she notes, especially in the wake of the pandemic. Many have endured the loss of friends and family members. And for elders who need specific care, loss can mean steep declines in quality of life. Food insecurity and isolation each correspond to an increased chance of premature death, greater disability and higher instances of chronic disease. Experiencing both at once can be devastating.
But when Shriya stumbled across an article about culinary schools during her research, she had what she calls a "eureka moment."
"They're dealing with food 24/7," she says. "They have all the infrastructure you need. That's how I came upon the idea of collaborating with culinary institutes."
Our Dinner Table proposes a partnership between culinary schools and elder communities. Student chefs cook for and serve meals to seniors, who gather at the schools to mingle, chat and enjoy healthy, nutritious food.
"That's one of the values of Our Dinner Table," Shriya says. "There's reliability, there's consistency, and then there's mutual aid. The seniors are being taken care of. But at the same time, culinary students benefit because they get to hone their skills, experiment, practice, and put their knowledge to the test."
But Our Dinner Table goes beyond the big picture. Shriya also solved many of the less obvious issues behind the idea. She says even the smallest detail can mean the difference between success and failure.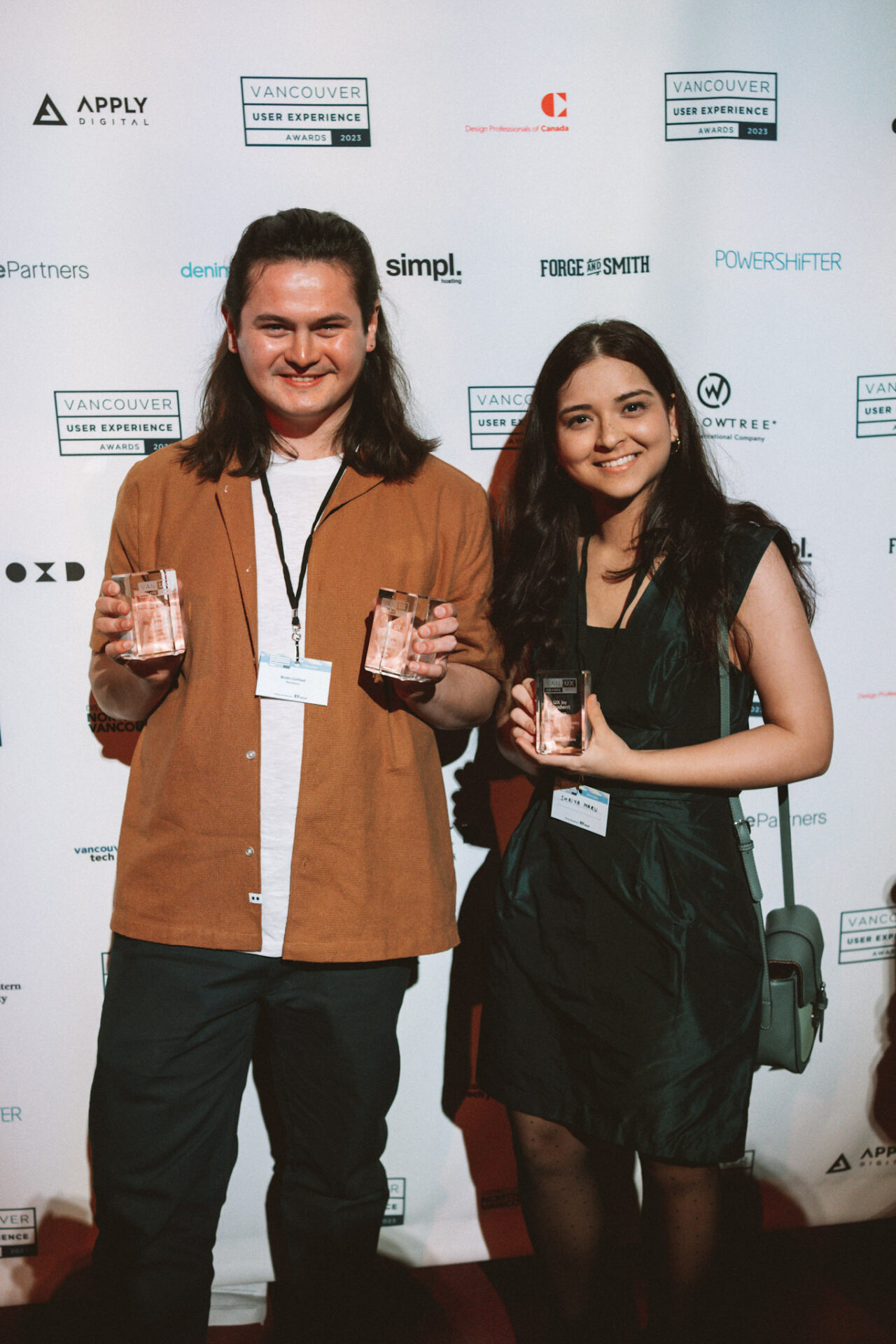 For instance, she had to figure out who would purchase the raw ingredients for seniors' meals or how it would be possible to transport disabled seniors to the culinary school.
"When you fill in those gaps, it starts to feel much more real," Shriya says. "And I like to make sure that tomorrow morning I could wake up and talk to someone about my idea and say, 'This can exist now.' Not 10, 20 years down the road. Strategizing and creating that flow wherein everything has been mapped out is what I really enjoy."
All of this mapping is based on ensuring every participant benefits. And by establishing mutual benefit by linking existing resources, Our Dinner Table exemplifies what Shriya sees as the ethos of service design.
"That's what I feel service design is about," she says. "Everything already exists. The question is: how do you make these stakeholders and touchpoints interact so that something great comes out of it."
Meanwhile, Shriya will spend her summer interning with health tech company Kardium, working on their system for treating atrial fibrillation.
Visit Shriya's website to learn more about her work.
Visit ECU online to learn more about studying in the Interaction Design program at Emily Carr.
Want more stories like these delivered to your inbox twice a month?