Student Art Sale | Information + Student Registration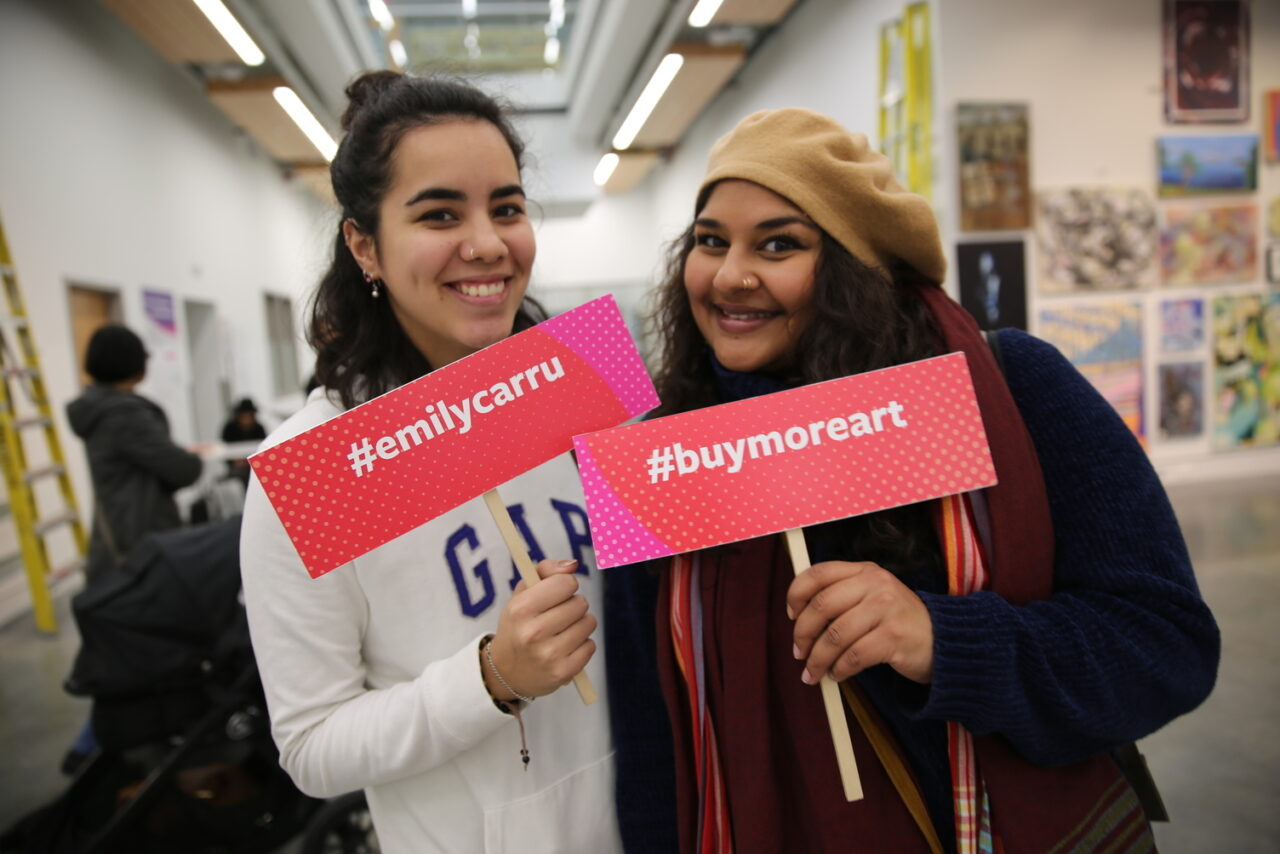 Here comes the 2022 Student Art Sale!
Student registration for the sale is now closed.
This year's sale will take place on campus from Friday, November 25 through Sunday, November 27, and we are keen to feature your paintings, photos, prints, ceramics, sculptures, design works, housewares, buttons, zines, cards – and more!
The Student Art Sale is a fantastic opportunity to introduce the public to your work, grow an audience, sharpen your entrepreneurial skills and make some money for the holidays. We're excited for you to be a part of our 49th annual sale!

Registration closes at midnight on Friday, October 14.
We are pleased to be working with Student Art Sale Coordinator, Samantha Burnet, — an experienced curator, artist, and Emily Carr alumna (BFA '95). Samantha has served on the ECU Alumni Association (ECUAA) board for the past 9 years and is currently the curator and coordinator for the ECUAA Gallery Project at the BMO Theatre Centre - Arts Club. Please reach out to her with your questions at - sas@ecuad.ca.

We look forward to working with you!
Want to participate? Follow these steps.
Important Deadlines
REGISTRATION OPENS
Monday, September 29, 2022

INFORMATION SESSION via ZOOM
Wednesday, October 5, 2022

REGISTRATION DEADLINE
Friday, October 14, 2022
LABEL SUBMISSION OPENS
Friday, October 19, 2022
MOODLE WORKSHOPS LAUNCH
Tuesday, October 20, 2022
MOODLE WORKSHOPS DEADLINE
Friday, November 4, 2022
PARTICIPANT SHIFT SIGN-UP DEADLINE

Monday, November 7, 2022
LABEL UPLOAD + PROMO IMAGE SUBMISSION DEADLINE
Tuesday, November 15, 2022 - 5pm

LABEL PICK-UP
Friday, November 18 (11:30am to 1:00pm + 1:30 to 4:30pm)
Monday, November 21 (11:30am to 4:30pm)

Label pick-up is in Zone 3 of the MOEC, (the Sculpture Gallery), at the far east end. Please bring your student ID to pick up your labels. Labels must be affixed before you drop off your work.
ARTWORK DROP-OFF
Wednesday, November 23, 2022 | 12 - 4pm
Thursday, November 24, 2022 | 8am - 12pm
COMMUNITY PRESALE
Friday, November 25, 2022 | 9 - 11am

STUDENT ART SALE
Friday, November 25 | Noon - 8pm
Saturday, November 26 | Noon - 5pm
Sunday, November 27 | Noon - 5pm
ARTWORK PICK-UP
Sunday, November 27, 2022 | 6:30 - 8pm
Monday, November 28, 2022 | 9am - 4pm