First year Foundation launches your journey.
The only university in British Columbia solely dedicated to interdisciplinary creativity, Emily Carr is the best place to earn your undergraduate degree in Design, Fine Arts, or Media Arts.
Our Foundation Program, is the first year of all our four year undergraduate degrees. Emily Carr University activates your creative career with its unique Foundation program. This introductory program deliberately provides core skills and transformative experiences across a range of academic and studio classes. Foundation year equips you with new technical perspectives, vital relationships, and critical insights with which to make personal degree choices. Following the Foundation year, you map an individual path by selecting majors and minors from a variety of areas toward your Bachelor of Design, Bachelor of Fine Arts, or Bachelor of Media Arts degree.
With the practical knowledge and broad skills gained in first year, you progress through your degree, balancing your technical, material, and making skills with critical thinking and problem solving.
Interdisciplinarity gives you perspective.
All undergraduate degrees begin with a vibrant Foundation Year offered through the Faculty of Culture + Community. It introduces you to Emily Carr's dynamic university community, and to learning inside and beyond its studios and classrooms. The program offers a spectrum of art, design, and media courses through which to explore your creativity -- individually, collaboratively, and through community partnerships -- within the digital universe as well as the material world.

During Foundation Year, you will be challenged to imagine the larger purpose of your creative practice, discovering how and why we make things. You will see it in context as service to an interdependent world, which is in need of professionals who can communicate their knowledge, passion, and ideas to solve problems through images and objects.
With a combination of academic and studio courses, you will develop your visual literacy, conceptual sophistication, material and technical skills, and the fundamentals of studio practices across every discipline. You will be encouraged to take creative risks, to celebrate your imagination, and to consider and cultivate your creativity as a valuable resource for social, cultural, economic, and environmental development and renewal.
At the end of your Foundation Year you will have greater insight to your interests as well as to all of the disciplines available to you. At that point you will be ready to choose and apply to a major that focuses your studies toward the achievement of a Bachelor of Design, Bachelor of Fine Arts, or a Bachelor of Media Arts degree.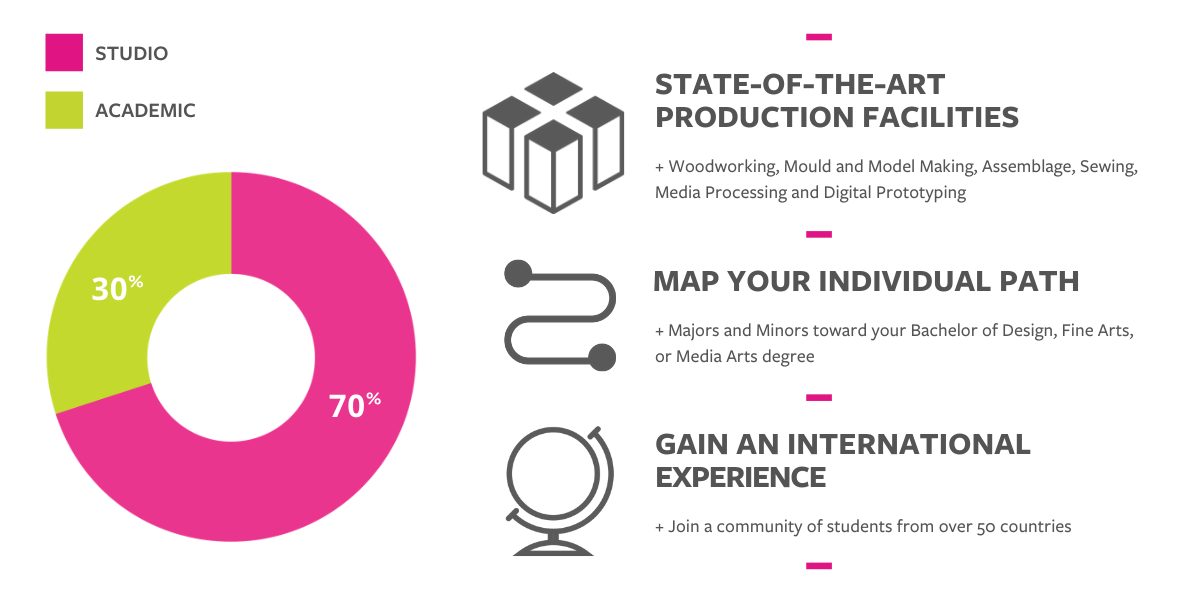 Make a life and a living that matters.
The Emily Carr community is comprised of individuals who began like you. They are artists, makers, thinkers, and producers, activated by the Emily Carr community. We integrate our personal and professional art and design practices to our work in order that you can benefit from a curriculum that is flexible, personal, multidisciplinary, and interdisciplinary.

Your studies will be professionally focused, hands-on, and practice-oriented, yet rooted in history and critical theory. In a studio culture of critique and intensive creative process, you will enjoy small class sizes and connect directly with Faculty and expert technical resources, discovering mentorship support and guidance throughout the course of your studies.
In addition, you can consider taking advantage of built-in opportunities that will enhance your undergraduate experience and truly make it your own: