A Garden Oasis on Campus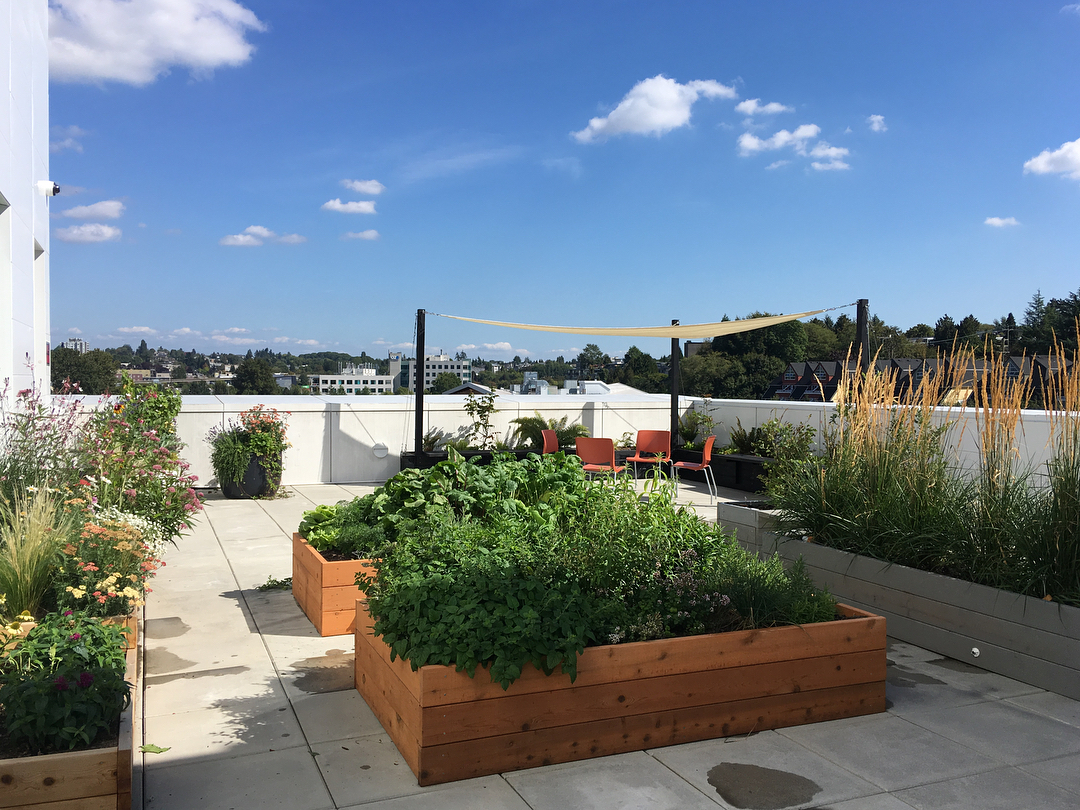 Posted on September 28, 2018 | Updated August 06, 2019, 9:07AM
A new space on the 4th Floor terrace provides a outdoor refuge for the ECU community.
The Oasis Wellness Garden is a new addition to the fourth floor terrace this academic year. Created with a grant received by Amy Kheong in the Counselling, Wellness & Accessibility Office, the garden provides a safe space for students and the rest of the community to relax, rejuvenate, and even get their hands dirty by gardening. To celebrate the official launch of the garden, Counselling, Wellness & Accessibility hosted a small garden party. There were vegan snacks and lemonade made from produce from the garden, as well as an herb bundling station.
We chatted with Justine Gabias, the former Student Development Advisor at ECU, who helped coordinate the construction of the garden.
How did the concept of a wellness garden at Emily Carr University come to be?
The Counselling, Accessibility and Student Wellness Office received a grant from the Ministry of Advanced Education, Skills and Training at the beginning of the year. Amy Kheong and I were brainstorming about how we could use it, and very quickly the idea of a garden came up. The new campus lacked the green spaces that were so abundant on Granville Island, and we felt that a bit of nature was a crucial piece of the wellness puzzle.
We got to work right away, and, thanks to Victory Gardens, the Oasis Wellness Garden was up and running in July. The Oasis Wellness Garden is a sort of outdoor version of the recently-expanded Oasis Wellness Lounge located on the second floor. We are excited to use both spaces for wellness programming this year, both indoors and outdoors!
Who else was involved?
Andy O'Neill and the Facilities team guided us through the process and gave us the green light, which we are very thankful for. Van Dusen Gardens donated some plants, and we had some wonderful helpers: the entire Counselling & Accessibility team, Angeles Hernandez Correa, Emma Sommers, Taryn Porter, Otilia Spantulescu, Hillary Webb, and Eugenia Bertulis! All of them made the garden possible and we are so grateful.
What are the future plans for the garden?
We are hoping to get a Gardening Club started this semester. We had 80 students sign up during Club Days on September 26. Students who join the club would be able to participate in gardening workshops, and get the guidance they need to maintain the garden and grow their own vegetables. Workshops would include prepping soil and starting seeds, transplanting, managing a garden, harvesting, as well as cooking with fresh veggies and canning in the Fall.
We are also talking with the amazing Social Practice Kitchen folks to see about future collaborations, and we would love to hear what other activities students want to see happen in the space.
Tell me a bit about yourself and your background in gardening.
I was born in a bit of a gardening dynasty! My grandfather started a flower growing business in Quebec in the 50's, which is now a flower shop and garden centre. All his children are involved in the business, including my mom who manages the flower shop. I spent a lot of my childhood in and around the store, surrounded by plants and flowers. But gardening never interested me--maybe because it was all too accessible.
So I moved away, traveled, got a BFA at Emily Carr, and upon graduating I started working there. Fast-forward eight years later, and, last winter, what had been dormant all these years started sprouting. I decided to learn how to farm, and as soon as I made that choice everything started making sense. I enrolled at the Tsawwassen Farm School, so I could learn what I need to know to start a small-scale farm. This experience has been mind-blowing, humbling, beautiful and so fulfilling.
I feel I have gotten to know myself and my family better through growing and caring for plants, and now I am about to go full-circle: I am planning on going back to my hometown next spring to grow cut flowers on my family's land, just like my grandfather did so many years ago.
Do you have any advice to give to students looking to grow their own food?

Don't be intimidated—gardening and growing food does not require any specific talents. The most important thing is to pay attention, and learn the plants' language—they are constantly communicating with you! They will show you when they are stressed, unhealthy, happy, hungry...
Take the time to get to know your plants, look closely, do a bit of research, be curious. Nature is so generous. Get to know her, treat her kindly, and she will reward you in so many ways.
About Counselling, Wellness & Accessibility