Industrial Design Students Create Recipes for Disaster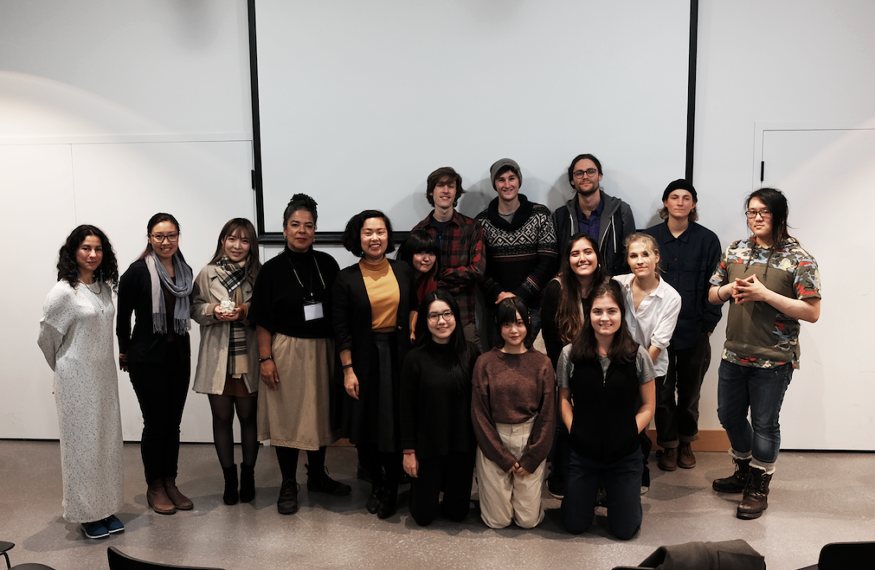 Posted on November 22, 2018 | Updated June 10, 2019, 11:08AM
Find out what acorns, rosehips, mushrooms and crickets have to do with resilience.
Food is often one of the last things that people consider when preparing for a possible disaster, even though it's just as essential as a cell-phone tower or earthquake-proof building. In the event of an emergency, cities and neighbourhoods may only have enough food for a few days.
In 2017, the City of Vancouver launched the Resilient Neighbourhoods Program, a pilot project to develop scalable emergency preparedness programs that would focus on neighbourhood-level capacities and supports. The idea behind the program is that in the event of a significant disaster, neighbourhoods will need to pull together and support their residents while city services and infrastructure are compromised. The pilot project is led by Katie McPherson, Chief Resilience Officer for the City of Vancouver, and Katia Tynan, Social Planner for Resilient Neighbourhoods.
Four neighbourhoods were chosen as sites for the pilot project; they were selected as representative of the diversity of Vancouver's communities, and each is focused on a different challenge regarding emergency preparedness and resilience. Another overarching priority of the project was to encourage communities to start necessary conversations around disaster preparedness, a topic that many people prefer to avoid.
The selected neighbourhoods were Dunbar, Grandview Woodland, Collingwood, and the Downtown Eastside. 312 Main, a new global centre for economic and social innovation based in the former police station, was chosen as the site for the DTES pilot project.
Amanda Huynh, a sessional faculty member in Industrial Design, saw an opportunity to collaborate with 312 Main on their pilot project that would utilize the skills and creativity of students. Both the mandate of 312 Main and the topic of community resiliency fall under the research umbrella of the Emily Carr University DESIS Lab. Her INDD 300 Core Studio Industrial Design class was broken up into groups of 3 or 4 students, and each was tasked with designing a site-specific concept for the 312 Main community kitchen, with hyperlocal food as a cornerstone of community gathering and information exchange.
Each group of students also picked one food source that could be foraged or collected within walking distance of 312 Main, and developed recipes that could be prepared in the community kitchen that they designed. Their idea was that during a prolonged disaster, the community would be equipped with the skills and knowledge to collect and prepare food using nearby, readily-available sources.
As part of the project, students visited 312 Main and were given a tour by Vanessa Richards, Director of Community Engagement. Vanessa explained the historical significance of creating a community hub in what was formerly a police station, which is being extensively renovated but still has carceral features like solitary confinement cells.
Project groups also created a 1:25 scale model for the community kitchen, a full-scale tool that they could be used in the collection or preparation of their ingredient, and recipes or food to share. After five weeks of work on their projects, teams presented to a group of community stakeholders and resilience experts on November 14. Stakeholders included Katie and Katia from the City of Vancouver, Vanessa, and Vive Wong, the pilot project coordinator for 312 Main. Stephanie Koenig, the Vancouver City Lead for the Future City Builders project and Emily Carr alum, also provided students with a critique.
The four groups each tackled a different food source of their choosing: acorns, rosehips, mushrooms and crickets. Amanda explained, "For acorns, rosehips and mushrooms, there are precedents of these being used in times of crises. For instance, during WWII, the British government led a campaign to encourage citizens to harvest and make rosehip syrup. It was an abundant, resilient plant, providing Vitamin C to prevent scurvy."
Each group rose to the challenge, creating detailed models for the community kitchen and plans for how their food source could be gathered, prepared, stored, and served. The students baked brownies with acorn flour, designed an indoor farming-and-processing system for mushrooms, made rosehip jam, and invented cricket-flour pasta.
Beyond the tangible products and ideas that the students shared, their presentations showed that people can be excited about the topic of disaster preparedness if it's broached in a creative, engaging way. The INDD 300 course provides a model for talking about difficult topics that often make individuals feel helpless or frightened, by thinking about solutions that everyone can participate in. While it's not possible for most of us to earthquake-proof the buildings we work in or the cities we live in, preparing and sharing food is something that everyone can get involved in.
City of Vancouver is part of the 100 Resilient Cities initiative, meaning that the research contributions provided by the students to the 312 Main Neighbourhood Pilot project has an opportunity to viewed by a global network of cities interested in what resiliency can look like.
Ultimately, this student project showed that there are neighbourhood-level activities that will note only help communities prepare for an unknown future, but also build strong relationships in the present. It also inspired those who attended the student presentations to start adopting their own resilient habits. "I've always wanted to try cricket flour," said Katia Tynan, "and I already have plans to start collecting acorns next year."
---
Pictured above: The students from INDD300 (Sam Alder, Fuka Bando, Gabriel Ching, Moni El Batrik, Alexei Haws, Ana Lawrence, Rain Liu, Maggie Liu, Sofia Pickstone, Joanna Read, William Rees, Camilla Tarandi, Inging Wu) as well as Amanda Huynh, Vive Wong and Vanessa Richards.