Erica Stocking Brings Performance to Teleconference During Pandemic
Posted on April 21, 2020 | Updated March 02, 2021, 11:19am
The multidisciplinary artist provided an early example of how artists are bringing their work to remote audiences during the COVID-19 shutdown.
Multidisciplinary artist Erica Stocking (BFA 2004) is proving to be one of the first Canadian artists to offer a model for a response to the rapidly evolving isolation requirements now facing everyone, as COVID-19 continues to impact communities across the country.
Her sculptural installation, The Artist's Studio is Her Bedroom: a choreographed statement on autobiographical art making was showing at Vancouver's CAG (Contemporary Art Gallery) leading up to the closures that have swept public and private facilities nationwide.
The work presented a stage curtain depicting a bedroom scene: an oversized stuffed animal, canvas covered bed, script, costumes and props were on hand, providing viewers the tools to self-organize "rehearsals" within the tableau.
Before COVID-19 forced the cancellation of public gatherings, Erica had intended to put on a performance in the CAG installation, involving collaborations with artists and musicians from across the country.
But once it became clear the performance — slated for the evening of Tuesday, March 24 — would not take place as planned, Erica says the group agreed on a solution for a new format immediately.
"This project is well-seated to respond quickly to change," she reflects over the phone from her home in Ontario. In fact, she says the work developed by thinking through how to create sculpture that "has a life of its own" (as opposed to sculpture which remains static once finished).
"Specifically, I was thinking about how sculpture is [typically] an object in the world, and the only thing that changes over time is an audience's relationship to it. So, I wanted to make an object that continuously changes through time.",
With that fluid line of thinking already in place, Erica was able to reframe her scheduled performance as a telephone work. This interim performance, involving all the performers originally hired to participate, was broadcast as a conference call on the same date as planned, meaning her quick thinking not only prevented cancellation, but added another opportunity for experiencing the work in a new format. The work will still be performed in the flesh once it is possible to do so.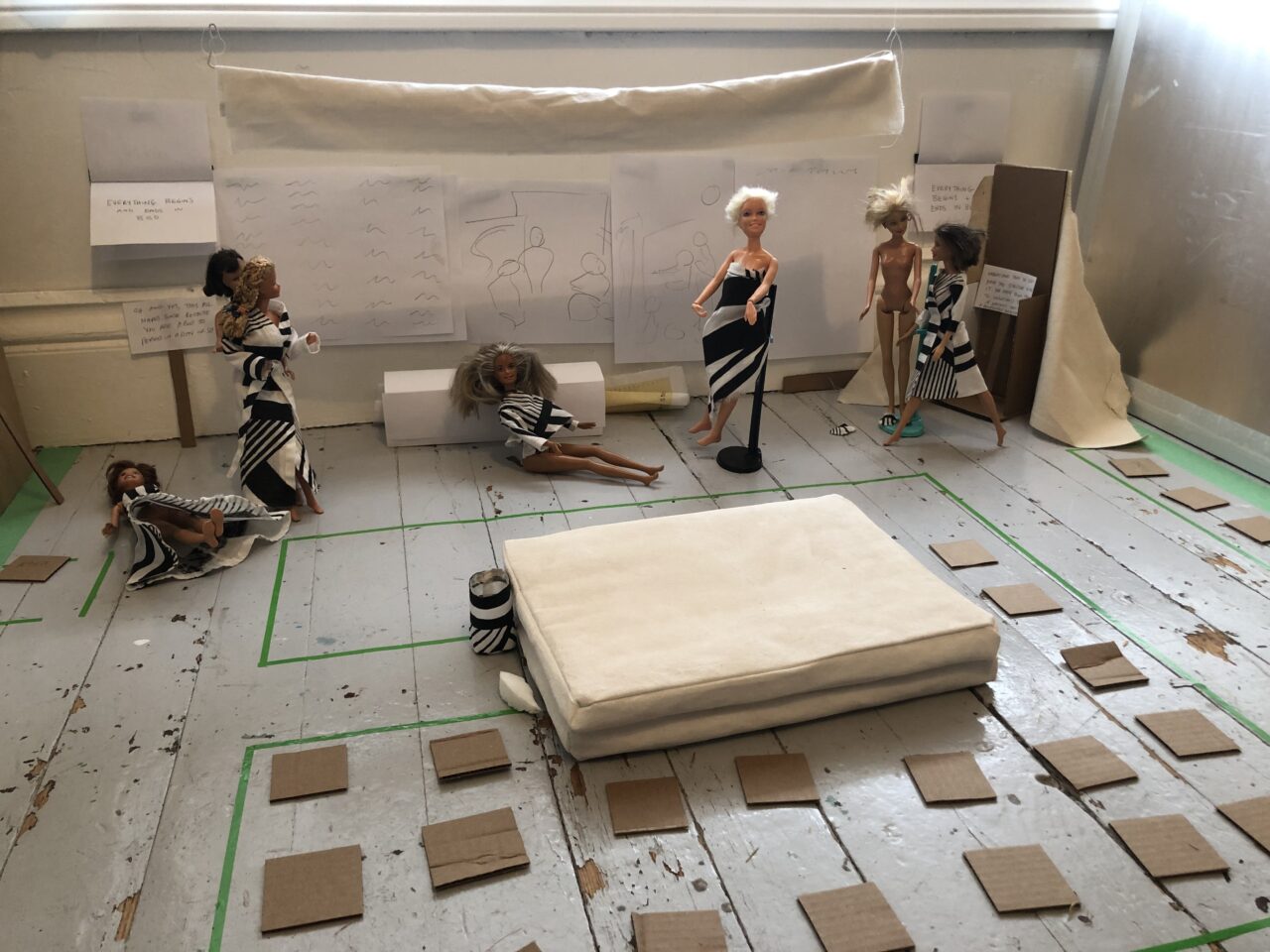 In other words, Erica's solution shows how the advent of COVID-19 can be seen as an extreme version of an external force to which a work must respond.
"Artists are kind of always responding in creative ways to different types of situations," she says. She notes movements such as Fluxus provide models for emphasizing a focus on artistic process, improvisation and experimentation, and incorporating open-ended thinking into daily practice.
Erica was also quick to acknowledge that the current situation is legitimately scary, and will provide challenges artists, alongside every other Canadian, will undoubtedly struggle to meet. That said, her response is worth considering as creative practitioners look for ways to continue reaching audiences while supporting the need to preserve public health.
Erica had intended the scripted performance to involve her own voice as the singular speaking role, with movement supplied by eight dancers, music and sound from a pair of musicians, and costumes and props made in collaboration with a designer and artist. But because these artists hail from all over the country, an open conference call ahead of the performance was the first "rehearsal" for the group. Erica notes it somehow felt like a natural fit to rework the performance for that medium once the in-person version was out of the question.

"As everything was getting cancelled, and with all of the fear and withdrawal that happens, I thought its was important to respond with something else [in place of the in-person performance]," she says.
"And I think a conference call is a really interesting format, because it's so connected to business and commerce, and associated with professionalism. So, I like using it to connect in a more intimate way."
The movement roles intended for the eight dance artists were performed as speaking roles. The musicians performed across two locations, and the costume and prop collaborators read the part of the "company:" a version of a Classical Greek "chorus" — providing background or summarizing the play's movements to keep the audience informed. Erica's website was temporarily turned into a site for visual support for the telephone play. And people from across the country and beyond tuned in.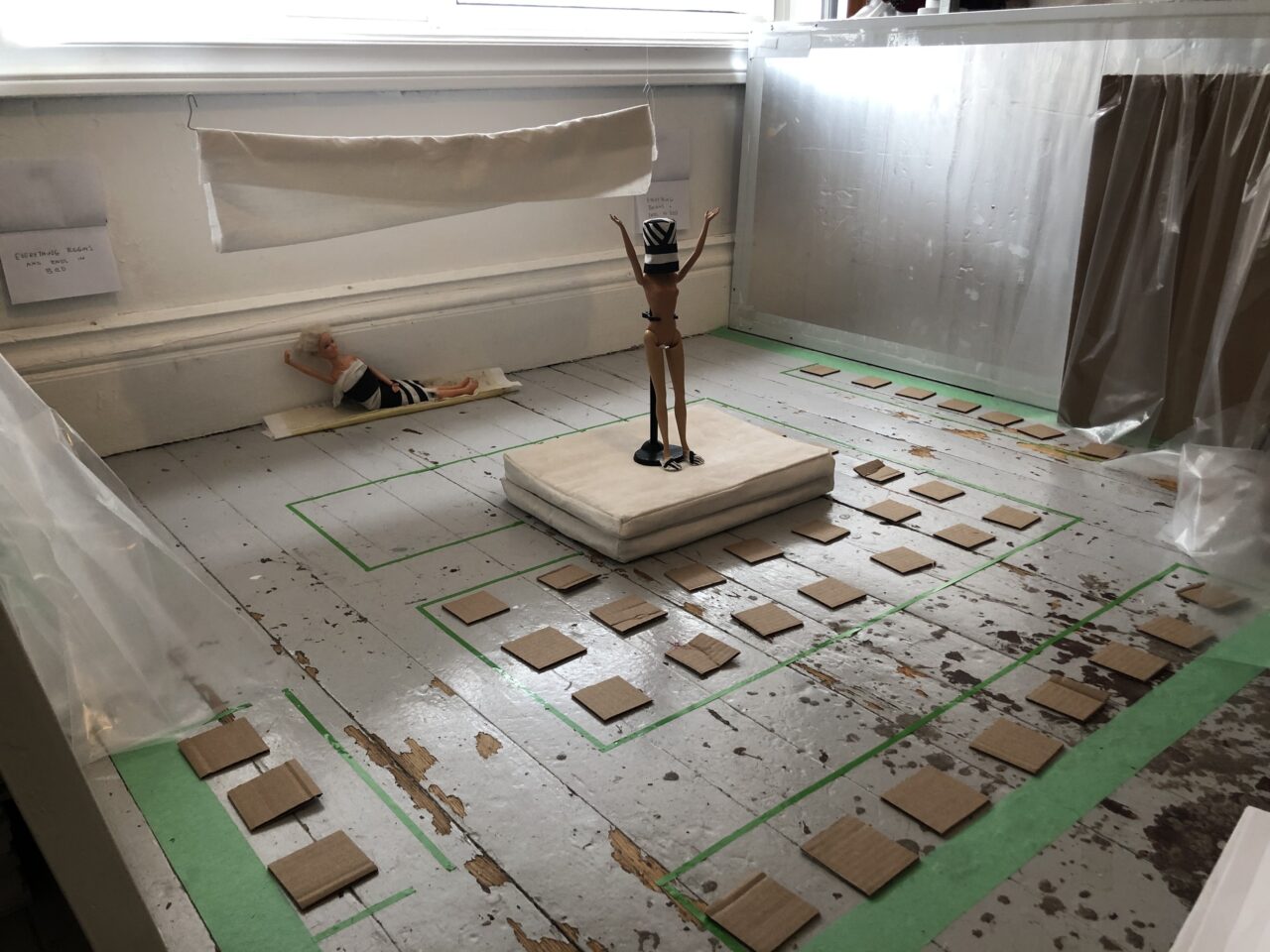 Erica notes the teleconference technology brought with it a couple of glitches — notably a few instances when performers' words were lost to the audience.
"There were definitely points where people couldn't hear exactly what was said, which is kind of interesting in terms of the idea of a private, interior voice," she says, noting that imperfect audio in some ways formally "echoes some of the content" of the work. This idea, she says, is one she's considering incorporating into the in-person version of the play, once it's finally safe for her to stage it.
And there is a sense, she adds, in which the tension between "attention and distraction" is an urgently relevant concept for people at this moment.
As we all struggle to make sense of the pandemic, she says, we're constantly swinging back and forth between an inability to focus and an inability to look away.
"Part of that is not always having access to the full shape of things. So, you're always only engaging with a piece of this situation at a time. You're only ever getting bits of it at a time," she says.
"And that can be enough, too. To try and fully understand the immensity of the situation you're in, or a subject you're dealing with — there's kind of an impossibility of that. One's always striving for that, but there's always more information, always another iteration, always another angle.
"That can prevent action from happening if you feel you're always waiting for another part of it. And part of the phone conversation is to say, 'We can do just one part of it, and the essence of the work is still present in those segmented pieces.
"'This moment is enough, that bit is enough, and we have to trust that you can still act. You don't need everything in order to act.'"