Kunsang Kyirong's 'Yarlung' Wins Best Canadian Student Animation at 2020 OIAF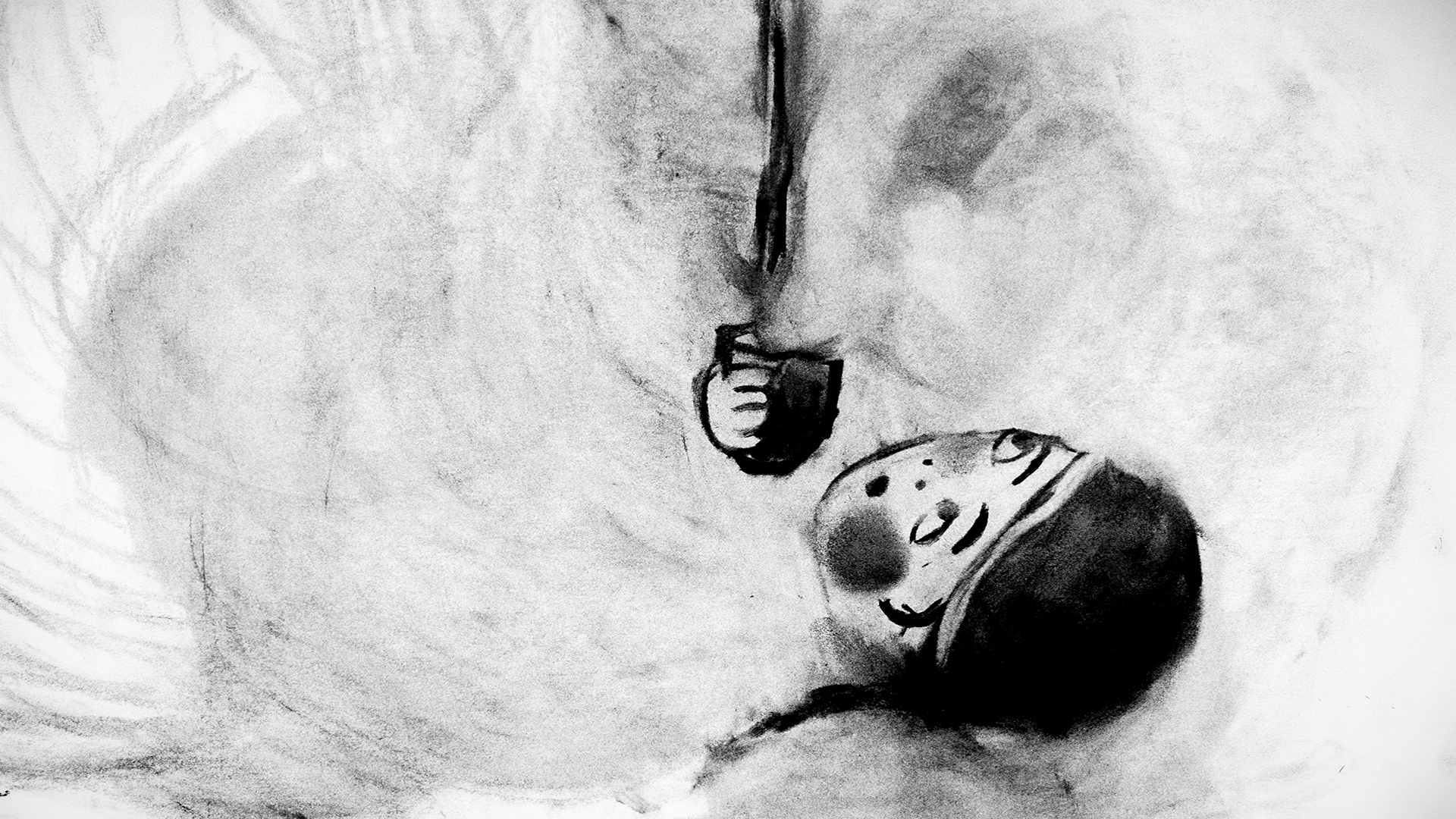 Posted on October 08, 2020 | Updated March 04, 2021, 12:14pm
The artist and ECU alum reveals how her hand-drawn charcoal-on-paper animations help inform her storytelling practice.
The fourth-year student short film by artist and recent ECU grad Kunsang Kyirong (BFA 2020) has been awarded first prize for Canadian Student Animation at the 2020 Ottawa International Animation Festival (OIAF).
Kunsang, speaking from her studio in Vancouver, says she feels greatly encouraged by the recognition of her peers and professionals in the animation industry for the film, entitled Yarlung.
"I feel honored, and I'm really excited to move forward and also gain a bit more confidence in my storytelling and the materials that I use," she says. "I think it's pushed me to continue to explore different mediums within animation. I'm really excited to continue. I feel very energized."
Her award at this year's OIAF makes 2020 the third year in a row that an ECU student film has won the festival's Canadian Student Animation category, with Ivan Li's Uranus winning in 2019, and Christopher Strickler's Bird Milk taking the prize the year prior.
Yarlung tells the story of three children who experience the death of a loved one during the heat of midsummer in a small rural village. As they navigate this experience, they return time and again to the nearby Yarlung Tsangpo river — a fourth central figure in the story, with which each child has their own relationship.
Kunsang, who grew up in Vancouver, says the story blends both fiction and nonfiction, drawing on her childhood experiences of time spent visiting a small refugee camp in the Northeast of India, called Tezu, where her mother was born. Because of Tezu's size, death in the Tibetan village was a shared experience for the community. And, like the characters in her film, Kunsang says interacting with the nearby Yarlung Tsangpo river was a constant refrain for Tezu residents.
"You'd be in the river three to four times a day, washing your dishes, bathing, bringing water to make tea, going to the bathroom," she says. "So, there's this very significant relationship there."
The film was originally going to be structured as a documentary, she adds, focusing not only on people, but on environmental issues including the damming of the Yarlung Tsangpo further up its course, in China and Tibet, which has profound effects on downriver communities, including Tezu.
"But then, while doing more research, I realized that there's so much to say within the context of storytelling, and I felt like it could come across a lot stronger without being so explicit in terms of what has been going on there environmentally," she says.
"Another theme that was important for me is the shaping of Tibetan identity without the Western gaze. So, really trying to think about more of the nuances of daily life as opposed to perpetuating this mystification of what it is to be Tibetan."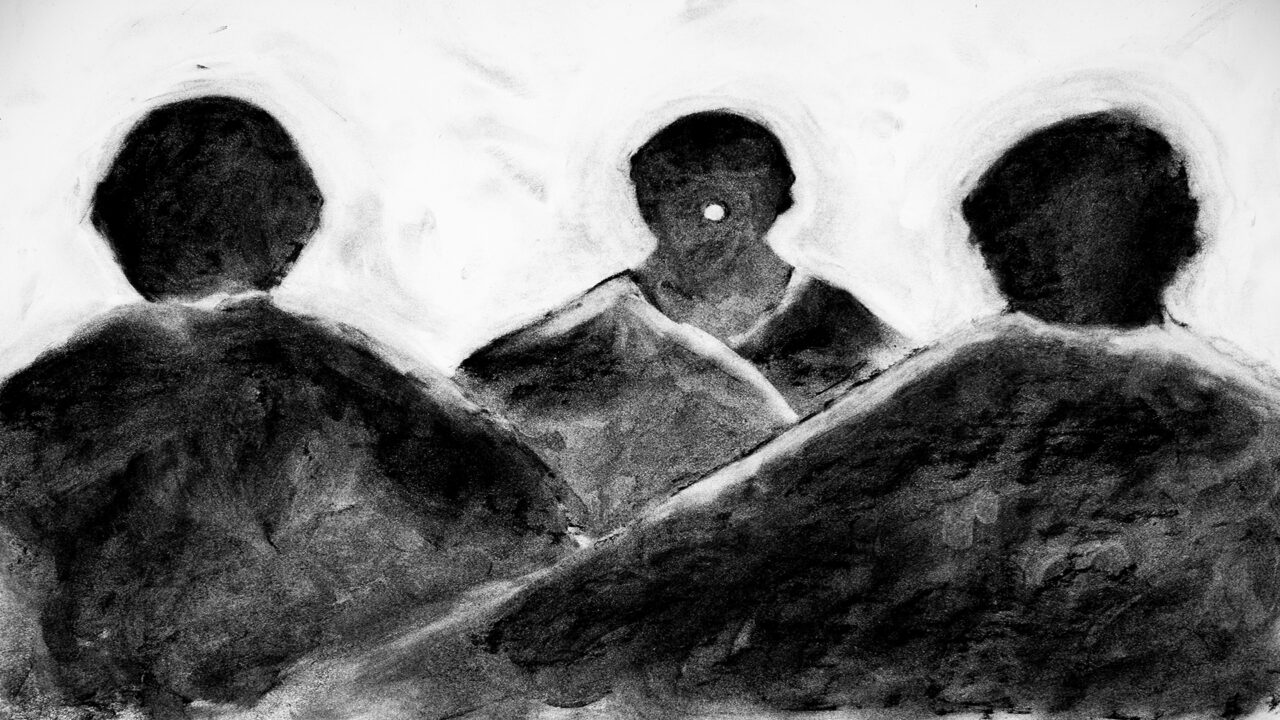 The animation itself is rendered in charcoal on paper, lending the motion a dreamlike fluidity, while firmly grounding each frame with a tactile materiality. Both Kunsang's mark-making and the use of paper as a support make for a rich, shifting visual experience that is nearly impossible to look away from. Kunsang says her process — hand-drawing frames and photographing them in sequence — also plays a fundamental role in how her storytelling takes shape.
"They go hand in hand, for sure," she says, adding the experience of bringing her stories to life in images often finds her moving away from her script to follow "ghost images" that emerge as she works charcoal across paper.
"I love working with tactile things and I really love room for spontaneity. For instance, I'm starting with one shot: the grandma is pouring tea, and I want to move to children running. When I'm starting to erase the tea and the steam that's coming out, children's feet kind of emerge. It's almost as if I'm uncovering each new drawing as I start to erase the previous one."
The experience can be likened to recalling a dream or a memory, she says, where small details become clear as you search your mind, until a fuller picture appears.
The warm response Yarlung has generated has been especially rewarding, Kunsang notes, particularly the feedback she's gleaned from her Tibetan audience.
"I've been receiving a lot of positive responses, especially from the Tibetan community in diaspora," she says. "That, for me, means the world. It's truly incredible."
Kunsang is currently at work on a new animation, which she hopes to adapt to a live-action film in the future. The story follows a group of Tibetan immigrants from small communities working in a Canadian recycling depot — mostly strangers to each other, but all part of a broader wave of Tibetan immigration that took place between 2011 and 2015. With their social circles suddenly expanded, a number of romantic entanglements emerge.
As with Yarlung, Kunsang says she aims to use the story as an entry point for much larger conversations.
"I'm interested in who makes up the working class, and ideas about identity and hybridity, and the dynamics between various generations," she says. "I'm interested in using the Tibetan diaspora as more of a case study for something that is much more universal."