Celina de Leon's Student Film Awarded at PRFF Youth Festival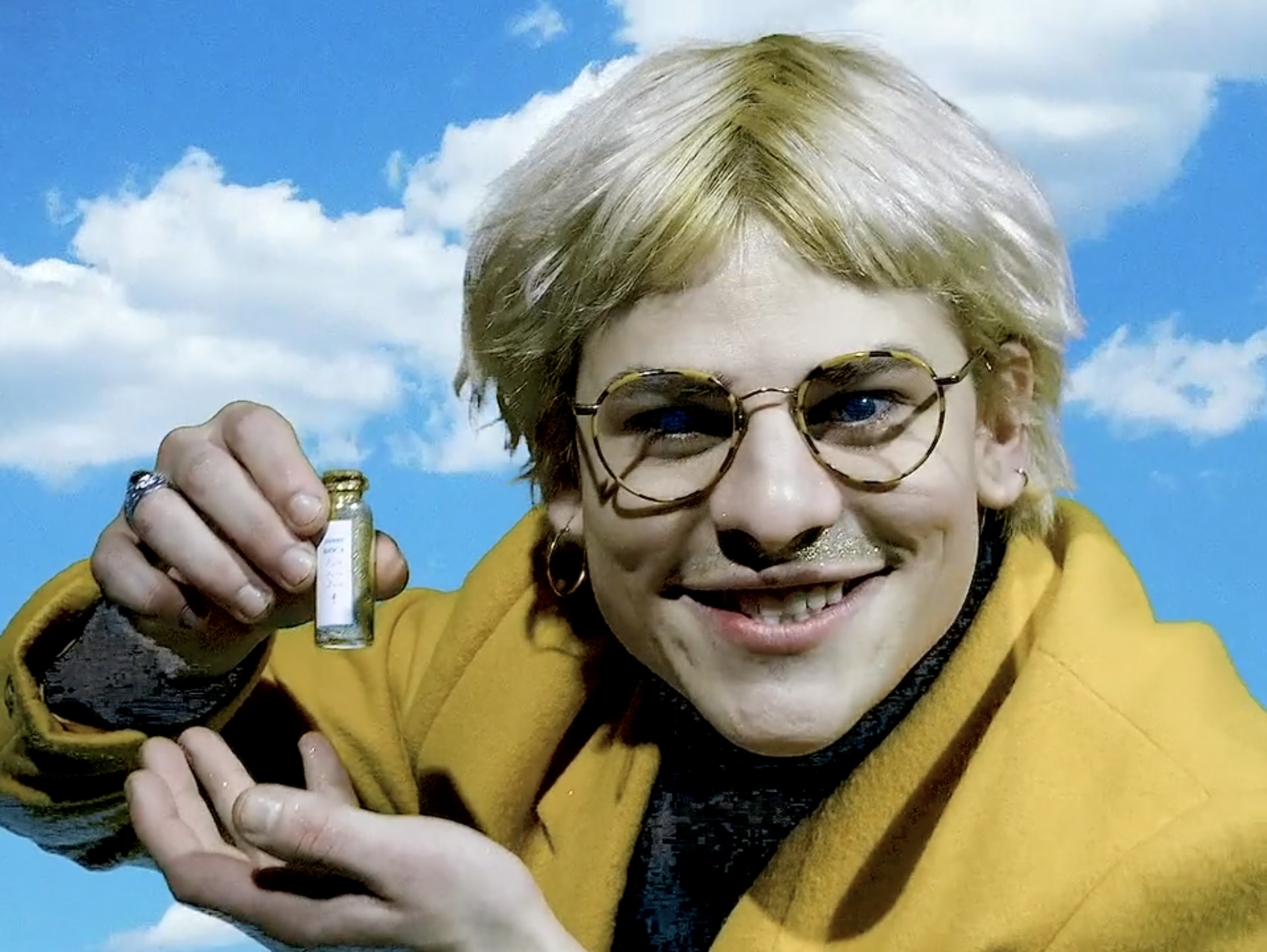 Posted on March 25, 2021 | Updated December 10, 2021, 11:53am
The satirical short, created during Celina's second year at Emily Carr, took home Best Comedy.
Celina de Leon's 2020 second-year student film, Johnny Buck's Flyin' Fairy Dust, has been awarded Best Comedy at the Powell River Film Festival (PRFF) Youth Festival.
Celina, now in her third year in the Film + Screen Arts program at Emily Carr University, says the film is a departure for her in many ways.
"This is the first film where I actually had a script," she says. "Usually I make very experimental or artistic films that don't have a plot line or story or dialogue. I thought it was a lot more fun and easier and more organized with a script. Usually I would just shoot the person and say, 'OK, maybe walk over there, dance a little bit.'"
Conceived as a hallucinatory satire, Johnny Buck spotlights a maniacal performance by first-time actor Ty Norris, who plays the film's title role. Ty's Johnny Buck addresses viewers directly in the style of a slightly unhinged 1980s infomercial host. He gyrates, leers and, at one point, soars across the sky as he extols the power of his magical (and available for four easy payments of $19.99!) fairy dust.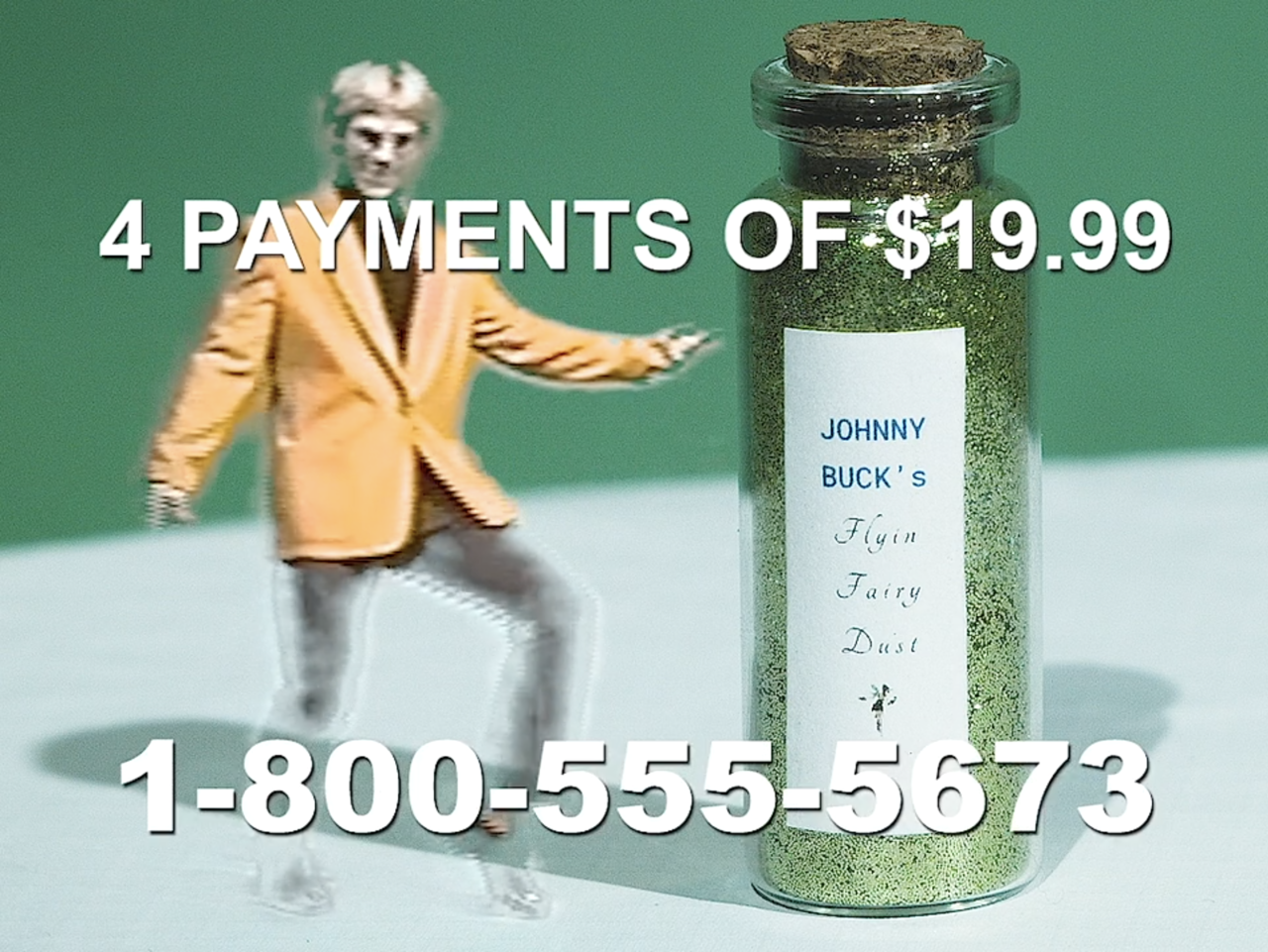 Ty, a friend of Celina's, had been cultivating the Johnny Buck character as an alter ego for some time before bringing it to the world of cinema.
"It was an interesting process working with this person who I know personally, who's very, very loud, and then telling them while we're shooting, 'Be louder! Scream it out!'" Celina says. "But it was really fun to direct them. I felt really comfortable with them — comfortable enough to boss them around — whereas if it was a stranger, I'd probably feel a little bit more hesitant."
The script was written in a single day, just a week before shooting, Celina says. It was inspired by her obsession with amateur videos, especially on YouTube. One particular artist, Don Lombardi, who hosts a DIY youth-made variety show, was a huge influence, she notes. But most of all, Celina says she adores satire, and feels the imperfection of green-screen technology opens up countless possibilities for filmmakers.
"I love green screen so much," she says. "I think especially with having limited resources, it's nice to have that one space where I know I can film and edit whatever into the background."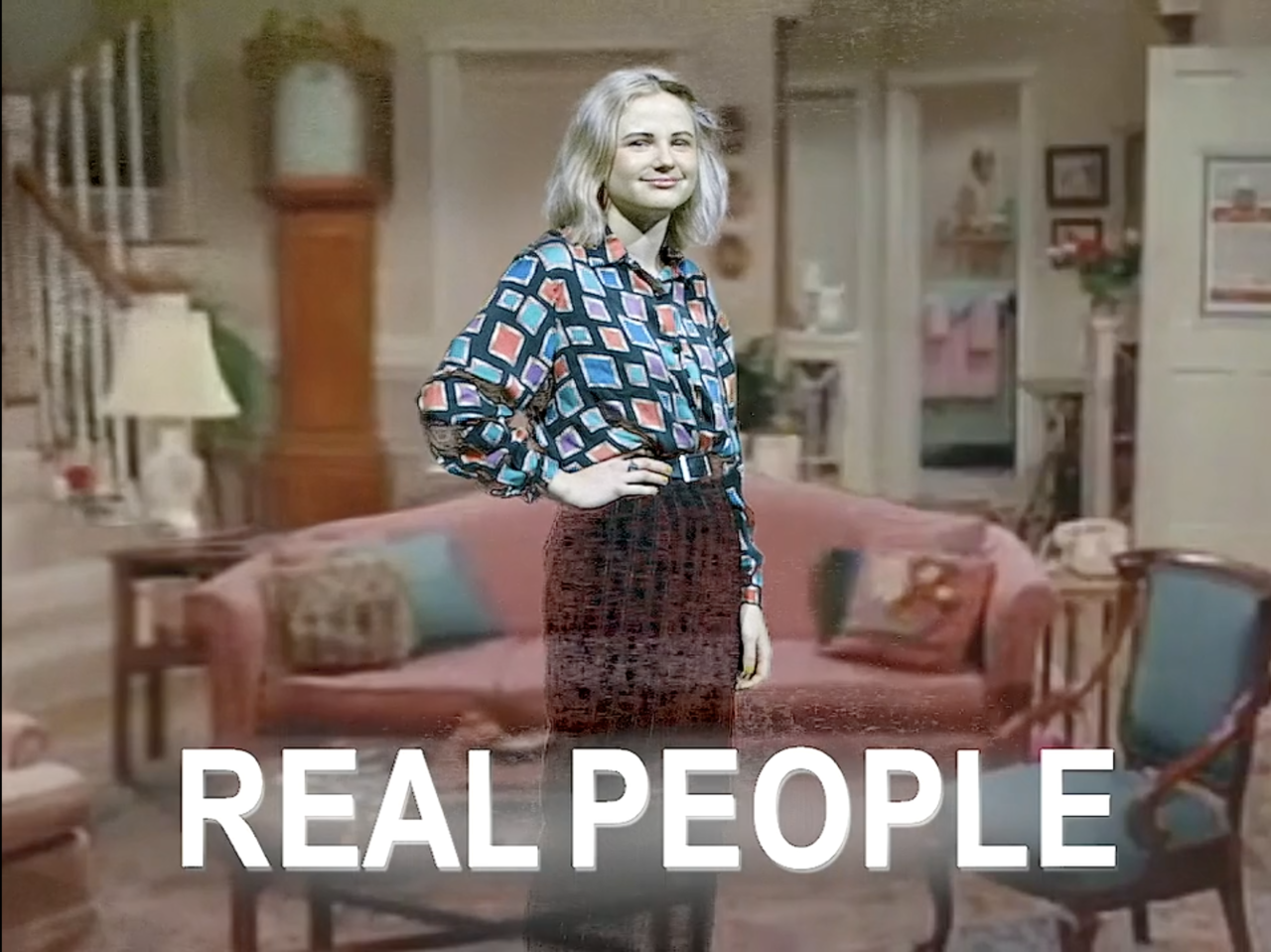 Celina's use of green-screen isn't merely whimsical. The images that go careening through the background often work to locate her characters more squarely in their era of reference. At one point, Johnny Buck and their co-stars are green-screened into famous 1980s sitcom living rooms. Combined with the skittering elevator music, glittering costumes and highly conspicuous editing style, Johnny Buck establishes its far-out space as one of play and pretend from the very start. And that's just the way Celina likes it.
"I like having the filming pop out to me — I like having the fakeness really show through," she says. "I find it aesthetically appealing, and I think it makes the story very funny."
Celina says she's decided to pursue the same model for her upcoming projects. With her final student film due for delivery roughly a year from now, she says she's currently planning to create a B-Movie version of Star Wars — a parody in the same vein as Flash Gordon or Barbarella.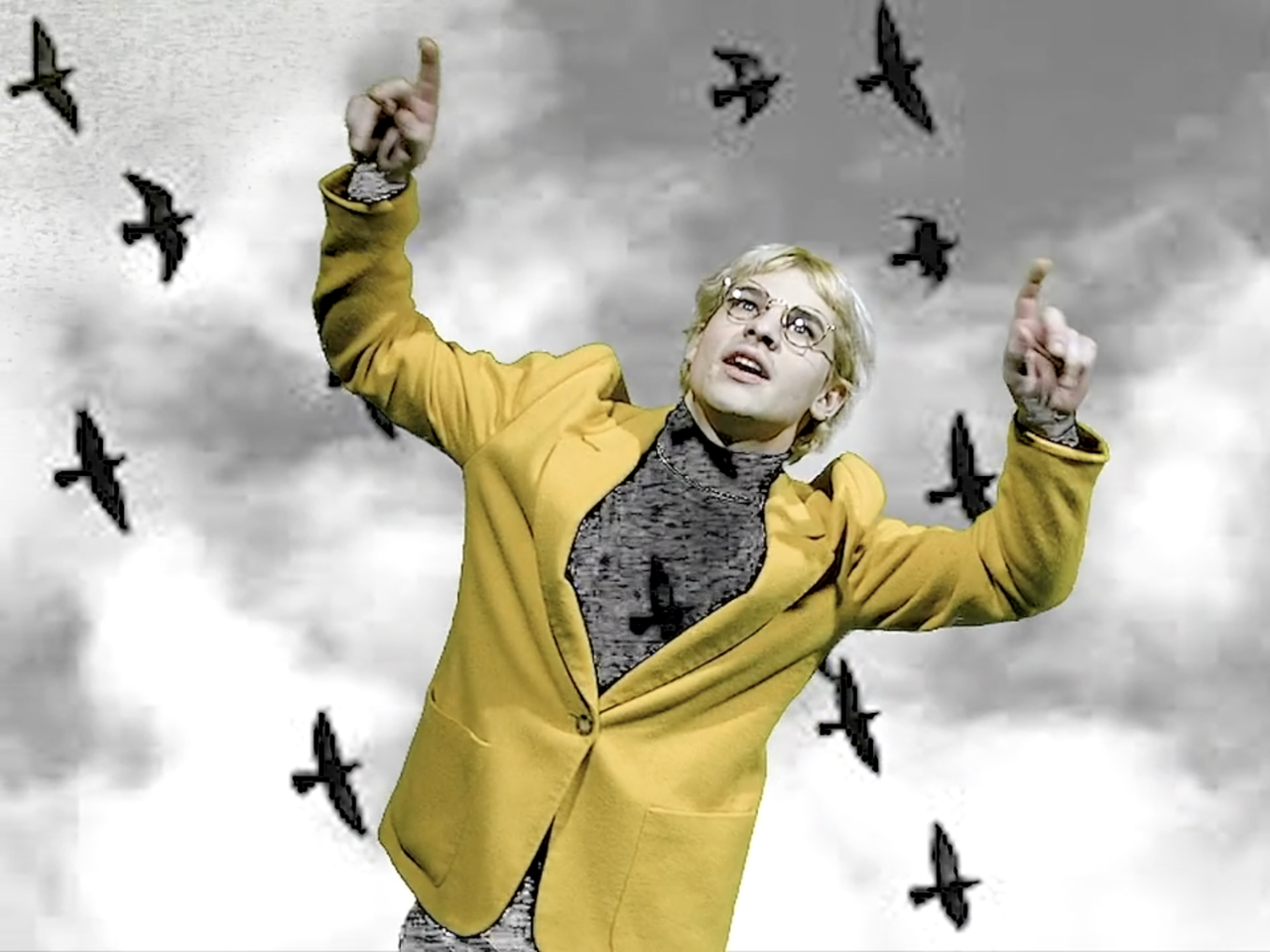 Scripted comedy — especially with liberal use of green-screens — has a special power to transport a viewer, Celina says. And that's a power she's keen to explore.
"As a viewer, it somehow takes you away from real life and instead puts you in other worlds where things just feel OK," she says. "It's nice to get a little break from reality and just have something that you enjoy, even if it's bad taste. I think bad taste is also very enjoyable."
You can watch Johnny Buck's Flyin' Fairy Dust now on Vimeo.
--
Visit ECU online today to learn more about earning an undergraduate degree at Emily Carr, including via the Film + Screen Arts program.