Melany Nugent-Noble Named Executive Director of Nocturne Festival in Halifax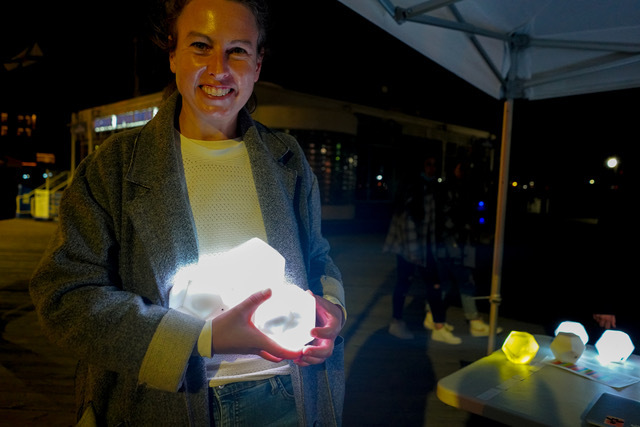 Posted on August 30, 2022
The accomplished artist, arts administrator and educator stepped into her new role with the festival in August.
Artist Melany Nugent-Noble (MFA 2015) was recently appointed executive director of the Nocturne Festival in Halifax, Nova Scotia.
"We are … thrilled to announce Melany Nugent-Noble (she/her) as the incoming Executive Director," reads a statement from the festival.
Melany has long maintained a wide-ranging commitment to the arts through her work as an educator, volunteer, and administrator. Most recently, Melany served as assistant director of the Alternator Centre for Contemporary Art in Kelowna, and as president of arts-advocacy non-profit CARFAC BC.
"I've had many balls in the air, and this is a position that allows me to consolidate all of them," she told me via video chat in July. "To take everything that I've been doing with CARFAC, with Alternator, all my work with technology, and then consolidate everything into one role."
Melany's work in the Science, Technology, Engineering, Arts and Math (STEAM) space includes volunteering with Canada Learns Code, where she teaches coding skills to marginalized individuals. Her art practice has also involved exploring the poetics of technology, including in recent works such as Invisible Threads are the Strongest Ties, which showed in 2021 at the Nocturne Festival.
"My experience with the Nocturne Festival and Halifax's art community was a magical experience for me," Melany says in Nocturne's press release. "I appreciate how much community engagement there was at the festival, and it was a major part of my decision to relocate to to Kjipuktuk/Halifax."
She stepped into her new position with Nocturne on Aug. 17, 2022, after moving cross-country. She is currently "settling into a new routine and being a bit of a sponge trying to soak up being in a new place and learn the new role," she writes via email, adding, "It's very exciting!"
The 2022 Nocturne Festival will take place in Halifax from Oct. 13 to Oct. 15.
Read our past stories on Melany including her 2021 participatory work When it is necessary to stand still, and her recent recognition with a Lieutenant Governor's Arts and Music Award.
Visit Melany online and follow her on Instagram to keep up with her work.
--
Visit ECU online today to learn more about studying in the Master of Fine Arts program.
Want stories like this one delivered direct to your inbox twice a month?