Melany Nugent-Noble, Amanda Shatzko Win Lieutenant Governor's Awards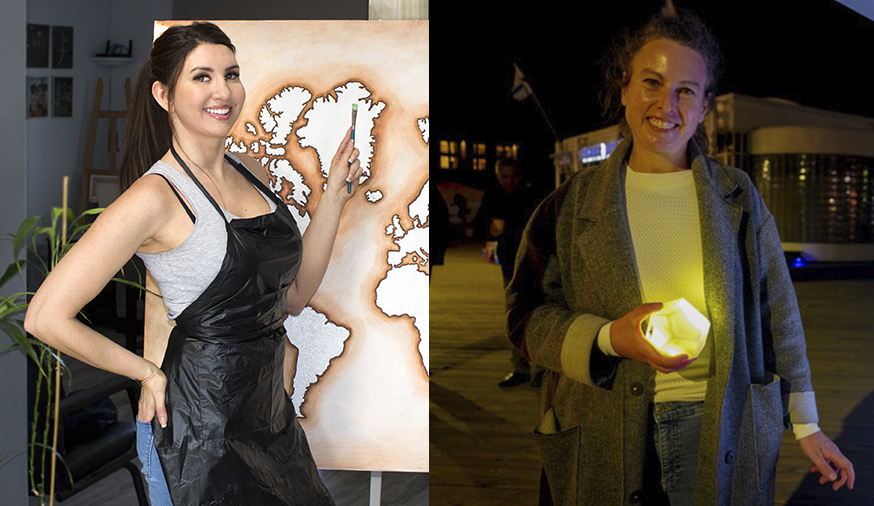 Posted on August 23, 2022 | Updated August 23, 2022, 8:34am
The multidisciplinary artists and ECU grads were recognized for their "exceptional leadership, creativity, community engagement, and commitment" to the arts.
Artists Melany Nugent-Noble (MFA 2015) and Amanda Shatzko (BFA 2008) were among those recently recognized with a Lieutenant Governor's Arts and Music Award.
Melany, a Kelowna-based artist, educator and arts administrator was the sole recipient in the Visual Arts category. Amanda, a Vernon-based artist, designer, writer and public speaker received her award in the Performing Arts category.
"As part of celebrations in honour of Her Majesty Queen Elizabeth II's Platinum Jubilee, the Honourable Janet Austin, Lieutenant Governor of British Columbia, has awarded the Lieutenant Governor's Arts and Music Awards," reads the award announcement.
"These one-time awards recognize individuals, groups, and organizations throughout British Columbia who have demonstrated exceptional leadership, creativity, community engagement, and commitment through fostering and mentoring others in the fields of Visual Arts, Music or Performance. The Lieutenant Governor's Arts and Music Awards celebrates artists whose work promotes social equity, equality, inclusion, and enhances the well-being of communities of all sizes and citizens of all ages."
Each recipient was awarded a certificate of acknowledgement and a monetary gift recognizing their achievement. This year's award jury included Carleen Thomas, Chancellor of Emily Carr University.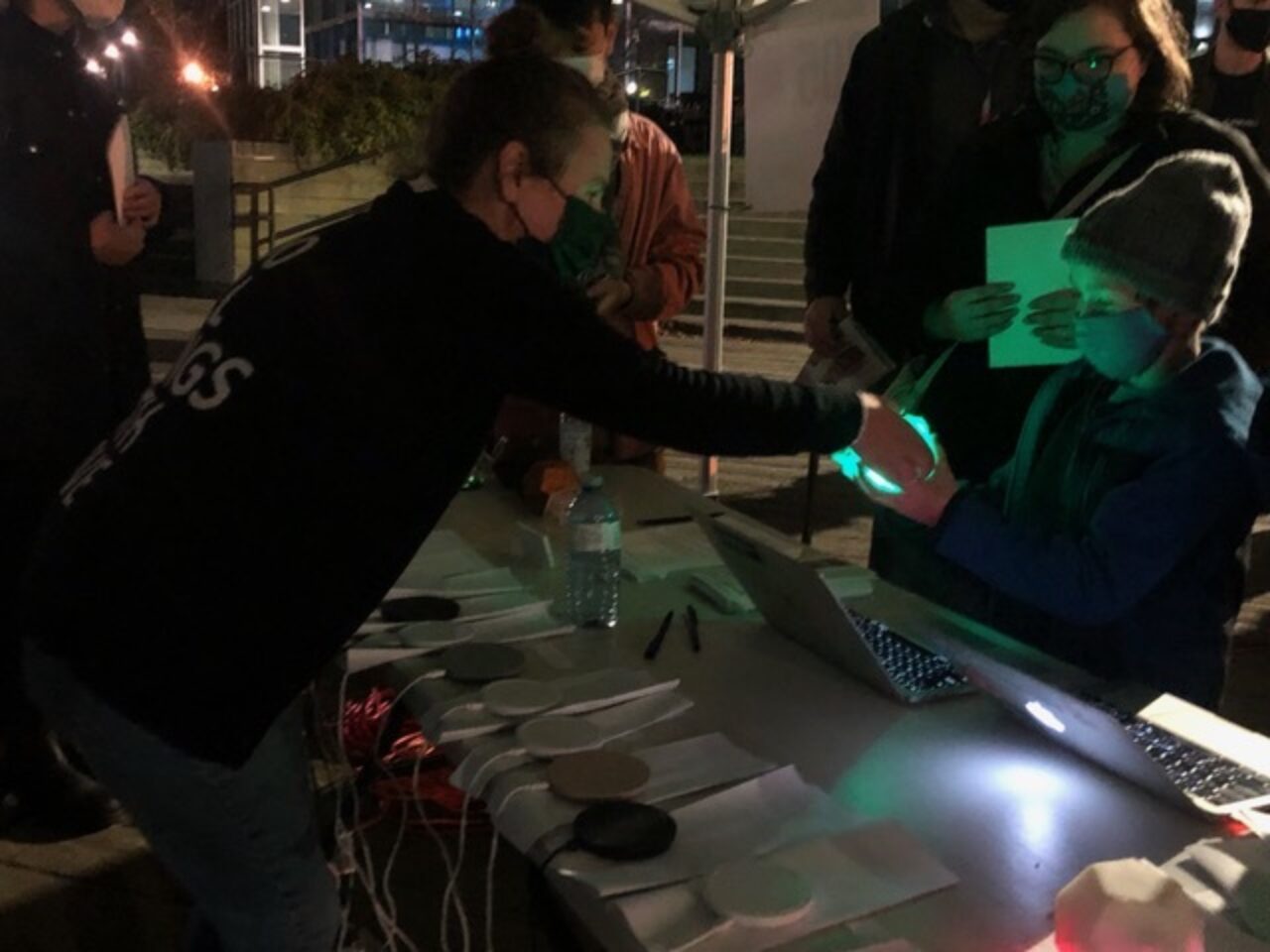 Speaking via video chat, Melany tells me she was "definitely honoured and really grateful just to have that nomination from the community." Artist Amy Bradshaw (BFA 2003) was Melany's main nominator, she notes. Additional letters of support came from the University of British Columbia Okanagan research librarian Marjorie Mitchell, and from a participant in one of Melany's recent public art projects.
"It felt really nice to have a collection of folks from different parts of the community represented and come together to support my nomination," Melany continues.
Speaking via email, Amanda tells me she feels grateful to find herself in such distinguished company.
"It is quite an honour," she says of her Lieutenant Governor's award. "I am familiar with some of the awardees and I think they are spectacular. Being recognized alongside them is confirmation for myself that I am on the right path with my work."
Exceptional leadership, creativity, community engagement and commitment
In 2021, Melany received a British Columbia Arts Council (BCAC) Pivot Grant for Individuals to continue her research involving data collected during her participatory art project, When it is necessary to stand still. In 2018, she received a Canada Council for the Arts Professional Development Grant, a BCAC Visual Arts Grant and was an Art & Law Program Fellow.
Melany is also an accomplished arts administrator, serving since 2017 as assistant director of the Alternator Centre for Contemporary Art in Kelowna, and since 2021 as president of arts-advocacy non-profit CARFAC BC. "I'm learning a lot," she says of her work with CARFAC. "And it's nice to make a difference, too."
Meanwhile, her work in the Science, Technology, Engineering, Arts and Math (STEAM) space includes volunteering with Canada Learns Code, where she teaches coding skills to marginalized individuals. "That in particular has been really fun and exciting — really rewarding to work as a role model for young people in that area," she says.
Melany is also gearing up for a 2023 group exhibition at Lake Country Art Gallery, which will include artists and ECU community members Annie Briard and Leah Weinstein.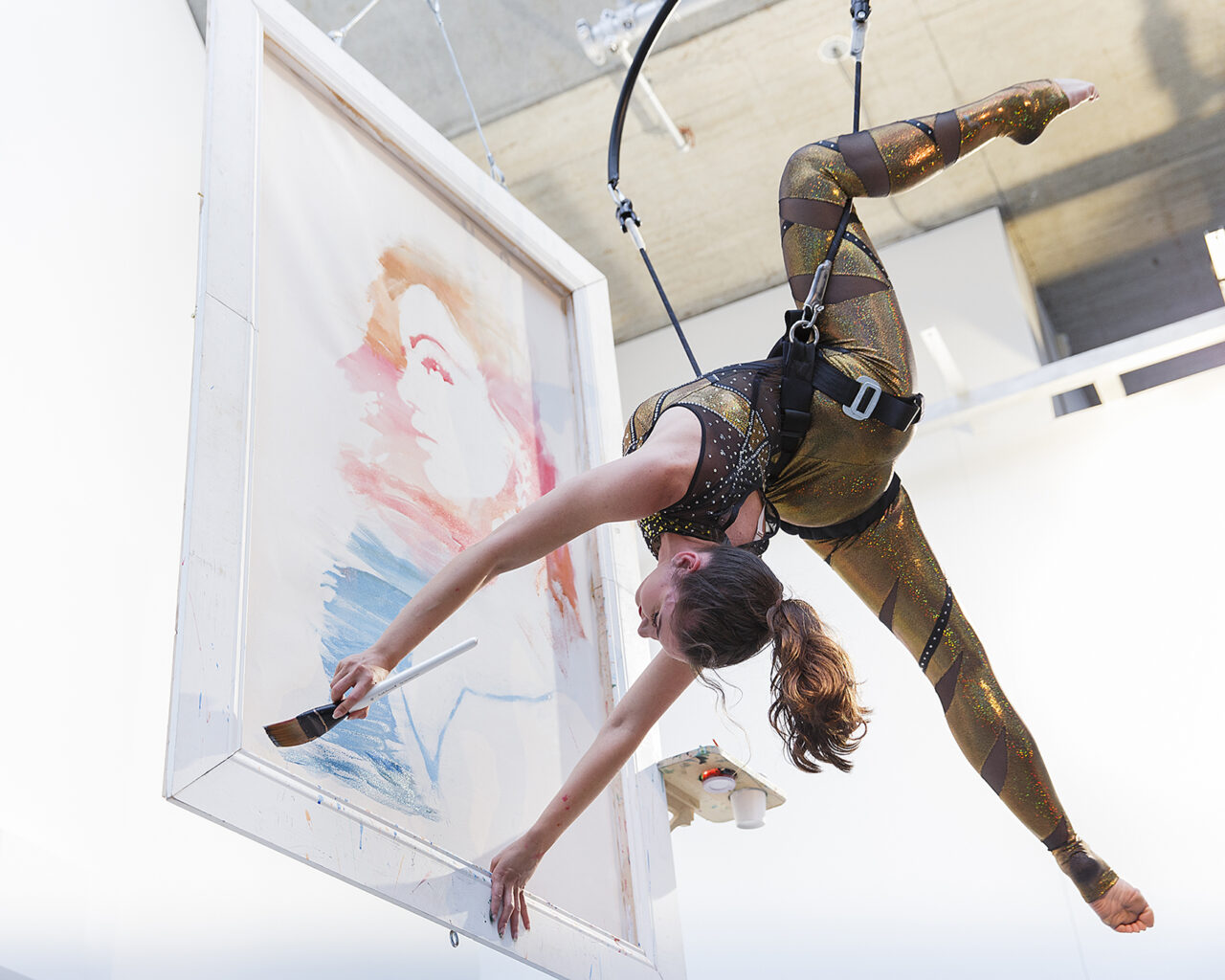 Amanda, whose practice ranges from painting, writing and public speaking to experimental design and a hybrid performance she calls 'aerial art,' notes her studies at ECU were similarly broad. She took classes in disciplines including painting, drawing, sculpture, welding and digital art.
"I am a very curious person and am looking for ways to blend and cross multiple fields to see what the outcome might be," she tells me. "That is what happened with my multidisciplinary practice when I started aerial art. I was experimenting with my visual (painting) practice with my performing arts practice to see what the outcome could be if I could do both simultaneously."
Meanwhile, Amanda serves on non-profit arts boards including the the BC Alliance for Arts & Culture and the Arts Council of the North Okanagan, and has been recognized as an influential leader by publications including BC Business Magazine, Business in Vancouver and the Financial Post. She has also received a BCAC Pivot Grant, a BCAC Artist Development Grant, a Heritage Canada grant, Vancouver Foundation grants, and numerous artist travel-abroad grants from the European Union Commission.
She is currently pursuing her PhD at the University of British Columbia, while working on proposals for large public artworks for installation on trails, pathways and in public parks.
Visit Melany and Amanda online to learn more about their work. Follow Melany and Amanda on Instagram to keep up with their latest achievements.
--

Visit ECU online today to find out more about studying in the Visual Arts or Master of Fine Arts programs.
Did you like this story? Get more like it delivered direct to your inbox!