Master of Fine Arts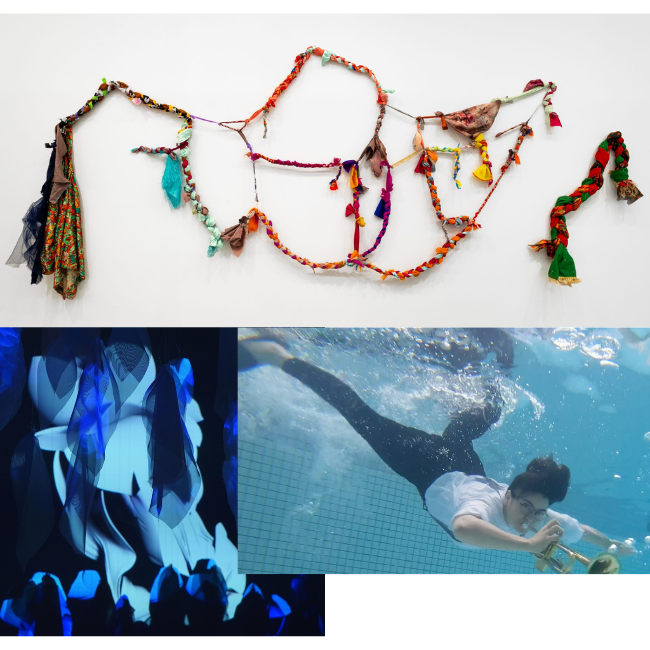 Expand your practice and perspective.
For critical thinkers and artists who want to take their creative practice to the next level, an MFA at Emily Carr will allow you to experiment, research, and explore in a unique studio environment.

What You Will Learn
Our curriculum is designed to encourage a rigorous and innovative approach to contemporary art production — with the flexibility to support your established practice and research initiatives.
Our programs bridge disciplines and methodologies in a practice and research-based studio setting. Flexible and intersectional, an MFA at ECU provides a concentrated, challenging, and supportive experience that will further your artistic practice and encourage important critical inquiry.
There two distinct paths available to you at Emily Carr:
Full-residency
A two-year degree that includes coursework, creative research, and material exploration in an on-campus delivery model. As a student, you will participate in innovative and generative coursework during the Fall and Spring terms, and develop your independent thesis over the Summer term.

Why choose this option?
The full-residency MFA is perfect for artists seeking an on-campus, concentrated academic experience where they can enjoy year-round access to our expansive labs, studios, facilities, and research centres.

The Fall and Spring terms provide periods of intense studio-practice development, allowing you to focus on material exploration and engage deeply with theoretical frameworks. Through a predominantly critique-based environment, you will be encouraged to take risks, challenge yourself, and grow your established material processes and critical perspectives.

Throughout the degree, you will develop your thesis project with guidance from a faculty mentor. This is an integral creative endeavour comprising both a practical and written component.
Research seminars, studio classes, public exhibitions, and studio visits from renowned artists and curators will inform and supplement your practice, and deepen your professional development.

Low-residency
The low-residency MFA takes two years to complete, with a hybrid delivery model of online coursework and on-campus summer residencies. As a student, you will attend and contribute to innovative and interactive online coursework during the fall and spring terms, and intensive on-campus residencies in the summer terms.
Why choose this option?
The low-residency MFA was created for artists who want to continue to learn in their home communities while deepening their practice and building new professional connections.
You'll leverage remote learning technologies in a flexible delivery model that includes a concentrated summer schedule. You'll work both online and independently, delving into research and practice for your chosen area of fine arts or media arts.

Designed to provide the best of both worlds, the low-residency degree includes on-campus summer residencies where you can focus on your studio practice, allowing you to deepen your creative research and material exploration in Vancouver.

There are many opportunities for low-residency students to connect with their full-residency peers and the wider ECU community by participating in year-round professional development activities and other programming.

"The opportunity to be a graduate student at Emily Carr not only helped me realize further my potential as an artist, but it also gave me the best community of friends and peers along the way. Being a part of such a diverse cohort of artists expanded my perspectives of the potential that visual art has and has inspired me in ways beyond words. I am thankful to have been among such wonderful individuals and artists in my cohort and to learn from such wonderful faculty and researchers as well."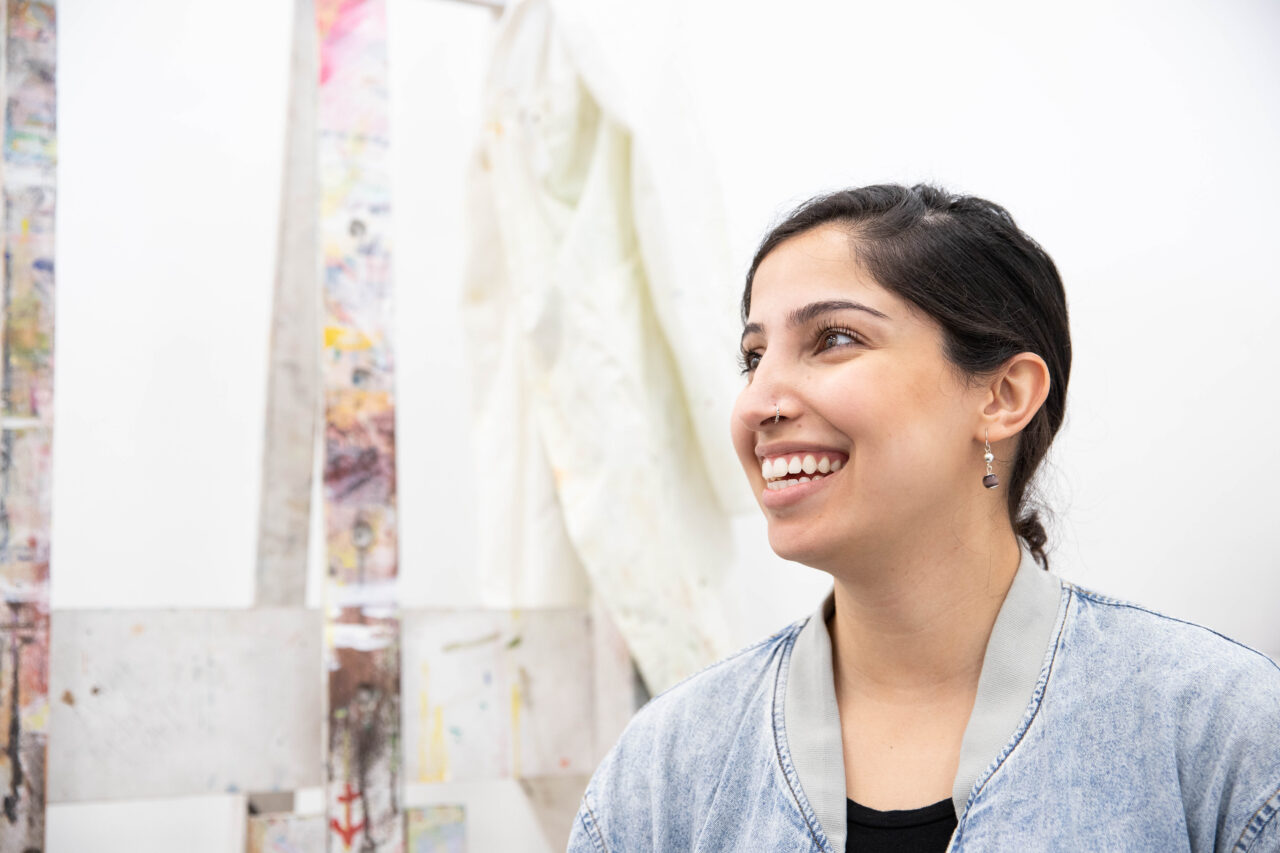 "As a multidisciplinary artist, being able to try new materials and methods is an essential part of my praxis. I cannot think of a space or time that better allowed for that than at Emily Carr University. With access to a multitude of studios and workshops, I am able to create freely and organically, while being supported by faculty, staff and colleagues who genuinely care for my success."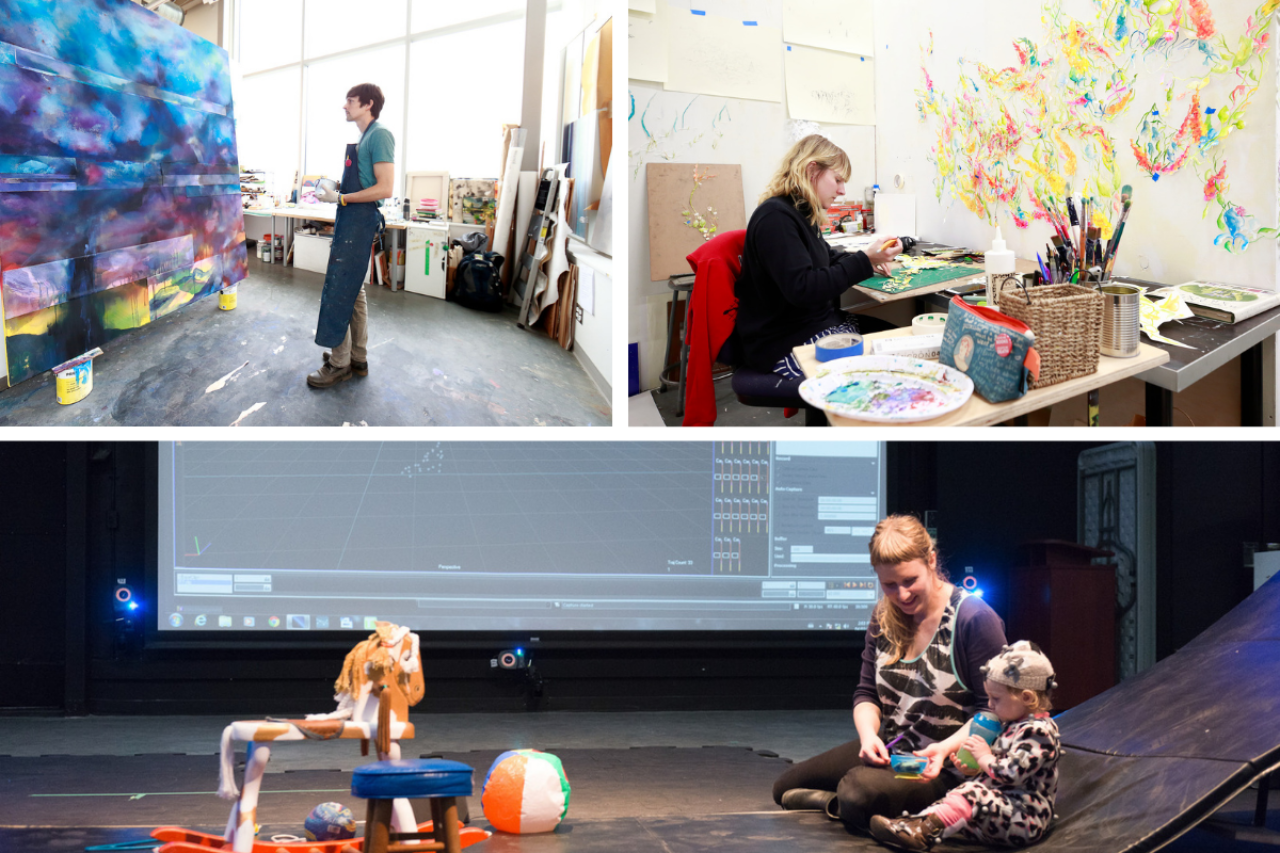 Graduate programs at Emily Carr University have a strong focus on studio practice with rigorous individual and group critiques that aim to balance the integration of theory, practice, and production.

As a graduate student, you will have your own studio space at your disposal throughout the program, and to shared, dedicated work areas. Graduate students work with Technical Services Coordinators who help with their various studio needs.
A wealth of resources and integrated studios, labs, and workshops housing a wide range of media, analogue and new digital technologies will be available to you. Find detailed descriptions of our shops and studios on our website.

Your graduate studies are about more than your individual practice. You're also joining a dynamic, engaged community of peers who will challenge you and support you in your artistic development. Discover the culture of graduate studies at ECU, enriched by events and community-led initiatives.