Lieutenant Governor Janet Austin Visits Emily Carr University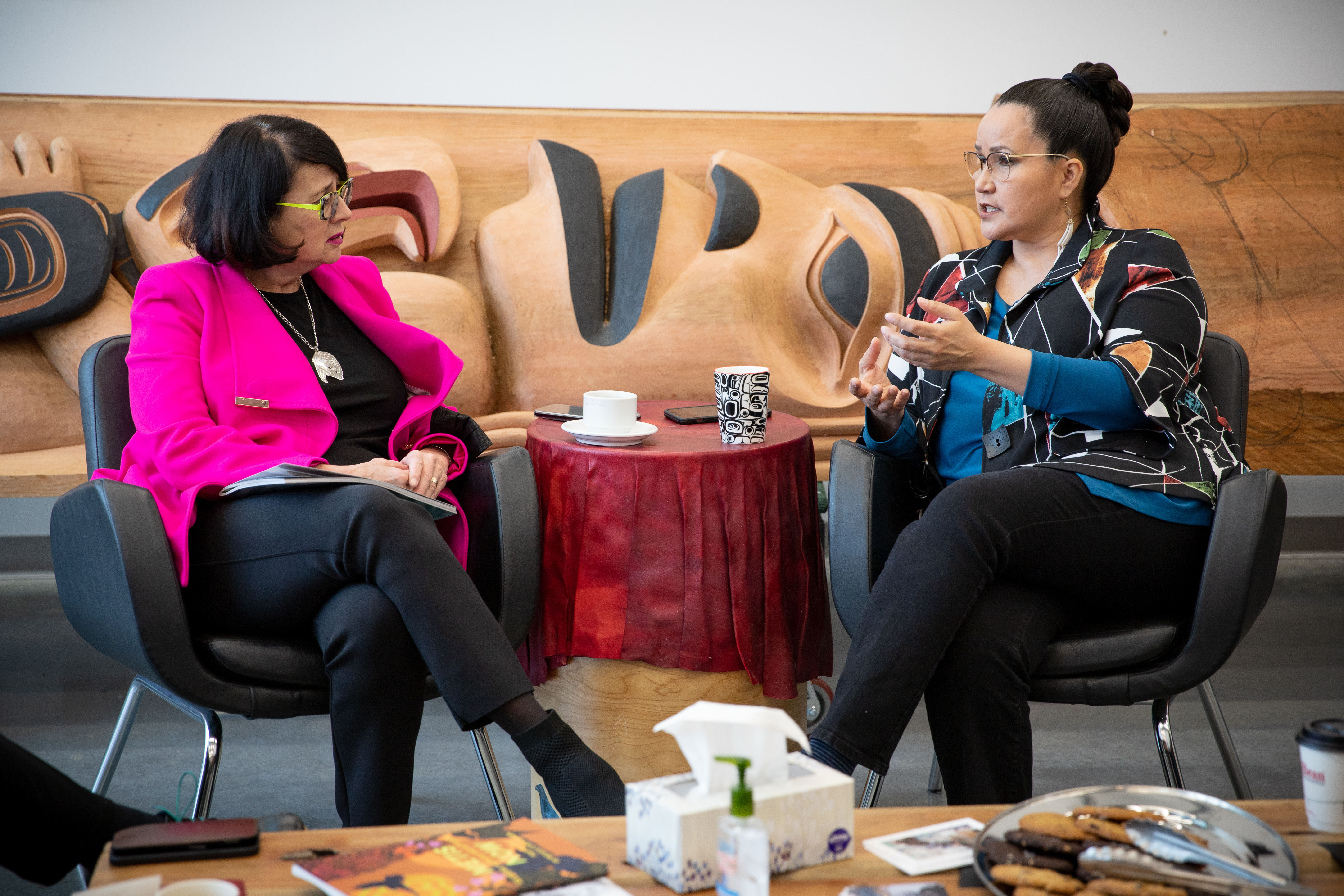 Posted on May 17, 2022 | Updated May 27, 2022, 11:55am
Her Honour toured campus following a reception at the Aboriginal Gathering Place, where she spoke with members of the ECU community.
The Honourable Janet Austin, Lieutenant Governor of British Columbia, recently visited Emily Carr University to meet with community members and explore some of ECU's studios and research areas.
"We turn to the arts in challenging times to replenish our sense of joy, and inspire, elevate, and move our spirits," Her Honour said later. "It was a heart-lifting pleasure to visit Emily Carr University, and witness the spaces in which the seeds of creativity take root. I feel deep gratitude toward the work of the staff, teachers, and students at Emily Carr, whose future endeavours will contribute to the vibrancy and beauty of British Columbia."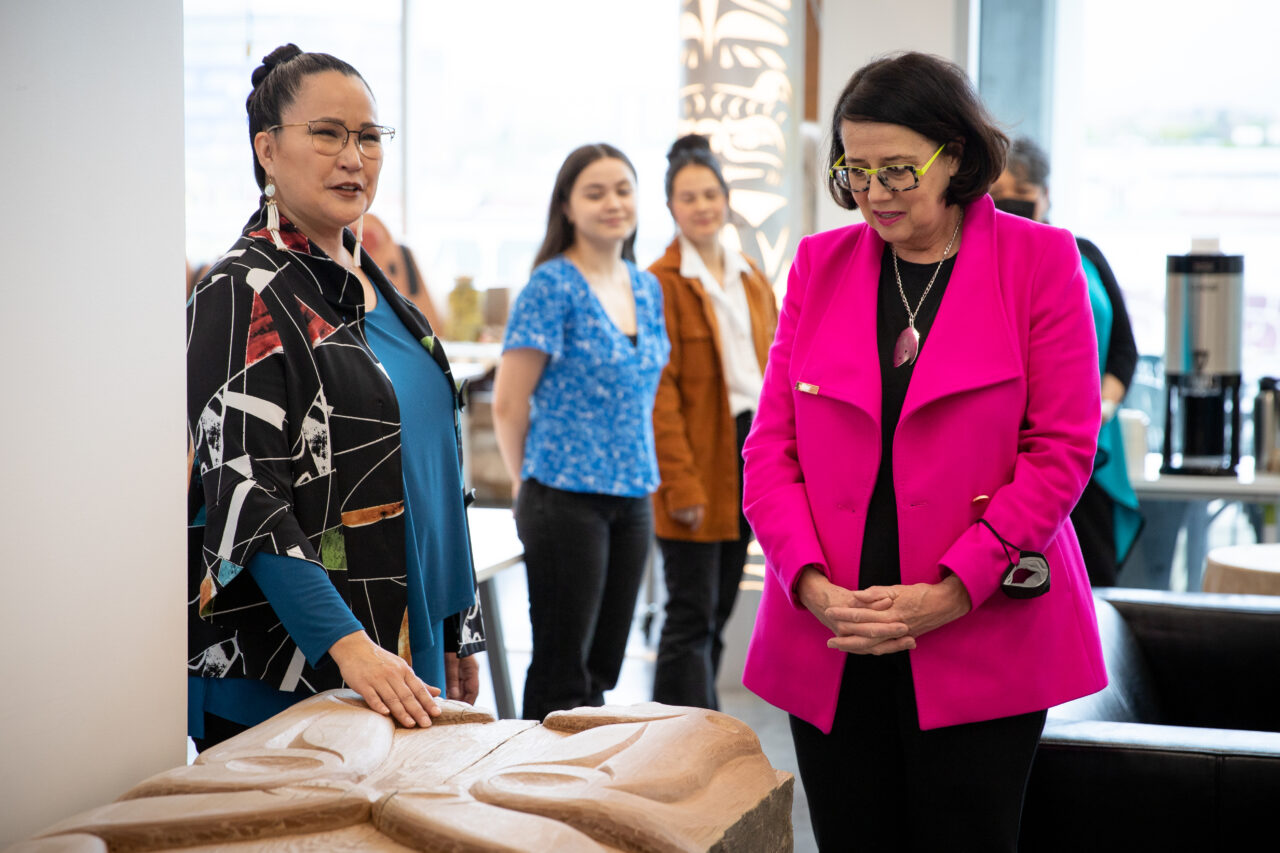 Upon arrival, Associate Director of Aboriginal Programs Connie Watts welcomed the Lieutenant Governor to a reception at the Aboriginal Gathering Place, where she admired Dempsey Bob and Stan Bevan's totem pole and the house post recently carved by Xwalacktun.
In attendance were President Gillian Siddal, Provost Trish Kelly, Vice-Provost, Students, Marcia Guno and other members of university leadership.
Her Honour also met with Aboriginal Programs Coordinator Sydney Pickering and Aboriginal Programs Facilitator Nicole Johnston, hearing about Sydney and Nicole's work creating access and culturally appropriate support for Indigenous students, staff and faculty at ECU. As students, Nicole (fourth-year BFA) and Sydney (first-year MFA), shared their approaches to their artwork and some images.
Artists and ECU community members Randall Bear Barnetson and Laura Wee Lay Laq also joined the conversation.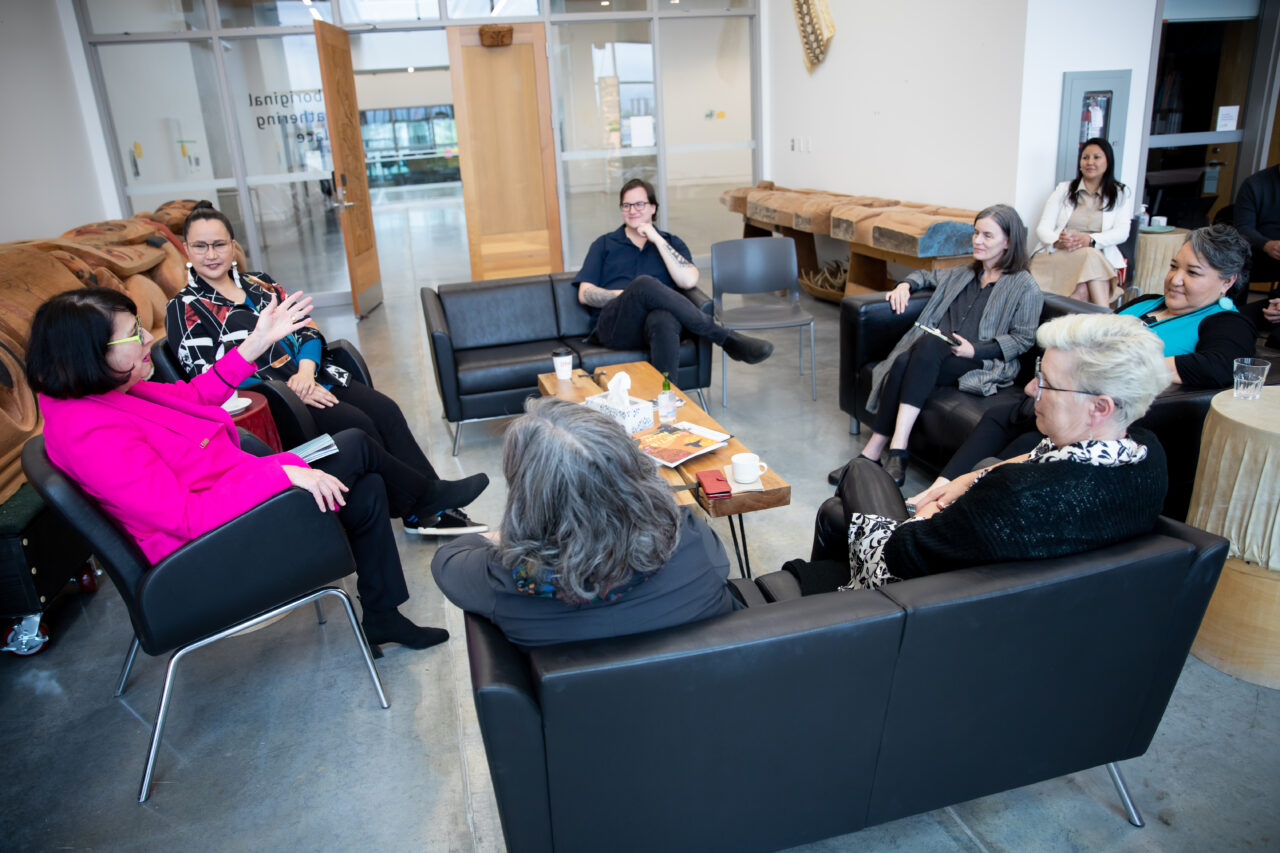 After a wide-ranging chat, Her Honour toured several areas of campus. She visited the Integrated Motion Studio, where she spoke with researcher and Industry Liaison Alan Goldman about the university's state-of-the-art virtual production studio. She visited Material Matters Research Lab, to learn more about their work around 3D-printed textiles, wearable computing, and materials research. And she visited the sunlit Print Media Studio to view student work and discover more about the expansive space.
Scroll down to see more photos of the Lieutenant Governor's visit.