Print Media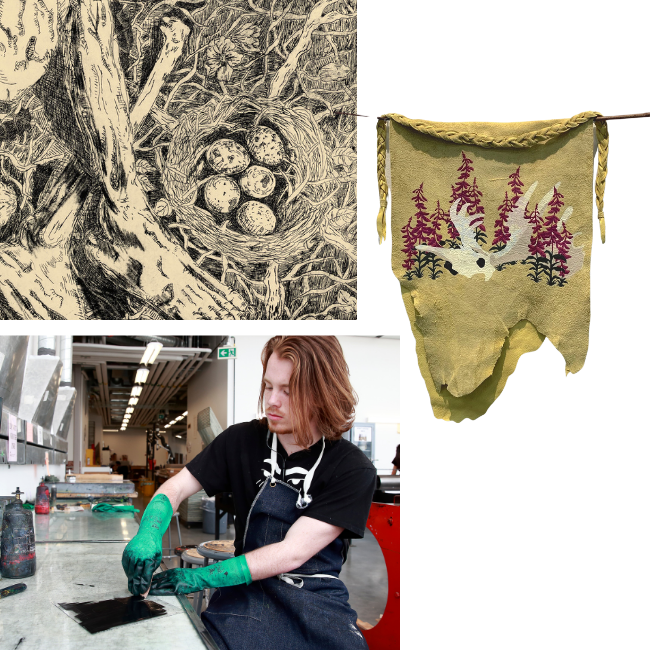 Where fine art, pop culture and social movements intersect.
Print media is all around us, and has defined how we communicate for over a thousand years. As a form of visual art, it includes silkscreen printing, etching, lithography, relief printing, letterpress, bookbinding, digital printing, and risograph printing. And with countless new innovations and technologies, this discipline is only becoming more creative and multidisciplinary.

What You Will Learn
The Print Media program covers both the history of print media and its traditional practices, as well as the new and exciting possibilities for the art form that exist today. You'll take a mix of hands-on, immersive studio courses and critical studies that will provide a strong theoretical foundation. In your studio courses, you'll have ample opportunity to explore printmaking techniques and develop your own unique artistic practice using our specialized equipment and facilities.

As you develop and hone your craft, you'll be able to deepen your conceptual understanding of the global histories of print media and its intersections with fine art, popular culture, mass media, propaganda, marketing, and social movements. You'll have opportunities to conduct research on print history, engage in theoretical discourse, explore various materials, understand and contextualize your own visual choices, and work collaboratively with your peers to produce innovative work.

Both your conceptual and hands-on learning will be strengthened through classes, seminars, self-directed projects, exhibitions, and professional development guided by artists who are experts in their fields. Upon graduation, you'll have produced an impressive body of work that will help launch you into further artistic and professional pursuits.

"One of the most exciting things with the Patio Press project has been receiving plates, prints, and correspondence by mail. I wanted to share this same sentiment with my class, so I built one of their projects around printing and exchanging postcards. ECU generously funded the postage for the assignment, and students who chose to participate in the exchange received a portfolio of prints from their peers and myself. It was a real highlight!"
Shops + Studios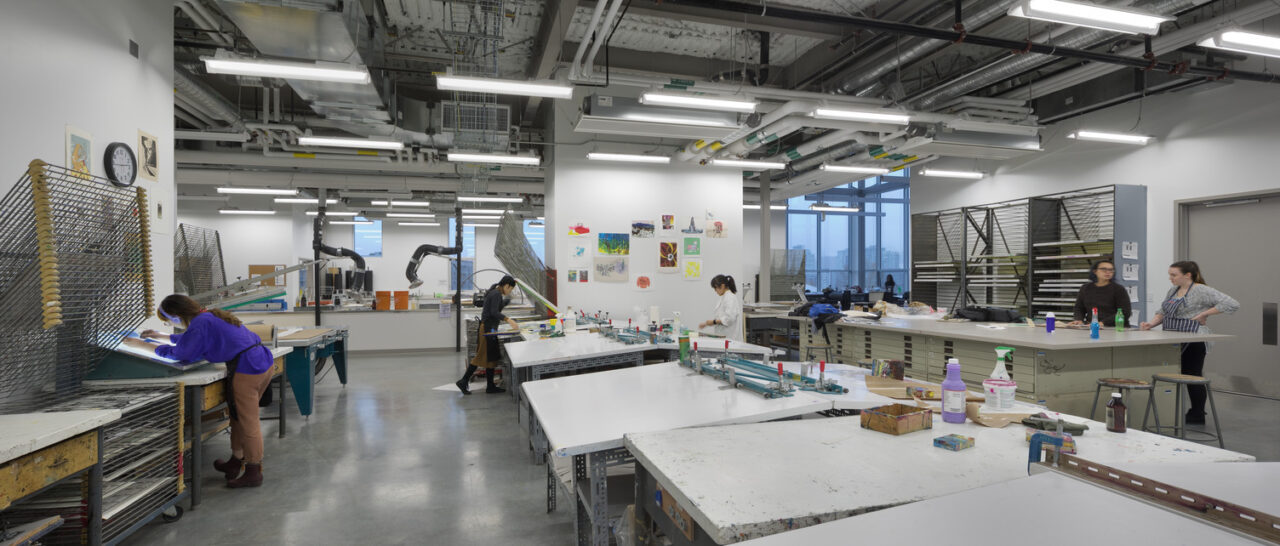 Print Media students have access to our spacious and well-equipped shops and studios. Studio culture is at the heart of your educational experience at Emily Carr, as spaces where you can create, learn, collaborate, experiment, and play.
Our expansive, sunlit Print Media Studio is equipped everything you need to practice lithography, relief, screen printing, letterpress, bookbinding, intaglio and more.
Each space is maintained by expert technical staff who collaborate with faculty and staff to provide students with instruction and guidance. Technical staff ensure safe and accessible working environments and lead instructional workshops to enhance your learning.
Beyond the Classroom
A BFA is about so much more than what you'll learn in the classroom—it's also about the vibrant community you'll join during your studies.
Meet Your Future Community
Where ECU Can Take You
Print Media graduates bring many in-demand skills to the job market, from advanced artistic abilities to critical knowledge. Many pursue careers as visual artists, or find creative and commercial work while continuing with their own craft.
Explore More Programs