Vanessa Kwan Fosters Potential for Boundless New Worlds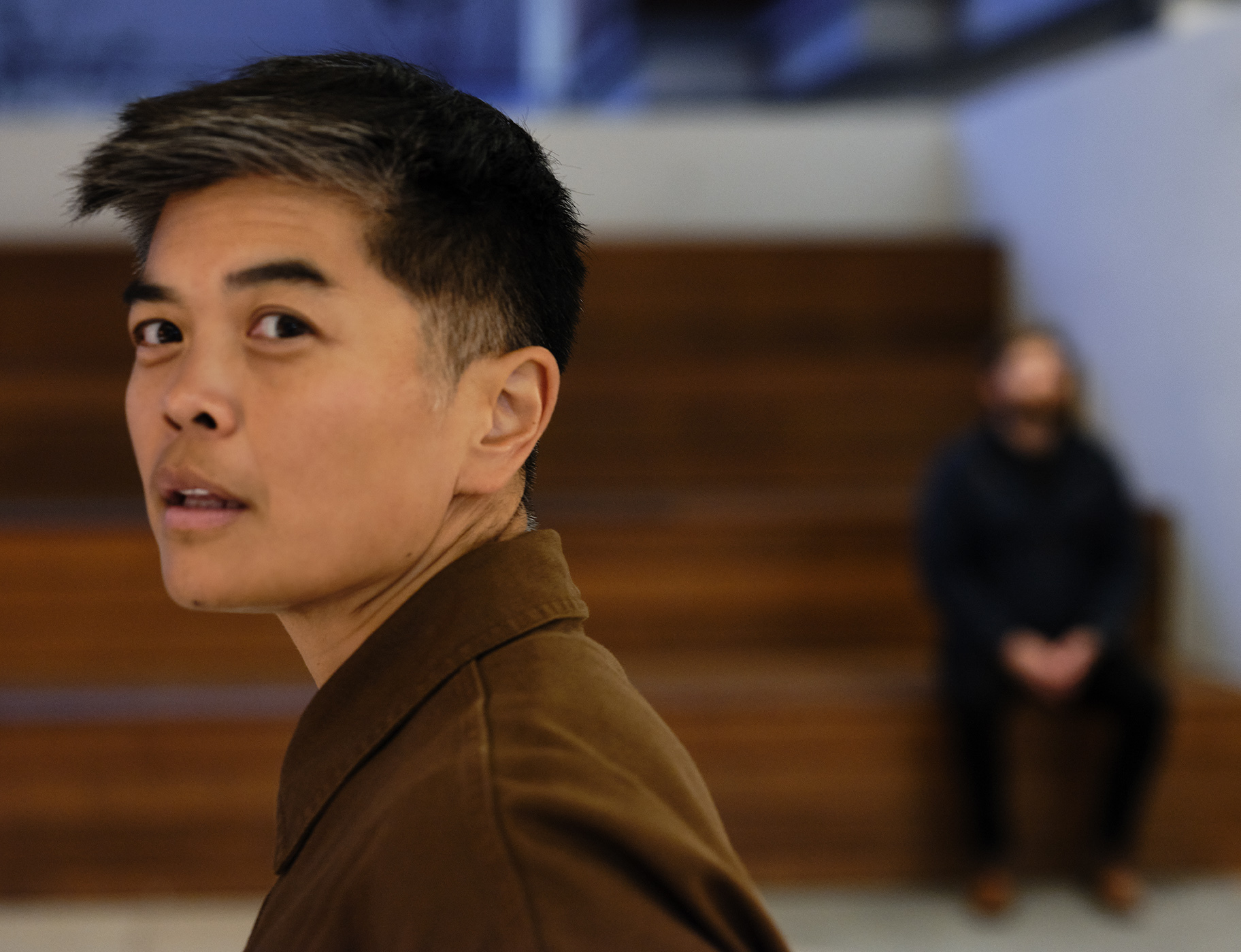 Posted on May 09, 2022 | Updated September 21, 2022, 10:41am
The multidisciplinary artist, creator and community facilitator is the recipient of the 2022 Emily Award.
Artist, producer, writer, and curator, Vanessa Kwan is one of those creatives whose warmth and fervour are matched only by the breadth of their practice. With a focus on collaborative, site-specific and cross-disciplinary approaches, Vanessa oscillates between artist and curator with grace, sometimes merging the two worlds in ways that complement their role as facilitator as well.
Vanessa, who graduated from Emily Carr in 2004, applied on a whim after the loss of their mother, saying they felt they needed to make a big change in their life. Over the past 20 years, they have invested their time and energy into artist-initiated projects, working with artists to figure out how to support and encourage their practices and create the conditions for their work to flourish. While maintaining their own art practice, Vanessa's modus operandi seems to be facilitating community – an inclination one can sense weighted in every move they make.
In 2019, after working as a curator for five years, Vanessa took over as program director at grunt gallery. Located on the unceded and ancestral territories of the xʷməθkʷəy̓əm (Musqueam), Skwxwú7mesh (Squamish) and Səl̓ílwətaʔ/Selilwitulh (Tsleil-Waututh) Nations, grunt gallery is "a cultural community that upholds art in all its forms, with a mission of advancing artistic innovation through the support of diverse and often unruly ideas, practices and worldviews."
Over the years, their work at grunt gallery has allowed them to provide mentorship and support to emerging and emergent artists and practices while working on a diversity of ventures like exhibitions, public screenings, events, residencies, and other larger projects. Currently, they are most excited about the work that has been happening behind the scenes. Their team has been doing a lot of internal thinking about where they're going and how they want to shift the ways they serve artists and communities. Vanessa feels enthusiastic about the direction they're headed.
Many worlds are possible. Many worlds exist.
"I realized after a bit of reflection that one of my passions is designing opportunities for artists to just work and to learn," they say, seated at Nemesis Coffee next to the Emily Carr campus. "That's where I put a lot of my time, and when I look back at my career, I've been like, oh, that's what I do a lot of, and that's what I always tend towards. And that's what I want to continue to do."
Unfailingly gracious and humble, Vanessa turns all my questions away from themselves and back to the arts community as a whole. Vanessa is primarily interested in how to invest in relationships that help build new worlds. This goal finds them constantly thinking about how we treat people; how we bring people in; how we think we should relate; and to whom we think we should be relating. The capacity for building new worlds is profound and boundless, they tell me. This is why they continue to do the work they do.
Vanessa's beliefs are rooted in an ethics of care and a celebration of artistic agency. Through strategic advocacy, they believe artists can create a culture they wish to belong to – a culture they believe in. They trust that artists have the potential to invest in and model sustainable communities to the people who have the "so-called capital," or resources, hopefully creating a ripple effect for future generations.
"I feel very strongly that we've kind of got it wrong," Vanessa says, "We don't often give artists enough agency, and artists don't assume they can have that agency. Because culturally, we haven't encouraged them to. But they do, and they can create these worlds."
Despite their reverent community involvement, Vanessa has a few of their own projects in the works. One of them is called Particles, a public art installation at Broadway-City Hall Station in collaboration with Remy Sui, Cindy Mochizuki, James Long and Maiko Yamamoto of Theatre Replacement. Particles is still passing the detail design phase, and the work will still be another couple of years in the making.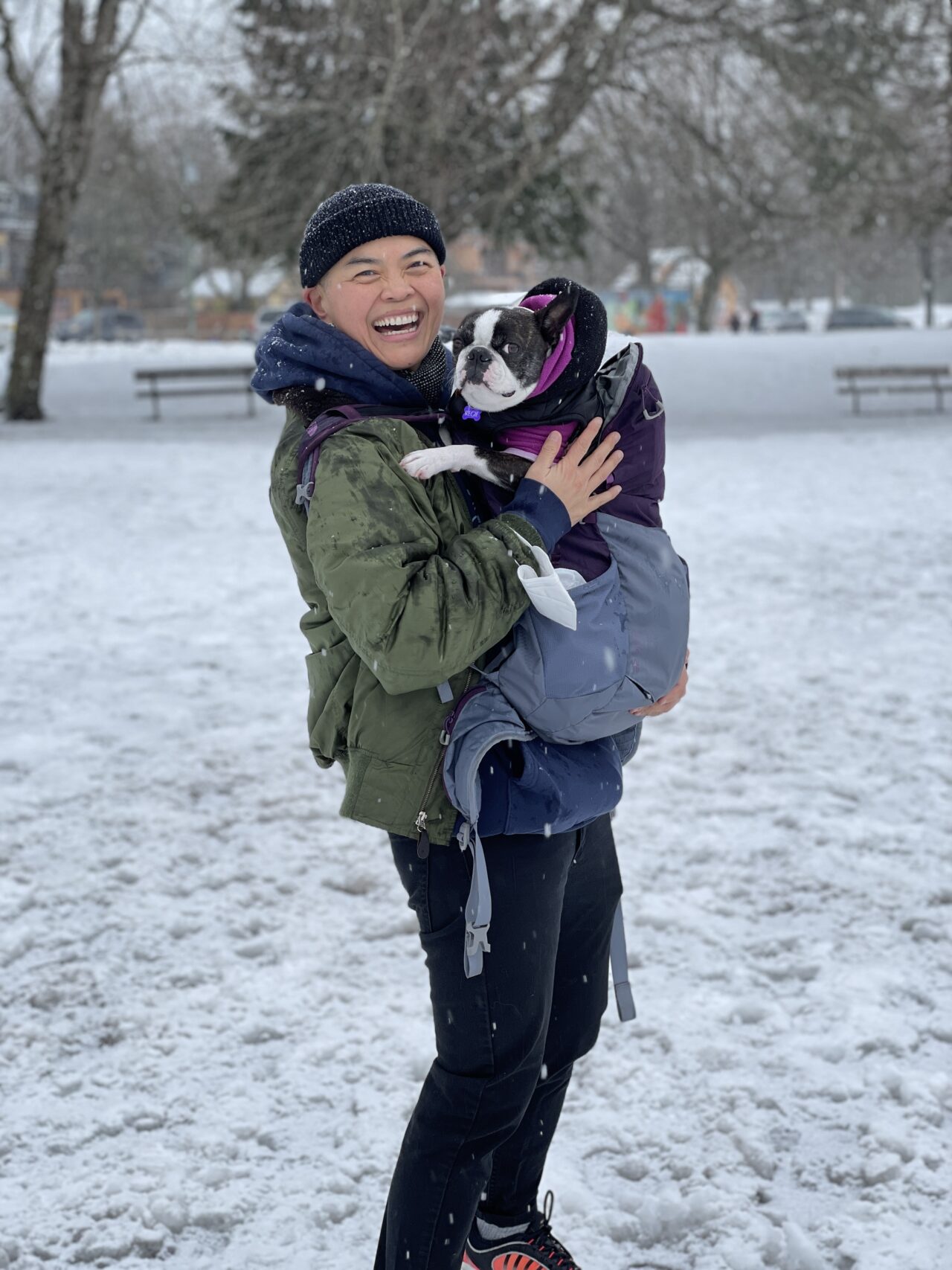 Vanessa is also working on what they call "an unrealized dream" with Justine Chambers and Maiko Yamamoto, although that dream is currently only in the proposal stage. During the pandemic, Vanessa had an opportunity to be involved in Justine Chambers' new performance work, Steady, which considers the act of rocking to be a dance everybody can perform. Learning to dance was a skill Vanessa feels changed their life; it allowed them to engage in a new practice in a creative landscape that once felt unfamiliar.
When Emily Carr called Vanessa with the news about receiving this year's Emily Award, they remember being surprised and caught off guard. They say they spent a lot of time reflecting on what it means to be recognized by their peers and an institution like Emily Carr. And though they are still looking inward and doing that reflective work, they feel profoundly honoured.
This spring, Vanessa says they are finding joy in the fleeting moments⁠ — the cool air, a little bit of sun, the cherry blossoms, the scent of pollen lingering. Their hope for future graduates is that when they leave, they remember they already have everything they need. They already have all the necessary skills, and though it can feel overwhelming, "many worlds are possible. Many worlds exist. Just like spring, the world renews."