The 'Funny and Fearless' Work of Sophia Zarders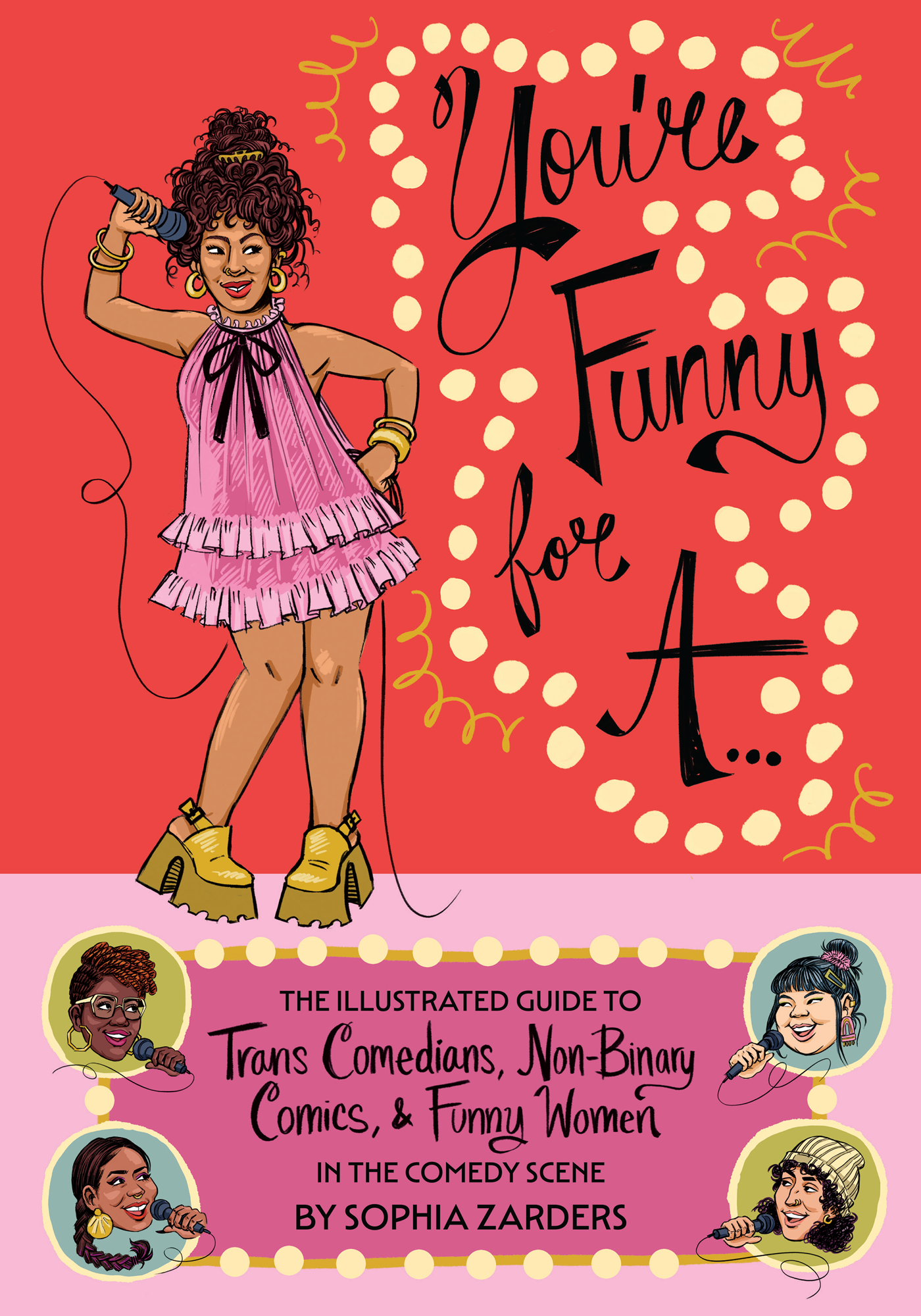 Posted on March 21, 2023
A new book by the artist foregrounds their skill at handling complex topics with trademark artistic assurance and aptitude.
A new illustrated book from artist and MFA student Sophia Zarders spotlights trans, non-binary and woman comedians.
Like much of Sophia's work, You're Funny For A…: The Illustrated Guide to Trans Comedians, Non-Binary Comics and Funny Women is both lighthearted and resolute.
"I wanted to highlight people who were not getting the recognition they deserved because they were from marginalized communities," Sophia tells me from their current home in Vancouver.
"And comedy has always been a huge inspiration in my work. Humour is super important. It's a great lens to look at the world through and to look at politics and social hierarchies."
Praise from the book's readers has been passionately supportive.
"Sophia's talent and aesthetic is only matched by how funny and fearless their work is," writes comedian, writer, artist and actor Jamie Loftus. "There's absolutely no subject they can't make gorgeously funny and accessible."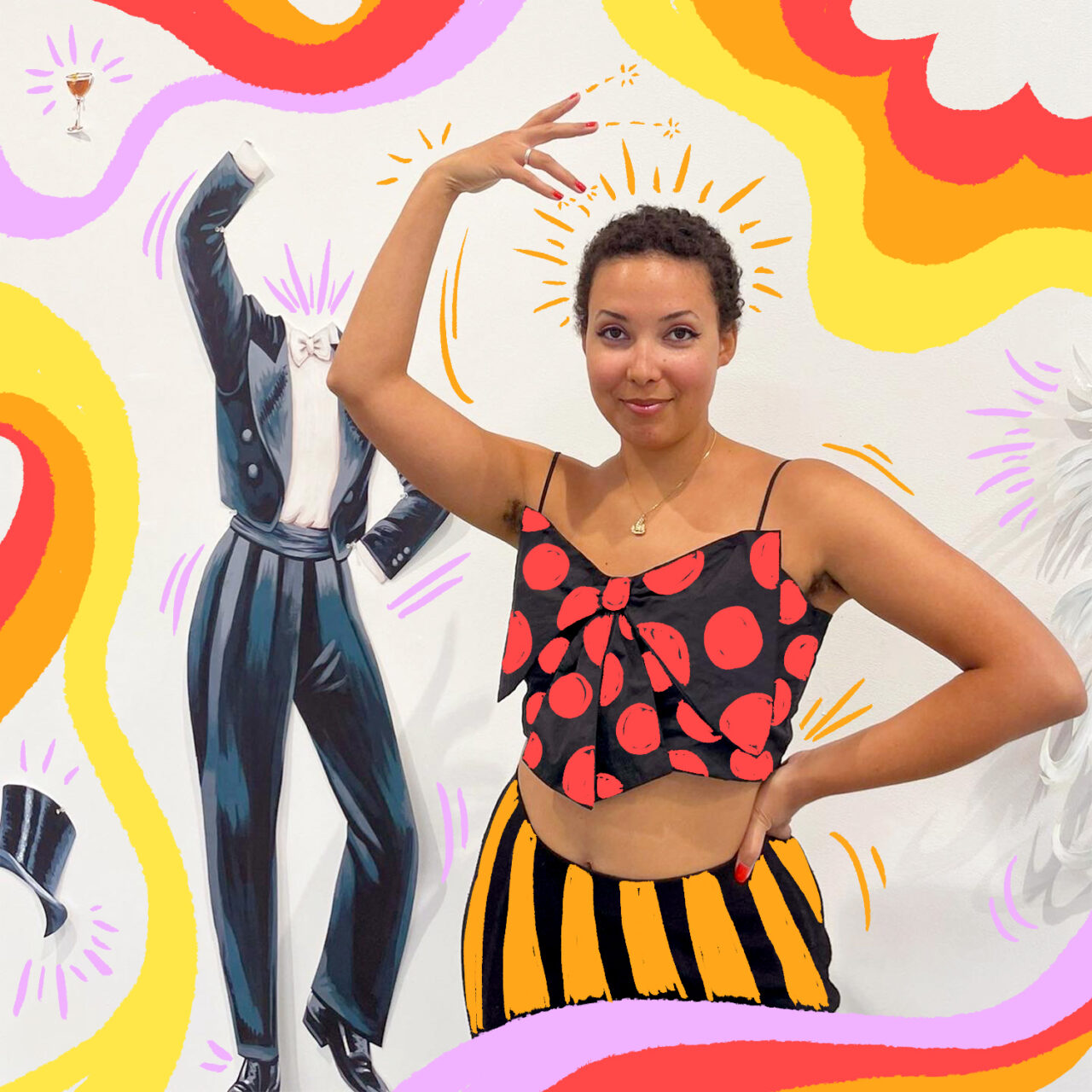 Using illustration to centre BIPOC and queer artists is a recurrent theme in Sophia's work. Partly, this stems from Sophia's days as an undergrad at California State University, Long Beach. It was a "volatile time" in their home country with the rise of disturbing political trends and a coarsening of public discourse.
"Art was one of the main ways I was able to work through different emotions," they say. "I was working through ideas about what I am and how I fit into political discourses. It was a way to be heard and to share my voice."
The volume also has roots in Sophia's longtime immersion in zine and DIY illustration culture. They first got involved with the scene growing up in Southern California. Sophia began freelancing as an undergrad. Show posters, podcast art and flyers helped them hone their voice and artistic ability.
Sophia was delighted to discover getting paid for artwork that aligned with their political values was possible. This revelation became a defining moment for their professional practice.
"A lot of those projects later contributed to freelance work because I was making more political images," they tell me. "I was exercising that part of my brain while also figuring out how to make really eye-popping, dynamic designs."
Sophia soon started landing high-profile projects and commissions. They contributed an illustration titled Sorority House to a Megan Gailey essay in Amy Solomon's Notes from the Bathroom Line. A 2017 illustration accompanied a Margaret Atwood essay in The Nation. Their work appeared on the cover of The Socialist Review and Fiyah Literary Magazine. And they created commissions for organizations including the LA County Office of Education, the Ella Baker Center for Human Rights and Forward Together.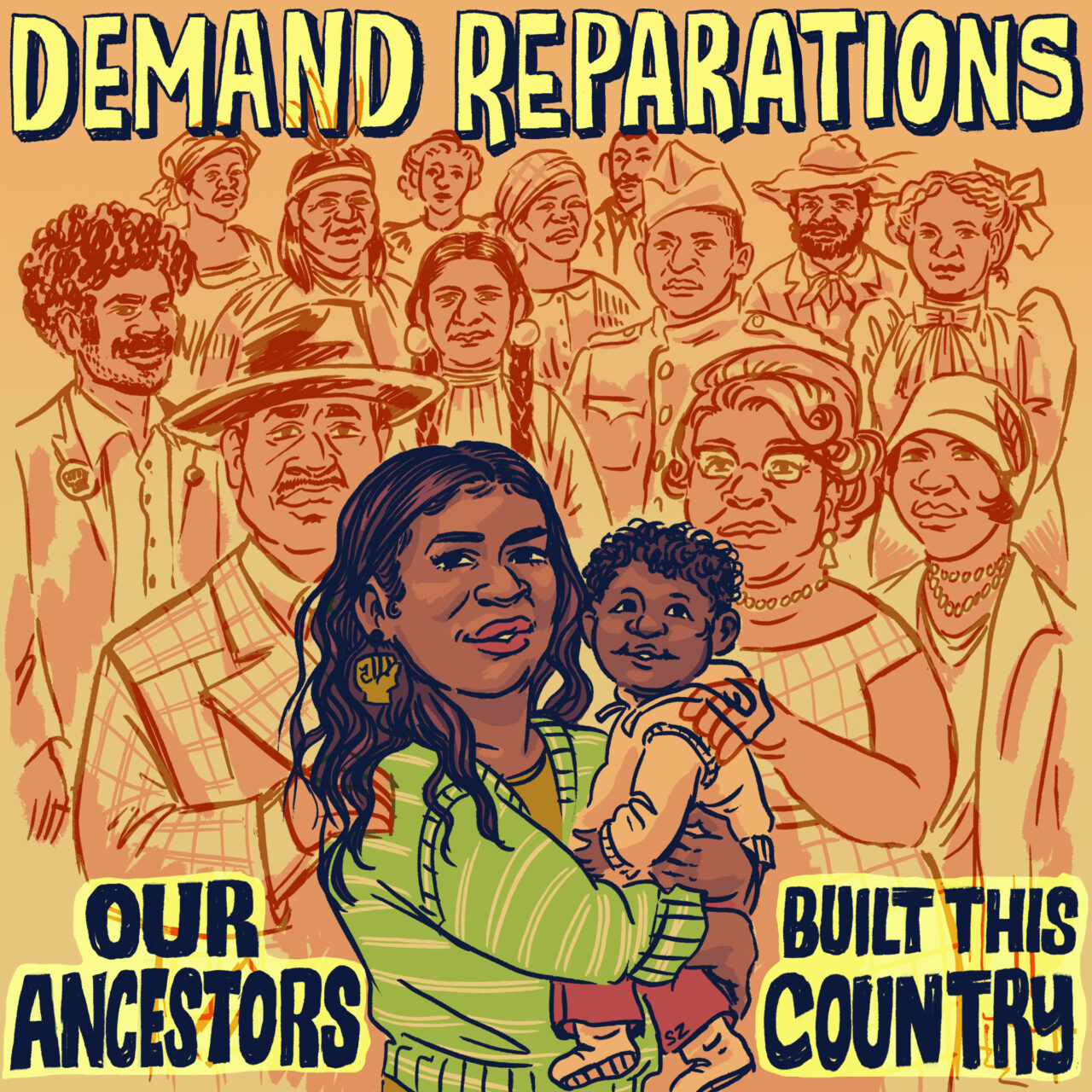 Sophia says an illustration for the ACLU on the subject of reparations felt like a high-water mark. The commission was one of a series by Black artists addressing issues affecting their communities.
Sophia also worked with the New York Department of Education on its Hidden Voices campaign. The campaign spotlighted queer and trans historical figures in the US. Posters of these figures appeared in classrooms across the state. Sophia designed a poster about an 18th-century non-binary American preacher called Publick Universal Friend.
"That was a really important project for me. It came up right as this current wave of anti-gay, anti-trans rhetoric and legislation was starting to happen in The States," they tell me. "It was strange being here in Canada, watching all of this happen but being able to contribute a little to some of the messaging of empowerment that would hopefully reach children."
Many of these projects bear evidence of the kaleidoscopic art forms Sophia counts among their influences. Film, television, comic art, concert posters, music, fashion and comedy all provide touchpoints for their work.
These diverse mediums likewise inform Sophia's practice as a visual artist. Their thesis work, Identisploitation, examines complicated historical figures. For instance, Sophia transforms clothes worn by Josephine Baker and Mary Pickford into giant paper cutouts and distorted doll clothing.
"It's playing on ideas of representation in media, specifically pop culture," they tell me. "I'm looking at historical and public figures with very exaggerated public images and often regressive politics. I'm taking images of them and morphing them into something weird and cartoony, making them absurd and campy and grotesque."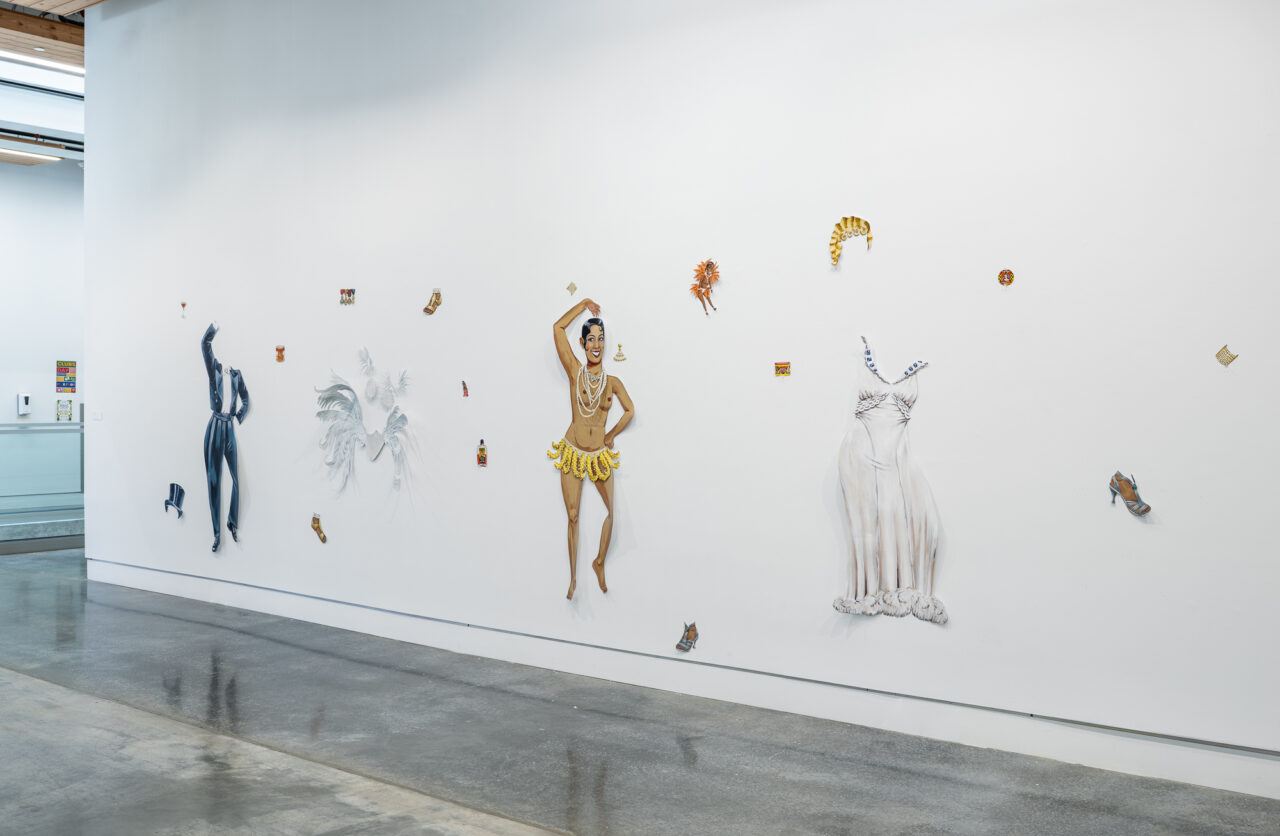 Sophia has continued freelancing even during their MFA studies. They recently completed illustrations for a podcast for comedians Steph Tolev and Lili Michelle. But their commitment to that practice has slowed as graduation approaches. And they've embraced their MFA as a welcome respite from the "hustle culture" of freelance work.
Meanwhile, Sophia maintains an unshakeable belief in making art for any reason. One needn't be freelancing or fulfilling a class assignment to create, they tell me.
"What I would definitely say to undergraduate students now is just to make art," Sophia says. "Make things that you are absolutely passionate about. Even if you have so little time in the world. You have to keep making things so you can respond to the world around you."
Visit Sophia's website and follow them on Instagram to learn more about their work. You're Funny For A … is published by Silver Sprocket. Visit their website to purchase a copy.
Look for Sophia's work in the upcoming MFA thesis exhibition at Emily Carr University. Titled biometaphysicalmateria, the show opens March 25, 2023.
--
Visit ECU online to learn more about studying in the MFA program at Emily Carr.
Want more stories like this delivered twice a month to your inbox?