Campus Location, Parking, Transit, Contact
Campus Location
The ECU campus is located at
520 East 1st Ave
Vancouver, BC
V5T 0H2

Contact Us

604-844-3800
1-800-832-7788
Fax: 1-604-844-3801

Parking passes for students, staff and faculty


Parking and transportation

By Transit
TransLink, Metro Vancouver's transit authority, has both SkyTrain and bus service to the ECU campus.

We are a 10-minute walk from the Main Street-Science World and the VCC-Clark SkyTrain stations, as well as close to the #84 VCC/UBC, #03 Main, #08 Fraser, #19 Kingsway or the #22 Knight St. bus routes.

For more information on TransLink and trip-planning, please visit the TransLink website.
By Bicycle
The ECU campus is located on the Central Valley Greenway.
Bike racks are located at the NE and SW entrances. Two enclosed, covered bike cages are located at the east and west sides of the campus, and bike lockers can be found at the north side of the campus. Showers and change rooms are on the ground floor, with day use lockers available.


By Vehicle
Public and street parking in the area is greatly reduced due to the Broadway Subway Project construction, which will continue through 2025.
There are a dozen hourly/daily stalls available in front of Kafka's Coffee.

Paid hourly/daily/monthly underground parking is available at 565 Great Northern Way in the South Flatz Lot #119, located just on the south-east side of campus and accessible from Carolina St. Electric vehicle charging stations and carpool spaces are available.
You can easily pay for parking at the South Flatz Lot #119 using the Hangtag app:
Zoom out to the eastern side of the campus. Look for the "South Flatz" map pin located near Kafka's Coffee.
Enter your vehicle's number plate, credit card details, and the duration, then tap "request rate."
The parking fee is $3.60 per hour, which includes a $1.00 convenience fee.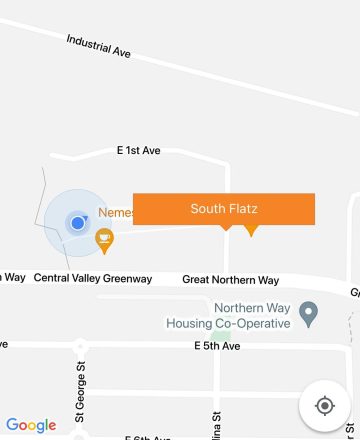 There is paid street parking on Great Northern Way, between Carolina and Thornton Streets, and a few paid street parking spots on Carolina Street at Earl Finning Way.
Parking passes for faculty, staff and students are available. Visit this page for rates and details.