Course Registration + Email
Registration information for undergraduate students
Students who have been accepted into an undergraduate degree program register for their courses through myEC. Detailed information can be found here.

Need help with myEC? Email reghelp@ecuad.ca with your full name, student ID number and date of birth.
Take some time to explore myEC before your program begins, as you'll be using it a lot as a student.
Registration information for graduate students
As a graduate student, you will be registered based on the curriculum map of your selected program by the Graduate Recruitment Coordinator. No further action is required on your part.
How to set up your Emily Carr email account

You will begin receiving important information concerning registration and orientation events to your Emily Carr email account. For this reason, please set it up immediately.
Follow these steps to activate your account.
First, go to the Emily Carr Webmail homepage, mobilemail.ecuad.ca.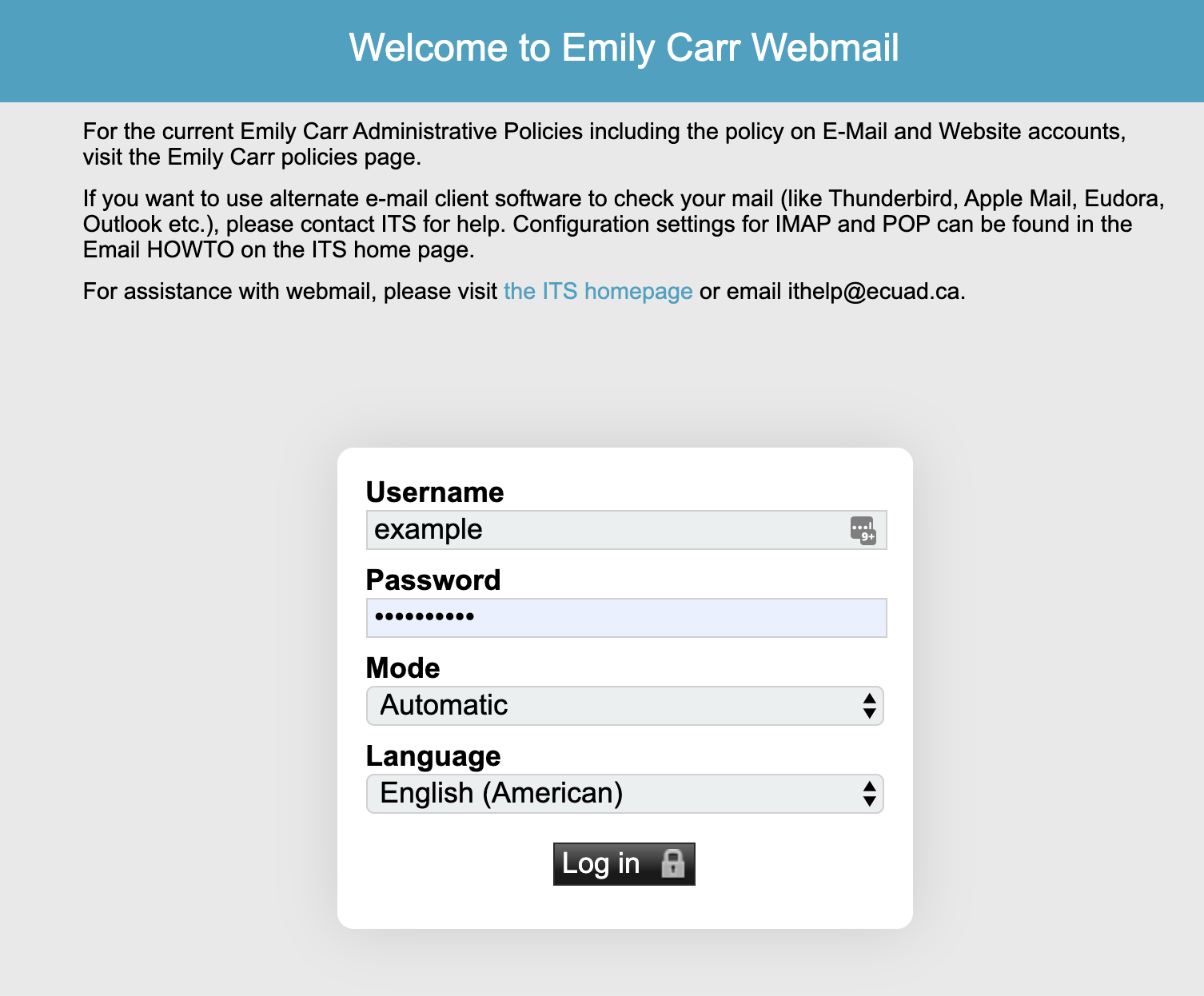 Log in with your myEC user ID and temporary password.
Your myEC user ID was provided to you during Step 1.
Your temporary email password for your email is your birthday in the format YYMMDD. This is different from the temporary password from Step 1. Your email and myEC passwords are not linked. Changes to one password do not affect the other password.
For example, if your birthday was July 4, 1999, your temporary password would be 990704.


CHANGE YOUR TEMPORARY EMAIL PASSWORD.
Click Others at the top of the screen and select My Account, and then select Password. Enter your temporary password (YYMMDD) and your new password twice as requested.
Click Change Password to submit.



USING ALTERNATE EMAIL SOFTWARE
If you want to use alternate email client software (like Thunderbird, Apple Mail, Outlook etc) please contact ECU Information Technology Services for help at ithelp@ecuad.ca.