Erick Jantzen Wins 2021 Audain Travel Award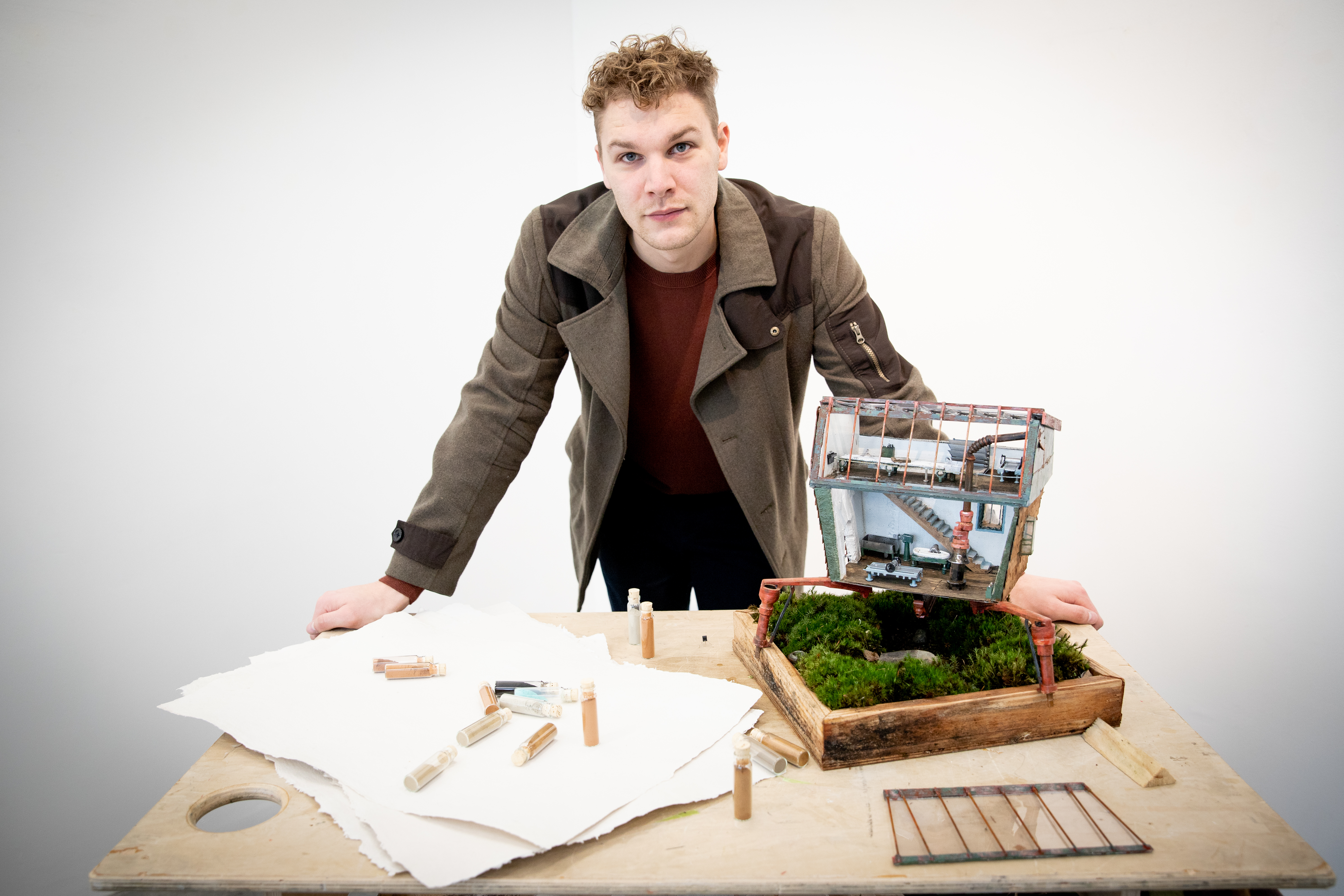 Posted on December 02, 2021 | Updated December 02, 2021, 10:18am
The multidisciplinary artist and ECU BFA student was "genuinely very surprised" to be awarded the prestigious honour.
Artist and Emily Carr University student Erick Jantzen (BFA 2022) says he had a hard time believing he was a 2021 recipient of the prestigious Audain Travel Award after receiving the news earlier this fall.
Following his nomination for the award by artist and ECU faculty member Nick Conbere, Erick says he felt his chance of being awarded the prize, which is most often given to graduate students, was "a really long shot."
"I'm an undergrad, and the MFAs are way further along in their practice," Erick says. "I was genuinely very surprised. I knew that Nick had nominated me, but I didn't think winning was at all likely. So, I was pretty happy."
Recent recipients of past Audain Travel Awards include 2020 awardee Esteban Pérez (MFA 2021) and 2019 awardee Malina Sintnicolaas (MFA 2020). The 2021 ceremony also saw renowned artist and 2004 ECU Honorary Doctorate recipient James Hart awarded the Audain Prize for Visual Art — one of the richest arts prizes in Canada.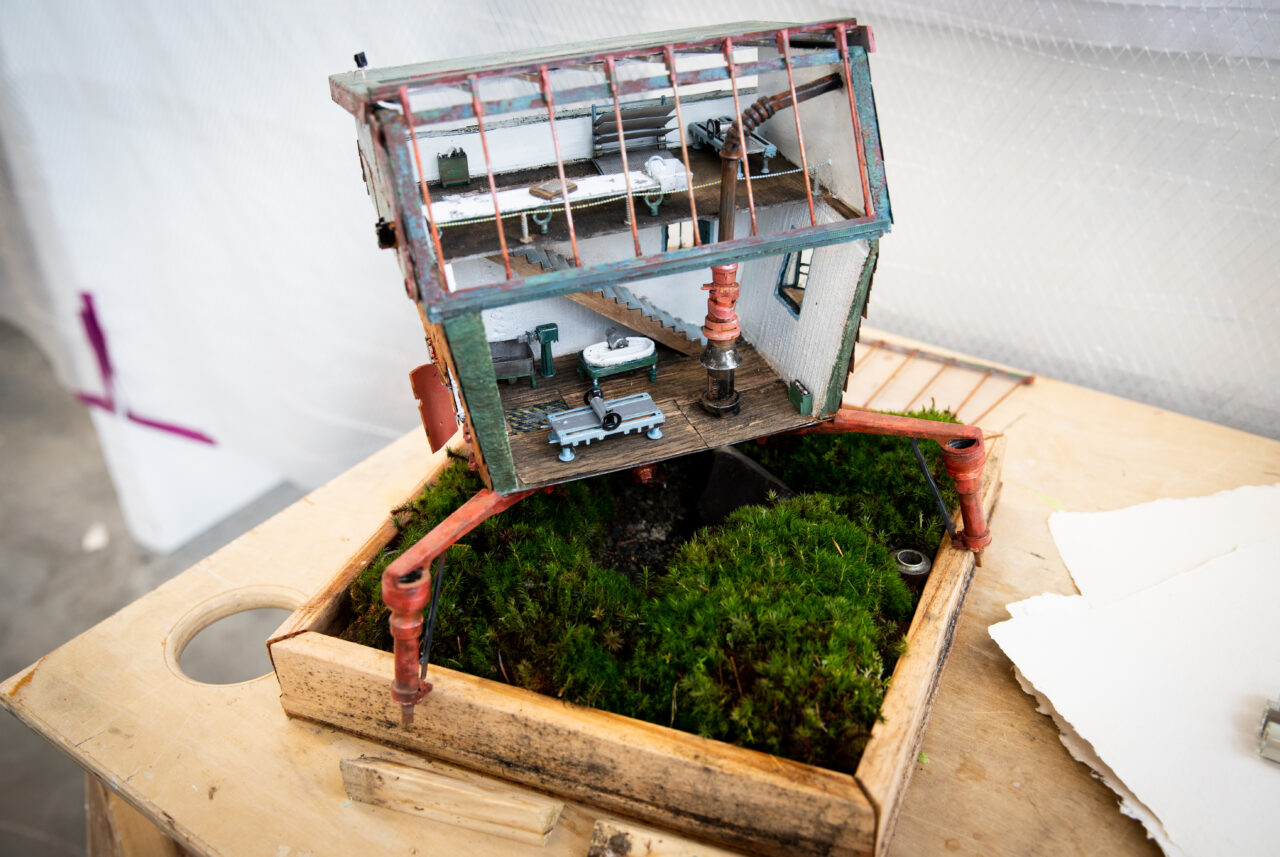 Erick's multidisciplinary practice, which includes illustration, printmaking, sculpture, video and photography, both performs and speculates on a future defined by a determined focus on environmental conservation and sustainability. From so-called "junk" that he salvages from around campus and the city, Erick fashions real, working tools for printmaking, and builds exquisitely detailed dioramas depicting utopian models for zero-waste living. From discarded bits of canvas he finds around the Emily Carr painting studio, Erick makes rag paper; from foraged stones, dirt and flora, he creates pigments. Both paper and pigments are then used in the printmaking studio.
"My goal is to print my images using only the things I've made," Erick says, describing a literal enactment of his vision for a way of living built around an enduring environmental consciousness. "So, the matrix, the paper, the pigments, the inks are all stuff that I've sustainably created or collected."
This goal, Erick continues, stems from the view that the non-human world is equally important to the human one — part of what Erick calls a "world-building exercise that asks, 'What if we had a different relationship to the environment that placed a higher value on other species or our interactions with them?'
"It's about imagining a different future that doesn't involve Jeff Bezos or Elon Musk going into space; that doesn't look like the kinds of futures we see in the media. It's sort of a response to all that."
These themes have their roots in an ongoing series of watercolour and ink illustrations that imagine homes partially taken over by plant-life and occupied by what Erick calls "permapunks" — a combination of permaculture and punk culture that denotes a commitment to sustainability and a rejection of status quo standards of living. Such places exist at an intersection between the natural and built environments.
In the years since these drawings first began, and alongside his DIY top-to-tail printmaking practice, Erick also began to develop his stunning miniatures. These tiny, self-contained worlds include living moss gardens, delivering a real-life version of the homes-in-nature found in his illustrations.
Each tiny detail, from the tools inside the structure to the shingles on its exterior; from the individually paned bay windows to the three-legged surveillance drone on the roof were made from what someone else had deemed trash. A broken umbrella, automobile windshield wipers, bits of wire or plastic, bolts, springs, a shotgun shell and a bath chain all make appearances in his work.
"To me, these sculptures are looking at the same thing as the rest of my practice, but from an opposite viewpoint" Erick says, calling the dioramas "speculative and playful," in contrast with the more pragmatic work of creating tools and art-making supplies for use in the studio.
"The speculative element, for me, is a way of capturing people's imagination, and thinking about the world differently and in a way that's more responsive to our environment and climate change and other species and Indigenous sovereignty and ideas like that. But I'm also imagining that the paper or inks I make could exist within this speculative space."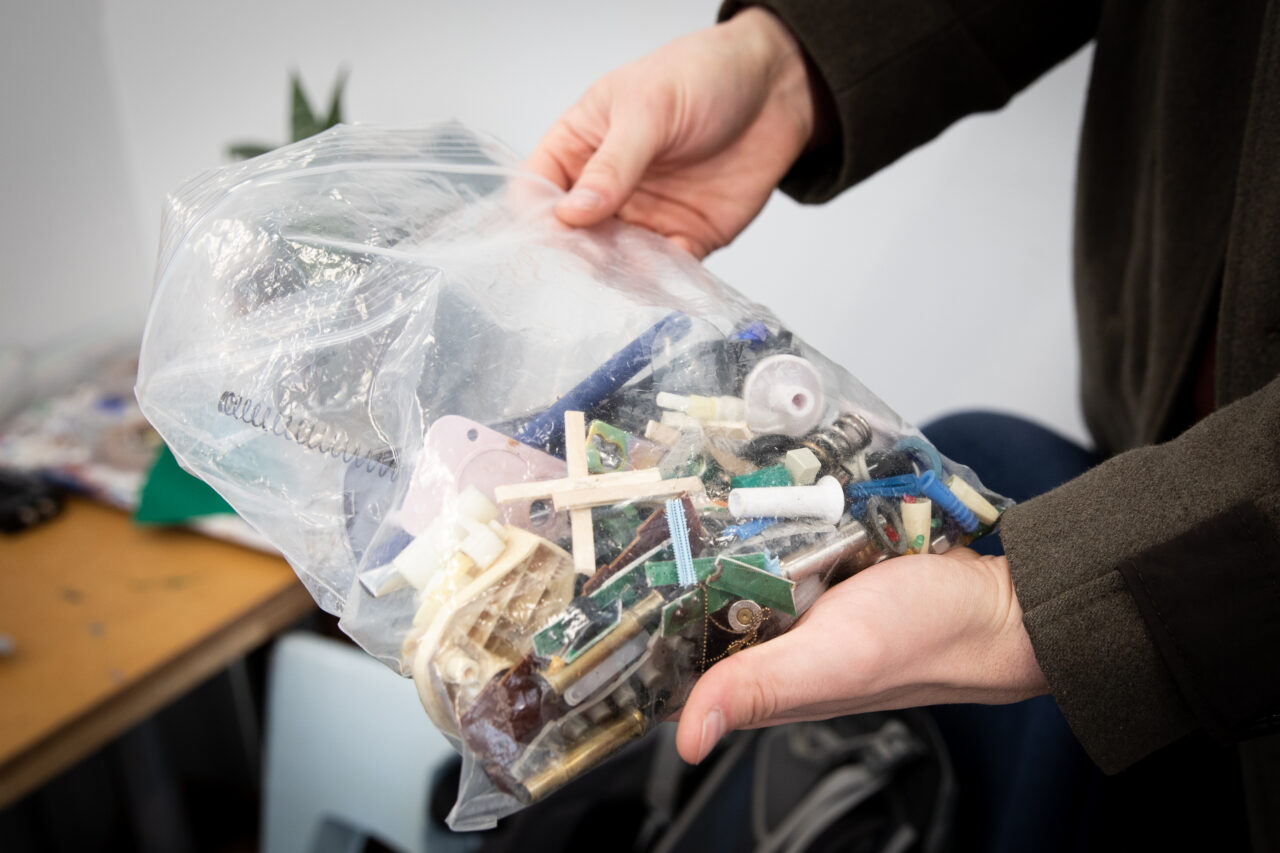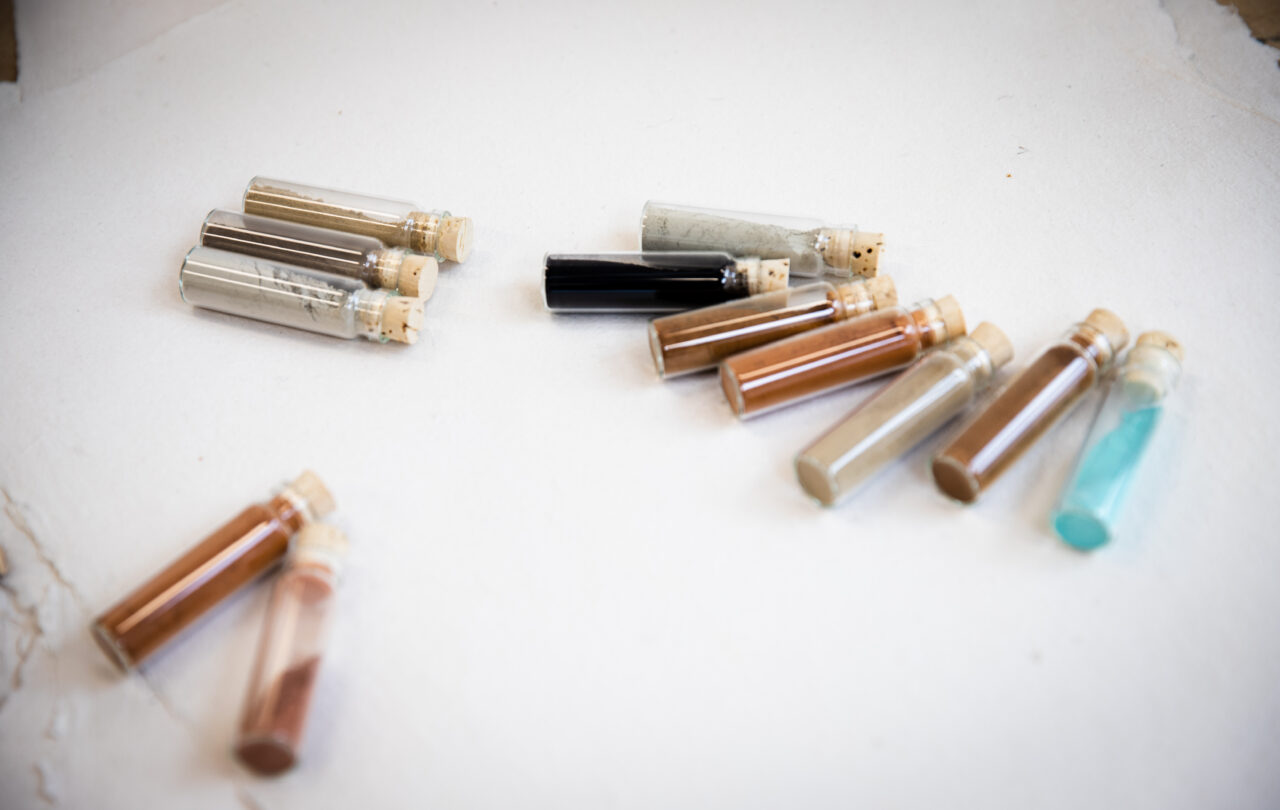 With an eye to keeping his carbon footprint under control, Erick says he's considering using his Audain Travel Award for a train journey east. He'd also like to spend time in a remote location within BC to make work that responds to a specific place.
Erick says he's also keen to pursue more collaborative works. Erick comes from a family of scientists — his brother has a Master's degree in biomedical illustration and runs an educational YouTube channel around biochemistry; his sister has a PhD in botany; and his father is a retired biology teacher. Erick, a visual arts major who completed a Bachelor's degree in biology before attending Emily Carr, says this family background helped show him how ideas can flow between people and between disciplines.
His interest in addressing issues of environmental crisis and conservation from numerous angles is evidenced by a number of cross-disciplinary engagements in recent years. In 2020, he spoke at the Salish Sea Ecosystem Conference on "The Art of Conservation: Science, Art and Public Engagement," while his print work was featured in Canadian Art magazine. While at ECU, Erick has served on numerous committees within the university including the Emily Carr Students' Union and Senate. He has also worked as artist's assistant for artist and faculty member Mark Igloliorte; and as a research assistant for faculty members Craig Badke and Julie Andreyev.
In part, this is why Erick was nominated for the Audain Travel Award, says ECU associate professor Nick Conbere.
"Erick is committed to addressing climate change issues, and has demonstrated leadership through his contributions to organizations such as the Student Climate Action Network, the President's Climate Action Task Force, and the City of Vancouver's Climate Emergency Plan," Nick writes.
"Erick's active engagement with environmental issues is central to his artistic practice and is directly related to his material explorations and studio approaches."
In Nick's class, Erick spent five weeks visiting, observing and drawing the Camosun Bog — a fragile ecosystem within Pacific Spirit Park. This project, which Nick says is emblematic of Erick's approach, saw Erick capture "a variety of moments he experienced in the bog, and from these he developed a large-scale, detailed ink drawing as he considered intersections of nature and aesthetics," Nick continues.
"His project encapsulated his interests in observing natural environments and considering how places have changed over time, and it also showed a dedication to diving head first into a studio project."